Olson works to create a legacy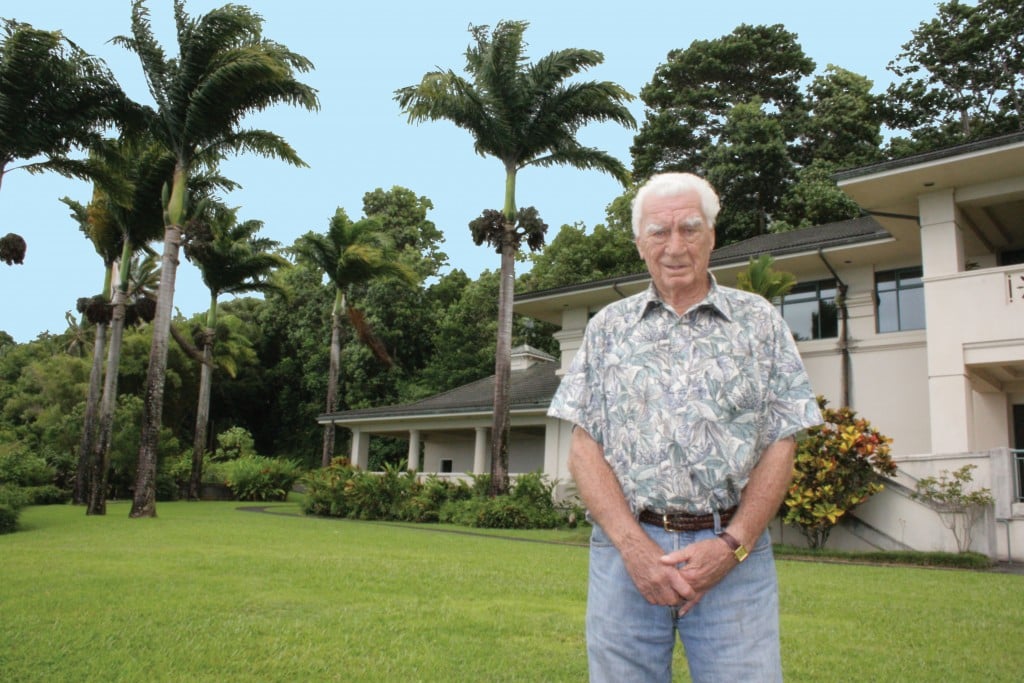 With the wealth he amassed during a successful business career, Edmund C. Olson could afford to treat the rest of his life like a vacation. Instead, the 81-year-old Hilo resident continues adding to his significant Hawaii Island land holdings and business interests, diving into projects that keep him on the move.
"I could have a beautiful yacht sitting out in Monaco," he says. "Sounds pretty good, doesn't it? But I'd rather get up and go to work. I'd rather do things. That's what I like to do."
In his latest move, Olson spent $7.7 million to buy the Wainaku Executive Center, a historic oceanfront property in Hilo that was formerly the headquarters of C. Brewer & Co., one of Hawaii's "Big Five" sugar companies. The property is prime – black sand beach, broad ocean views, tightly manicured grounds – and Olson has big plans for the 12,000-square-foot building and the surrounding 12 acres.
Weddings, events and conventions will soon take place there, he says, and the building will house art galleries. He eventually intends to add a restaurant and establish a boutique hotel.
Olson, an experienced developer, says he will guide the project himself. "The story of my life is hands on," he says. "The story of my life is I've done everything myself. I've never had major partners. I've been a do-it-yourself guy."
That story didn't begin in Hawaii.
Olson was born in San Diego and built a fortune in California. In 1956, at age 25, Olson used $500 dollars to start the Superior Gunite Company, which sprayed concrete for flood control and road projects. The company also took advantage of the postwar Sun Belt real estate boom, manufacturing 34,000 swimming-pool shells for homes in California, Arizona and Nevada, he says.
In 1973, Olson founded A-American Storage, which became one of the nation's largest self-storage companies. He sold a large portion of the business a year ago for $46 million. (He estimates his net worth at $160 million.)
Olson's relationship with Hawaii began on a trip in 1959 that was part vacation, part business. Since then, he's owned businesses and rental properties in the state, he says.
Based on state records, Olson is one of the state's Top 20 largest private landowners by acreage. He says he owns 13,000 acres on Hawaii Island and 3,000 on Oahu, and, in recent years, has focused his attention on agriculture, conservation and renewable energy. He is the owner or co-owner of Kau Coffee Mill, OK Farms, Hamakua Orchards and the Hamakua Macadamia Nut Co. on Hawaii Island, and Palehua Ranch, which owns land near Oahu's Kahe power plant that Olson hopes someday will be the site of a wind development.
With his focus on feel-good ventures such as sustainable farming and conservation, Olson has his supporters on Hawaii Island. Mayor Billy Kenoi says Olson "is making our island a better place."
"At first blush, you see a wealthy individual from the mainland and you think to yourself, 'OK, here's a guy with a lot of money, big money,' " says Kenoi. "But, then, you watch him over time and see someone supporting local farmers, quietly supporting community initiatives and creating economic opportunities for people."
Olson takes great pleasure in the fact his businesses employ dozens of people on Hawaii Island.
"What's important to me is to treat my workers with respect and have all my workers be happy and have a good life," he says.
Olson is involved in at least one pending project that is controversial: Aina Koa Pono's plans to build a biomass plant in Kau and sell the fuel to the Hawaii Electric Light Co. Most residents who attended a hearing before the Public Utilities Commission last year opposed the facility.
Olson, who said he would own 25 percent of any biomass plant built in Kau, dismissed opponents of the project.
"There's quite a lot of the local population that doesn't want things to change, but the world is changing, and being tied to the Arabs for our oil is ridiculous," Olson says.
Though he remains fully engaged in his businesses, Olson has begun contemplating a future that doesn't include him. He put together a board of directors in April for his trust, which consists of managers and attorneys already employed by the trust, a structure designed to keep the trust and its subsidiaries alive after he's gone.
"The Edmund C. Olson Trust II, we hope, will live 45 years after my death," he says.