Owning a bar or nightclub sounds like a dream job but has its challenges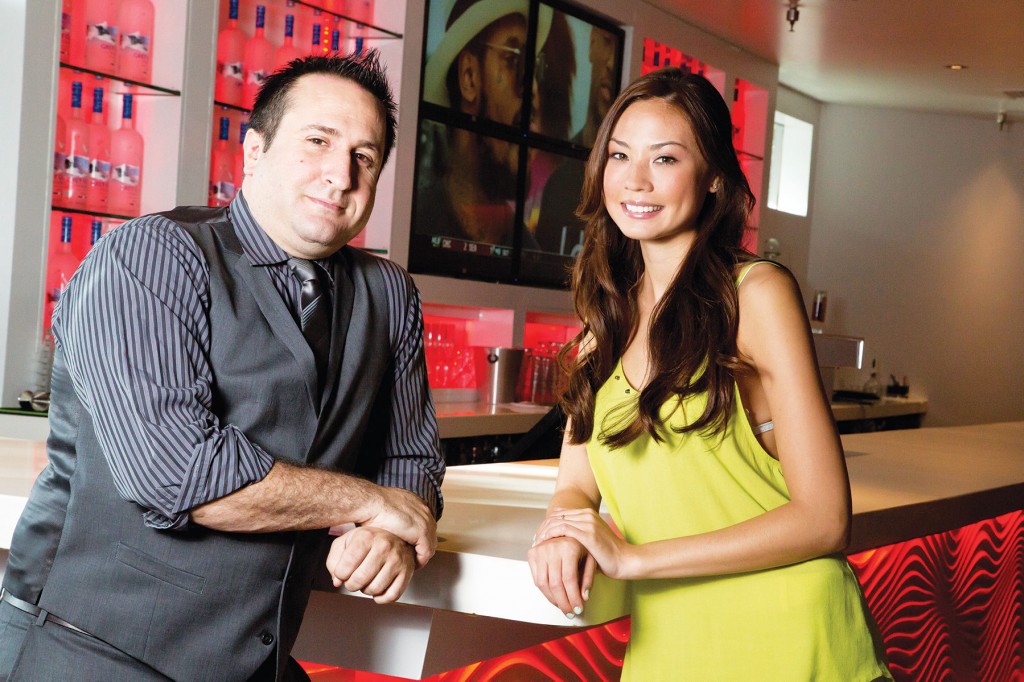 You make your own bitters and brew your own beer. Your iPod playlists get rave reviews from your friends and you know how to throw a party.
Why not profit from your obvious talents?
The lure of owning a bar, nightclub or lounge is strong: no boring 9-to-5 schedule, no dress code (at least not for you), no cubicles. You can play music as loud as you want, enjoy reserved seating every night and take advantage of an open bar.
Sounds like a dream gig. That is, if you don't consider the high turnover in employees, drunk and belligerent patrons, and bartenders who give out free drinks and dilute what little profit you make.
"From the day you open, it's downhill," says Burt Kawasaki, owner of The Villa at Aloha Tower Marketplace and Bonsai at Honolulu's Waterfront Plaza. "The market is so bad. In Hawaii, there are so many problems, it's almost not worth it to invest a lot of money into a nightclub because you might not make it back. There's no sustainability."
The National Restaurant Association says bars and taverns are expected to bring in $19.5 billion in sales in 2013, up from $18.8 billion in 2010. But, like restaurants, most fail within a year of starting and the costs – from acquiring liquor licenses to hiring chefs – can be high.
"When you own a small business, you have to give it your heart and soul," says Daniel Gray, who has owned a bar and worked in nightclubs and bars for more than 10 years. "If you're not willing to give it everything you have, then go get a 9-to-5 job. Business owners don't get days off, holidays or vacations. We do it because we love it, because we are passionate about it and because we believe in it."
Innovation Is Crucial
For nightclubs, it's important to stand out and change regularly. Too often, venues can sink into mediocrity as dark, dingy spaces with amateur DJs running playlists from their iPhones.
Today's clubgoers want more, says Christa Wittmier, who's been blogging about Hawaii's nightlife since 2004.
She says successful nightclubs bring in the right mix of patrons, effectively use lighting, invest in quality sound systems and take risks with their music selection.
"The clubs that have found that balance are the good ones," she says, pointing to such as the Ginza Night Club near Ala Moana Center and Addiction Nightclub just outside of Waikiki.
M Nightlife Honolulu strives for uniqueness. The nightclub at the Waterfront Plaza, which celebrated its one-year anniversary in May, is led by nightclub veteran Daniel Punch, who previously managed such places as Pearl Ultralounge and Ocean Club in its heyday, in the early 2000s.
"One of the biggest challenges is keeping it fresh so it doesn't get stagnant and boring," Punch says.
The club first opened as The Standard in 2011, then closed for a four-month renovation and reopened as M Nightlife. It recently revamped its happy hour to include sushi and handcrafted cocktails. Four nights a week, there's live acoustic music. In July, it plans to start coffee service at the Row Bar outside, which it recently acquired. And it won't hesitate to spend money to get name acts and celebrities to the venue. The club brought in Diplo, a wildly popular LA-based DJ, for its grand opening in May 2012, and provides bottle service and VIP treatment for celebs like Rihanna, Bruno Mars, Kelly Rowland and pro athletes.
"We're in such an off part of town, people have to come here because they want to come here," says Angela Varnadore, M's brand ambassador. "We'll spend a lot of money on laser lights, décor, talent, everything. We really invest into (the business) and that's what has made us successful."
Change of Plan
Finding a niche helped Dan Chang, who owns and operates the popular but hard-to-find Wang Chung Karaoke Bar in Waikiki.
When Chang, an industrial engineer, moved to Hawaii from San Francisco in 2006, he did some retail consulting work, then got into real estate.
He got stuck with a location he couldn't lease: a 250-square-foot nook – 367 if you count the bathroom – on Koa Avenue in Waikiki. So he leased it himself, and opened a bar with the plan to sell it within a year.
Only it wasn't that easy: to build a bar, which he did, or to sell it, which he won't.
Commercial rents in Waikiki are among the highest in the nation, and Chang pays almost three times more per square foot than owners in Chinatown. He estimated the build-out cost to be around $200 to $250 per square foot, or roughly $90,000. After being denied loans and lines of credit for the first two years, he decided to liquidate his 401k and Roth IRA from his previous engineering job and financed the rest with credit cards.
"I didn't have any business experience prior to opening the bar. The truth is, I couldn't even pour a drink," says Chang, 32, who opened his bar in 2009. "I don't drink and didn't spend time in bars before planning to open the business. It wasn't my dream to open a bar, but I did always want to open my own business."
Despite the high cost to open and run the bar, and its easy-to-miss location in an alley off a side street behind the Hyatt Regency Waikiki, Wang Chung's has flourished, thanks to skilled mixologists (who sing), unique cocktails, an extensive song list and the friendliest staff in Honolulu. (You might even get hugged when you walk in.)
The neighborhood bar brought something unique to its part of Waikiki, Chang says. Its early support from the gay community fueled its popularity. Now, Chang is looking for a bigger location in Waikiki.
"I really enjoy what I'm doing," Chang says. "It's still engineering to me – solving problems, making things more efficient, coming up with innovative solutions – but with the social aspect that has direct meaning and connection to people."
No One-Trick Pony
Kawasaki's two businesses, Bonsai and The Villa, have transitioned from nightclub spaces to multiuse venues. That's how he says he's survived in this economy.
When Kawasaki opened Bonsai in 2008 in Restaurant Row, he wanted it to feel more like a lounge than a nightclub. So he built out the kitchen, changed the décor, added bars and staircases, and updated the wiring and plumbing. But, after a couple of years as a bar lounge, he shifted the focus of the 4,000-square-foot space so it is now open for lunch and happy hour on Fridays and private functions most of the rest of the time.
The Villa lasted for two years as a nightclub before Kawasaki opted to rent out the cavernous 9,000-square-foot space for private parties and events. It has hosted high school reunions, wedding receptions, business socials, networking events, birthday and graduation parties, fundraisers, yakudoshis and even a funeral service. And, with an established kitchen at Bonsai, he can offer full catering menus to customers.
"Even a nightclub can't open and just be a nightclub anymore," he says. "The key is you've got to diversify. You can't be a one-trick pony."
That's the thinking behind M Nightlife, which aims to be more than just a nightclub. It can actually be whatever you envision, and that's helped business.
The club, which is spacious by nightclub standards at 5,000 square feet indoors, has hosted everything from fundraisers to baby luaus with inflatable bounce houses. Once, a couple got married there, with the altar set up in front of the main bar.
The large space – since the venue also owns The Row Bar outside and can barricade that outdoor area to expand – is more of a problem for M, which still operates as a nightclub on weekends. (Its private events only make up about 30 percent of its business.) While it can see more than 1,000 people come through the door on a weekend night, M needs hundreds of bodies at a time inside the venue to fill the space.
"You have 100 people in here, it looks empty. A hundred people in (a smaller club) and it looks raging," Varnadore says. "You need at least 200 to 300 people in here to make it look and feel like the atmosphere we want."
Higher Expectations
The bar and nightclub industry has changed and forced owners to operate differently. No longer are customers satisfied with hot wings and pretzels. Now you can sometimes find menus that seem more at home in gastropubs than Irish pubs.
"With Ocean's, we could get away with basic bar food," Punch says. "But with new, smaller places opening up, people are expecting food that looks beautiful and (bars and clubs) weren't giving them that."
So Punch says he focuses M Nightlife on a high level of service and food, which attracts a more selective clientele. "That business professional coming after work isn't going somewhere that doesn't have a great menu or great drinks," Varnadore says. "We want them to come here and continue to come here."
Another change has been the Hawaii Smoke-Free Law, which was enacted in November 2006. Bars and restaurants could not allow patrons to smoke in enclosed areas or within 20 feet of doorways, windows and ventilation intakes.
Bill Comerford, who operates four bars in Honolulu and is the spokesman for the Hawaii Bar Owners Association, says the law puts customers into the street and out of the control of bar owners.
"(Advocates) say the smoking law doesn't have an effect on bars, but it does," Comerford says. "When you put customers outside, it's detrimental to your business."
For a start, smoking customers might not come back into the bar, which hurts sales. And intoxicated patrons could be smoking on public property, outside the jurisdiction of business owners, he says.
"Once they're not on our property, we can't control them," Comerford says. "They should allow some leeway for bars."
Chinatown is Ground Zero
Location is critical for any business, but especially so for bars and nightclubs. You can't be in an area where neighbors may complain about the late hours and noise, and the area should already draw people, especially if your bar is new and unknown.
Those factors, plus cheaper rents, helped make Chinatown popular with bars, clubs and lounges. Daniel Gray was attracted to Chinatown, but found it was lacking what he calls a "legitimate nightclub experience," so, in 2009, he invested about $120,000 and opened SoHo Mixed Media Bar on Pauahi Street, modeled after the chill artistic bars and lounges he patronized while living in New York City for six months.
"Chinatown was always this sort of cliquey place for hipsters and other underground counter-cultures, and I think that intimidated a lot of the mainstream crowd," says Gray, 31. "My ultimate vision was to take the beauty of the Chinatown nightlife scene and get new people exposed to it."
SoHo had a great four-year run that garnered loyal patrons who loved the venue's unique charm, with cutting-edge fashion shows, interactive art events and popular '80s dance parties.
Though SoHo closed this year – "The business was doing well, but I just wasn't as passionate about it as I was when I opened it" – Gray says it left its mark on Chinatown.
"Hundreds of people have come to Chinatown for the first time because of SoHo, and a lot of these people are now regulars of all the Chinatown bars, restaurants and other businesses," says Gray, who says he's working on another project. "I felt that I could contribute to Chinatown by bringing a different demographic of party-goers, and I think I've succeeded in doing that."
Gelareh Khoie is another Chinatown innovator. She opened thirtyninehotel on the second floor of an old building on Hotel Street in July 2004, eight days after she got the key to the space and before she could build out bathrooms or obtain a liquor license. (She got those the following year.)
thirtyninehotel has become a mainstay in Chinatown, hosting fashion and art shows, music events, poetry readings, fundraisers, a chamber music performance and a killer happy hour that was recently upgraded (see next page). It's the kind of unique, artsy venue that works well in this equally eclectic neighborhood.
"I think the reason thirtyninehotel is still relevant and popular is because we stayed true to our vision of art and music," says Khoie, 41.
She calls the venue a "community-oriented multimedia space," not a nightclub or bar, despite its impressive menu of classic and signature cocktails and craft beers and a coveted bartender named Christian Self.
"I never set out to 'have a bar,' " Khoie says. "It just evolved into that. My vision was to create a space where artists and musicians could collaborate on projects and express themselves. … What thirtyninehotel is today is beyond belief."
Executive Guide to Honolulu Pau Hana
There's no shortage of bars, restaurants and nightspots perfect for hip Honolulu professionals, many of them offering pau hana deals.
"Some people may tell you that a business is successful because of excellent food, while others might refer to a great atmosphere or fantastic service. But I believe it all comes down to value," says Carey Bennett, co-founder of the Happy Hour Pal app and website that provides a comprehensive list of happy hours all over Hawaii. "It doesn't matter if you are the neighborhood bar or a five-star restaurant. What matters is people find value in their experience at a location." Here are some of the best pau hana values and experiences in Honolulu:
thirtyninehotel
39 N. Hotel St.
599-2552
www.thirtyninehotel.com
It's hard to believe this Chinatown landmark opened 10 years ago with no kitchen, no bar and no liquor license. The plastic lawn furniture on the rootfop lanai has been replaced with neat metal seats, wooden tables and canvas umbrellas. It recently unveiled a new happy-hour menu with Bloody Mary beef short ribs and triple-cooked fries with a loaded sour cream dip, along with thirtyninehotel's well-known classic and signature cocktails. "They have never once compromised their tastes," says nightlife blogger Christa Wittmier, "and that's why I love them forever." This happy hour runs late, until 8 p.m., Wednesday through Friday.
Brasserie Du Vin
1115 Bethel St.
545-1115
www.brasserieduvin.com
This bar-restaurant in Chinatown boasts one of the best happy hours downtown, with a menu boasting baked Brie stuffed with nuts and cranberries, handmade blue crab cakes and the classic French dish moules frites. Premium well drinks are just $4 and all Du Vin's signature cocktails are $3 off during happy hour, which runs from 4 to 6 p.m. daily except Sunday.
Pint + Jigger
1936 S. King St.
744-9593
www.pintandjigger.com
This popular spot offers quality food and drinks, including 21 beers on tap, in a relaxing space where you never feel pressured to pay the bill and leave. It has two happy hours – one from 4:30 to 6 p.m. Saturday though Thursday, the other from 10 p.m. to 2 a.m. Tuesday and Thursday – with drink specials and discounts on its popular stout burger with beer cheese, garlic parmesan popcorn and spicy seafood ceviche served on fresh tortillas. "The atmosphere is very hipster," Bennett says. "And I love their fries."
M Nightlife Honolulu
500 Ala Moana, 529-0010
www.mnlhnl.com
This nightclub revamped its happy hour in May, offering a menu with various sushi rolls, deep-fried soft-shell crab, Asian five-spice fried calamari, barbecued pork sliders and shiso salt fries. It runs from 4:30 to 8 p.m. Tuesday through Friday with live music, outdoor seating and validated parking.
Pearl Ultralounge
Ala Moana Center
1450 Ala Moana
944-8000
www.pearlhawaii.com
Located at Ala Moana Center – read: lots of parking – Pearl Ultralounge has been a popular spot for networking events and business socials for years. Its happy hour starts at 4:30 p.m. with deals on beer, well drinks, cocktails and appetizers.
Shokudo Japanese Restaurant & Bar
1585 Kapiolani Blvd.
941-3701
www.shokudojapanese.com
With two happy hours – 4 to 6 p.m. daily and 10:30 p.m. to midnight Monday through Wednesday and Sunday – Shokudo offers great deals on some of its signature menu items, including kim chee fried rice, tako karaage, garlic clams and its popular honey toast topped with ice cream. It's perfect for the professional who has to stay at the office late, but wants a drink and nosh after work.
Nico's Pier 38
1133 N. Nimitz Highway
540-1377
www.nicospier38.com
If you don't want to hang out downtown, head to Nico's Pier 38 off Nimitz Highway. Its happy hour, which runs from 4 to 6 p.m. on weekdays, boasts fried calamari, orange fried chicken, ahi ribs and a poke sampler. Draft beers and well drinks are discounted, too. There's live entertainment on most nights. "You can sit there and watch the sunset," Bennett says. "You can't beat that."