Playing "With Tonka Toys in Real Life"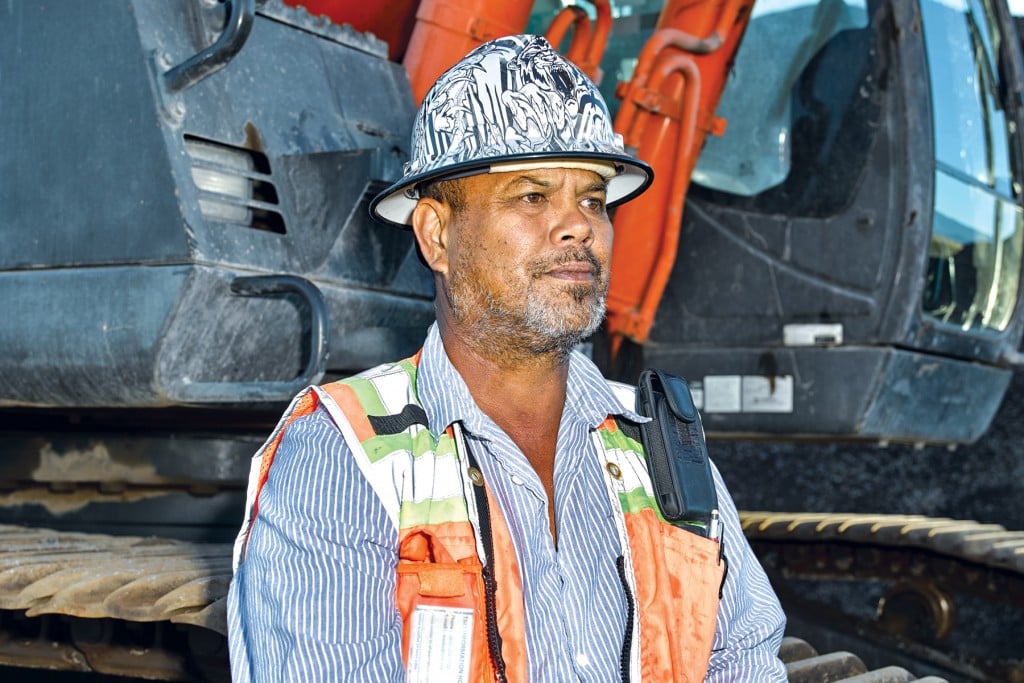 Name: Samuel K. Peck
Age: 57
Job: Heavy equipment operator foreman, Goodfellow Bros. Inc., Waikoloa office, Hawai'i Island
Beginnings: Peck grew up and lives in Waimea, where his father owned a trucking and heavy equipment company. "My dad was my inspiration. He taught me how to operate heavy equipment since I was 14," he says. "It was amazing to be able to play with Tonka Toys in real life."
Once Peck joined the Operating Engineers Local 3 union, his career "took off." He's worked for Goodfellow Bros. for more than 20 years.
Equipment: He operates and supervises the operation of bulldozers, payloaders (with scoopers in the front), boom trucks, tandem trucks with short cranes, graders, excavators and rock trucks.
What It Takes: "There's no certification needed to run these machines, but you have to have some knowledge. The union on O'ahu has a five-year apprenticeship program. If a company hires you they may give you additional training, or they may send you back to the union if it's not enough. As a journeyman, you're already supposed to know what to do."
Skill Set: "It's almost like a Nintendo game – the excavators are all joysticks. Everything's in your wrist. It's not too much pulling or pushing, but leaning back and forth. It's all computerized and real sensitive. Before the late '90s it was more like a manual transmission with a long rod."
Safety/Stress: "When you're installing a large electrical box in a trench for a commercial building and you're picking it up with cables with the excavator, you have workers holding taglines to steady the load. It's stressful because any of the cables could snap or the box could swing and hurt somebody. We have to be alert and maintain a 15- to 20-foot safety margin."
Near-Death Experience: "I was alone around midnight trying to make a fire break against a fire in Waikoloa around 2000, when the dozer stopped working and would not start. The fire was about 100 yards away and coming toward me. I couldn't do anything, so I called my wife and said, 'I love you,' closed the doors and turned on the radio to listen to Hawaiian music and went to sleep. When a worker found me the next morning, the fire had passed all around the dozer – everything was black. Luckily, there was no fuel leak and the entire dozer was made of iron."
Challenges: "Construction is dangerous, but the job becomes easy with practice. I'm 6-foot-2 and the tires on the loader are taller than me. If anyone gets hurt, that's my responsibility. When you're working with a lot of people and different contractors all in a tight area, it's difficult. After a while you don't get as stressed out, but you never get comfortable."
Pay: "Apprentices start at $15 per hour. Then when you become a journeyman you can make $44 per hour – but it depends on what equipment you drive. The bigger the equipment, the more you make."
This interview has been edited for clarity and conciseness.