Rebuilding Hawaii's Forests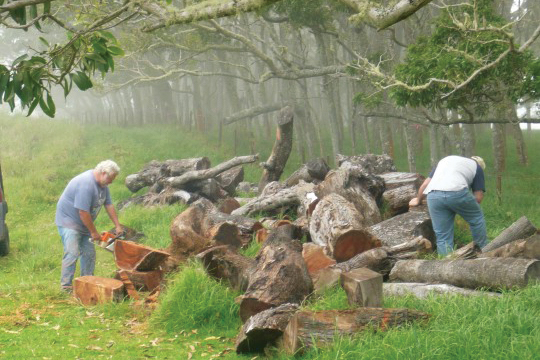 Company harvests some trees sustainably to help pay for other permanent forest.
Hawaiian Legacy Hardwoods is challenging the view that the only way to make money after planting a tree is by cutting it down.
Founded in December 2008 by CEO Jeffrey Dunster and COO Darrell Fox, the Honolulu-based company has both for-profit and nonprofit arms. It sustainably grows tropical hardwoods, such as koa, for harvest. The nonprofit side plants trees for permanent reforestation, as on the Hamakua Coast of Hawaii Island, where it has planted 200,000 trees in three years, mostly koa but also mamane, naio, ohia and sandalwood. Donations also help pay for the permanent forests and HLH hopes carbon credits will help in the future.
"It's been fun. The for-profit side was just a way to help with permanent reforestation," says Dunster, experienced in finance and mergers and acquisitions and a former Hawaii National Guard helicopter pilot. A father of five, Dunster says he was looking for a sense of personal accomplishment in his work.
A series of historic events, some long-term and some recent, have made this business-nonprofit model possible. In the past century, more than 90 percent of the world's tropical forests have been lost, Dunster estimates. A dwindling supply of hardwoods, plus import restrictions on such wood, translates into rising prices for HLH's for-profit side.
Tropical forestry in Hawaii benefits from a 12-month growing season, which means trees can grow faster than in colder latitudes. On Hawaii Island, koa trees less than four years old have exceeded six inches in diameter and 35 feet in height, Fox explains. Over the plantation tree's life, it can add an inch in diameter a year.
Partners
HLH's partners range from The Nature Conservancy to Four Seasons Resort Hualalai, which offers guests the opportunity to sponsor trees. John Henshaw, The Nature Conservancy's director of land protection and conservation partnerships, has high hopes for the partnership, formed in 2011.
"It's fun to see so many trees in the ground," he says. The organization is looking to buy 4,500 acres on Hawaii Island and hopes to have HLH plant trees there starting in 2013. HLH also secures the areas from animals such as pigs and cows that love to eat koa saplings, Henshaw explains.
Of each $60 payment for a legacy tree, $1 goes to The Nature Conservancy and $20 to the charity of the donor's choice (or the Conservancy, if no charity is chosen). HLH has promised the Conservancy a $50,000 minimum contribution annually, beginning in 2011.
Trees as investments or legacies.
On the for-profit side, investment trees are available to anyone in lots of 100 for a one-time cost of $7,807 via the company's website, www.hawaiianlegacyhardwoods.com. One reason for the minimum order is that trees must be pruned and thinned, with only the best trees growing to full maturity. "With a small number of trees this process can create statistical anomalies in yields," the site explains. Tree planting is a 25-year project, but profits can be realized along the way through thinning and harvesting, the company says.
For the reforestation effort, participants donate $60 for each tree planted in the Legacy Program. The company puts an electronic chip in each tree and uses proprietary software that is linked with GPS coordinates in a database that tracks information such as tree ownership, planting, care and maintenance – even the mother tree that contributed the seed. The program's site is www.legacytrees.org.
Carbon Credits
HLH also expects to benefit from the market in carbon credits. It isn't clear how carbon credits for forest resources will be treated, but in a carbon market, any carbon credits derived from the sustainable growth of your trees are yours to keep or sell, the company says.
The carbon market has started in Europe. California will enter the market in 2013 as power companies and factories there will be able to trade a decreasing number of permits to emit carbon dioxide and other greenhouse gases.
"Carbon is the key that makes the whole thing work," Dunster says. "With carbon-offset sales, the forests can sustain themselves."
After coming up with the idea of planting trees, Dunster and Fox waited 17 years for the right moment. Their biggest obstacle was land prices.
The dynamics changed in 2008 when the real estate bubble burst. "On the Big Island, the price got cheap enough to start planting trees," Dunster says.
"All of a sudden our business model was in the green zone."