Interview: Stephanie England, VP and GM, Ka Makana Ali'i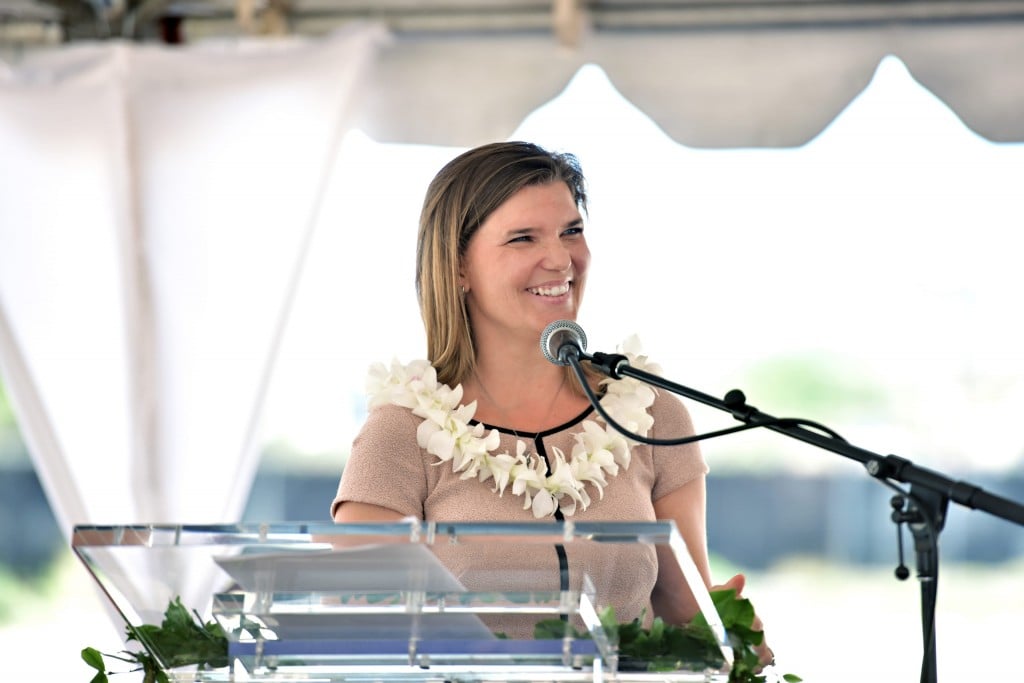 Please describe how and when you are conducting your return to your offices, stores, restaurants, and other physical locations.
Ka Makana Ali'i is home to several essential businesses so the center never stopped operating. Those that remained open included Hampton Inn and Suites (which housed first responders), Straub Medical Center Kapolei Clinic and Urgent Care, PetSmart, telecommunication services and a number of restaurants and eateries that offered takeout. Although the theatres closed, 'Ōlino Café served as the certified kitchen to prepare meals for hundreds of needy seniors and offered takeout and delivery service from its main menu.
With select eateries and retailers welcoming in customers once again, we are making sure our tenants are operating in compliance with the state mandates. Our goal, as always, is to provide a safe and healthy environment for our community. We also understand we are in a very unique position as an open-air center and will continue to do everything we can to protect those who visit Ka Makana Ali'i. We've closed off Center Court, limited seating areas, added hand-sanitizing stations and signs reminding patrons to wear their face masks and maintain a six-foot distance.
After your transition period ends, how do you think your "new normal" will be different from your old normal?
Ka Makana Ali'i has always been committed to the well-being of our community, employees and team members. We have implemented measures to best serve our patrons and comply with state and federal public health mandates. These measures include increased signage, mandating face masks be worn on property, social distancing floor markings and reduced seating areas. We are grateful that our community is respectful and follows the guidelines. Being West O'ahu's largest open-air center provides us a unique opportunity to help our tenants and shoppers feel a bit more comfortable. We are also able to execute curbside pick-up, along our interior ring road, which provides easy access for tenants to provide minimal contact deliveries.
Limited seating will be offered in the Food Market and additional housekeeping efforts have been implemented to clean high touchpoint areas. We've also introduced curbside pick-up, for restaurants and retailers. Many of our tenants have implemented special "kupuna hours," to offer seniors and high-risk individuals the opportunity to shop without the general public. We also noticed increased engagement on the center's digital platforms – loyalty programs, website and social media – during this time and plan to continually develop new ways to engage with our community on these platforms.
How do you think your new normal will affect your finances and customer service?
We were happy to see our retailers, eateries and personal service providers warmly welcomed back by the community when they reopened. They are all operating at reduced capacity to accommodate social distancing. Throughout this time, our eateries have been incredibly flexible, innovative and responsive to our community's needs. Moving forward, I think we will see restaurants initiating take-out promotions and continuing to innovate and develop appropriate metrics to ensure diners are safe and comfortable. Our marketing team is diligently working to assist our eateries in reaching customers who are ready to dine out and those who feel more comfortable dining at home.
We have seen strong support for our local tenants, which comprise more than fifty percent of our center. Studies have shown that supporting independent, locally owned businesses directly impacts the economic base of the community, as they typically fund immediate public initiatives and non-profits. We are working with our locally owned and operated businesses to help them through these challenging times. We know this sector of our economy has been severely impacted by this pandemic and we trust that our community will, as they have done in the past, support local as much as possible.
How are going to ensure good employee performance and engagement under your new normal?
We have an incredible management team who has come together to support each other. I am so proud of each of them. We are fortunate to have access to many resources through our JLL national team, who has tireless worked to ensure we have all the resources we need, including PPE items, data to assist us in decision-making, assistance with contract negotiations and much more. We are also very blessed to have a wealth of technological resources that allow for digital communications and engagement. Although a Zoom or WebEx meeting is not the same as working through things across the table from each other, we're still able to see and interact with our co-workers. Technology, while sometimes challenging, has kept us connected, engaged and allowed us to truly support each other while we have been apart.
Communication has been critically important to our team. Each team member has his or her own individual reaction to this crisis. For some it could be a medical concern, for others it may be financial, and others may be personal. It's important to be honest and authentic. People feel more supported and successful when their leaders and team have empathy for their situation.
Are there other important lessons your organization learned from this crisis?
What is so striking to me is the feeling of 'ohana among not just the tenants, employees and staff of the center, but also from our community. There is a genuine feel-good moment the first time we greet each other after not seeing each other for a while. You can see them smile, even with the mask on. Regular customers are returning, and they appreciate the role the center plays in their lives and we sincerely appreciate the role they play in our lives.