Restaurant Road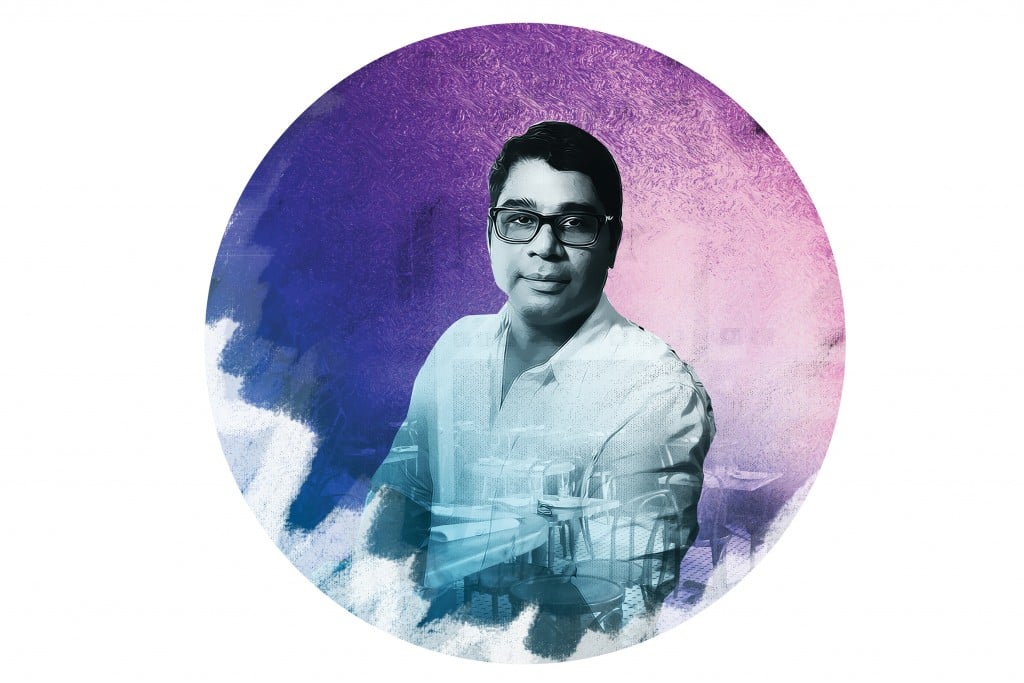 RESTAURATEURS SEEM TO lead charmed lives. They pick where they work, set their own hours, create a pleasant atmosphere and run a place where people pay good money to have fun and eat delicious food.
In reality, restaurants usually come with high rents and overhead costs, and "set your own hours" usually means never taking a break from work. Even worse, a 2005 study from Ohio State University found that 26 percent of restaurants fail in their first year and 57 to 61 percent close in their first three years. Nonetheless, there seems to be no shortage of restaurateurs – and many do it over and over.
David Segarra, co-owner of Grondin: French-Latin Kitchen on Hotel Street in Chinatown, has opened eight restaurants during his 20 years in the industry. Each time, he says, is a new and humbling adventure.
"The experience does help, but there's a new set of challenges with every opening," says Segarra. The only thing certain with a new restaurant is Murphy's Law – anything that can go wrong, will go wrong, he says.
Other local restaurateurs echo his sentiment, especially those involved in multiple restaurant openings. Even extensive preparation before the opening does not guarantee smooth sailing. And when the initial storm passes, owners must fight every day to keep their businesses thriving.
There is no magic formula for success, but six restaurateurs share their experiences in the hope that others will find the path a bit easier.
Finding the Passion
Many restaurateurs, like Grace Simon, acquire their passion for the food industry early. "As a child going out to eat with my parents, I loved what servers did for a living and I thought, when I grow up, I want to do that," says Simon, who now owns the downtown restaurant Square Barrels with her husband and is a partner in Pint + Jigger in the McCully district.
Simon's first job was in the food industry and over the years she worked in various positions, including a stint at Baskin Robbins. She quickly discovered the restaurant industry had more to offer than just service – the entertainment aspect also excited her. In fact, everything about the trade captivated Simon.
Many people in the food industry start with entry-level jobs such as bussing tables, gain experience in various services roles and graduate to managing an eatery. Those interested in food preparation can start as a dishwasher, get training at a culinary school and move up the ranks to executive chef. In either case, whether you become the manager or the top chef, you must choose whether to continue working for others or start your own business.
Andrew Le developed his skills under other chefs and then launched his first restaurant as a pop-up in 2011, and now is the owner and chef of The Pig and The Lady in Chinatown.
"Unfortunately, when you own your own business, every day is a Monday. No matter what day it is, you may have to go in for various reasons."

— Mark Ellman, Owner or partner of five maui restaurants
"I wanted to figure out my own style, my own kitchen," says Le. "The only way to do this is to go on your own, unless you work in a restaurant that allows you to grow and develop your own style. But that's rare to find."
Le understands that many chefs face a crossroad with their desire to advance, and tries to offer his kitchen staff the opportunity to grow without having to branch off on their own.
There were over 3,000 restaurants in Hawaii competing for business in 2012, according to the Hawaii Restaurant Association, a trade association and lobby group for Hawaii's food service industry. In this competitive industry, success almost requires that restaurateurs be passionate about their craft.
"I think you just have to be genuine. Genuine about why you're doing it –not just for vanity's sake or because you think it's trendy or cool. It's a dedication," says Le. "You're going to be investing so many hours of your life, so much more money than you want to, and you're going to be making less money than you thought.
"But if you're consistent and innovative and you can connect with your customers on a real level, and you find yourself a good group of people, you have a great shot at getting it right."
Brick-and-Mortar Dreams
First comes the concept. Married couple David Segarra and Jenny Grondin wanted to open a restaurant based on comfort food, which to them meant a mix of Latin and French cuisine. But they also knew their concept would not work in every location. On a weekend trip to Oahu from Maui, the couple fell in love with Chinatown and felt the area could support their dream. So they moved to Oahu.
"You're going to be investing so many hours of your life, so much more money than you want to, and you're going to be making less money than you thought."

— Andrew Le, Owner of The Pig and The Lady
At first, they wanted to wait six months to get to know the area before choosing a space, but when Grondin found she was pregnant with their first child, the pair decided to fast track the opening. So Segarra started looking for a location just three weeks after arriving on Oahu and discovered the space at 62 N. Hotel St., which is where he and his wife established Grondin: French-Latin Kitchen. The up-and-coming Chinatown area reminded Segarra of the revamped Meatpacking District in New York City and he knew the neighborhood would work for him.
Of course, a concept's connection to a particular place is not always simple. That's why local restaurateurs suggest talking to others in the business, whether servers or other restaurateurs, to insure a business idea can work in its surroundings. Segarra says the best way to figure out what will work is by writing a business plan.
"You'll learn a lot about yourself and what you think your concept is.
It might take you in a different direction, it might take more than you
had in mind," he explains. "But it'll push you in the right direction whether it's yay or nay, change or scrap
this concept.
"And write down all concepts."
But there's more before the opening. Restaurateurs still need to conform to zoning rules, staff the front and back of the house, and develop relationships with food suppliers. This can be one of the most stressful periods, but the biggest pre-opening problems can differ.
For Segarra, the top concern was the kitchen's grease trap. He found the city's requirements for the grease trap to be incredibly stringent, something he attributes to Oahu's sensitive environment. The installation of grease traps requires the work of engineers, architects and
city planners, which can make the process time consuming and expensive for owners.
" There's no way for people like us to do this without having to spend tons of money and then just getting hurt in the end."

— Hideo Simon, Square Barrels, Pint + Jigger
For Square Barrels, the toughest issues came with the permitting process. Grace Simon's husband, Hideo, feels the city's permitting department is underfunded, which can make the process longer, more costly and harsher than necessary.
"There's no way for people like us to do this without having to spend tons of money and then just getting hurt in the end," says Hideo. "Somebody has to know from the top and say that we've got to make it a better environment for small businesses to do this."
With food permits and liquor licenses in hand, restaurateurs must still build a reliable staff.
Mark Ellman has spent 45 years in the restaurant business and knows the importance of a strong staff. He has more than 300 employees spread over the three Maui restaurants he owns – Mala Ocean Tavern, Honu Seafood and Pizza, and Frida's Mexican Beach House – and two he co-owns, Mala Wailea and Migrant.
"Your biggest assets are your employees and, without good employees, especially in multiple restaurants, there's no way anybody can succeed," says Ellman. "I also learned it's one thing to be a good employer, but you also want to pay the staff well."
It's also essential to be a "present" boss, someone employees see just about every day.
"Unfortunately, when you own your own business, every day is a Monday. No matter what day it is, you may have to go in for various reasons," says Ellman. "But it's a great business. You meet so many interesting people and you meet some of the greatest people."
Dealing with Hardship
After the opening, when the worst seems to have passed, Troy Terorotua knows new challenges will inevitably arise. Terorotua has a long history in the food business: He competed as an apprentice with the U.S. Culinary Olympic Team in 1992 and worked for seven years under Sam Choy, helping open Sam Choy's Breakfast, Lunch and Crab, writing cookbooks and serving as corporate chef. Then, Terorotua took a break to regain his passion. He used the time off to run a catering business and explore his interest in craft beer by working as the beer buyer for Whole Foods Market in Kahala. In 2012, he merged his interests by opening REAL a Gastropub in the Ward area, and later opened Brew'd Craft Pub in Kaimuki.
Over the years, Terorotua has noticed the public gets excited about an opening, but the buzz eventually dies down and the business must speak for itself.
" If you come out of the gate thinking you're going to crush it, then you will be crushed."

— David Segarra, Co-owner of Grondin: French-Latin Kitchen
"In Hawaii, everybody gets that honeymoon phase. Everyone wants to know what you're doing. You're the new kid on the block," he says. "Plan for the worst but hope for the best, because as great as you may be, things change all the time. You need to always be thinking: What can I do, how can I change things, how can I drive business?"
Terorotua has noticed Hawaii is always five years behind mainland restaurant trends. Many techniques have been tried and tested before making it across the ocean. Therefore, he says, restaurateurs must learn how to use arriving trends.
"You're always looking ahead, keeping your eyes out for the next spot. If you become complacent, that can start to eat away at you," says Terorotua. "Being a chef restaurateur, you want to be innovative, artistic. Your mind should always be moving."
He says he works 18 hours a day, seven days a week, often picking up the grunt jobs, including dishwashing and cleaning the toilets. His rule is to not ask any employee to do something he wouldn't do himself.
Despite the workload and constant stress, all the restaurateurs interviewed say they would open another restaurant. Many already have the concepts.
Grace Simon says opening a restaurant is like having a child. "The first six months to a year are joyful and magical but also really, really hard. And then, when the kid turns 2 years old, you forget all the pain and sleepless nights you went through," she says. "And then you really miss those days and decide to have another kid.
"I think we'll be serial restaurant openers, because we'll forget the pain and sleepless nights. And once it is up and running, it's fun for us, too. It's not all tears and pain."