Sport of Climbing Continues to Rise in Hawai'i
Climbing has gained popularity in Hawai'i and around the world in recent years, culminating in the sport's debut at the delayed 2020 Tokyo Olympics.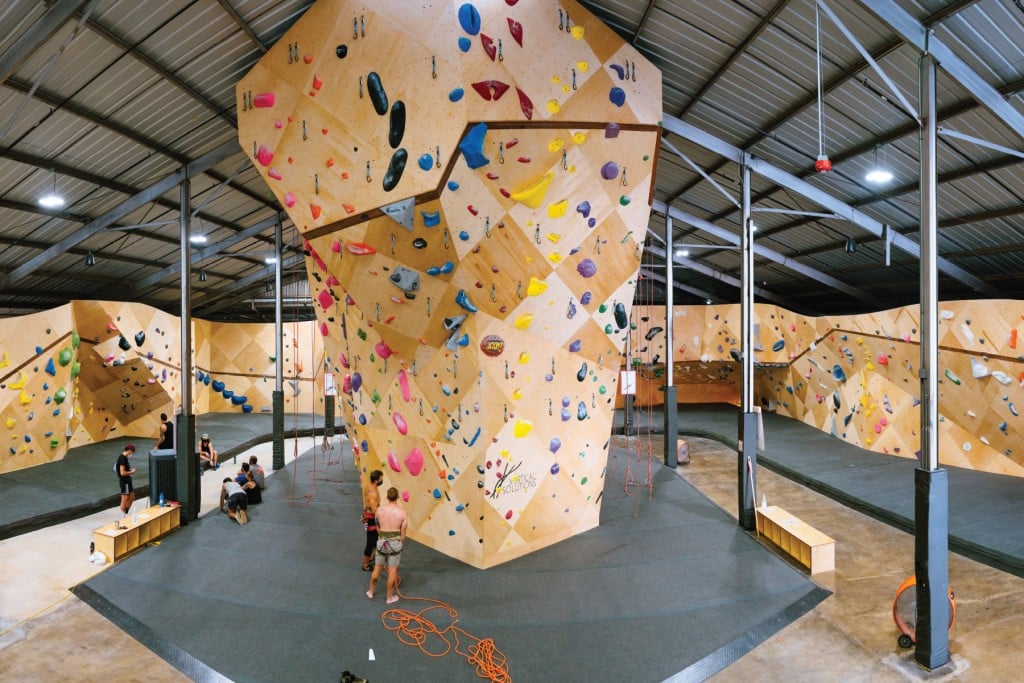 "BELAY," shouts one rock climber.
"Belay on!" replies the other.
The pair, both equipped with harnesses and red helmets and small bags of chalk attached to their hips, call out their safety cues before ascending the Mokulē'ia Wall on O'ahu's North Shore.
Dozens of people gather at this crag, a permitted rock-climbing area, every week to scale the tall basalt wall. Ropes are looped through permanent bolts at the top of the wall, then tied into the harness of the climber. This style, also known as "top rope" climbing, allows people of all experience levels to safely ascend and descend the rock.
Fearful of lawsuits after deeming it unsafe, the state closed the Mokulē'ia crag in 2012, says Mike Richardson, founder of Climb Aloha and a leader in Hawai'i's climbing community. Richardson says he, Deborah Halbert and Mike Bishop lobbied for two years with the help of Access Fund, a national climbing advocacy group, and got the site reopened.
"I was frustrated that our sport was singled out for closure for two years. There is a misperception that rock climbing is dangerous and that climbers are reckless, when actually the opposite is true," Richardson says.
Olympic debut in 2021
Climbing has gained popularity in Hawai'i and around the world in recent years, culminating in the sport's debut at the delayed 2020 Tokyo Olympics. In 2018, Climbing Business Journal reported about a 12% increase in the commercial climbing gym industry, marking an especially successful year. That was the year the popular movie "Free Solo," which later won an Academy Award, depicted the first unroped ascent of Yosemite National Park's 900-meter El Capitan.
There are two indoor climbing gyms on O'ahu, including HiClimb, which opened this summer in a former warehouse in Kaka'ako. Co-owners Devin Tryan and Steven Dauck say all of the gym's climbing walls were shipped from manufacturers in Utah and Bulgaria, then assembled locally.
Tryan says each wall in the 14,000-square-foot space, about the size of three basketball courts, is named after a Hawaiian monument, such as the Lē'ahi wall.
A nonprofit called Kānaka Climbers named the walls, says Skye Kolealani Razon-Olds, a founder and board member of the organization.
"HiClimb is the first company I have worked for who has included 'Ōlelo Hawai'i as a way to encourage conversation, inclusion, while honoring the culture within the space, versus asking to name a product for financial gain," Razon-Olds says.
She says Native Hawaiians climbed for centuries to reach fishing ponds and burial caves or to perform rituals. She says that climbing pōhaku, or stones, was a tradition passed down to her and it wasn't until recent years that she learned to enjoy climbing as a sport.
"I think of it as my church. Where other people need to go to a building with four walls, I can go and commune with the pōhaku and with my ancestors," Razon-Olds says.
How to begin climbing
Richardson says first-time recreational climbers only need a harness, climbing shoes and a chalk bag. Recommended but not required are your own rope, belay device – the tool that keeps your partner safe while they climb – and a few carabiners to clip everything together.
View this post on Instagram
"The most important techniques to learn are safety for outdoor climbing and good belaying. Getting good at the actual climbing skills happens over time and with practice," Richardson says.
"However, it is a matter of life and death to know right from the beginning how to belay properly and how to set up and evaluate one's climbing anchors."
Climb Aloha offers a four-hour course that covers these skills.
Indigenous perspective
The group Kānaka Climbers seeks to educate the outdoor recreation community on ethical access to land, Razon-Olds says. Through conversations and by hosting cleanups, it wants to create an inclusive space to help people understand climbing from an Indigenous perspective.
In March 2020, archaeologists found unpreserved petroglyphs on two large rocks at Town Boulders, a well-known climbing site at Kapena Falls State Park in Nu'uanu.
The rocks with the petroglyphs are now marked by signs created by community members that prevent hikers and climbers from accidentally destroying the art.
"This is not an effort to 'gate keep' or limit climbing access to the community, but an opportunity to educate and preserve ancient Hawaiian history," Razon-Olds says on the Kānaka Climbers blog.