Satisfying Tastebuds for 63 Years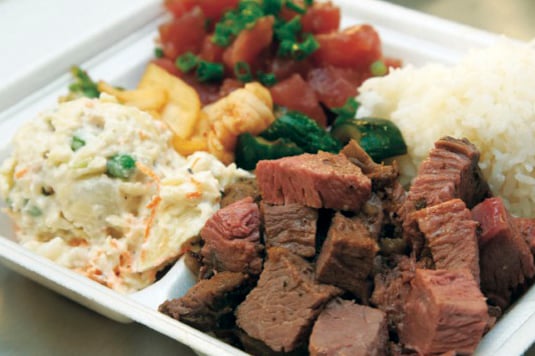 A visit to Alicia's Market in Kalihi is like traveling in time, back to 1949, when the family-run business was opened by Raymond and Alicia Kam as a quaint neighborhood grocery store.
Nowadays, the focus is on fish. Leonard Kam and his children sell about 1,000 pounds of ahi every week and offer more than 20 kinds of poke, including their most popular, the flavorful ahi with wasabi and masago. Alicia's is also known for its decadent roast pork and roast beef, which Leonard Kam says is prepared fresh daily using secret family recipes.
Some of Alicia's regulars have been coming for decades. "We know a lot of people by first name," Leonard Kam says. "There are even some people who will come in every time they're in Honolulu from the Neighbor Islands, and we also have a good amount of tourists that stop by, too, so we've been very fortunate."
For first timers, Leonard Kam recommends the roast beef and poke combo plate lunch for $10.49, or a mini for $7.95.
Alicia Kam, now 84, still comes almost every day to oversee the store. "I've been coming here for over 60 years, so I can't stay home," she says. "Too quiet."
Alicia's Market
267 Mokauea Street
(808) 841-1921