Saving Hawai'i's Endemic Plants, One Seed at a Time
A look inside the U.S. Army's seed conservation lab, home to nearly 22.5 million specimens.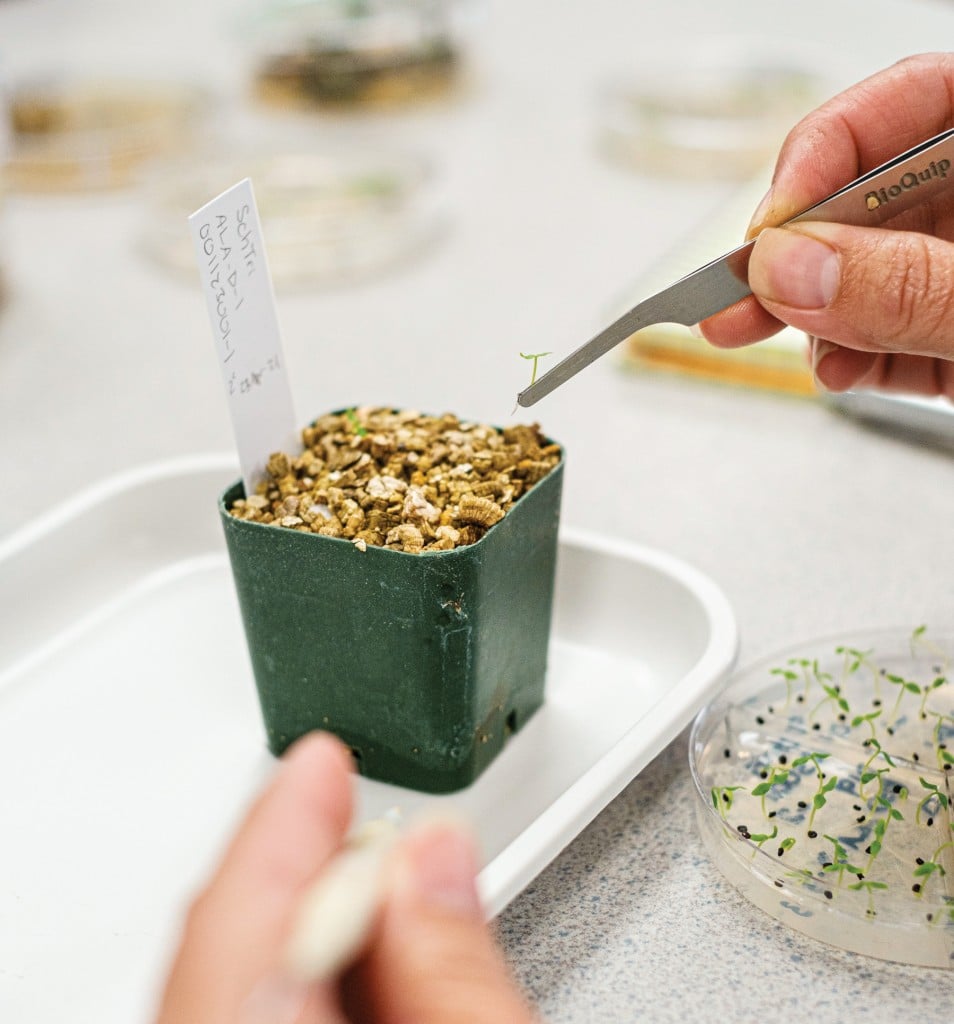 In September, the U.S. Fish and Wildlife Service named the Phyllostegia glabra, a member of the mint family that grew in the moist forests of Lāna'i, as lost to extinction.
It's a familiar story in the Islands, where about 44% of the nation's endangered and threatened plant species live a precarious existence. Scientists believe the isolation that allowed so many unique species to develop here has also left them vulnerable to changes in the ecosystem.
Today, about 90% of Hawai'i's flora are not found anywhere else, says Tim Chambers, rare plant program manager for the Army Natural Resources Program on O'ahu, which partners with the University of Hawai'i at Mānoa. About 10% of Hawai'i's original flora are already extinct, and over 30% are endangered, he says.
The Army's seed conservation lab at Schofield Barracks works to stem the loss by maintaining a permanent stock of rare seeds, both to serve as "a kind of long-term Noah's ark," as Chambers puts it, and to propagate more plants. It currently houses 22,482,131 seeds.
To get them, field crews scour the Wai'anae mountains for rare plants, traversing both Army lands and surrounding areas owned by the state, the Board of Water Supply and Kamehameha Schools. A sister program runs at the Army's Pōhakuloa Training Area on Hawai'i Island.
The seeds are painstakingly extracted, counted and weighed by hand, here by lab manager Makanani Akiona. They spend a month in dry chambers, a low-humidity environment that naturally extracts the seeds' water without using damaging heat.
Then it's into the freezers for storage – sometimes for 20 years or more. Most seeds are stored at regular freezer temperatures of -18 degrees Celsius, but some need even colder temperatures to remain viable, from -80 degrees to -196 degrees Celsius.
Seeds are regularly brought out of the freezers to germinate in the lab's growing chambers, which mimic day and night, as well as the temperatures the plants like best.
Here, tiny seedlings have sprouted in a petri dish of clear agar gel. They're then moved with tweezers to a container of artificial soil, where they grow into robust Schiedea trinervis, an endangered member of the carnation family found only on Ka'ala, the Wai'anae Range's highest peak.
Once they get hardier, these and other varieties are transported to greenhouses or returned to the wild. About 2,000 endangered plants are replanted each year, along with 11,000 common plants.
The seed lab also works to recover habitats, protecting plants from rodents, snails and other hungry creatures. Kapua Kawelo, natural resources program manager of the Army Garrison in Hawai'i, says one of the program's first successes was saving the Cyanea superba from extinction.
In 1995, two years after the seed program began, there remained only five of the trees, whose Hawaiian name is haha. "We controlled the predators, secured the fruit and cultivated the plants for replanting," says Kawelo. Now thousands are growing. "The Army is really a big player in Hawai'i for the conservation of natural resources, in particular the conservation of plants," she says.