Kids and Adults Fly High at Seagull Schools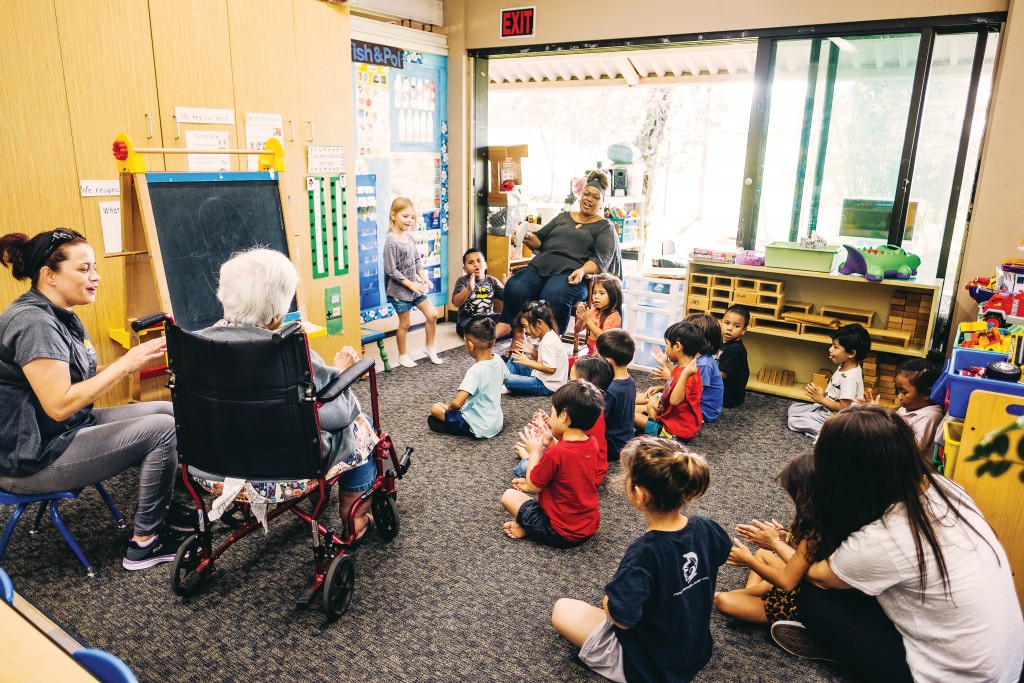 "I always strongly believed
in working with young children," Chuck Larson says.
"But when I was getting my bachelor's degree I was assigned to work in a kindergarten classroom. They never had a man there before at that grade level, and they didn't know what to do with me." The California native went on to get his master's degree in education of exceptional children from Western Washington University.
Larson is the founder, CEO and executive director of Seagull Schools – a private, nonprofit early education facility based in Kailua on Oahu's Windward side. Over the years, Seagull has added early education centers downtown and in  Kapolei, Ko Olina and Ocean Pointe on Oahu, and at the Mauna Lani Resort on Hawaii Island.
"My landlady told me about this federal stream of funding for a preschool for abused and developmentally disabled children," recalls Larson, now 75. "We began in 1972 under a contract with the state at our current location at Christ Church Uniting Disciples and Presbyterians in Kailua.
"I named the preschool after a popular book at that time, 'Jonathan Livingston Seagull.' "
Later, Larson says, the school started accepting nondisabled students for an affordable fee, and now accepts children from all backgrounds. The nonprofit uses grants to provide tuition assistance to about half of its families.
"All of our schools are nationally accredited," Larson points out. "We have lower child-to-staff ratios than almost any other center. We have really high-quality programs."
In 2012, Seagull was one of only 16 childcare centers nationally to be recognized by then-first lady Michelle Obama's "Let's Move" campaign promoting healthy lifestyles for children. About a year ago, all campuses became Blue Zones Project-certified as environments for healthy living.
"We don't have any air-conditioned classrooms because they circulate germs," explains the Waimanalo resident. "Our centers are architecturally designed to be cooled naturally. Also, we have a strict no-candies/no-sweets policy. We have no screen time – the kids aren't allowed to watch any videos. We serve fresh fruits and vegetables daily, as well as whole grain bread and brown rice. Wednesday is an all-vegetarian day."
Seagull's annual budget is about $10 million, with about 180 full-time and 60 part-time staff. It survives on a mixture of government and private grants and fees. And due to a string of fortunate circumstances, the nonprofit owns the land and buildings in three neighborhoods: Kapolei, Ko Olina and Ocean Pointe.
Larson also pioneered a food service program that serves more than 1,500 meals a day to schools and senior centers, and in 2000 he began an intergenerational adult day care program.
"From a business point of view, opening an adult day care center made sense because so many Hawaii residents are aging," says Larson. "But we also designed daily programs so the seniors can interact with the children: two or three days a week, the kupuna are assigned to one classroom so they can build one-on-one relationships with the children.
"We see such amazing benefits for both generations when they interact in this way."