Secrets of Success After Prison
It starts with a willingness by former inmates to change and includes supportive programs and caring employers.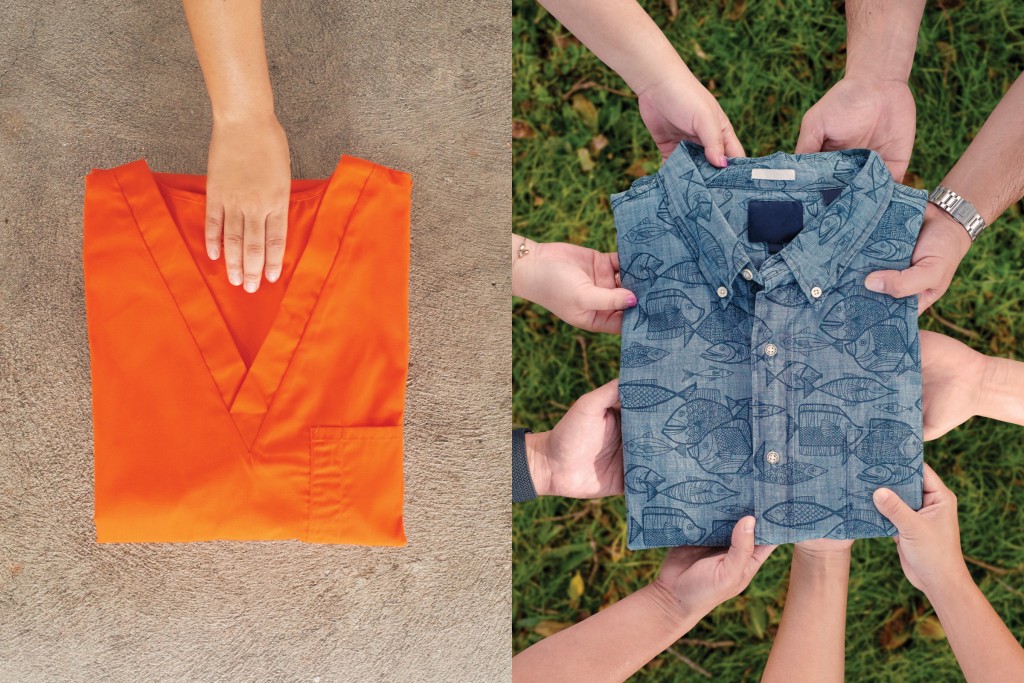 Perfecting the formula in Hawai'i is crucial as more inmates are released because of the pandemic and judicial reforms.
Carlos Bellotto had been running from the law since he was 22. For eight years he was in and out of prison for drug offenses, promising he'd get treatment if released. But then he'd run again.
All that ended two years ago thanks to supportive programs and employers. But he still doesn't know what made him snuff out the cigarette he just lit up after his last release and get in the van waiting to take him to drug treatment.
"Something led me to kill the cigarette and jump in the van," he says now. "That was the best decision I've ever made in my life."
At 32, Bellotto now has a future thanks to 72 days of drug treatment through the Big Island Substance Abuse Council and two years with the culture and service-based program Men of Pa'a, which built back his confidence, his pride in his heritage and gave him a job and life plan.
Bellotto is part of a growing network of formerly incarcerated people who have found housing and jobs on the outside thanks to government and community help. That's especially important now that pretrial detainees and inmates judged to be non-threatening are being released sooner than they might have been because of COVID-19. But without housing or other assistance – and a willingness by the released inmate to change – many are rearrested and jailed for minor infractions and worse.
"I want that for my life too."
Fortunately, Bellotto got the support and second chances he needed.
"Eventually they want me to go to school to learn new things," says Bellot-to, who works as temporary house man- ager at one of the Men of Pa'a halfway houses. "Just being around these men and seeing what they've got … I want that for my life too."
This culturally based housing, service and job prep program founded by Iopa Maunakea is just one way former inmates are helped back into society. Advocates and national experts say assistance with housing and jobs not only strengthens individuals during this crucial passage but makes communities safer and stronger.
"This is not just about helping the individual transition successfully, but caring for our community itself," says Les Estrella, CEO of the Going Home Hawai'i consortium in Hilo, which has contracts with the state Department of Public Safety to provide housing for people released.
"They're coming out anyway, so you'd rather have services to help them succeed, or would it just be better to continue on the same pathway and do it all over again? That's why we say, 'No new crime, no new victims.' "
It's a philosophy shared by some Hawai'i employers.
Isaaca Hanson, the manager who does the hiring at Hilo's IHOP restaurant, has offered jobs to hundreds of people coming out of prison. "They are treated the same as anyone else who gets hired," she says. "They follow the same rules and get the same pay. To us they are no lesser because they went away."
Hanson says the company owner believes strongly in offering second chances. "We have a few that have been with us for years but I always encourage them to find what they want to do – go back to school, learn a trade. Whatever they want to do to succeed, we are supportive of."
There are tax incentives through the state Work Opportunity Tax Credit, and protective insurance programs for employers who hire former inmates. Training can come through the American Job Center program, funded by the U.S. Department of Labor's Employment and Training Administration.
Best Practice
Nationally, Estrella says, employment is considered a best practice for successful reentry.
We've been very fortunate to have many supportive employers," he says, pointing out that for many years 20-25 employers on Hawai'i island have backed reentry programs.
"They see value in hiring those from the justice system. They are more determined. They've made mistakes and they want to prove themselves. The guys coming out have had a lot of time to think. Many of them are determined to do well. Having that job provides a lot of self-worth. It gives them this feeling of accomplishment. If you give someone a break when they really need it, they are very loyal."
The delicate art of easing people back into community life is managed by dedicated people and an array of programs, but far fewer than needed, says Carrie Ann Shirota, a former head of Maui Economic Opportunity Inc. who continues as an advocate for prisoners.
"We have very limited housing options for people transitioning from jail or prisons and housing is one of the fundamental needs that has to be offered to people to successfully transition," says Shirota.
"Some shelters may have policies that they may not be able to stay at a shelter. It creates this gap of where does a person go? We're creating this class of people that will be almost perpetually homeless."
Housing is already in short supply throughout Hawai'i, so it's especially difficult to find homes for released inmates, even more so during the pandemic. And though some employers are willing to hire them, there are fewer job openings than before the pandemic.
As such, former prisoners face staggering odds.
"Among the 5 million formerly incarcerated people living in the United States our analysis shows that formerly incarcerated people are unemployed at a rate of over 27%," notes the Prison Policy Initiative, a nonprofit based in Massachusetts.
The nonprofit's national report released in 2018, called "Out of Prison & Out of Work: Unemployment Among Formerly Incarcerated People," notes that former inmates who want to work face numerous barriers, including being accepted into the job market.
"This perpetual labor market punishment creates a counterproductive system of release and poverty, hurting everyone involved – employers, the taxpayers, and certainly formerly incarcerated people looking to break the cycle," it says.
But organizations and employers on every Hawaiian island are committed to making a difference for former inmates.
"Everybody deserves a second chance," says Rick Miller, VP of Operations at Maui Disposal, a company that he says has hired 800 to 1,000 individuals coming out of prison over the past 18 years.
"Everyone has made mistakes in their life and we want to give them the opportunity. … What they do with it is entirely up to them."
Married and Raising a Family
Many have used their first job as a stepping stone, while others have stayed with the company for years and thrived, Miller says.
He speaks highly of many, including one of the first men who worked his way up from helper to driver; the employee was able to purchase a home and is now married and raising a family.
"He's never looked backward," Miller says. "He showed a desire to get that chapter of his life behind him and move on and move up. He really liked his co-workers and liked the company, had a great attitude, and still does."
The Maui Reentry Hui (formerly the Maui Reintegration and Maui Reentry Council), which has a substantial list of willing employers like Maui Disposal, has helped as many as 90% of the men and women coming out of the Maui Community Correctional Center move into housing, prepare for employment and find services for mental health or substance abuse issues, as well as obtain money to get through the first challenging months on the outside.
One key is a long lead time, so transition begins while the person is still incarcerated.
"We start working with the individuals six months prior to release and do a needs assessment with them," says Debbie Cabebe, CEO of Maui Economic Opportunity, which also helps coordinate the list of community groups helping people with the transition from prison to the outside.
"MEO has a long history of working with Maui Community Correctional Center back to the 1990s, helping individuals do some volunteer work around facilities, and helping get them into jobs."
Juanito Dudoit, 57, is one of the success stories. He was arrested, tried and convicted for drug offenses and sentenced to 10 years in prison, but before that Dudoit spent 23 years as a Maui firefighter.
"It's so easy to lose everything in the blink of an eye," he says. "The real challenge is when you come out, and how much effort you're going to put into that."
Dudoit put in the effort. A spotless prison record earned him a spot in a work furlough program. After 3 1⁄2 years of incarceration, he worked for Pacific Asphalt and Maintenance, moved to the Hawaii Foodservice Alliance eight months later, and is now its Maui divi- son's director of operations supervising 48 employees. A year ago he and his wife bought a new home.
MEO's Bishop Pahia, a program specialist for the reentry program, lined up that first job interview for Dudoit, with Greg Cabanas, president of Pacific Asphalt and Maintenance, who hired the former firefighter on the spot.
"He took a chance on me and gave me a job and an opportunity," says Dudoit. Cabanas even bought Dudoit a truck to drive to work, while he was still living at the prison.
Now, as an executive with the Hawaii Foodservice Alliance, who has a role in hiring others, Dudoit is on the road by 2:30 each morning, delivering bread to Costco. He's grateful for his job and life. And he makes sure to hire other inmates.
"With the cooperation of my branch manager we were able to hire 12 inmates on work furlough, starting in 2017," he says. Because of the pandemic that pro- gram has been paused.
Women Find Help
In Honolulu's Makiki Neighborhood, the Fernhurst YWCA program has had a strong and successful history, says Noriko Namiki, CEO of the YWCA of O'ahu.
Her organization offers six months or more of housing to 30 women at a time coming out of incarceration. Plus it provides job assistance and emotional support as the women make the difficult transition from prison.
For a time, it was in danger of shutting down, but the Fernhurst program is currently stable with a state contract through October 2022, with the possibility of two one-year extensions.
The shock is profound for a person being released, say those who manage community programs for formerly incarcerated people. To go from prison, where each move is dictated by someone else, to sudden freedom leaves people reeling.
"It's really overwhelming to be transferred from prison," says Namiki. "You're in a structured setting and then you're in the community. We have to help them process their feelings, to help them manage the overwhelm.
"When they come out, we don't rush them to find jobs. We don't want them to think, 'Hurry up and get your first job.' We really want them to take some time, maybe two to three weeks to get acclimated to the new environment. And to think, 'How do I want to live the rest of my life, and how does this job help me be the person I want to be?' "
Lois Kim won't forget her sense of overwhelm the day the paddy-wagon from the Women's Community Correctional Center dropped her off at Fern- hurst, still in her tattered prison shirt and shorts.
"I'm sitting there in intake trying to cover my body with my arms because I felt so insecure," says Kim, who is in her early 40s. "They gave me a welcoming basket of shampoo, conditioner and body wash, and allowed me to pick five outfits from the donation closet, and new underwear. People forget that we need to feel like women again. Fernhurst recognized that."
She Chose Not to Run
Kim remembers thinking she'd last a few days before running, but the kindness of the gifts made her realize Fernhurst was truly a second chance.
"Up until now you think you've beat the system, but I suddenly thought may- be you're doing things the wrong way."
Kim decided to stay.
That was five years ago and today she has her life back, holds an executive position as program manager with Care Hawaii, a substance abuse treatment program, and has just completed an online MBA with the support of Care Hawaii's leaders.
"We're willing to take a chance on you," she was told during her interview there and Kim felt tears rolling down her cheeks. All her other resumes had been turned down.
"They have a lot of trust in me, which really pushes me to try harder and be better," says Kim. "They push me to have higher goals and give me the opportunity to improve myself."
Care Hawaii President Brian Morton applauds Kim for her attitude, work ethic, skills and willingness to be a team player.
"We look for talented people and want to get the right person regardless of anything in their past," says Morton. "We also provide a lot of services for people being paroled and understand the challenges people face coming out. It's very hard to get hired if you have to explain on your resume what happened to this five years."
Morton says the company has also hired hundreds of other people coming out of prison and will continue to do so.
"We never approach it as if it's a risk, or based on their conviction or when they got out of jail or the last time they had a criminal charge. We try to focus on the person and see if they're ready to be a good team player," he says.
"In this pandemic we've had to do all different jobs and we've all chipped in and Lois chips in right along with everybody."
As women get close to parole from prison, the lucky ones move directly to Fernhurst, which provides stable housing for six to eight months, and often longer.
"In that time, we help them land employment and reunite with their families and try to plan for next steps," Namiki says. "In reality, when they complete the program and meet the parole board, some can go back to their families. Those women who still need a place to stay, if they're paroled and employed, can stay at Fern- hurst and then move into a transitional housing program in the same building."
Reconnecting With Your Roots
While the women at Fernhurst need emotional support, and then jobs, the Men of Pa'a's Maunakea points to the importance of reconnecting Native Hawaiians with their cultural roots. With housing, culture and service as part of recovery, men often make profound changes, he says.
"When they come into the community and do service, and people tell them how great they are, then their minds and hearts are changing and you see them soften up," says Maunakea. "The beauty is when the kāne get good with themselves, once that happens then their family gets good. Then their family atmosphere gets better and when that happens who bene- fits? The community. You have one man turning around his life. And now they are productive members of the society and giving of themselves to their community. So we are people who are helping people who are helping people."
Maunakea's program provides housing in two clean and sober houses in Puna where about 19 men can stay six months or longer. The program will expand in the next few months, with two more homes, first in Kohala and then in Kona.
Maunakea's commitment comes from his own experience in the justice system and his belief that the system needs change and, especially, more community support. Back in the late 1980s, he was arrested and incarcerated for burglary and terroristic threatening; he spent 2 1⁄2 years in prison. That experience, he says, made him a lifelong advocate for better systems.
"You've got guys who don't know how to live in the real world or interact with the real world," he says.
Maunakea cites an example: "One man who had been in prison for 13 years, when he was walking around free he couldn't believe it. He had his freedom back and he did not know how to take that on.
"What I do is bring them into my clean and sober houses to basically go through a spiritual and psychic and personal change and introduce them back to the culture and their family."
One of the many volunteer service projects taken on by the Men of Pa'a during the pandemic has been hand- ing out hundreds of cases of fresh food each week to needy residents. Hope Services organized the food distribution and more than a dozen agencies followed through.
During the worst months of the pandemic, on Auina Road in Pāhoa, hundreds of cars would pass along the quiet street one day each week. Ian Paleka and other Men of Pa'a would lean for- ward and speak kindly to drivers as cars pulled alongside.
"Good morning ma'am. Where do you want the food?" Then they would settle a hefty box of fruit and vegetables into the car. The occupants would offer grateful "thank yous" and often the people would recognize each other, like old friends.
"Our primary purpose is to take care of the people," Paleka says. "They thank us all the time. They don't know that what we're getting from them is much more. This is helping me get outside myself."
As residents in need came back each week, Paleka and the others realized they were making a difference in a community where they had once committed crimes. They were reversing their pasts.
They also worked with the U.S. Census Bureau and helped 111 families submit their information, meaning that an additional $500,000 in government benefits will flow into their community over the next 10 years, Maunakea says. Many public benefits accrue according to the number of people counted in the Census.
He says the Men of Pa'a program turns lives around by creating a mindset of service in men who had lost a sense of themselves.
"I just applied for a job at the Neighborhood Place of Puna," Paleka says by phone from the halfway house. "It's a shelter for the homeless and they need help to monitor and make sure the res- idents are up to the standards of the shelter." He hopes to work there but continue to live at the halfway house to keep strengthening his own new life.
"I lost this thing called self-identity," Paleka says. "We forget who we are. And I'm slowly getting back those things that I've lost."
Psychological Assistance
Executive Director Andrick "Andy" Tong runs the After Care program for sex offenders at the Community Assistance Center on Vineyard Boulevard in Honolulu. It continues a two-year in-prison program by offering four more years of psychological assistance to prevent relapse during parole.
The program includes regular meetings that reinforce communication and relationship skills, anger and stress management, and empathy for victims.
It doesn't include housing or employment options, yet the program has a recidivism rate under 6%, Tong says. However, the participants often struggle to find housing because of their pasts as sexual offenders.
"You have to tell your landlord, and a lot will not accept them because they have to worry about liability and the other tenants," says Tong. "Even if they don't kick out my guy, if one of the other families finds out about them, then all the other tenants might leave."
Tong says finding employment has been easier than finding a place to stay, with many landing jobs in construction, auto mechanics or restaurant work. "I have a lot of guys start out as a dishwasher, and then go to line cook, and then end up being a prep cook.
"People in Hawai'i seem to be much more accepting and willing to forgive. Be- cause the incarceration rate is very high, a lot of people have been caught up in the system so they may be more forgiving be- cause they know people who have been in prison and they don't prejudge."