Seeking the Business Vote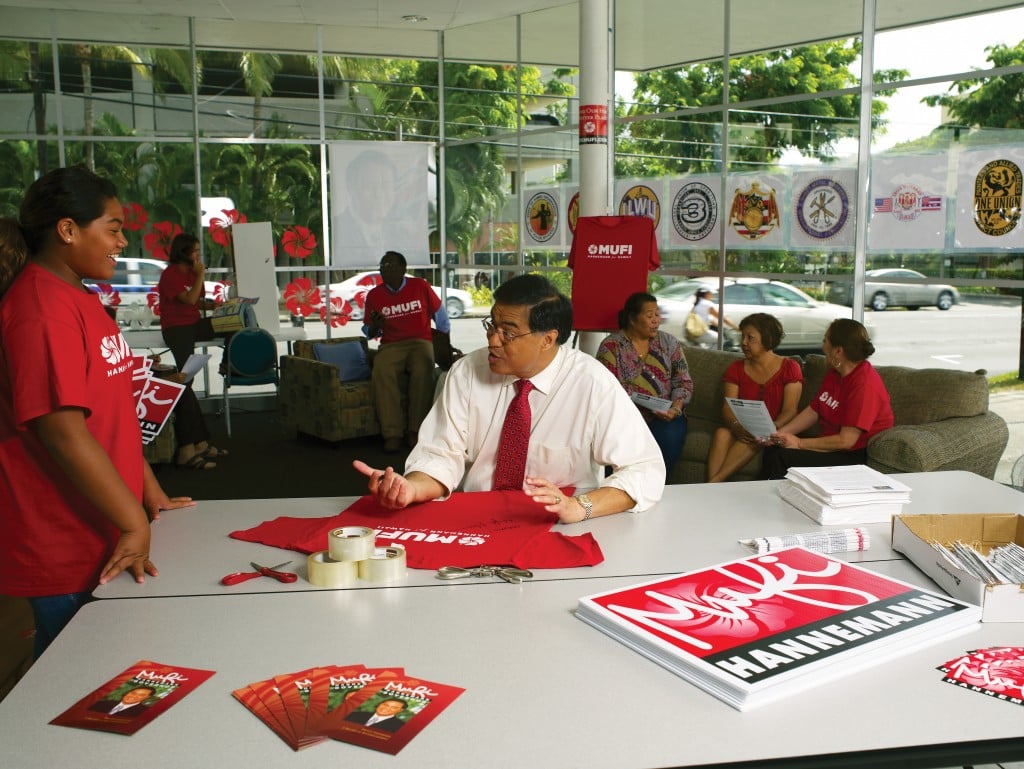 Top candidates for governor explain how they would make it easier for businesses to succeed.
Those in Hawaii struggling to maintain a business or start a new one can rest easy on one thing: Our next governor has no plans to increase taxes that impact business – at least not in the immediate future.
All three major candidates – Democrats Neil Abercrombie and Mufi Hannemann, and Republican James "Duke" Aiona – uniformly promise to improve Hawaii's convoluted, complex and time-consuming regulatory process. And they all say their key focus will be jobs.
That's what Hawaii Business learned from a survey of the three candidates and a study of the campaign for governor. Some themes are clear:
• Aiona focuses his remarks around the achievements of the Linda Lingle-Aiona administration of the past eight years and, if elected, promises to take those initiatives further and faster.
• Hannemann casts his ideas for the governorship as a reflection of what he did as mayor of Honolulu, talking about such things as infrastructure, transportation and regulatory reform.
• Abercrombie talks about getting the state administration in better tune with the people – including the business community – so that it reflects rather than thwarts their interests.
The "business" planks of the three candidates are remarkably similar, with few hard specifics, but at least one issue suggests a divergence in policy: What to do with the stateLand Use Commission?
The LUC is of intense interest to landowners and developers, who say it largely duplicates county regulators and want it reformed, and to environmentalists and some planners, who see the LUC as an imperfect but necessary bulwark against over-development.
To the question of whether the LUC should be abolished, maintained or changed, Aiona gave no immediate response to Hawaii Business. However, in January, the Lingle-Aiona administration proposed a bill to "simplify" commission processes by creating a "legislative-like" process in place of the contested case system used today. The bill did not pass.
Abercrombie contends his goal is to restore public confidence in the commission so it can ensure sustainability of the Islands. That reads as: Keep it, but make some tweaks if enough people want them.
Hannemann had the most specific response to our LUC question, saying that many of its land-use regulatory duties could be shifted to the counties. He also said there is no need for an environmental assessment "at this level" and he called for a quasi-legislative process in place of today's time-consuming, contested-case hearing process.
Here are some of the questions we asked and an abridged version of the candidates' responses:
What is your top initiative for improving the Hawaii business climate?Abercrombie: Streamline the permitting and regulatory process; improve the education system so it produces workers ready for the 21st-century economy and reform procurement. "Politics has overwhelmed the process of bidding for and performing work for the government. We must have a government procurement system that is fair, based on merit and free from political pressuring."
Aiona: Reduce regulatory barriers that delay permits and approvals. "The vast majority of complaints I hear from businesses, large and small, are how long it takes to go through the process of applying for and obtaining permits and approvals." The lieutenant governor also focuses on strengthening the Island workforce through education reform with a focus on science, technology, engineering and math; reducing the cost of business by lifting government mandates; and placing more of the state's reporting and permitting requirements online.
Hannemann: Place greater emphasis on sports, the film industry and marketing Hawaii as a place to meet and do business. Speed up infrastructure improvements and continue pushing for an Oahu rail system. Gridlock acts as a de facto "tax" on business, he says. Attack waste and inefficiency and streamline the permitting process. Conduct an early audit of state government, similar to the audit he ordered when he became mayor.
Do you propose eliminating or reducing any tax?
Abercrombie: The key is tax stability so businesses can plan. "At the moment, I have no plans to change the tax code. However, I am open to working with the business community on subjects like the general excise tax and employment taxes, especially with regard to how they impact small business."
Aiona: "Hawaii businesses suffer from one of the highest overall tax rates in the nation. … I believe there are taxes (where) marginal rates can be reduced. However, rates can be reduced only after we have a fair and transparent tax system." Fair, he says, means everyone pays their fair share and tax evaders are pursued. Transparent means, among other things, understanding and rationalizing the myriad of exemptions that have been built into the system over the years.
Hannemann: While there is room to look for unfair tax preferences and loopholes right away, "Given the condition of the state treasury, and before we can consider eliminating or reducing any tax, we have to grow the economy." Once the economy stabilizes, he would be willing to work with business on reassessing the corporate income tax, use tax, conveyance tax and so forth.
Would you consider raising any tax impacting business?
Abercrombie: "I don't think we need to increase any taxes right now. I believe we need to improve people's confidence that their taxes are being spent wisely." However, he did say he would consider working with the Public Utilities Commission to increase the Public Benefits Fund. For an average of $1 a month per household, the state could materially step up its energy-conservation programs, saving far more for average households than they would pay, he says. Hawaii has to capture some of the $5 billion being spent now on imported oil.
Aiona: "Taxes do not need to be raised. However, if we continue down the path of raising one of the already highest tax burdens in the nation, businesses will not invest, will not hire and will not grow."
Hannemann: "It is hard to see how raising any business taxes would be productive for the economy at this time. Before looking at any revenue enhancements, we need to make sure we are spending hard-earned tax dollars wisely by looking for cost savings, cutting expenditures, seeking grants and other measures."
Would you eliminate or change any regulation or law impacting business?Abercrombie: Conduct a full-scale review of all regulatory laws to achieve streamlining while still protecting the public interest. An example, he says, is the Public Utilities Commission, where the process slows down progress toward energy independence and stifles energy entrepreneurs. An independent Hawaii Energy Authority would combine policy oversight now found in the Energy Office with some regulatory authority.
Aiona: While regulations have their place for public health and safety, "Over the years, the approval process has become too protracted and bureaucratic and it lacks transparency." He would place time limits in which permits or approvals must be issued "or the application will be deemed approved."
Hannemann: Evaluate and update the law governing environmental-assessment requirements "in light of recent court decisions (such as the Supreme Court's Superferry decision). The uncertainty over what's required under this law has created tremendous frustration, not only for businesses but for those government agencies charged with overseeing zoning and planning matters."
Are business-reporting requirements, such as consumer complaints, adequate or too onerous? Should they be more transparent?
Abercrombie: "The key is to ensure the public is protected in ways that are not too burdensome to businesses. In the end, protecting consumers is good for the public and good for business."
Aiona: "Annual business reporting requirements can also be fulfilled online and certificates of good standing and other business documents can be purchased online and downloaded instantly." He says this was accomplished by the Lingle administration, while, at the same time, "cutting just about every fee and charge to the maximum extent allowed by law." He says he would also reduce or eliminate the time complaints remain posted online when they are not upheld.
Hannemann: Business should have the right to respond to a complaint before it becomes public. Adjudicated complaints should be posted, but only after the oversight agency has fully investigated the matter and rendered its decision, he says.
Should the Land Use Commission be abolished or maintained, or should its mission be changed in some way?
Abercrombie: "As they are with other aspects of government, many people have expressed frustration with the Land Use Commission and wonder if it is truly meeting the public interest." He says it is important to restore public confidence in the commission. The LUC's basic mission is to ensure sustainability for the Islands and, to that end, he says, he has promised to talk with experts and community people to determine how best to accomplish that mission.
Aiona: Did not respond.
Hannemann: "There is no doubt that something needs to be done about the Land Use Commission." Many LUC duties duplicate county processes, adding to bureaucracy and delay, he says. Moreover, the contested-case format "lengthens the process and imposes a high level of uncertainty for any business applicant considering investing in our state." He will propose legislation that eliminates some LUC duties that duplicate county processes; eliminates the need for an environmental assessment at this level; and creates a quasi-legislative process instead of the current adversarial contested-case hearing process.
What is Hawaii's best "business-friendly" law? Its worst?
Abercrombie: The best law or laws are improvements in procedures to automate the process of creating a business in Hawaii. "The state has made good use of technology to streamline that process from what used to be rife with confusion and frustration." The most "business-unfriendly" law was the recent effort to "renege" on the high-tech tax credits. "This is not to say that the tax credits were perfect laws. … But when government is undisciplined and unreliable, it sends exactly the wrong signal to the business community and it further damages our business climate."
Aiona: One of the best business-friendly laws is Act 207, the energy-facilitation law of 2008. The law supports the Hawaii Clean Energy Initiative goals and "establishes a fair procedure with time limits by which permits are either issued or, if not issued, deemed approved." An example of the worst law is the "card-check" law, which allows unions to organize the employees of a business without conducting a formal, secret vote of all employees.
Hannemann: Act 221 (high-tech tax credits) is illustrative in that it was both the most business-friendly law and the worst. It was the best in its intent to jumpstart the tech industry in Hawaii and in its success in stimulating investments in local technology companies. It was the worst because of all the attempted and actual changes made to Act 221 over the past decade and all the local, national and international negative publicity those changes produced. "The law did not realize its full potential. One of its biggest downfalls was that it did not have the necessary measurement tools built into the original law – raising unanswered questions and controversy."
Private-sector Experience
Mufi Hannemann regularly points out that he is the only one of the three leading candidates who has significant executive experience in the private sector. In between campaigns for office, he worked with C. Brewer & Co. in Honolulu and on the Big Island. He also notes that he is a former head of the state Department of Business and Economic Development.
But the bulk of Hannemann's experience has been in the public sector: working in the White House, in the administration of former Gov. George Ariyoshi, on Honolulu's City Council and, of course, as mayor.
Abercrombie and Aiona have spent almost their entire careers in public service. Aiona, a lawyer, began as a deputy prosecutor in Honolulu, and then moved to the City Corporation Counsel's office and later became a Circuit Court judge with experience both in Family Court and in the successful Drug Court. In 1999, he joined a Kailua legal and consulting firm while continuing to serve as a part-time judge. In 2002, he was elected lieutenant governor.
Abercrombie, an academic who received his PhD from the University of Hawaii and has taught at UH and served at almost every level of government in Hawaii, including the state House and Senate, on the Honolulu City Council and briefly in Congress before he was elected full-time to Congress in 1990. While he was earning his college degree, he worked at a number of jobs from teacher to waiter.