Shangri La: Hawaii's House of Treasures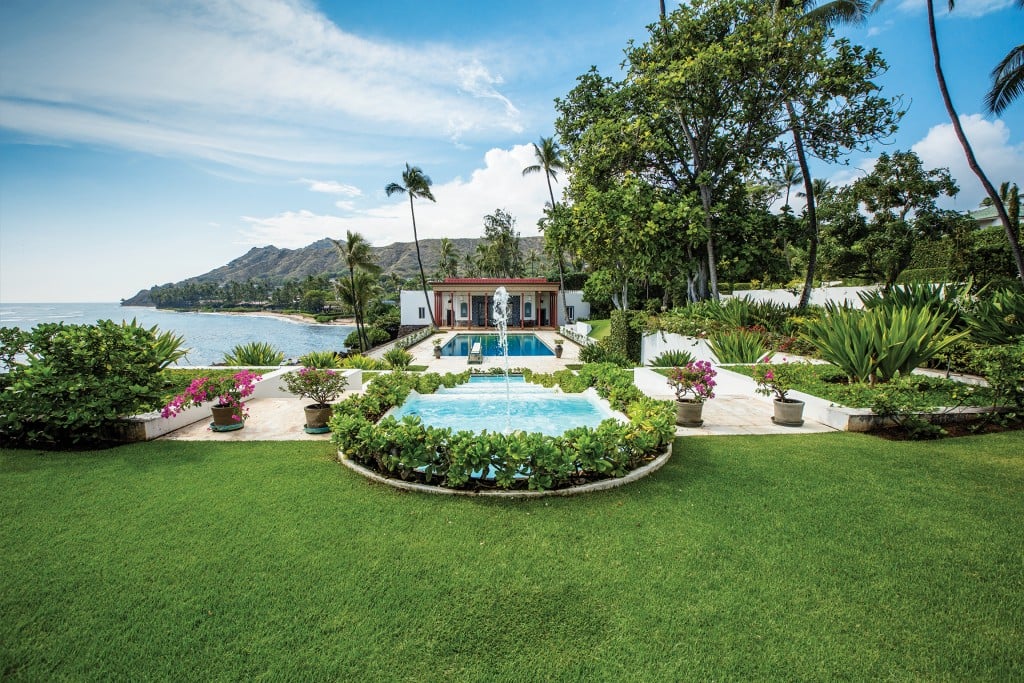 At First, It doesn't look like much. I've just parked in the driveway of Shangri La, which was once the home of Doris Duke, and I'm wondering where the house is.
I see a small, plain, white windowless building nearby, which I'm guessing is a visitor center, and lots of plants, but nowhere do I see an extravagant entryway to a large and imposing home or even sweeping views of an estate's grounds, which, I think, must be somewhere. I've heard great things about Shangri La and I'm here for the guided tour.
Doris Duke was the daughter of James Buchanan Duke, a wealthy tobacco tycoon, who died when she was 12, leaving her $80 million. Duke lived a life of privilege, but was a very quiet and private woman, who the press nicknamed "The Richest Girl in the World." During her travels to many countries, she developed a fondness for Islamic art and began collecting it.
In 1935, she visited Hawaii with her husband, James Cromwell, on the last leg of their six-month honeymoon. They had such a good time, making new friends, such as Hawaiian watermen Duke and Sam Kahanamoku, and enjoying the beautiful landscapes, that they stayed four months. Ultimately, Duke made Hawaii the location of her next home, which she called Shangri La, after the idyllic town from the novel "Lost Horizon."
"The Kahanamoku family helped her find this property; she purchased 4.9 acres for $100,000 and, then, the first $1.4 million house was built when Hawaii was still just a territory," says Victoria, my guide. We're standing in the port cochere and people in my group are asking about Duke's money, family and love life. All very interesting, but I'm anxious to see the home that she requested be turned into a museum called the Shangri La Center for Islamic Arts and Cultures.
"If you came to this house in her lifetime, you came to a party, you would not go into the front of that house," Victoria begins, pointing to the plain white building I mistook for a visitor center. "That door would be locked. You would go through the garden area around the side, then you would go to the playhouse. She locked her house and kept her social life very private." The house, made with plaster walls and a ceramic-tile roof, is purposefully plain on the outside, as is typical of Islamic homes.
But, once past the large wooden front door and into the foyer, I was floored. The elaborateness of the interior's design is jaw dropping. My eyes couldn't stop wandering, from the wooden ceiling, to the textiles on the walls, colored-glass windows, ornate lamps and wooden chests. Our guide names the objects and where they came from – many brought to Hawaii by boat – pointing out many wonders my eyes had missed. We could have easily stayed in the entryway for another 20 minutes, but we're moved along because there's so much more to see.
The property is made up of two large buildings, separated by a 75-foot swimming pool, a tennis court, and public and private rooms arranged around a large courtyard. Room by room, we see more elaborate pieces of art. The large living room, with a ceiling Duke had commissioned in Morocco, has a mihrab, or prayer niche, from the tomb of Imamzada Yahya in Iran. There's also 15th- and 16th-century Spanish plates, basins and tiles, among the many other historic items in the grand, colorful room.
The Turkish and Baby Turkish Rooms look like reproductions of a Syrian home, with an interior composed of carved and painted woods from the Quwwatlis family, aristocrats from Damascus. Duke's bedroom and bathroom suite are large and exquisitely designed, having been inspired by none other than the Taj Mahal, which she loved. There's marble everywhere, on the walls, doors, bathtub, shower and floor with panels inlaid with semiprecious stones, sliding window jalis (latticed screens) and arched doorways.
The outdoor public spaces were some of my favorites, including the garden courtyard with artwork and large mosaics on its walls; the outdoor pool area with stunning views of the ocean and Diamond Head; and the sundeck, located on the roof, surrounded by tall white jalis. Victoria asks us to imagine how much fun it would have been to lie on the roof, listening to the sounds of an ukulele while watching whales at sea. Everything looks like a dream.
We didn't want to leave the poolside lawn when it was time to go. Our guide had already walked away and was now calling us for the second time, as we stopped to take more photos and look again at all of the designs and details around us. Our eyes wanted to soak in more, but we were finally persuaded to follow Victoria out. I immediately knew I would be back, because it will take more than one visit to soak it all in.
---
Doris Duke's Shangri La
➥ Tours are Wednesday through Saturday at 9 and 10:30 a.m. and 1:30 p.m. For information and tickets, visit shangrilahawaii.org.