Sizing Up Earthquakes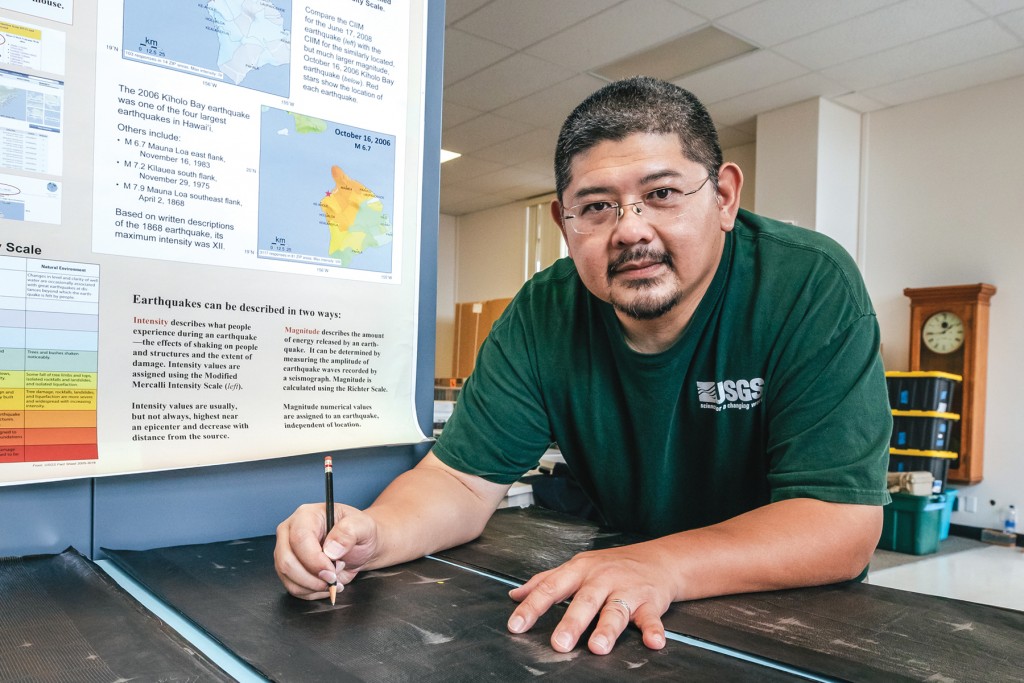 Name: Jefferson Chang
Age: 40
Job: Geophysicist/seismologist, U.S. Geological Survey Hawaiian Volcano Observatory, Hawai'i Island
Beginnings: Chang is from Waimānalo on O'ahu and a Kailua High School graduate. "I ended up in Flagstaff, Arizona, where I received a B.S. in geology from Northern Arizona University in 2005," he recalls. "I continued onto graduate school and received an M.S. in geology from the University of Texas at El Paso in 2008, and a Ph.D. in geophysics from the University of Oklahoma in 2017.
"Less than a month after graduating, I saw a job posting for HVO, and I thought to myself, maybe it's time to come home."
Chang began his new job in mid-June 2018 – right after the eruption of Kīlauea Volcano.
What It Takes: "I am part of a team responsible for locating and determining the magnitude of earthquakes in the region, which includes the state of Hawai'i. Our primary focus is the Big Island, since it is the most seismically productive part of the region. Our primary duty, during volcanic unrest, is to determine where magma is most likely to break the Earth's surface.
"Personally, I love solving puzzles or riddles, and helping people. Every day we make new observations, and every day we uncover a new piece of the volcano puzzle or get a new hint in solving its riddles."
Unusual Experience: "Seeing Fissure 8 up close during the 2018 lower east rift zone eruption was interesting, unusual, difficult and stressful. We were there as part of the 24-hour monitoring efforts – to take measurements of the lava river speed and cone height and note any changes.
"It was like watching raging river rapids, but instead of floodwaters and debris, it was hot, molten earth. It was awe-inspiring and unusual. It was also hazardous and stressful. The fissure was constantly fuming sulfuric gases, lava would be ejected over the sides of the cone, and little whirlwinds would fling lava from the channel and over the recently hardened levees."
Gear: "We wear protective gear – gas mask and gas monitor – while constantly evaluating the area for changes. If we come across a situation that seems too risky or unpredictable, we do not go."
Misconceptions: "I think people view scientists as strictly analytical individuals that just spout facts about their discipline. But it takes a lot of creativity to advance any science. I would argue that we use our creative mind more than our analytical one."
Great Days: "The best part of my job is that I get to give back to the local community – be it through monitoring earthquake activity in the Islands or going to communities to help answer people's questions, or going to schools to talk about career pathways."
Pay Range: "In the USGS, salaries depend on the level of the job,
educational background and work experience. Grade 2 (high school diploma and little work experience) can earn $25,482, while Grade 15 (Ph.D. and many years' experience) can earn $126,000."
This interview has been edited for clarity and conciseness.