Skai Ventures: Strategies for Takeoff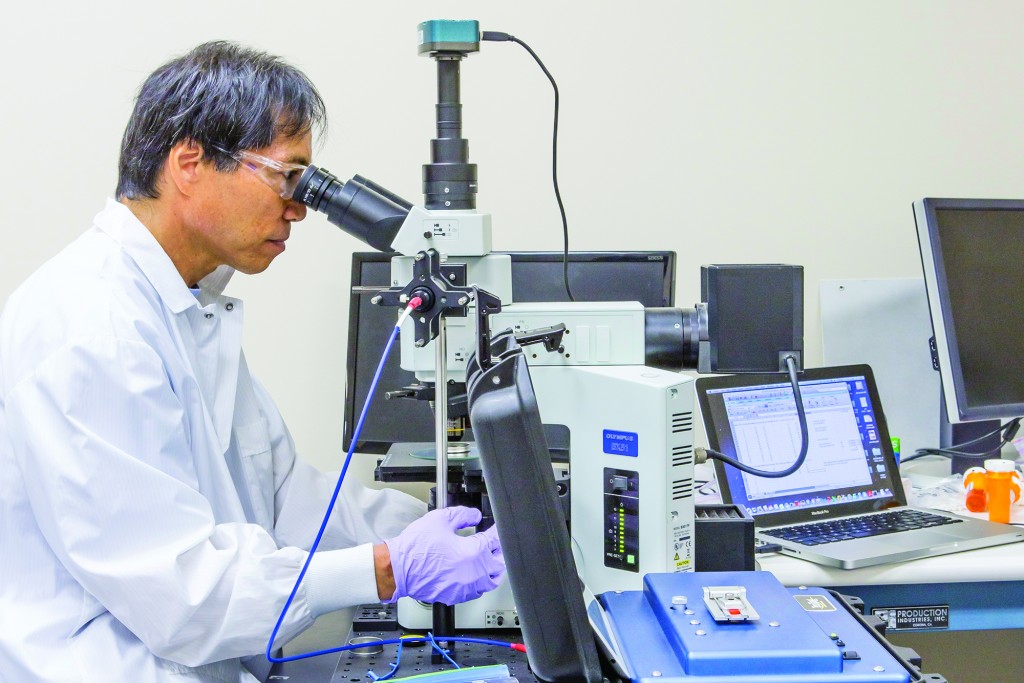 Twenty miles west of downtown Honolulu, inside a compact industrial building in Kapolei, engineers decked in white lab coats and safety goggles are carefully dipping silicon wafers into baths under industrial hoods and studying readouts that flash on monitors mounted around the cleanroom.
Ten miles east of downtown Honolulu, in a home atop Hawaii Loa Ridge, a group of barefoot millennials is spread across a spacious living room – manipulating cartoon images on their laptops, snacking on leftover birthday cake, engaging in a three-way conversation by a wall that is plastered with scribbled-on flip chart sheets.
As different as their environments are, the two endeavors are siblings in the portfolio of Skai Ventures. The engineers at TruTag Technologies have invented a line of "microtags" that can be applied to pills as edible bar codes – and to a wide range of other industrial products – to address the $650 billion-a-year worldwide market in counterfeit products. The software developers at FitGoFun have created a suite of mobile games designed to shift people's habits toward healthier behavior and start to reverse the rise of chronic diseases and the soaring costs of healthcare.
TruTag, FitGoFun and the five other businesses that comprise Skai's holdings are linked by a common focus on health care and a willingness to think outside the box when big problems are at stake. Hank C.K. Wuh, MD, MPH, is the mastermind of the Hawaii-based venture capital and technology accelerator. He's an orthopedic surgeon, inventor and entrepreneur who has led the development of over 20 biomedical and consumer healthcare innovations. He sees his life's work as a chain of initiatives that can make people's lives healthier and safer.
Against the backdrop of such a grand vision, this soft-spoken guy, who wears shorts and slippers and insists on being called "Hank," knows most of Skai portfolio's nearly 150 employees by name. He is fundamentally rebellious – in a genteel way. For Wuh, unscripted dreams can and must be realized: "One way to change the world for the better is to solve existing problems with technology that doesn't yet exist. Most of what is possible today was unthinkable even five years ago," says Wuh.
By offering some infrastructure, some funding, some coaching – and a lot of rope – Skai Ventures attracts entrepreneurs and innovators from around the world. They come to Hawaii to meet Wuh's three-part challenge: Invent the future. Disrupt the status quo. Be inspired to follow your dreams.
Inventors and inventions need more than dreams, however. Each of Skai's seven portfolio companies is solidly rooted in science and accountable to the realities of the marketplace. Though Skai has a holding in the companies, each is run and managed independently, with its own shareholder base, management team and governance structure.
Whatever the product – bioengineered corneas, edible bar codes, a gel that can decontaminate hazardous waste, a vision center, an endoscopy institute or mobile apps for health – each company's charge is to invent, license or acquire intellectual property that it can incubate and accelerate to address an unmet market demand. "We're not here to create novel technology and find problems to solve," says Wuh. "Everything we do serves an existing problem; the ideas have to work in the marketplace."