Sliming the World Clean with Blue DeconGel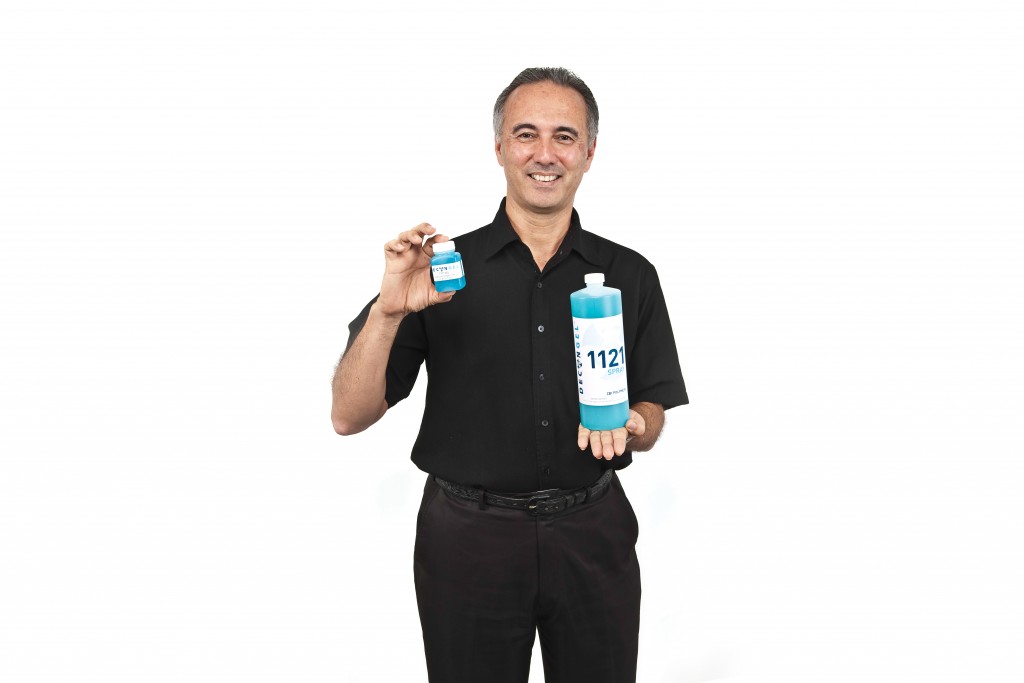 The Problem
How do you decontaminate military aircraft after they've collected dangerous air samples from nuclear tests? The prime method — pressure-washing with soap and chemicals — leaves thousands of gallons of contaminated water to dispose of.
The Solution
Hank Wuh's Cellular Bioengineering Inc. says it experimented for two years and created a bright-blue gel capable of sliming the worst hazardous waste and picking up every speck of residue.
"DeconGel can be applied to just about any surface and safely, effectively and efficiently decontaminates these surfaces without the need for expensive, esoteric or scarce equipment," says Chief Operating Officer Larry Stack.
How it Works
DeconGel can be rolled, painted, sprayed or troweled on, after which it sinks into every nook and cranny. Stack says it doesn't require water, special suits or special tools. The bright-blue color helps show exactly where it's been used and how much has been applied. "It has extraordinary binding properties that trap and encapsulate a wide spectrum of radioisotopes, chemicals and other contaminants in a simple, no-preparation process," says Stack.
Further Applications
The gel can be used on concrete and steel, painted or unpainted, glove boxes, hoods, casks and more, says Stack. The company is researching whether DeconGel can kill bacteria so it could decontaminate rooms that contain SARS, H1N1 and other viruses on surfaces. It also cleans sidewalks, garages and parking lots of everything from mold and red dirt to oil and grease.
The Market
$2 billion and up. Way up. CBI spunoff CBI Polymers to market the gel. Starting with the $650 million worldwide nuclear-industry market, there's another $1 billion market selling to the military and a further $1 billion market selling to industry and civilian institutions. And who isn't going to want to keep a $19.95 liter bottle of DeconGel around the house for icky messes?
Disposal
Once DeconGel has picked up a household spill, it can simply be thrown away, says Stack. It gets more complicated with hard-core contaminants like plutonium, mercury, lead, asbestos or other heavy metals or toxic chemicals. Once the gel absorbs them, it must be disposed in accordance with state and federal regulations. The good news: it vastly reduces the waste – going from large drums "full of nuclear waste" down to contaminated rags and some water, says Stack.
CBI Polymers
949-2208
www.cellularbioengineering.com
Know about a great innovation?
Send your idea to feedback@hawaiibusiness.com and type "Innovation" in the subject line.