SmallBiz Guide to Power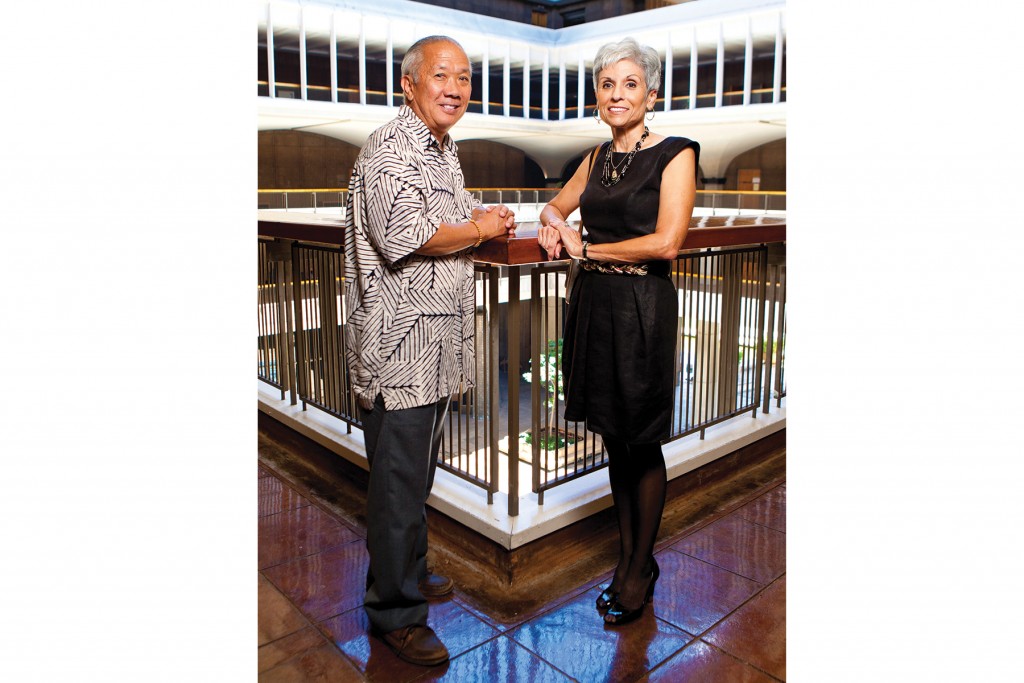 Imagine the huge cost to your small business if the 2010 Legislature had raised the general excise tax or failed to cut unemployment insurance premiums. Every year at the state Capitol, similar make-or-break laws are debated and that's why it's crucial for small-business owners to have a strong voice there.
But most owners barely have enough time to get a haircut let alone spend hours advocating for laws that benefit their businesses. The simple, low-cost solution: Join a trade or business organization that works for you.
Government advocacy is the No. 1 reason businesses join trade organizations, says Carol Pregill, president of the Retail Merchants of Hawaii. The organizations not only provide members with access to the lawmaking process, but also make it easier and more affordable for members to participate.
"The more businesses that get involved in the legislative arena, the more influence and power they'll have in determining what laws govern their industry and our state," Pregill says. "We know small-business owners are strapped for time, but it's very important that they're a part of the discussion."
Unions, environmental groups, big companies, social and cultural groups, and many others are at the Legislature making their voices heard, so small businesses can't afford to be MIA.
Bang for your buck
Almost all trade and business organizations have a government affairs committee or an advocate who monitors legislation. Richard Botti, president of the Hawaii Food Industry Association, has done that for various organizations for more than 40 years. "The squeaky wheel gets the grease," he explains, "so if you're in a business organization, you can squeak without having to hire a lobbyist because the organization does it for you." Botti estimates it would cost anywhere from $10,000 to $60,000 a year for a company to hire its own lobbyist.
Business advocates such as RMH's Pregill, the Chamber of Commerce of Hawaii's Sherry Menor-McNamara, Melissa Pavlicek, state director for theNational Federation of Independent Business, and the HFIA's Botti are at the state Capitol almost every day during each session, meeting with lawmakers, attending hearings or connecting with constituents. Their relationships and experience with legislators make them more effective at communicating their organization's message.
Members can also take advantage of forums, educational workshops, networking events and legislative walk-arounds, where they tour the Capitol and go door-to-door to meet elected officials. Pregill says RMH often requests changes and offers amendments to proposed legislation to prevent businesses from suffering unintended consequences. The walk-arounds give business owners and managers the opportunity to share their concerns with lawmakers face to face.
"A lot of times we're forgotten if we're not present (at the Legislature)." Lance Duyao, Big Island Candies
For those who can't be as involved, most organizations disseminate newsletters year-round to discuss legislative issues, regulatory changes, and matters regarding taxes, workers' comp and healthcare. The Chamber has, for example, e-mail alerts that update the status of bills, solicit input and notify members when testimony is needed. It can even set up a template for submitting written testimony to make it easier for members.
"We state the issues – for example, how this bill will impact businesses or what kinds of changes we'd like to see made – and all the member needs to do is provide additional info about their company and whatever else they'd like to include," Menor-McNamara says. "We can also set it up so that the e-mail is sent directly to the committee chair or legislator."
Lance Duyao, director of retail operations and special events for Big Island Candies, says it's even more important for Neighbor Island businesses to get involved in organizations with strong legislative presences.
"Being a member of Retail Merchants allows us to stay informed about what issues are coming down the pipe and how to support bills," he says. "Being (on Hawaii Island) makes it a little harder to be as active, but we try to stay informed because the laws that are passed in Honolulu will affect all of us. A lot of times we're forgotten if we're not present."
Big Island Candies belongs to almost a dozen ethnic and business organizations, including RMH, Destination Hilo and the Japanese Chamber of Commerce.
Pavlicek believes most small businesses just want to be left alone. "Most people don't want to create more laws," she explains. "Unfortunately, because of time constraints, the only time most small businesses speak up is when a measure could potentially harm their business."
Speaker Calvin Say agrees, adding that many organizations feel their role is only to block legislation rather than introduce new bills. But Menor-McNamara says the chamber encourages its committees to be proactive and come up with legislation that will help businesses.
"We don't want to necessarily just play defense all the time, especially on the employer-mandate and tax bills," she says. "We want our members to think of creative options to make Hawaii a more business-friendly place." She says being active in government affairs is part of doing business in Hawaii.
Strength in numbers
Legislators and administrative officials often listen to constituents and stakeholders with more information and business experience than they have when determining how to vote or act.
"A lot of us don't have familiarity in every area we might have to vote on or have to work on so you need that perspective from the people that will be impacted by the legislation," says Maui's Rosalyn Baker, chair of the Senate Commerce and Consumer Protection Committee and vice-chair of the Economic Development and Technology Committee.
One individual can make a difference in the legislative process, but when businesses unite in an association, that united voice carries far more credibility and weight, and provides a viewpoint that legislators can rely on, Pavlicek says. "It definitely has more weight than just a single individual."
Bob Taylor, president of Maui Divers Hawaii, says legislators take small-business issues and viewpoints very seriously, "especially if we get enough testimony and there's an overwhelming amount of support for a bill or a reason not to pass it," he says.
Without voices from small businesses, larger companies with greater resources could hire lobbyists to push for laws that might hurt the little guys.
Who does it best?
Speaker Say, who has been involved in local politics since the mid-1970s and has served on some of the most lobbied House committees, such as Education, Tourism and Finance, says small businesses should look at an organization's lobbying experience and track record before joining. He and Baker agree that RMH's Pregill and HFIA's Botti are among the most active and effective business advocates at the Legislature, along with representatives from the Hawaii Farm Bureau Federation and Hawaii Restaurant Association. They also concur that NFIB's presence at the Legislature has been somewhat "diluted" and don't necessarily see the Chamber of Commerce of Hawaii as a strong representative for small businesses.
"Overall, we've been pretty successful because I think legislators understand the difficulty to keep businesses open here." Sherry Menor-McNamara, Chamber of Commerce of Hawaii
"I think (the chamber does) a better job representing the higher-end, bigger corporations on Bishop Street," Say says. "The chamber has played a role, but has small business been heard by the chamber? That's a little bit of a different story, because there might be conflicts between the big businesses and the small businesses."
Menor-McNamara says the chamber represents many Top 250 companies, but that 80 percent of its 1,000 members are small businesses with 20 or fewer employees. She says the chamber will not take positions on bills unless the majority of its membership – both big and small businesses – will be affected.
"Overall, we've been pretty successful because I think legislators understand the difficulty to keep businesses open here," Menor-McNamara says.
Pavlicek, who says she is at the Capitol every day during session, says NFIB gets involved in all legislation or mandatory requirements that add to the cost of doing business in Hawaii.
"We've been able to prevent some very harmful legislation," Pavlicek says, "and we will continue to work hard so that small businesses in Hawaii have a voice at the Legislature, have greater opportunities and a better chance of succeeding."
Make a difference: How to get more involved at the Legislature
If joining a trade group or business organization isn't for you, there are other ways to participate in
the legislative process. The following are tips from experienced lobbyists.
1. Telephone your legislator to introduce yourself
Start building a relationship before the session starts (especially during the summer when legislators have more free time and may need your vote).
Legislators are inundated with e-mails. The best chance of getting through is to call their offices and leave messages with their staff.
Lawmakers will most often respond to their constituents' needs first, so if you do, indicate that you live or own a business in their district.
Mass e-mails to "All Senators" or "All Representatives" are a turnoff. Personalize your message if you want a response.
2. Schedule face-to-face meetings to share ideas and learn about their positions
Speaker Calvin Say says a good way to get his ear for two hours is to sign-wave with him. "We can talk about whatever you want," he says.
Discuss how certain bills will affect your business and ask for your legislator's support.
Make your legislators work for you: Ask them to share your concerns with committee chairs and other lawmakers.
3. Stay informed on bills that will affect your business and industry
Go to

www.capitol.hawaii.gov

for bill status, committee reports, hearing notices and testimony, and to find contact information for key members on the House and Senate committees.
4. Submit written testimony
Mail, e-mail or fax your concerns to your representatives and to committee members. You can submit testimony online at the Legislature's Web site or sign up for e-mail alerts of hearings.
5. Pack hearings
Always be respectful and mindful of other attendees. Hearings will be shorter and you will not unnecessarily alienate others.
There's strength in numbers so get your employees, friends and colleagues to support the cause.
6. Follow up with your representatives
Hold your representatives accountable once they've voted.
Keep nurturing the relationship so you'll have easier access next session when you need your legislator's support again.
How much does it cost?
Annual membership dues in business organizations vary depending on the size of your company. Here are some examples:
Hawaii Food Industry Association: $150 to $1,400 for retailers and $300 to $1,400 for suppliers
National Federation of Independent Business: members set their own dues, but fees are capped at $5,000
Chamber of Commerce of Hawaii: starting at $300 for the smallest businesses.
Retail Merchants of Hawaii: $230 for 10 or fewer employees; $450 for 11 to 50; for larger firms, it is $450 plus $5.75 per employee over 51.
Time Factor
Members can be as active or inactive in business organizations as they choose.
The advocates we spoke to provided this loose breakdown of the time commitment needed to have an individual impact at each legislative session: