"Solopreneurs" Hit Hard But Bouncing Back
For many months, the pandemic closed the craft fairs that sustain a lot of small local businesses. But entrepreneurs at those businesses innovated, increased online sales, and are now feeling more confident as fairs reopen, customers return and sales rebound.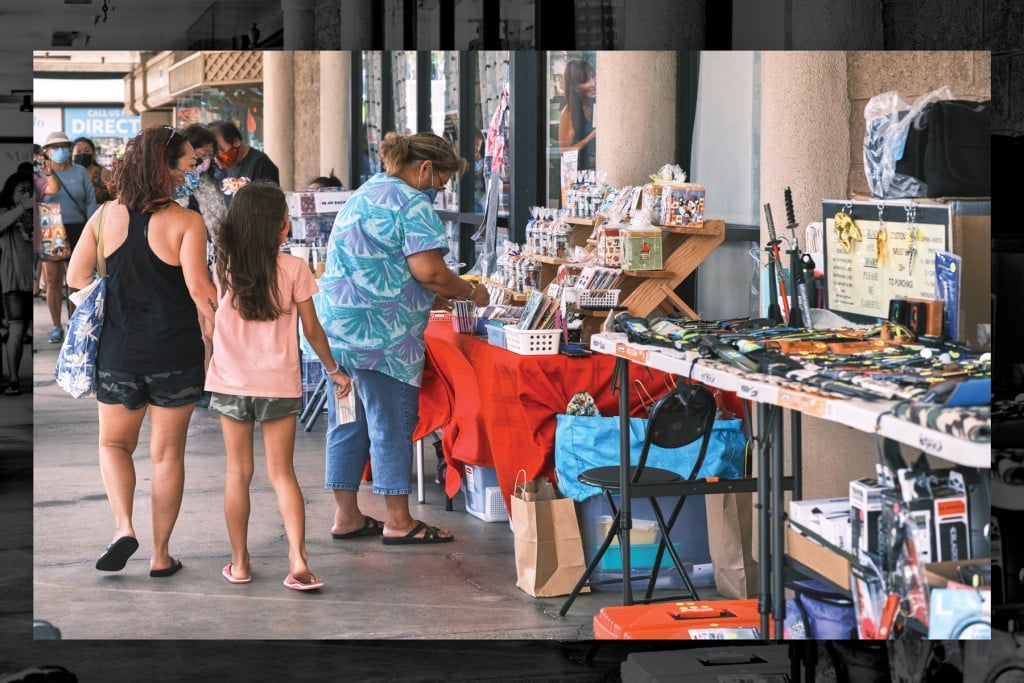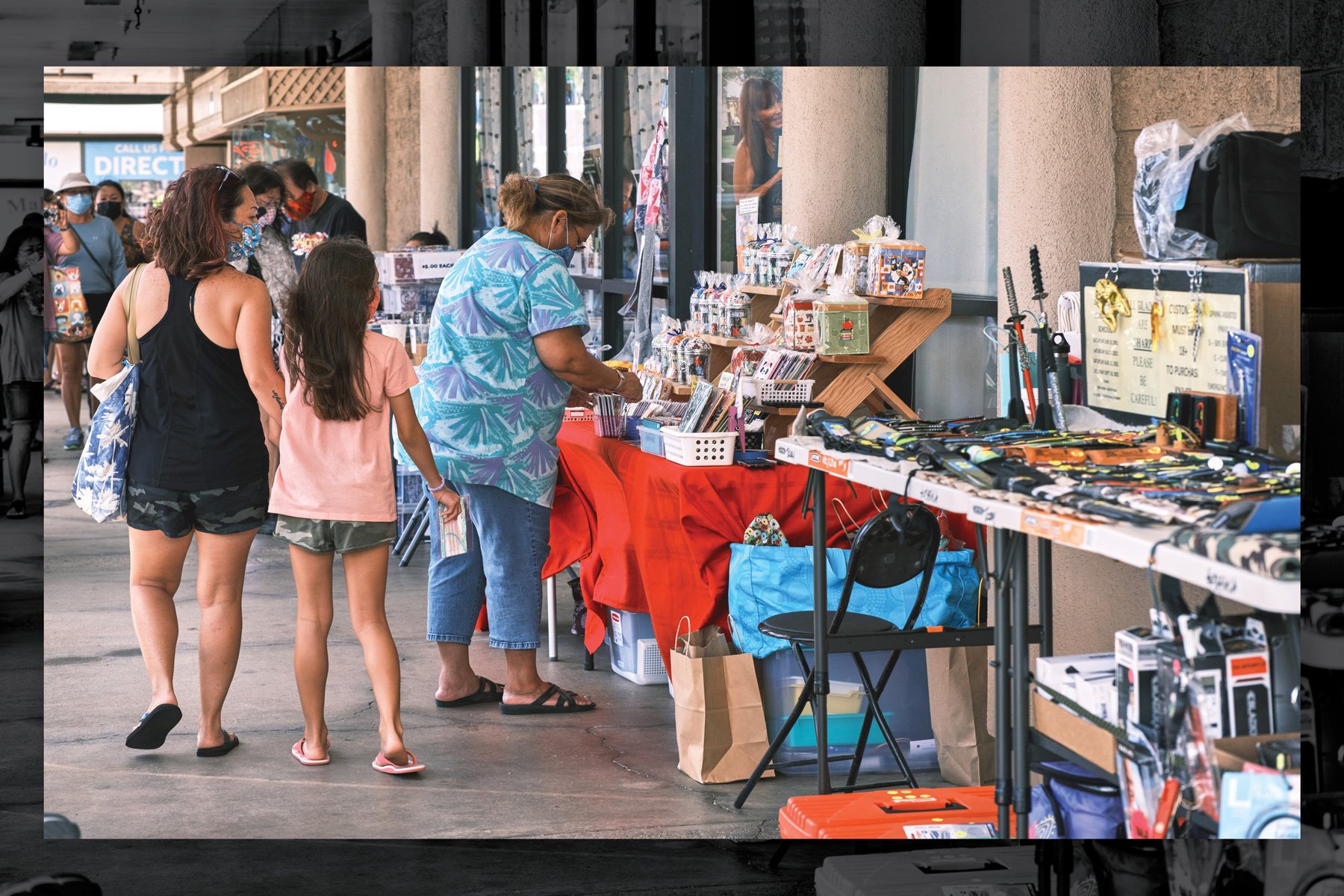 Like many local residents, Jennifer Chun had a side business in addition to her full-time jobs, one as a mother and the other as a secretary with the Honolulu Fire Department. As owner of Craving Sugar, she bakes and sells decorative cookies.
Chun's cookies sold well at O'ahu craft fairs – which also generated custom orders – but "it all just came to a stop" when the pandemic hit in March 2020, she says.
"Craft fairs were the way for me to make connections for custom orders," says Chun. "When COVID happened, and everything shut down – just when people were going to start booking more for graduation – that really hurt."
However, instead of closing her business, she innovated by creating DIY cookie decorating kits with fun educational worksheets so children from preschool to seventh grade could learn in a delicious and hands-on way. She took orders through her website and Instagram.
Now as craft fairs reopen, Chun has her cookies and DIY kits to sell, is booking custom orders, and has a new TikTok account to teach cookie decorating and baking.
Chun was one of thousands of local residents who reinvented their side businesses or full-time enterprises as the pandemic shut down craft fairs and other venues essential to sales. These "solopreneurs" struggled through the pandemic, but they also created new products and services, and found new buyers online. Now, as venues continue to reopen, these solopreneurs say they're better prepared for whatever lies ahead.
"A Way of Life"
Mike McCartney, director of the state Department of Business, Economic Development and Tourism, says small businesses are the catalyst that drives Hawai'i's economy. In 2018, there were an estimated 112,589 solopreneurs in the state – businesses with owners but no employees, according to DBEDT.
"They're more than just jobs that show up in statistics, they're a way of life for people," McCartney says.
Chris and Amanda Freed had opposite schedules early in their marriage. "Amanda woke up very early in the morning and worked in a dental office all day, and I would work late at night at a restaurant. We very seldom got to see each other," says Chris Freed.
After joining the West Hawaii Woodturners club, they developed a passion for woodworking, then threw caution to the wind, quit their jobs and launched Freedform Hawaii in December 2019 – a full-time business making and selling koa products. It was also the perfect way to spend more time together.
In their Kailua-Kona home, the Freeds turn scrap pieces of koa into earrings and necklaces, cutting boards, journals, lamps, rice paddles, 3D art pieces and more. Before the pandemic, they created products and sold them at up to four craft fairs and markets a week in Kona. But the pandemic shut down the fairs.
"As the weeks progressed, it became more and more clear that this wasn't going to go away very quickly and of course the bank account starts to get leaner and leaner. That's the point at which we kind of started to panic," Chris Freed says.
But they also innovated by developing new products, partly inspired by woodworkers worldwide. "A lot of the product that we have now hadn't been conceptualized in March last year, and I think having so much time there really got a lot of creativity moving for us," he says. The Freeds also started a website and built an Etsy presence for online sales.
Going Virtual
It wasn't just vendors stymied by the pandemic. Organizers and promoters of craft fairs and other markets had to innovate to support themselves and their clients. 808 Craft and Gift Fairs typically hosts over 50 events a year on O'ahu, attracting many thousands of customers. Farmers markets were allowed to stay open throughout the pandemic because they were deemed essential businesses, but craft fairs had to close and 808 Craft and Gift Fairs endured a five-month shutdown that began in March 2020.
"Seventy-five vendors were displaced. We had to scramble to think about how we were go-ing to make this work," says Lauren Mori, owner of 808 Craft and Gift Fairs, who also sells custom-made products from South Korea. Her income dropped 80%. 808 Craft and Gift Fairs transitioned to virtual sales Facebook events; the online craft fairs reached people in all 50 states, Guam, Canada and Japan, Mori says.
When the 2020 Merrie Monarch Festival was canceled, the Freeds featured their products on Pop-Up Mākeke, an online marketplace that supported 400 local small businesses during the depths of the pandemic.
"I think if that first Pop-up Mākeke hadn't taken place, we may have had to shut down our business," Chris Freed says.
Pop-Up Mākeke was created by the Council for Native Hawaiian Advancement to help local businesses sell their products online and through a weekly televised QVC-like program. Pop-Up Mākeke, which is now on hiatus, says they've generated over $2 million in sales for Hawai'i businesses.
The pandemic persuaded hundreds of local businesses to amp up their online efforts. Digital Commerce 360, a national media and research organization, reports that consumers spent $861.12 billion shopping online with U.S. merchants, increasing e-commerce sales by 44% in 2020.
"There was this heavy adoption of the online shopping experience," says Meli James, co-founder of the small-business accelerator Mana Up.
"We were kind of forced to do it and now people are saying, 'Hey, it's not that bad, and I can discover so many more things,' " James says.
Safer Shopping
Operating under CDC guidelines, local craft fairs and markets began to reappear in the Islands in late summer 2020.
The monthly Artisan Market in the parking lot of the Kona Commons Shopping Center in Kailua-Kona resumed in September and has grown. Each event now has about 50-60 vendors and draws up to 1,500 customers, masks are required, and vendors are spaced a car stall and a half apart.
"This was a win-win for everybody – not only supporting local businesses that are participating in the fair, but also driving new customers to the shopping center and to our tenants," says Katie Kaanapu, marketing director for Kona Commons.
The Freeds say they enjoy being back at craft fairs and markets like at Kona Commons. "We started the business because we love the atmosphere of just being around people and at the markets. Being at a farmers market, everybody's happy, everybody wants to be there," Amanda Freed says.
"It's sort of our social scene," Chris Freed adds.
The four weekly markets on O'ahu operated by FarmLovers Markets were classified as essential businesses, so they never closed, but they nonetheless adapted to sustain their 200 vendors and to keep customers happy.
"It's the one sense of normality that (customers) have when they come every week," says Pamela Boyar, managing director of the FarmLovers Markets. "It's allowed for them to go out to an essential business, to go out in a safe environment and buy all their groceries and still get a little socialization."
Along with masks, social distancing and signage, the markets provide gloves for customers to wear while shopping at produce vendors. They can also use hand-washing sinks and sanitizing stations.
"We've had 350,000 people come through our markets since COVID (and) we have not had one case come out of our markets. We feel they're extremely safe to shop at because it's outdoors, there's plenty of room," Boyar says.
One adaptation by 808 Craft and Gift Fairs is #ConvoyCrafters, which allows a few vendors at the craft fairs to sell from their vehicles, including one vendor who sells from a gutted cargo van with shelves to hold products.
"All we do is open up two side doors and the back. You know in New York, how you have people selling from their raincoat? So, we just open and they purchase – like a manapua truck," Mori says.
Moving Forward
Farmers markets and craft fairs have been supporting local small businesses in a difficult time. Maybe just as vital, they've helped maintain a sense of community wherever they are, giving people a chance to meet their neighbors and to socialize outdoors in a safe setting.
"Hawai'i, it's really about community," says Chris Freed.
Says Boyar: "When this first happened and there were no visitors, we were feeding the communities. They were buying local food and supporting the local farmers. What an incredible thing to witness … how everybody just shifted to helping our neighbors.
"It just keeps all the money in the local economy, and that's so important."
The Freeds now have new industrial laser machines to help them create koa products, with the goal of selling them in shops and galleries statewide.
In November 2020, Chun quit her job with the Honolulu Fire Department to support her son's learning, but she now also has more time to sell her cookies and DIY cookie decorating kits, fulfill custom orders and create online baking videos.
DBEDT's McCartney says the rebounding state economy is going to be driven by the passion of the community more than by what government or businesses want to do. "The recovery is going to be slow, but I think it'll be steady and strong."What is possible is not always easy, it's hard. But you know what? It makes a life and a purpose," he adds.
McCartney suggests that solopreneurs pay attention to all financial support that is available to them, primarily through the federal Small Business Administration, but also other federal, state and county agencies.
Also important: Stay ahead of the curve in whatever products and services you're offering, he says. Study trends by reading online, talking to other businesses and asking your customers what they want. Businesses continually evolve but "it's always a balance." If you get too diverse, you lose your focus, he says.