Sorrow & Anxiety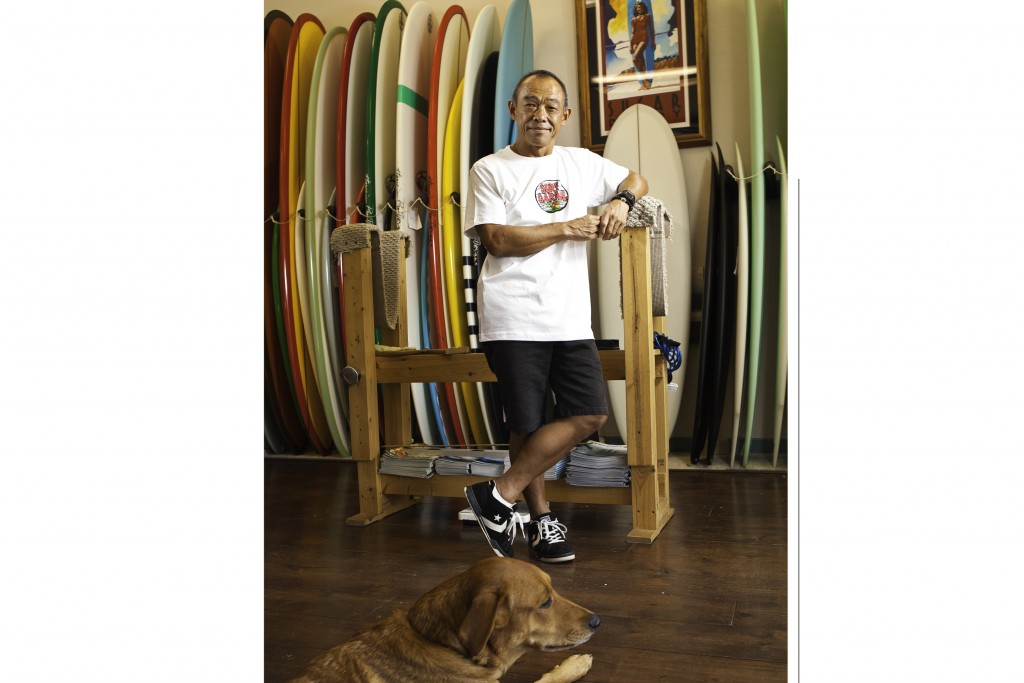 Local businesses have responded quickly and generously to help the victims of Japan's tsunami disaster. In fact, every one of the dozens of companies contacted by Hawaii Business says it has either launched its own fundraising effort or contributed to aid groups.
"The outpouring of support has truly been inspiring," says Tyler Tokioka, Island Insurance VP of external affairs and committee member of Aloha for Japan, a statewide relief organization. "Donations of all types and amounts are coming in from communities throughout the state, ranging from large cash donations and consumer goods from local businesses, to coins from a child's piggy bank."
While their first thoughts have been to help the Japanese people, many Hawaii companies know the disaster will hurt their business and workforce. Nearly every tourism-related company will suffer, but some depend more on Japanese visitors than others.
Toru Yamaguchi, who owns Surf Garage, a surf store in Moiliili, says he's feeling the impact.
"My Japanese business is down. My business is about vacation, not necessity," he says. "Even outside the affected area, people are traveling less … The disaster hasn't hit bottom yet."
Yamaguchi, who is originally from Tokyo, ran an import-export company before beginning Surf Garage nine years ago. His business, which includes surfboard and clothing sales, and surfboard rentals, depends on Japanese visitors for about 30 to 40 percent of its revenue.
On a recent day, a father and daughter from Japan came to check out boards and said they felt blessed to be able to surf, but they also talked sadly with Yamaguchi about the vast destruction in northern Japan. Similar mixed emotions afflict many, if not all, Japanese tourists.
Until the disaster in Japan, tourism started strongly in 2011, with total visitor spending in January and February surpassing the peak year of 2007. Since the earthquake, tsunami and nuclear crisis, the Hawaii Tourism Authority has projected these declines in Japanese visitors:
HTA says it will spend about $3.1 million on marketing and other programs in key markets in North America, Korea, China, Australia, New Zealand and Japan to offset those projected declines.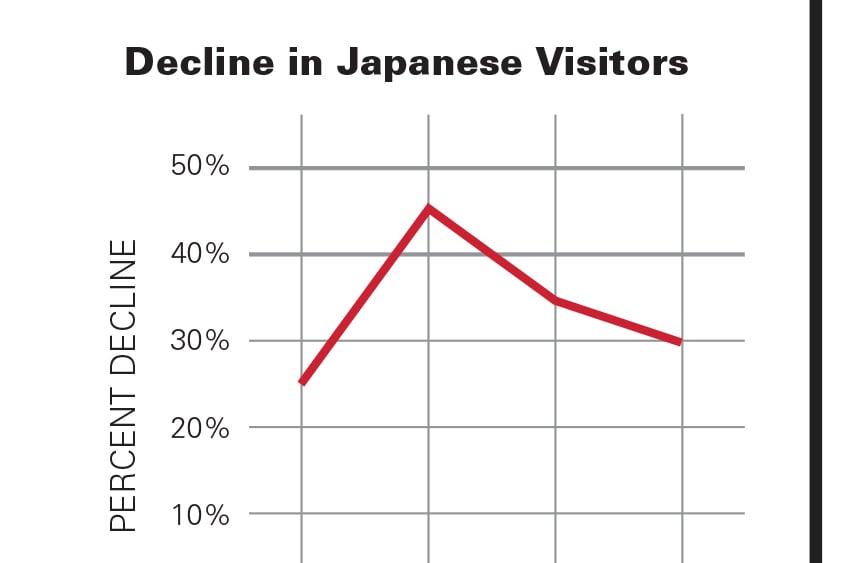 In late March, Japan Airlines announced it would temporarily reduce flights to Hawaii to 14 per week from 21. At the same time, Hawaiian Airlines' daily flight each way between Tokyo's Haneda Airport and Honolulu had only suffered a modest dropoff, said Keoni Wagner, VP of public affairs. "At this point, it is still a relatively small part of that business."
"Our intention is to grow that business," Wagner said. That includes a plan to start service to Osaka in July.
Hawaiian Airlines' many outreach efforts include a "Lei Day for Japan" fundraiser, a company match on all employee donations, and free transportation for disaster-response teams flying to Japan.
Hawaii Business talked with many local businesses hurt by the Japanese disaster, but most were unwilling to discuss specifics, saying it was too early to say. On the following page is a representative sample of companies.
KoAloha Ukulele
Impact: Japan is the main market for this maker of high-end ukulele, located in Kalihi. Direct exports account for 10 to 25 percent of its business, but most of the locally distributed products end up in Japan via direct sales or secondary outlets, says VP Alan Okami.
Outreach: Founder Alvin "Pops" Okami, who has a decades-long resume as a professional musician, had been performing a song he wrote, "Nandemo Dekiru" (translated as "You Can Do Anything"), on live radio broadcasts heard throughout Japan. It was written before the disaster, but he created a special version afterward.
The song generated so much interest that the Okami family considered making it available online for 99 cents and giving all the money to relief. Instead, it will be free.
"We don't want (the Japanese) paying for their own recovery. We would like the song to serve as a source of inspiration," Alan Okami explains.
DFS Hawaii
Impact: The company, which is directly affected by Japanese visitor arrivals and dollar-yen exchange rates, was in "wait-and-see mode" regarding the disaster's effects, says Sharon Weiner, VP of global communications and government relations.
Outreach: A DFS-led charity called OneJapan has offered employees a 5-to-1 match on donations and aims to raise a total of $250,000.
Starwood Hotels & Resorts
Impact: The operator of 11 Hawaii properties is working with marketing partners to increase its arrivals from North America to make up for fewer Japanese visitors, says Marsha Wienert, Hawaii regional director of public relations.
Outreach: Starwood has organized a companywide relief effort: Starwood employees' donations are matched, and the donations from employees for the five Starwood properties in Hawaii owned by Kyo-Ya will be tripled.
At Starwood's website, www.starwoodhotels.com, members of the company's preferred-guests program were encouraged to donate Starpoints to the American Red Cross, and the company matched the donations.
Watabe Wedding Corp.
Impact: One major reason Japanese travel to Hawaii is to get married. Headquartered in Kyoto, Watabe has offices throughout Japan and in Honolulu and 17 other international cities. It said about 15 percent of its Hawaii bookings were canceled following the earthquake and tsunami, and noted that 90 percent of its Hawaii business is with Japanese visitors.
Outreach: Watabe has donated $120,000 to the Japan Red Cross.
What's the impact on Hawaii's overall economy?
The number of Japanese tourists coming to Hawaii has been gradually shrinking for decades, but they remain a key factor in the local economy. So there is no question that the Japanese disaster will significantly hurt Hawaii's economy. But if a similar disaster had happened 20 years ago, the impact on Hawaii's economy would have been much greater.
In 2010, more than 1.2 million Japanese traveled to Hawaii and spent about $1.9 billion here, according to the Hawaii Tourism Authority. Average daily spending by Japanese tourists was $268 – second only to Chinese tourists and almost double what the average American visitor spends here each day.
Japanese make up about 17.3 percent of Hawaii's total visitors – about one in every six arrivals. That's way down from the mid-1990s, when the Japanese were more than one in every three tourists, says economist Paul Brewbaker. In the same period, the average daily spending of Japanese tourists also declined.
Those changes in Japanese tourism took place in a period when tourism became a smaller part of the overall Hawaii economy.
If, for the next 12 months, one-third of Japanese travelers who would have come to Hawaii choose not to, the loss would be about 1 percentage point of GDP, he says. However, Brewbaker adds, Japanese travel in the past has never been affected that much by an incident for that long, not even after the terrorist attacks of 9/11.
In preparing for a March 29th meeting, Brewbaker estimated a 25 percent drop in arrivals from April through June of this year – not the one-third discussed above – that might cut general fund revenue for the state government by as much as 3 percent for that quarter.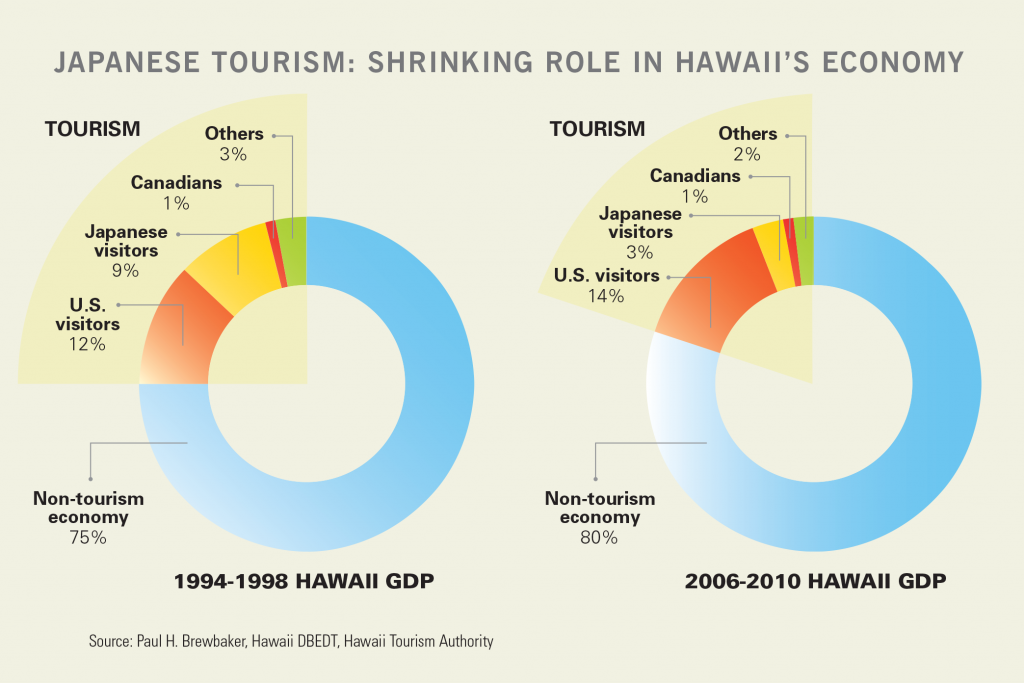 How you can help
There are too many Hawaii relief efforts to list them all. One statewide group is called Aloha for Japan. Go to www.alohaforjapan.com.
Hawaii Business' parent company, aio, has launched a community organization called With Aloha. Go to www.withaloha.org.