My Job as a Mortician Helps Families Find Closure
Stacey Dilwith works with an all-female team skilled at anatomy, chemistry, cosmetology and restorative art.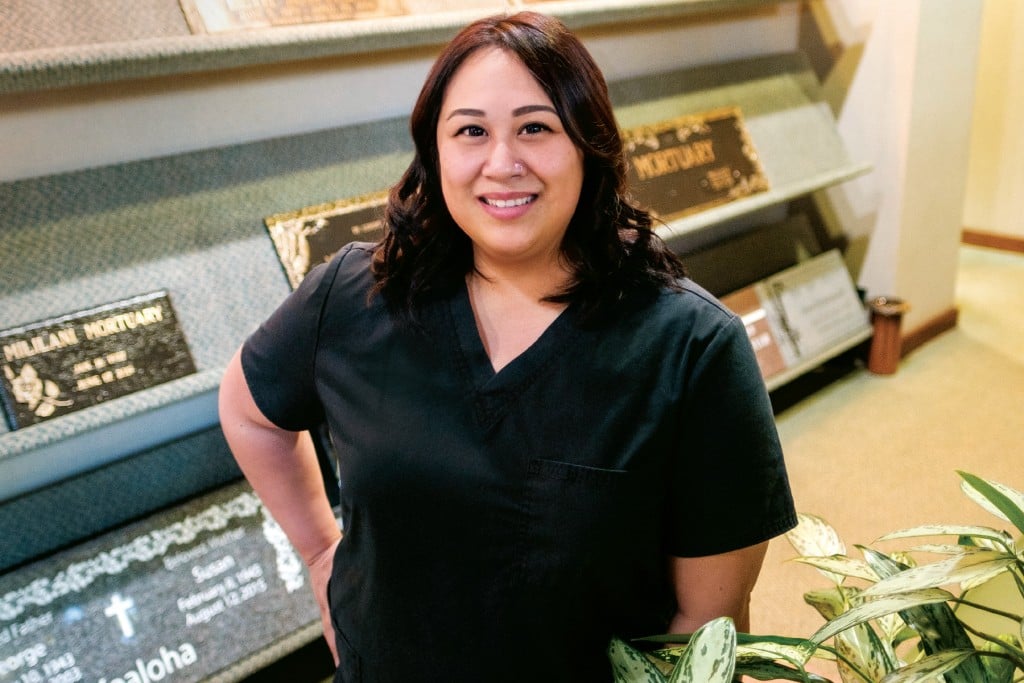 Name: Stacey Dilwith
Age: 34
Job: Mortician/Licensed Embalmer
BEGINNINGS: Stacey Dilwith did not attend college and was unsure what she wanted to do for a career.
"I was working at retail. It was a job, but it was not my job," she says.
"I'm naturally an introvert but I knew that I have always wanted to do something meaningful for the community."
She was 23 when she saw an ad for an apprentice embalmer and she has been in the field ever since.
"After a shadow day during my apprenticeship when I got my hands all dirty, I knew right then that this was my job." More than a decade later, Dilwith is interim Care Center manager at Mililani Memorial Park & Mortuary.
CHALLENGES: Dilwith says a pivotal moment was the first time she had to take care of a child who had died.
"I had to take a step back and ask myself, 'Can I really do this?'" she says.
"Not to sound morbid, but when someone is 90 years old, it seems a lot more natural than when somebody is 7, or even a toddler."
Now that she has her own children, Dilwith says that dealing with kids can hit a lot harder. Once, she brought out for viewing a teenage girl whom she had taken care of. To this day, Dilwith says, she can hear the child's mother wailing in the chapel.
Dilwith says that she goes to work knowing that she'll take care of whomever is assigned to her that day.
"I might not have known this person. I might not have loved this person. But I will take care of this person like I know and love them."
MISCONCEPTIONS: "People say 'mortician,' and you probably think of a creepy, old guy."
Dilwith says embalming used to be a male-dominated career. Recently, more women have been entering the industry and Dilwith now prides herself on having an all-female staff.
During her career in embalming, "I've noticed that there are a lot of people who start off really interested but soon realize it is not an easy and glamorous job; not anything like how the TV and movies portray.
"There's actually a lot you need to know: anatomy, chemistry, cosmetology and restorative art. It's hard work."
Dilwith says that embalming also requires a lot of discipline and self-determination.
"I'm fortunate to have gotten a lot of hands-on training during my apprenticeship because the book work only teaches you theories. You don't truly know what the body will look like or feel like until you make the first incision."
"I might not have known this person. … But I will take care of this person like I know and love them."

Stacey Dilwith, Mortician/Licensed Embalmer
PROVIDING CLOSURE: "Six days a week. Every day that I come in, I have an opportunity to help a family find closure."
She says it's rewarding when families are pleased with the way their loved ones look. And while clients who die in traumatic events such as car accidents are more challenging to work with, Dilwith says that in every case she hopes her work gives families some sort of peace.
"Restoration is always taken into consideration, and we try our best to give them a look of normality."
"If you can provide grieving families with a final viewing of their loved ones, you would be serving them and the community."