Starting a Business After Age 50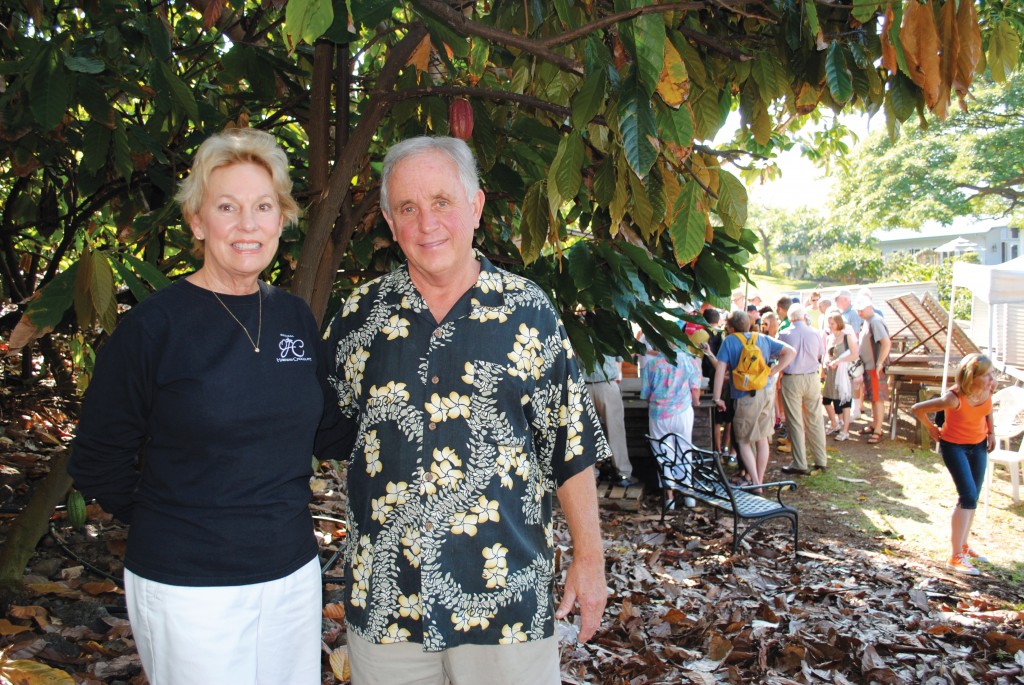 Ready to move on after decades of experience, but not ready to retire? Consider becoming an encore entrepreneur: someone who takes over or starts a business in a field different from their main career. Many people are doing it in middle age, including the four individuals and one couple profiled in the following pages.
They Asked "What's Next?" and the Answer Was "Chocolate"
"We'd been coming to Hawaii for vacations for 20 years and fell in love with Kona, bought the farm and moved. We were just planning on semi-retiring (smile sign). Right?"
Pamela Cooper wryly emailed that message in answer to why she and her husband, Bob, bought a Kona cacao farm in 1996 when they didn't know anything about farming or chocolate. Their 6 acres in Keauhou Mauka is now home to the award-winning Original Hawaiian Chocolate Factory, the first chocolate-growing-and-manufacturing farm in the Islands and it's all because they believe their company motto, "Chocolate is Aloha."
The couple from North Carolina worked at varied jobs during their careers. When they hit their 50s, they asked, "What's Next?"
The answer came when they were visiting Kona and a Realtor friend showed them the property. It was love at first sight. They went home, sold everything and moved to Kona. A caretaker was already on the property and so were cacao, macadamia-nut and coffee trees – lots of them.
At first, they thought it would be a "grand hobby," says Pamela, but then they realized they wanted to work the farm and encourage others to grow cacao. "When you come here and it's so beautiful, you want to give back," she says.
By 1998, they had opened an online "Hawaii General Store," offering local merchants a website where they could sell their products, everything from coffee to honey to handcrafted items. The website was eventually sold.
Bob took what he was learning on the job and started teaching people how to grow cacao. The Coopers held workshops at the farm, which eventually led to what they do today: offer tours of the orchard and demonstrations of the chocolate-making process at their factory.
As you arrive at the Original Hawaiian Chocolate Factory – up a winding road surrounded by lush vegetation – you can already hear Bob Cooper softly urging people to take a seat under the umbrella of a huge monkeypod tree. As he talks about how chocolate is made, an employee passes out small paper cups with samples of milk chocolate, dark Forastero chocolate and Criollo dark chocolate, the "Rolls Royce" of chocolate.
Chocolate production is a difficult process, so the Coopers don't have a lot of spare time and an occasional vacation is likely a weekend on another island. But Pam Cooper says they are content.
"Every day at pau hana time we sit on our lanai and enjoy the view and peacefulness."
Besides advocating for quality chocolate, the Coopers want to encourage other encore entrepreneurs.
"Just be willing to put 100-percent-plus into what your heart is telling you to do. Be prepared to say, 'I'm glad we did' instead of 'Wish we would have,' " Pam Cooper says with a knowing smile.
Owner and "Baby" have Birthdays a Day Apart
Herb DeAguiar is a big, soft-spoken man whose dream to start his own business came true last year.
DeAguiar and his Kapolei bakery, Cupcake and Things, celebrated birthdays a day apart in early February. He celebrated his 53rd on Feb. 5 and the next day his "baby" turned one. These days he has three employees, but he's the one who knows how to do it all after a lifetime of working in food production or service for large companies. He helps customers pick out or order cupcakes, parfaits, cakes and pies, runs the cash register or bakes in his own shop.
Before opening the bakery, DeAguiar tested his cupcakes at the Kapolei and Waianae Farmers Markets. In fact, it was at those farmers markets that he first answered customers' questions. Yes, the bakery would have more than just cupcakes. Of course, he could bake birthday cakes. Yes, he could make them sugar free. Gluten free or egg free? No problem. DeAguiar, who is diabetic and has young grandchildren with allergies, knew he could make what customers needed. Turning out quality baked goods is his passion.
As a child, he and siblings and cousins (his ohana is another only-in-Hawaii mix of Hawaiian, Portuguese, Chinese and Japanese) were recruited to help tend and irrigate corn on his grandparents' 50-acre Waimanalo farm. The keiki referred to their summer home affectionately as "prison farm for kids." After corn was harvested they helped out at roadside stands that were set up and taken down each day along Kalanianaole Highway.
De Aguiar spent 26 years working for Safeway as a baker and in other roles, including stops at stores in Santa Rosa and San Jose, Calif. Eventually, he returned home to become field operations manager for Safeway Hawaii. Five years ago, he became bakery manager at Whole Foods Market in Kahala, but left that job with the dream of his own bakery.
That's when he asked for help from the Small Business Development Center office on Kapiolani Boulevard. SBDC consultant Aaron Brown helped him make a business plan by asking questions like, "Who will you buy your equipment from?" "What location do you have in mind?" and "What sets your bakery apart from others in that area?"
When he discovered there was no independent bakery in Kapolei, he looked for a site. Today, Cupcake and Things is open seven days a week, at least 12 hours a day.
His wife, Joie, is a strong supporter. After she finishes her overnight shift at Safeway Kapolei, "She'll often bring me breakfast," and they'll discuss what married people discuss: The kids (she has three, Herb has two, all grown but, of course with their own dreams and "dramas"). Then, after breakfast, and before she gets a chance to sleep, Joie often heads out to buy perishable supplies for the bakery.
Herb's family is important to him and his customers are part of that extended family.
"My cupcakes are the kind I'm proud to serve my grandkids. Most of the cupcake shops on this island are geared toward adults. I said to myself: Mine are going to be cupcakes that kids like, and their parents, too!"
www.cupcakeandthingshawaii.com
---
Herb DeAguiar's Pointers
Develop a three- to five-year plan that will tell you if your business will survive the first few years. It will also tell you if you have the capital to complete the build out.
Know your limits: Don't leverage your entire savings to open a business, as you will probably not see a return on your investment until you sell your business.
Be prepared to work hard: Be prepared to work mostly by yourself, open to close, seven days a week. Labor is the most expensive part of opening a business.
---
Remaining True to His Country and Values
Raymond Jardine Jr. retired from the Army National Guard in 2004 as a colonel, but he didn't stay retired for long. While he was still contemplating "What's Next?" an old friend suggested he start his own business.
Today, Jardine is chairman and CEO of Native Hawaiian Veterans LLC, an award-winning business that grew from four employees and revenue of $64,000 in 2005 to 158 employees and $10.2 million in revenue in 2012. NHV offers products and services to the military and for homeland security.
If it sounds like he's got a magic touch, he'd likely be the first to say it wasn't always so. After graduating from Kalani High School, Jardine realized that he didn't have a clue what he wanted to do. So, on Sept. 17, 1971, he enlisted in the Army. After a year, with the American involvement in Vietnam winding down, he volunteered to return to Hawaii to join the National Guard and its officers training program.
Eventually, he earned a master's in strategic studies, an MBA and a doctorate in business. He joined the Honolulu Fire Department in 1975, worked there a decade, and then went back on active duty with the Guard.
Growing up in Kuliouou, his multigenerational ohana (Portuguese, Hawaiian, Cherokee, German and French) demonstrated that hard work and core values were the most important tools he could bring to any job.
By 2004, when that old friend, Mike Irish, president of Halm's Enterprises (kim chee and other foods), "put the bug in my ear about starting my own business," Jardine was ready. He called a friend, Puni Akana, and a friend of Puni's, Mike Jones, and they met for lunch. All had had military careers and President George W. Bush had recently issued executive order 13360, which gave opportunities in the federal marketplace to disabled veterans and their businesses. "We decided, 'OK, let's give this a shot.' "
In addition to their military experience, all three had worked with fire departments and had emergency-management experience. They hired a professional to help facilitate their business plan and were on their way. Jardine was the disabled veteran in the group, which put him in the lead for the top post.
They knew they wanted their company to represent the values they'd learned in the military – leadership, organizational skills and teamwork – and the Hawaiian values they'd grown up with. Their acronym became ALOHK:
"alakai," leading with initiative and by setting a good example;
"lokahi," collaboration and cooperation;
"ohana," the circle of those who are family and those chosen as family;
"hookipa," generosity, sharing with ohana and community; and
"kinaole," doing the right thing, the right way, the first time, and working together to achieve more.
Jardine, a father and grandfather himself, visits his employees in 10 states and two countries to check up on morale and performance. He also meets with government officials, including Hawaii's Congressional delegation, "to make sure we communicate about disabled veterans and native peoples and small business in general" and to nurture relationships with clients and customers.
His father used to say, "It's not what you say, it's what you do." He's doing it, Dad.
www.nativehawaiianveterans.com
"Waste Not, Want Not" Inspires Green House Founder
When Betty Gearen was a girl, she often spent summers with her Grandma Bea, who made her own clothes, canned and baked, used "every single thing in the house" and gave leftovers to neighbors and friends. Grandma Bea's mantra was forged by the Great Depression: "Waste Not, Want Not."
Betty the child was not interested – she just wanted to go outside and play. Today, Betty, at 66, not only lives by Grandma Bea's words, she teaches others to do so. She is the director and heart behind The Green House in Pauoa, a nonprofit that helps people learn to live sustainably, whether by growing their own food, recycling or being resourceful in a hundred different ways.
The Green House, which is also the home of Gearen and her husband, Mike, has a central mission: to make the world "greener." In 2012, it received an Omidyar Grant of $98,000 to support its Growing Green Schools zero-waste pilot project.
The Green House also teaches the basics of organic gardening for residents of a homeless shelter, the Institute for Human Services. And it's helping Windward Community College implement a new program for nursing students in which they learn to grow and prepare food for health and medicine on site.
Gearen's "consciousness" about the environment began in the 1970s, when the recycling movement was just beginning in the Islands. When a shipping strike threatened to last more than a few weeks, Betty was appalled as she watched shoppers stock up on whatever was threatened by the strike. She made a quiet decision to stop buying paper towels and paper napkins and hasn't used them since.
Many years later, she and others taught monthly sustainability classes in the Sierra Club office on the third floor of the Richards Street YWCA. Enrollment grew each month, the email list expanded and, eventually, she needed a space to do "hands-on" demonstrations of soap-making, natural cleaning methods, composting, gray-water diversion and many other techniques.
Today, Betty encourages sustainability among people of all stripes, from young environmentalists wanting to change the world to folks who email or call because they are clueless about how to get started.
With more and more people coming to her home on Pakohana Street for classes, The Green House LLC was born.
Her rejection way back when of her grandma's invitation to live sustainably haunts Betty today, but it may be why she understands that people have to be ready to change. She marvels at the differences between her growing-up years and today's consumer culture.
"We've lost, in such a short time, the connection to the Earth," she laments.
Gratitude Inspired a New Career
Born in 1936 in the English industrial town of Shropshire, retired grade-school teacher and longtime piano teacher Thelma Taylor of Haleiwa has become a manager for SendOutCards.com, her first business venture.
Her life reads like a storybook. The only child of a mother who went to work in a factory when she was 14 and a draughtsman dad, Taylor's parents loved to sing and play the piano, instilling a love for music in her from an early age.
Although Taylor has called Hawaii home since 2007 (son David Hicken, a pianist and composer, has his own music school in Honolulu), she still affectionately refers to Americans as "Yanks," remembers hiding in bomb shelters during War World II and uses expressions like "we got gob-smacked" to describe being let down.
She joined SendOutCards initially because a dear friend introduced her to the online site. When the company ran a promotion to send cards to anyone to whom one was grateful, she thought at first, "But they're all dead." It didn't take long for her to realize that there were hundreds of people in her life to whom she was grateful but had never actually thanked.
The notion of an inexpensive but personalized "real" card with postage included in the cost and the sender's sentiment and design selected online (and mailed off without one having to go to the post office) seemed terrific. She became a SendOutCards manager – to do so one must enroll three others as marketing distributors and teach them how to do the same – and today she marvels at the friends she's found through the online venture.
Taylor's spare-time business is "growing steadily" and has changed her life. "The personal benefits are astounding," she says. They include "expressing yourself at impromptu times and making a positive difference in others' lives."