Staying Power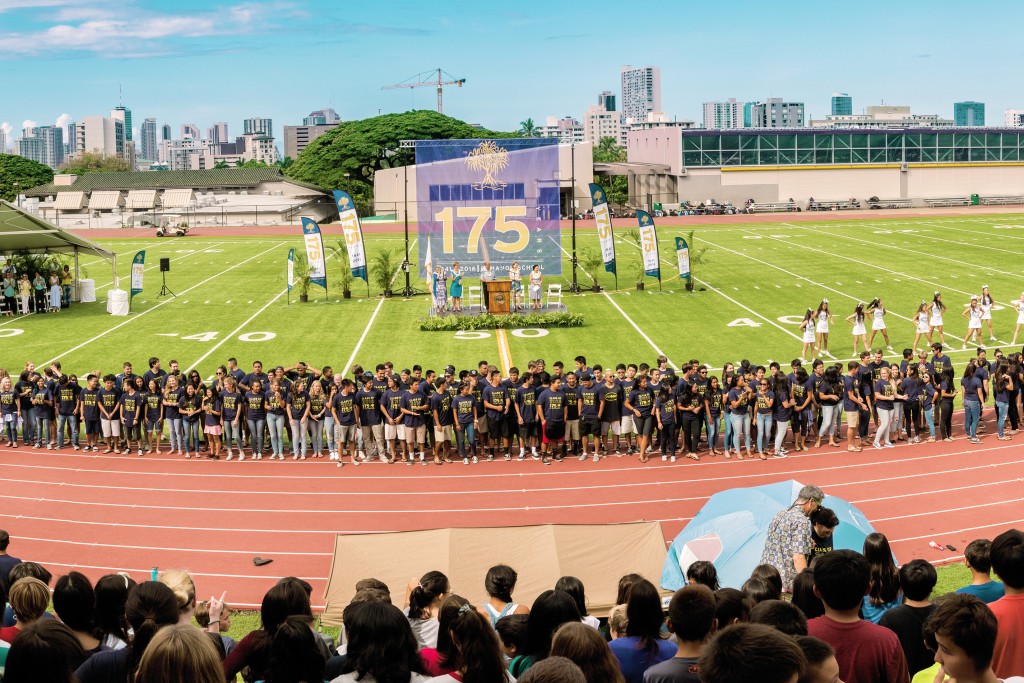 Hawaii's oldest continuously operated companies and nonprofits include many familiar names and a few lesser-known ones. Here are 11 enduring ranches, churches, schools and other organizations, each with a history that stretches back at least 165 years.
Mokuaikaua Church
Mokuaikaua Church: Based on its founding in 1820, this church in Kailua-Kona could be considered Hawaii's oldest continuously operated organization. It is also the oldest Christian church in the state, though it did not officially incorporate until long after its founding, according to church historian Yolanda Olson.
Before the first group of missionaries arrived from Boston in 1820, Kamehameha II had lifted the kapu on men and women eating together, overturned the traditional religion and ordered all temples to be destroyed, leaving a void that would later be filled by the missionaries and Christianity. The Hawaiians "were ready for it because it gave them a chance to learn, to read and write," Olson says.
She says the church was officially founded on April 4, 1820. Church members first worshipped in a canoe shed, then a grass hale church that seated about 300. When the group outgrew that building, another grass church was built (shown below). Olson says that building was destroyed by fire and, in 1836, construction of a lava-rock church began. John Adams Kuakini, governor of Hawaii Island, financed the construction, and the building was completed in 1837. It remains today.
Kawaiahao Church
After missionaries landed on the Big Island, some continued on to Oahu and established Kawaiahao Church, the oldest church on the island, says Pastor Curtis Kekuna. The church was founded in April 1820, but the exact date is unclear. According to "The Stone Church at Kawaiahao," a book published by the church's trustees in 1945, the Oahu group of missionaries and their followers held their first service on April 19, 1820, just 15 days after Mokuaikaua's founding on Hawaii Island. On April 23, ships' officers and sailors, Hawaiian chiefs and commoners, and other residents assembled for another Christian service at the Kawaiahao site.
The first building was erected in 1821 near the current stone church and was thatched with grass, lined with mats, and furnished with glass windows and seating for 300. Over time, the church grew in both size and members. Kekuna calls it Hawaii's first mega-church.
After going through several thatched churches, construction of the current stone church began in 1838. A dedication for the completed stone church was held in 1842 and Kekuna guesses the name "Kawaiahao" was officially used around that time. "Ka wai" means "the fresh water" and "Hao" is the name of a princess. The freshwater aquifer located outside the church belonged to Hao and tradition has it that she bathed there.
Haili Church
Pastor Brian Welsh says Haili is the oldest church in Hilo with its first building dedicated in May 1824. "When the original group of missionaries came, there had been a request to share with other parts of the island," Welsh says. "And so, in 1823, there was an actual expedition around the island, partly by canoe and partly by walking. And they identified that Hilo was the largest major population center already and had the best deep-water bay and port availability, and people thought this would be a good central hub for the entire eastern side: Hamakua, Puna, Kau, everything."
Though the church was originally referred to as the Waiakea Mission Station, Welsh says, its current name came from a nearby forest: "It became known as the Haili church because the wood came from Haili Kulamanu forest, so that's Hawaiian culture and tradition."
The church's first four buildings were thatched pavilions. Its current wooden building was dedicated in 1859. More than a century later, a fire in July 1979 damaged the building, leaving it out of service for many months, Welsh says. However, the church's Christian school, which was started in 1978, continued functioning in other church-owned structures.
"We're one of the first Christian churches on the Hilo side and we've remained from then all the way until now because of these different generations," church member Kelcey Bufil says. "I think that's the most interesting thing: that we're able to remain all these years through all the different generations and continuously operate."
Lahainaluna School
Lahainaluna considers itself the oldest school west of the Rocky Mountains based on its founding in 1831 on the West Maui slope above Lahaina town by the American Board of Commissioners of Foreign Missions. Back then, it was known as Lahainaluna Seminary, says Lori Gomez-Karinen, an alumna and retired curriculum coordinator. The school opened its doors on Sept. 5, 1831 with 25 male students under the direction of the Rev. Lorrin Andrews.
"The alii at that time here in this ahupuaa and the missionaries both decided they had to have education for the people. Toward that goal, they set up a school" and the students trained to be teachers, says Gomez-Karinen.
The history section of the school's website says the first newspaper west of the Rockies, Ka Lama, was printed in Hawaiian at Lahainaluna on Feb. 14, 1834. Until 1877, Hawaiian was the only language of instruction. Gomez-Karinen says it was the missionaries who taught the students everything, in Hawaiian, from geometry to geography to social studies.
The school became a public technical high school under the state Department of Education in 1923 and today is known as Lahainaluna High School. The school still operates its boarding program, which was first established in 1836. Part of that program includes a chorus in which boarders learn the culture and values of Hawaii through song and dance. The Hawaiiana Club is the equivalent for day students. Gomez-Karinen says the two groups perform at the school's annual David Malo Day to give back to the Lahaina community by showing their appreciation for what they've learned.
Punahou School
Punahou can be considered Hawaii's oldest continuously operated formal organization based on the date it received its first charter of incorporation, according to the state archives' Articles of Incorporation. While its roots extend back to 1841, the nonprofit's first charter of incorporation was issued on June 6, 1849, and its second on May 23, 1853. It was originally called Punahou School and went through many name changes before settling back on Punahou School in 1934.
The school sits on land called Ka Punahou, which was donated by Oahu Gov. Boki and his wife, Liliha. James K. Scott, president of Punahou, says the gift of land from Hawaiian alii was critical to the school's establishment. "Its early days were dependent upon the American Board of Missions and the personal generosity and hard work of the missionaries in Hawaii, and the school remained very small," he says.
Oahu Cemetery Association
Hawaii's first cemetery not associated with a church has been around since 1844, when it was named Nuuanu Cemetery, according to its president, Scott Power. Back then, the main cemetery for burials was at Kawaiahao Church, which was only open to its members. "So if you were a seaman or died aboard a ship and came to land, or you were sick or in the hospital here, but weren't a member of that church, there wasn't a place that you could be buried … So, a group got together to form the cemetery that would accept people of all faiths."
The cemetery began with 4.5 acres in Nuuanu Valley and expanded as demand increased and adjoining land became available. One of the biggest challenges, Power says, was making sure the property was managed well financially over the years. Around 1859, when the name Oahu Cemetery Association was adopted, board members solicited subscriptions. "They got various people to actually commit to buying plots in the cemetery so they could raise enough money to operate," Power says.
Today, the cemetery continues to offer funerals and cremations, but there are no more burials. Its 18 acres are the final resting place of many well-known people, including Alexander Cartwright, the father of modern baseball, Lorrin A. Thurston, leader of the 1893 overthrow of the Hawaiian monarchy, and numerous Hawaii governors and mayors.
Parker Ranch
In 1847, John Parker founded Parker Ranch in Waimea, says Nahua Guilloz, corporate secretary and senior manager of the ranch. He had arrived in Kailua-Kona in 1810 and befriended King Kamehameha I, who hired him to shoot the wild cattle roaming the land. "After awhile of doing that, he thought, 'I could get a place in Mana' – back then, that's where all the wild cattle were – and start domesticating a few, little by little, for his personal use," Guilloz says.
He purchased 2 acres at Mana in 1847 and, three years later, purchased 640 more acres. The next year, he purchased another 1,000. The ranch remained in the family until Richard Smart, the final heir to the ranch, passed away in 1992. After that, the bulk of the estate went to the Parker Ranch Foundation Trust, which continues to operate the ranch and donate proceeds to local charities.
Today, the ranch has about 130,000 acres, of which 28,000 are leased from the Department of Hawaiian Home Lands, the state and other landowners. Guilloz says the ranch's endurance is impressive. "When you look at the changing of the hands, all of the different owners, all of the different family members, and the ranch is still here today and we're still operating and still impacting our community."
Kaneohe Congregational Church
This church in Windward Oahu is Hawaii's second-oldest continuously operated organization, based on date of incorporation. It received its charter of incorporation on Nov. 19, 1849, according to Jean Kanoho, Sunday Bible School superintendent and church board member. The church was founded in 1834 by Rev. Benjamin Wyman Parker, and worshippers first gathered in a grass hut.
Throughout its history, the church has had more than 30 ministers and numerous names, such as Kaneohe Protestant Church, Lanakila Church, Kaneohe Hawaiian Church and its current full name, Kaneohe Congregational Church of the Christian and Missionary Alliance. Despite struggling at times with maintaining attendance, its doors have never closed, Kanoho says.
Kaanapali Land Management Corp. (Amfac)
In 1849, a German immigrant named Heinrich Hackfeld and his brother-in-law, J. C. Pflueger, opened a dry goods store in Honolulu called H. Hackfeld and Co. That single store grew into American Factors, or Amfac, the biggest of Hawaii's Big Five sugar plantation companies, which, at its peak, controlled 60,000 acres across Hawaii. It also owned the Liberty House department stores.
Janis Yee, VP of the legacy company, Kaanapali Land Management Corp., says the company incorporated as American Factors Ltd. in 1916. "Amfac" was originally an abbreviated nickname, but the name was officially changed in 1966.
During the 1970s and 1980s, the company engaged in resort operations, sugar plantation business, distribution of electrical and plumbing supplies, property development and investment and food operations, both in and outside Hawaii.
In 1988, Chicago-based JMB Realty Corp. bought Amfac and its subsidiaries, with the main successor operating as Amfac/ JMB Hawaii Inc. According to Yee, the company filed for bankruptcy in February 2002, reorganized its assets and came out of bankruptcy that November. Amfac later went through numerous mergers and the resulting company was named Kaanapali Land LLC. Kaanapali Land Management Corp. is the current operating subsidiary of Kaanapali Land and its main asset is land in West Maui.
Kualoa Ranch
President John Morgan says his great-great- great-grandfather, Dr. Gerrit Judd, purchased 622 acres of land – the entire ahupuaa of Kualoa – from Kamehameha III in 1850. Over time, Judd's son, Charles Judd, purchased additional acreage in the ahupuaa of Kaaawa and Hakipuu.
Throughout the years, the owners grew a variety of crops, including peanuts, macadamia nuts, pineapples and sugar. The Kualoa Sugar Mill ran from 1863 and 1870, and the brick remains of that mill still stand near Kamehameha Highway. According to Morgan, Julie Judd Swanzy, Gerrit Judd's granddaughter, incorporated the ranch in 1927.
In 1985, most of the ranch's current tours were added. "The family knew the organization wasn't sustainable from an economic point of view," Morgan says. "We wanted to continue owning it, we wanted to operate it ourselves, but didn't want to develop it. So we had to figure out a business plan to help us preserve the land and make it economically self-sufficient. That's what led us to tourism."
---
Did We Miss Some?
Do you know of a continuously operating organization in Hawaii that is older that those listed here? If so, email us at feedback@hawaiibusiness.com and give us some key facts and sources. We will publish some of those stories in a future issue.
---
The Century Club
Here are 42 organizations from this year's Hawaii Business Top 250 list of the state's biggest companies and nonprofits that are each at least a century old or will turn 100 next year.