Still Cruise'n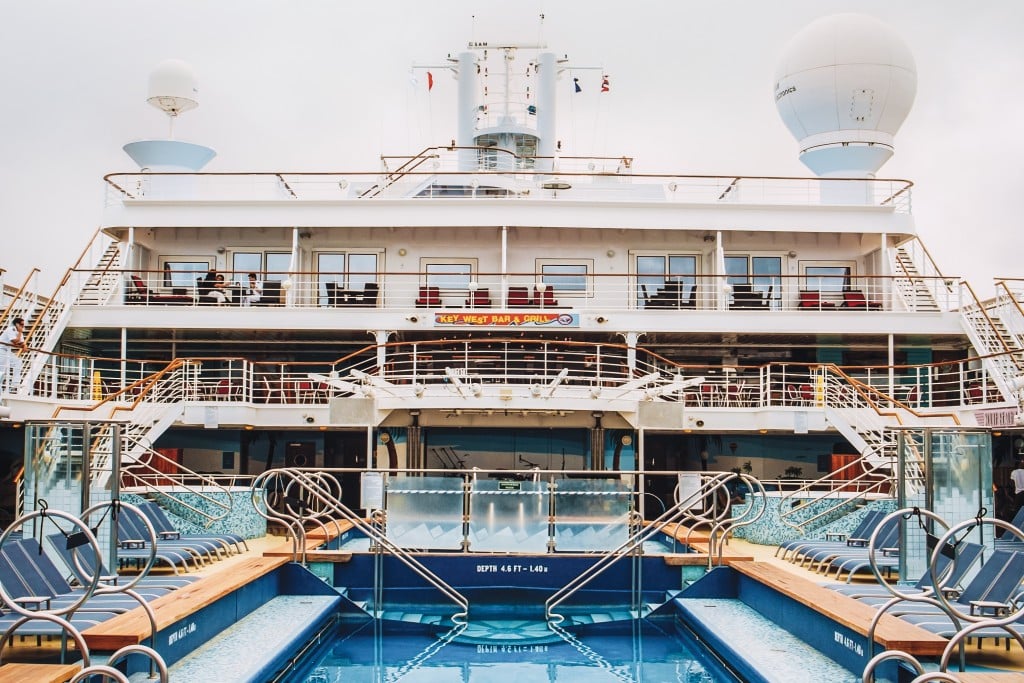 10 years after Norwegian Cruise Lines went all-American with its around-the-Islands cruises, the Pride of America still sails every week, each time at least 90 percent full of passengers. Writer Powell Berger took the cruise and asked: What impact does it have on the local economy and our communities?
The year was 2005, and Hawaii was humming. Linda Lingle was governor, the John Burns Medical School opened its state-of-the-art campus by the Kakaako waterfront, and the newly approved Honolulu rail project promised shorter commutes and lighter traffic. The hottest (and smartest) cell phone on the market was the Razr; Netflix delivered in little red envelopes; and the "Superferry" and "Furlough Fridays" were still a few years away.
That was when Norwegian Cruise Lines embarked on a new adventure, boldly going where no cruise line had (successfully) gone before: launch U.S. flagged cruise ships sailing exclusively among the Hawaiian islands. No more sailing to Fanning Island to fall under international cruise laws. Norwegian's vision was different: Flag the ships in the U.S, follow U.S. laws and mandates, and lure passengers with the promise of seven glorious nights, four islands and everything paradise has to offer.
"When I tell (local) people I work for
Norwegian Cruise Lines, they always say, 'Oh! Are they still here?'"

— Sandi Weir
The company ordered a custom-built ship for the Islands – the Pride of America – and launched it with hoopla and an overnight sail to benefit Kapiolani Medical Center for Women and Children so all of Honolulu's business and political leaders could see first hand just what the hullabaloo was about. (Maybe you were there, trying to get from the mayor's VIP reception to the sushi bar and the wine bar before your steakhouse dinner, all the while sailing back and forth and in circles off Waikiki before returning to port the next morning, mission accomplished.)
Fast-forward 10 years, and Pride of America is still here, sailing in and out of Honolulu Harbor every Saturday. Norwegian's 2005 vision culminated in three ships sailing weekly, followed by the 2008 recession, which sent two of those ships to find new waters (and Norwegian's CEO looking for new work), but, through it all, The Pride of America kept cruising along, doing what she was designed to do: deliver four islands in seven nights, complete with waterfalls, whales, volcanoes and happy visitors promising to come back soon.
Hawaii Business set out to find what kind of neighbor the Pride of America has been over these last 10 years. She glides into Honolulu before dawn on Saturdays, saying aloha to one week's 2,000+ guests, before turning the ship and welcoming at least that many new revelers on board for the sunset sail back out to sea. If it's Sunday and Monday, it's Maui. Tuesday is Hilo, Wednesday, Kona, Thursday and Friday means Kauai, then back to Honolulu on Saturday to start all over again.
Meet the Neighbor
Is the ship neighborly when in port? What does it do for our local economy? What happens when it pulls up the gangway and sails? Does it care about the aina the way we do, or is it hanging about like the party guest who forgets to go home?
"When I tell people I work for Norwegian Cruise Lines," says Sandi Weir, Kailua resident and Norwegian VP, "they always say, 'Oh! Are they still here?' " As it turns out, they are indeed, and in keeping with the Island way, the company and its ship seem to be making their marks quietly, purposely, without much fanfare and flag waving. And like the quiet neighbor at the end of the block whose name we never remember, it seems we may be the ones who've forgotten they're here.
To pull off this U.S.-flagged model, Norwegian had to shake up the cruise business algorithm. Because most ships (including the rest of Norwegian's fleet) are flagged internationally, they hire international workers, pay much lower wages, and dodge most U.S. labor and tax laws. But to keep Pride of America in Hawaii, 75 percent of its staff and crew must be U.S. citizens, and the company must abide by all state and local tax, employment and safety laws. A decade and one economic collapse later, the company's success here seems to hinge on three key factors: the insatiable demand for the Hawaii itinerary, the financial brilliance of vertical integration, and quick reaction and re-tooling in rough waters.
The ship's official capacity is 2,450 passengers, but, with triple and quad cabins, she can hold up to 2,700 revelers. Every Saturday, she sails out of Honolulu at 90 percent capacity or higher, and rarely has to offer deep discounts to fill the berths. (Kamaaina discounts can be found, however. See "Want a Cruise?" on page 97 for details.) Filling those cabins is imperative to its success, since the itinerary's lack of sea days and overnights in two ports cuts back on onboard spending for extras like spa treatments, cocktails and specialty meals, and, because gaming is illegal in Hawaii, there's no onboard casino to finesse large sums out guests' wallets.
"When we have a lot of Australians on board, we make sure to order more beer"

— Cris Tomagan, Provision master
With its original plan of three ships sailing the same itinerary every week, Norwegian invested vertically – buying Polynesian Adventure Tours as its motor coach and land-tour company and creating its own signature luau on Kauai. "The ship is a formula – great experiences in every single destination – and, to do that, you need really good partners," says Weir, who also serves as president of Polynesian Adventure Tours, or PolyAd, as it's called. Norwegian grew the PolyAd business by 30 percent virtually overnight, and now has 350 employees statewide and 180 coaches transporting visitors from ship to shore adventures and back to the ship before the gangway is raised.
It was all humming brilliantly until the economy collapsed and two ships sailed away. With one ship remaining, 180 coaches, 350 employees and a luau now dark six nights a week, they got creative. "There were some sleepless nights," Weir says. "But when you provide a really good guest experience, they will come to you." Norwegian opened the luau to the public and made the venue available for private parties and events, and PolyAd's buses and tour services now provide shore excursion opportunities for 90 percent of the other cruise lines coming through Hawaii's waters. Yes, you read that correctly: Norwegian gets a cut of its own guests' shore experiences, then turns around and gets a cut when its competitors sail through Hawaii as well. Well played, Norwegian.
What's in It for Us?
One big question on our minds: What's the ship's impact on the local economy?
First, consider the chef's weekly shopping list: 50,000 eggs, 25,000 pounds of meat, 18,000 pounds of fruit, 28,000 pounds of vegetables, almost 800 gallons of whole milk (plus additional gallons of low-fat, non-fat and soy).
And, of course, ice cream – at least 175 gallons every week. Kaj Turunen, hotel director and senior officer on Pride of America, says, "We just don't sail without ice cream," telling the story of once delaying a departure until the ice cream was safely delivered, fearing the mutiny that would ensue without it.
How much of that food is purchased locally, and how much gets shipped in, off-loaded from a cargo ship and onto a cruise ship? Provision master Cris Tomagan invited HB into his small office in the bowels of the ship to crunch numbers.
All totaled, the weekly food and beverage budget came in around $320,000, a third of which is spent locally, purchasing from local businesses such as Love's Bakery, Meadow Gold Dairies, Armstrong Produce, Y. Hata & Co. and various local beverage distributors. The rest comes from the mainland.
"The biggest issue is cost," Tomagan says, "and being able to source sufficient quantities." Take the ship's mahi mahi order. A five-ounce filet from its mainland provider is $4.95, while the local supplier charges $5.45, a weekly difference of close to $1,000 based on consumption of over 500 pounds each week.
Price and supply barriers aside, executive chef Errol Brisset is determined to get more locally sourced fish on the menu. "We already get our live Kona lobsters on Wednesday each week," he says, holding a particularly active one up for inspection in the galley's walk-in refrigerators. "But we can do more, and I'm pushing to get local fish on the menu."
The bar business stays local, thanks in part to beverage laws. It takes a lot of local beer to throw a week-long party: 25 cases each of Kona Brewery's Fire Rock and Big Wave beers, plus 35 cases of its Longboard Lager, and 10 cases each of Maui Brewing Co.'s Bikini Blonde and Big Swell brands. As for the rest of the bar, big-ticket purchases from the local Anheuser Busch distributor, Paradise Beverages, Southern Wine & Spirits and Young's Market keep the ship's two-dozen restaurants and bars in business. Even the mai tais and fruity cocktails are mixed with a local flair, thanks to Aloha and Island Sun juices. The ship's total bar tab varies from week-to-week, depending on guest demographics, but, when Tomagan tallied the numbers of the week we sailed, it rolled in at $60,000, a bit less than some weeks. "When we have a lot of Australians on board, we make sure to order more beer," he says.
Don't forget the leis. No Hawaii celebration is complete without them and, thanks to Stanley Ito Florists in Honolulu, every guest on Pride of America gets a lei upon arrival, along with fresh local flowers in many of the suites and higher-end guest rooms. While Norwegian staff was coy about the exact budget, estimates put the flower costs at $100,000 annually.
"Sometimes you'll see families at the pier with picnics, enjoying a little family time before the crew member has to come back to work"

— Malu Punohu, Cruise director
Dock fees, stevedore charges and ancillary costs and fees also rack up weekly. Every Saturday's turn-around in Honolulu runs about $42,000 in stevedore billings alone for handling all the luggage and provisions. Another local vendor provides services to staff the 18 check-in desks, and Malu Productions welcomes and entertains guests as they board.
Finally, there's the matter of taxes. Because the crew and staff are in Hawaii year-round (excluding vacation time they choose to spend elsewhere), Hawaii state income tax is withheld for all employees. The state's general excise tax and transient accommodations tax (hotel room tax) are charged and included in the customers' bills. When you buy drinks or items from the shops, the ship's slick accounting system captures the right amounts of the GET in the right place: In Honolulu and in off-shore Oahu waters, cash registers calculate the tax at 4.712 percent (remember the rail surcharge), then automatically switch to 4.166 percent in other ports and around the Neighbor Islands. But, if you're looking for the best deal on that jewelry, wait until late, as the ship sails between islands. Three miles out, the excise tax no longer applies and the registers adjust accordingly.
But Are They Local?
Hotel director Turunen taps his fingers on the lunch table in Cagney's, the ship's steakhouse, during the interview for this story. He was happy to oblige, but the ship was docked in Maui and the new Target had just opened the previous week. He was eager to get there like the rest of Maui to check it out, and this interview was getting in his way. "We're part of the skyline of four islands every week," he says, pointing out that, for much of his staff, Hawaii is their adopted home, and that they have their favorite spots and things to do on each island. "I jumped in a cab in Honolulu a couple of Saturdays ago to run to Ala Moana Center, and the driver said, 'Oh, you must be here from LA!'" he says, showing his frustration that locals don't always see the ship and its crew the same way. "It's particularly tough in Honolulu," he continues, "because that's our busiest day, so it's harder for us to get out and get to know people."
Shore excursion coordinator Justin Voth is rooted in Hawaii. "I was selling cars in Lexington, Kentucky, when some guy at a job fair asked me if I wanted to pour water in Hawaii. I met my wife on this ship. Hawaii is home to me. It has defined my entire adult life," he says.
Aaron Paulk, Voth's boss and head of the Shore Excursion Department, can't imagine living anywhere else, and he's carved out his own unique Hawaii lifestyle. Because his job requires him to scout and find the best experiences for guests, he's been ziplining, kayaking, hiking, biking, surfing and snorkeling with most of the outfitters in the state. He embodies the lifestyle, staying active every day. "I manage to surf with buddies on Maui every Monday," he says, "then I run the coast when we're in Hilo on Tuesday." On Wednesdays, he joins several other ship's officers in their weekly Kona Ironman Swim, a fierce competition between friends and colleagues, with the winner lording it over the rest of them until they do it again the following week.
As for Hawaii locals working on the ship, the numbers tend to fluctuate, with some 30 locals currently working in various capacities. Cruise director Malu Punohu points out that it's hard for locals, coming into their home harbor and not being able to run home to see their family because of work. "Sometimes you'll see families at the pier with picnics," she says, "enjoying a little family time before the crew member has to come back to work."
Punohu understands it well. A Kaneohe native and graduate of Kamehameha Schools, she's been with Norwegian for 11 years now. As cruise director, she sees it as her mission to bring authentic Hawaii culture and traditions to the ship. "We have a lot of kamaaina who come onboard, and I'm always so proud when they like what they see," she says of her hula classes, culture talks and lei-making classes. She's also proud of the aloha culture she sees in the staff and crew. "We have a lot of Make-A-Wish kids," she said, "and one time, one of the crew called me wanting to know what children's book about Hawaii would be best to give that kid." Over the holidays, her phone rang from other crew members who'd gone to Safeway and purchased cart loads of food, then needed her help to know what charities and food banks to donate to. "The crew comes here to work and they end up feeling like it's home," she says.
Do They Give Back?
This story originates from that very question, recalling the big benefit for Kapiolani Hospital, then learning from the staff of the hospital's development department that they couldn't recall hearing from Norwegian since. A random and unscientific survey of various fundraisers, school auction sponsors, and others in the Honolulu development community yielded a variation of the question that Weir hears: "No. Are they still here?"
Weir admits the company doesn't get many calls from the fundraising community in the state, laughing that admitting it for this story might change that. She also points out, however, that the company offers the ship as a venue for fundraisers on the outer islands, with groups hosting lunches, dinners and auctions in the main dining room while the passengers are off enjoying the island. "It's more difficult in Honolulu," she says, "because that's our busiest day."
"When Puna was hit (by Tropical Storm Iselle), we were among the first to show up with ice and canned goods"

— Kaj Turunen, Hotel director and
senior officer on Pride of America
What became evident, however, is that, while the corporate office might not be big and visible players in the state's fundraising community, the officers and crew on board the ship have taken that responsibility personally, and are quietly engaging their own projects to try to make a difference in their adopted home.
Robert Torres, the ship's environmental officer, also coordinates the crew and staff's community outreach programs and makes a point to do at least one organized effort each quarter, rotating among the Islands. "We don't like sending stuff to trash," he says, "so we're always looking for ways to re-use and give back." When the ship went into dry dock for a major refurbishment, Torres coordinated with Ronald Strode, Waianae resident and the ship's sanitation officer, to make sure everything went to good use. Dozens of mattresses and industrial-kitchen supplies were donated to the U.S. Veterans Initiative in Waianae, Pacific Faith Fellowship and His Highest Praise Church. When one of the ship's crew discovered the needs of a women's shelter on Maui, additional mattresses were donated there, as well as clothing and other goods the shelter needed. On Kauai, the crew organized a beach cleanup, using the ship's tenders to get to a part of the shore previously unreachable and remove bags of rubbish and debris that had collected there.
They are particularly proud of their work in the Puna District on Hawaii Island. "When Puna was hit" (by Tropical Storm Iselle), Turunen says, "we were among the first to show up with ice and canned goods." According to Torres, all the staff and crew wanted to do something and do it fast, so they started an impromptu food and clothing drive on the ship. While it initially targeted crew and staff only, word soon spread among the passengers, who quickly got onboard. "We put out bins and a few signs, and we were amazed at what people gave, even brand-new clothes they'd bought while on vacation. They donated them to the people in Puna," Torres says.
Asked about why there's never much media coverage of what they do, Torres just shrugs. "We don't do it for that," he says. "We do it because it's the right thing to do."
What's Next?
Any questions of bringing back those other two ships is met with a chuckle. "One ship seems about right," Turunen says, pointing out that the company is making money on the itinerary and has no intention of changing it. Weir agrees, although in her PolyAd hat, she laments a recent precipitous drop in other cruise lines coming through Hawaii, meaning less demand for tours, buses and a signature luau.
As for the visitors who are drawn here by the cruise, they may arrive jet-lagged and cranky, but appear to leave planning their next visit. On Friday, the last full day of the cruise I was on, an older woman approached a Norwegian executive sitting at his computer in the lobby coffee bar. "I just flew in a helicopter over a volcano," she told him. "I'm 80 years old and never thought I'd do that. I just thought you should know." She turned and left, on to her next adventure, before he could even respond. He smiled and returned to his laptop. All in a day's work for Norwegian, the neighbor we almost forgot we had.
---
Want a Cruise?
For information on booking a Pride of America cruise, visit www.ncl.com or call 866-234-7350. Ask about kamaaina discounts or check with local travel agents. When we called in mid-August, the quoted kamaaina rate was $979 per adult to set sail on Sept. 5. For that week, there was a special, which waived the $499 rate for keiki who stayed in a room accommodating up to four guests. As with hotel rooms, the best deals can often be had at the last minute or during off-season.