COVID-19 Impacts to Oʻahu's Commercial Real Estate Remain to Be Seen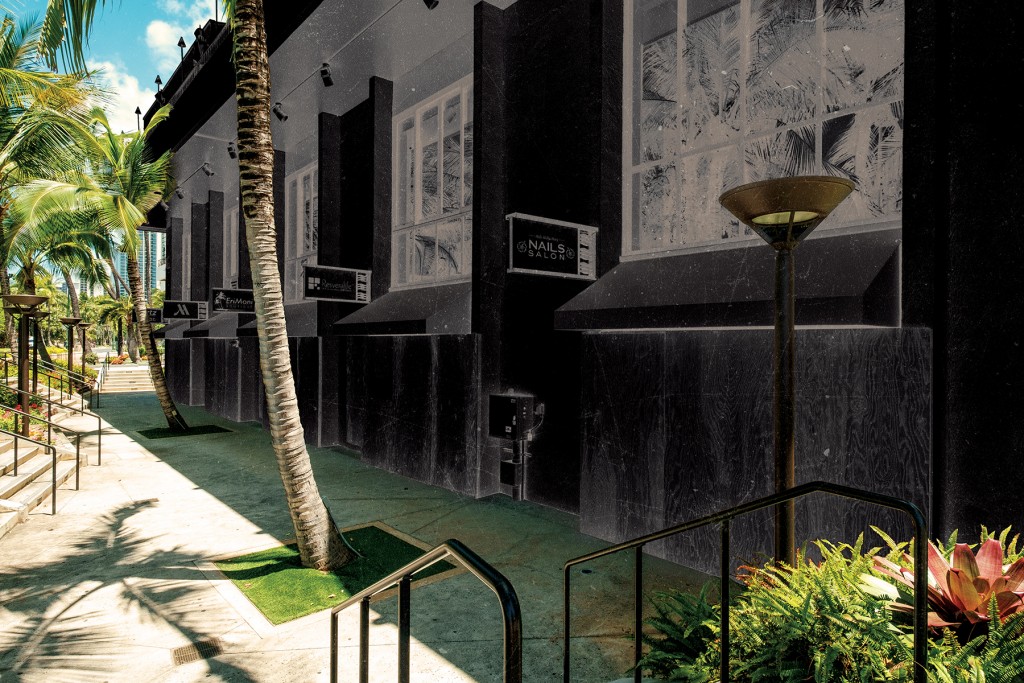 The pandemic will likely have different impacts on the markets for three types of commercial real estate: retail/restaurants, office and industrial spaces
The aftereffects of the pandemic seem likely to reduce the demand for retail and office space on O'ahu, but the full impact remains unclear.
"I think probably three or six months from now will probably be a better indication," says Mike Hamasu, research and consulting director at Colliers International Hawaii. "That's just kind of what I'm thinking."
James "Jamie" Brown, president of Hawaii Commercial Real Estate, adds: "But retail's for sure the one that's going to be most beat up by this."
Hamasu says O'ahu's industrial and office markets were "treading water" during the second quarter of 2020. Both saw only small changes to vacancy rates, which were already low.
O'ahu's office market saw a slight increase in vacancies, from 10.2% at the end of 2020's first quarter to roughly 11% by the end of the second quarter, Hamasu says. Colliers was still compiling its data at the time of publication. Meanwhile, the company forecasts a 12% vacancy rate by the end of 2020.
That's likely to be the result of a combination of tenants not renewing their office leases and tenants going out of business as a result of the pandemic, Hamasu says. Colliers International Hawaii tracks Class A, B and C multi-tenant office properties on O'ahu.
Larger impacts to the local markets for retail, industrial and office space probably won't be seen until later this year, he says, after businesses use up their federal aid.
What follows is a report on each of the three commercial real estate sectors on O'ahu: retail (which includes restaurants), office and industrial.
1. Retail
O'ahu's retail market ended the first quarter with a vacancy rate of 5.83%, Hamasu says. The vacancy rate should end the second quarter around 6% and Hamasu predicts it could rise to 8% or 10% by the end of the year.
Brown of Hawaii Commercial Real Estate says some impacts might not be seen for even longer as commercial leases can last several years.
"It's hard to even kind of forecast the future just because it changes day by day," he says.
Tourism-dependent retailers in Waikīkī will have a hard time, Brown says, but others, like mom and pop food vendors, have already pivoted and are surviving by offering takeout and figuring out how to cut costs.
Tina Yamaki is the president of Retail Merchants of Hawaii, whose members include resellers, luxury stores, mom and pop stores, big-box stores, shopping centers, and companies that provide products and services to retailers. She says retailers are in critical condition and many are on life support.
Retailers on O'ahu were allowed to reopen for in-person shopping on May 15, but some found they had no customers, so they closed their doors again, Yamaki says. Others have reduced open days and hours.
Many are struggling to pay their monthly rent, which, Yamaki says, makes up the largest portion of retailers' monthly costs. Some were able to receive financial assistance from the federal Paycheck Protection Program, which allows the recipient to spend up to 40% of the received money on rent and certain other non-payroll operating costs. While every little bit helps, it's still not enough to cover their rent, she says.
Landlords have responded in different ways. Yamaki says some provided forms of rent relief to their tenants, while others are trying to collect full rent.
Brant Yasaka is a senior associate with NAI CBI Hawaii who specializes in the selling and leasing of office and retail space. He says one of the biggest changes he's seen in O'ahu's retail market in recent years is an increase in institutional owners, such as REITs. Institutional owners have their own bills to pay and revenue projections to meet, so they may not always be able to provide rent relief to their tenants, he says.
He adds that there's been a strong push to raise retail rents and percentage rents over the 14 years he's been with NAI CBI Hawaii. Percentage rents are where retailers pay a percentage of their revenues in addition to their base rents.
"We were seeing rent numbers that to me were getting to the point where even before the virus hit, it would be problematic for most smaller operators to turn a profit," he says.
Ideally, tenants should spend 8% to 10% of their gross sales on rent, he says, but before the pandemic, he heard of some tenants who were paying up to 25% to 35% of their sales on rent.
Brown says some marginal retailers won't survive; he thinks it's inevitable that landlords will need to offer lower rents for the short term as more spaces become available. At the same time, landlords and tenants will be looking for shorter lease terms.
"I don't think you're going to see a mass rent reduction situation," he says. "I think what you're going to see is short-term deals will probably be how people come up with this because landlords are going to say, 'I don't want to give cheap rent forever,' and tenants will say, 'That's fine because I don't want to be in a commitment for a long time either because what happens if we get a second wave (of COVID-19) or it takes a longer time to come back than we think?' "
The state Department of Business, Economic Development and Tourism recently predicted that Hawai'i will not see 2019's total of 10 million visitor arrivals again until 2025. About 67% of the retail industry's revenue comes from tourism, according to a report by the UH Economic Research Organization, UHERO.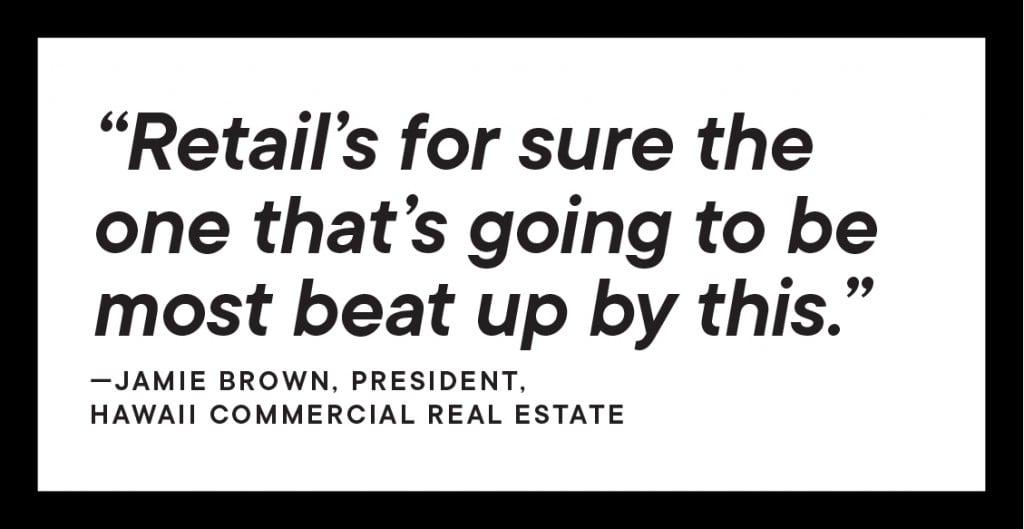 Yasaka says that many retailers can't survive just off local business: "So I highly doubt the local economy will be able to basically support the existing retail infrastructure here. We need that outside money."
Jackson Nakasone, president and principal broker of NAI CBI Hawaii, says: "I'm sure all the shopping center owners are looking at how to reposition. What happens if a Macy's closes? Neiman Marcus went into bankruptcy and reorganization. I think retail is going to change tremendously." One change he expects to see is more retail on the ground floor with residential high-rises above.
Kimberly Lord, senior managing director of CBRE's Hawai'i region, writes in an email that there's a desire to remain closer to home, now more than ever. "I feel we will consequently see the growth of work-live-play neighborhoods in Hawai'i," she writes, adding that retail-only may no longer be the highest and best use for many struggling malls and oversized retail assets.
In addition, demand may increase for pad sites, or stand-alone building lots adjacent to shopping malls or centers, as customers continue to want contactless pickup and transactions, says Nathan Fong, senior VP and retail services group leader at Colliers International Hawaii. Businesses will want them, he says, for the visibility, convenience, access and safety they provide to customers who will not have to get out of their cars to pick up food or receive services.
Many retailers have stepped up their e-commerce operations to survive the pandemic, and Lord writes that this might change how some stores look and operate. For example, some retailers might shrink their footprints or find alternative uses for their spaces.
"I think right now, everyone is taking a step back and looking at their business models," Yamaki says. A lot of that is because many retailers haven't paid all or part of their rent in recent months. "So I'm sure a lot of businesses are looking at either downsizing or partnering with someone for that. We've heard that too. And some are still going to be operating as usual."
The mixed-use facilities at Aloha Tower Marketplace are owned by Hawai'i Pacific University. John Gotanda, HPU president, says the university has taken advantage of unused space there to help its students spread out and socially distance during the pandemic. For example, the school is moving its student fitness center into a larger space left empty when Gordon Biersch closed this year.
Another empty spot normally used for student events has been repurposed into classroom space, and what would have been new science labs at Waterfront Plaza is now office and classroom space.
"The pandemic gives us an opportunity to look at the space and provides us with an opportunity to reuse it now during this period," Gotanda says.
2. Office
Many Hawai'i businesses have told Hawaii Business Magazine that remote work by their employees has been more effective than they expected, and they will continue to allow many of their workers to continue to work from home even after social distancing ends. That suggests there will be less demand for office space on O'ahu. But if that trend happens, it has not clearly appeared in the numbers yet.
Since the beginning of the year, there has been an additional 95,000 square feet of office space available for rent on O'ahu, Hamasu says. That is a small fraction of the island's Class A, B and C office market, which includes about 14 million or 15 million square feet, he says.
"This could be due to shrinking office workforce (which has occurred) where businesses don't need as much office space and potentially the closure of businesses (rising bankruptcies), which is anticipated," he writes in an email.
Brown says that commercial real estate is a slow-moving market because tenants typically have long leases. The average office lease is three years, he says, which means we may not see the direct impact of increased remote work until those leases expire.
The exception is when tenants put their office space on the sublease market.
"That will be the indicator you want to watch for," Brown says, adding that there typically hasn't been much listed sublease space on O'ahu for a long time. Hawaii Commercial Real Estate conducts a quarterly survey of Class A and B multi-tenant office buildings on O'ahu.
Hamasu says other indicators to watch include whether bankruptcy claims increase and whether office tenants postpone decisions to renew. Right now, most businesses have cash reserves or are able to borrow to keep their businesses open, he says, so it's still too early to say what the full coronavirus impacts will be.
"If this situation doesn't start to correct itself in the next three to six months, you'll probably start to see a number of businesses face closure because they don't have enough cash to keep themselves open," he says.
Even before the pandemic, some O'ahu office buildings were being converted to other uses. Bishop Place, the former office tower at 1132 Bishop St., is being converted into residential rentals, and the building at 1833 Kalakāua Avenue, which for many years was named after a principal tenant, Pacific Business News, is being considered for redevelopment.
Brown says those conversions were caused by stagnant demand for office space. Workplaces have trended toward reducing the number of square feet per person, and growth in office jobs has been slow.
As many workers return to their offices after three months of working remotely, changes are expected in the way companies use those offices, but it's too early to be sure what those changes will be, writes CBRE's Lord.
Some tenants might need more space to comply with social distancing mandates, Brown says. But many others might actually reduce their office footprint by allowing employees to continue working from home after the pandemic.
"So those are two opposing forces, and … the few tenants that are in the market now, you're seeing both of those things," he says, referring both to tenants locally and others he's heard of on the Mainland.
For example, an attorney at the Pacific Guardian Center found another attorney to share her office, while a tenant at the Davies Pacific Center closed her office when her lease expired this year; she now works from home.
"I think everyone is figuring it out," he says. "It's too early to really tell."
3. Industrial
O'ahu's industrial market, which comprises about 40 million square feet, has long been considered healthy, with strong demand. Several commercial real estate experts agree that trend will likely continue.
Brown says many industrial users are essential businesses, like construction and food distribution.
"There's talk of the demand for industrial going up here … and on the Mainland because … people are buying stuff online and you need distribution warehouses," he says. "And then there's the argument for Hawai'i that we're so dependent on shipping that maybe … rather than just-in-time inventory using ships, we might have to store a little bit more." He adds there's a rumor that Amazon is looking for a distribution facility on O'ahu.
Honolulu's demand, he says, is driven by the fact that, unlike the office market, industrial space has had years of virtually no vacancies and very few new spaces.
O'ahu's industrial market is expected to have a vacancy rate around 2% at the end of the second quarter, Hamasu says; industrial vacancy rates have hovered around 2% for the last five or six years. There wasn't much change in occupancy from the first quarter to the second, he adds, but it's likely too early to tell what happens next as many businesses are still being supported by government subsidies.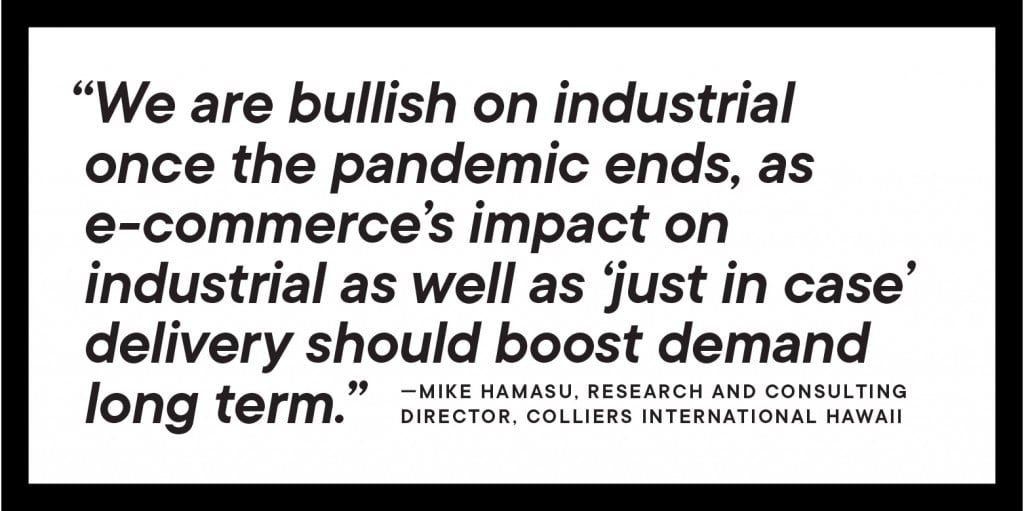 An additional 500,000 square feet of new industrial space in Kapolei is expected to become available for lease in the third quarter, but Hamasu says this will likely only raise the vacancy rate slightly, from about 2% to 3%.
The market is already tight, with about 97% of industrial space on O'ahu already leased, according to a CBRE report that looked at the first quarter of 2020. Any space that isn't occupied is typically older or less functional, CBRE's Lord writes, and as a result, those spaces tend to stay on the market longer.
Hamasu writes in an email: "We are bullish on industrial once the pandemic ends, as e-commerce's impact on industrial as well as 'just in case' delivery should boost demand long term."
Sheldon Glassco, a managing director at NAI CBI Hawaii, writes in an email that demand and occupancy for the U.S. industrial market will remain strong through 2020 due to the big boost of e-commerce sales from the coronavirus, especially through the holiday season coming up.
"We may not lag behind the Mainland in the e-commerce growth since we do a lot of online shopping, evidenced by the expansion of FedEx leasing the old Hilo Hattie building on Nimitz and the recent development of (Dependable Global Express') 76,000-square-foot distribution warehouse in Iwilei on the old Gasco property," he writes. "DGX offers last mile shipping and delivery services."
However, there may be a change in how vacancy is measured and rent is quoted, Lord writes.
"An example of this may be quoting rent for distribution warehouse per cube, rather than using the current Hawai'i standard measure for industrial real estate, which is to quote rent … per square footage of floor space," she writes. "This is because distribution warehouse users often fill their space to the ceiling with inventory, making the height of the property a valuable aspect when calculating rent."
Glassco says he is unsure that will come into play in Hawai'i because it would mean that rental rates would need to dramatically increase, such as from the current $1.50 per square foot to $3 per square foot. He specializes in industrial sales and leasing and investment sales and says this change would only make sense for self-storage facilities.
"I don't know if landlords will ever get to that cubic square foot pricing, but that will be interesting to see," he says