Surf Competition Pumps Millions into Oahu Economy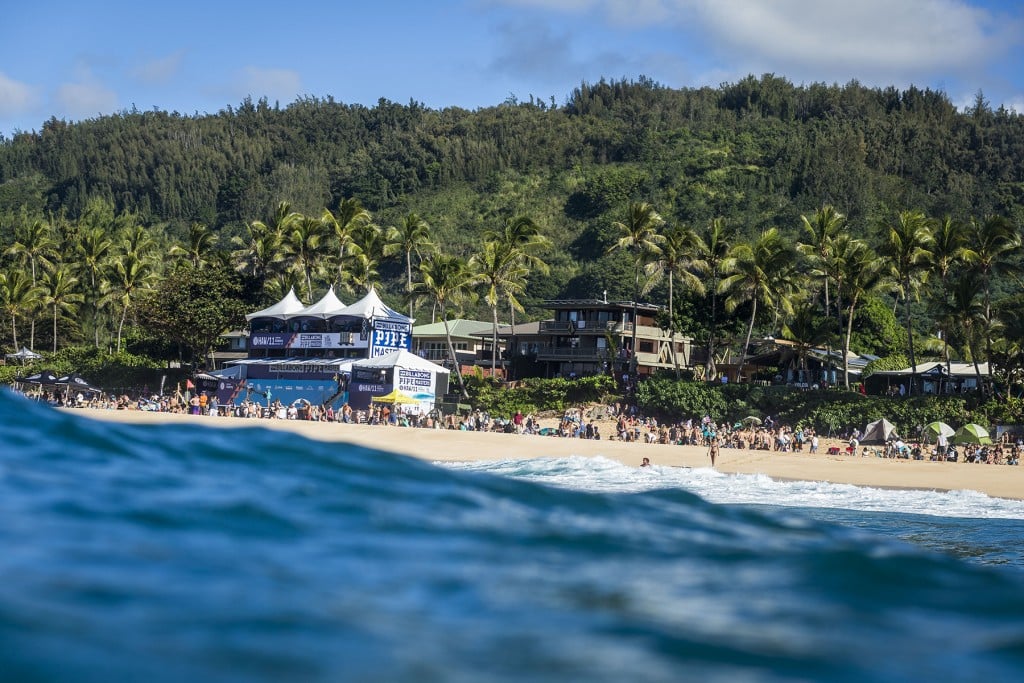 Vans Triple Crown of Surfing draws global attention while boosting local businesses
John John Florence won his second surfing world title Dec. 18 at the Billabong Pipe Masters on Oahu's North Shore.
"I'm so happy to have been surfing here at home and to have won the title in front of my family and friends, it feels good," Florence told the crowd gathered at Ehukai Beach after his win.
Pipe Masters is the final stop of the yearlong world tour and the crown jewel of the Vans Triple Crown of Surfing, a three-competition series run every year at Haleiwa, Sunset and Pipeline in November and December since 1983. It's not only a huge series for pro surfers, but an important money-earner for the hundreds of people and companies who work behind the scenes every year.
An economic study of the 2010 Triple Crown calculated the series pumped $21 million into Oahu's economy. The study, directed by Lenard Huff, a marketing expert in the Business Management Department of Brigham Young University Hawaii, was commissioned by Vans. Huff estimated that this year's event would have a similar economic impact, which included money spent locally by organizers and sponsors, and money spent locally by people who came to see the event.
Jodi Wilmott, Hawaii and Tahiti GM for the World Surf League, which manages the Triple Crown, estimated the economic activity from this year's event would nearly double the 2010 impact.
Wilmott says event organizers hire over 300 local vendors annually, ranging from individuals to businesses, who often hire additional crew.
Haleiwa-based KT Protection handles 24/7 security at the sites. "The Triple Crown is a big boost of work for my North Shore guys," says David Fuga, KT's GM. "For a lot of them, it's holiday money for their families."
KT typically runs a crew of about 14 on busy competition days. The company, now in its ninth year, began conducting Triple Crown security in 2011 and Fuga says having that event on the company's resume was instrumental in its success.
"The WSL and Vans Triple Crown have a positive impact on Turtle Bay. We see a much higher demand for our rooms during the Triple Crown," says the resort's director of sales and marketing, Brad Doell. The resort is typically sold out during that time and he estimates that 25 to 30 percent of the resort's 452 rooms are occupied by visitors here for Triple Crown.
Wilmott says the WSL holds "hundreds of room nights" at Turtle Bay to house its staff and guests, as well as renting up to 15 houses for six weeks during the competition season.
A frustrated Haleiwa restaurant owner holds a different perspective. "Families are more likely to come to the North Shore and spend money than a sponsored surfer who is looking for free handouts and meals from Costco," says the owner, who asked to remain anonymous because he was speaking negatively about an event that is loved by many people on the North Shore.
He says vacationing families are priced out by the rates paid by event sponsors and other companies. "Sales for me are flat lined the six weeks during the Triple Crown, even our local customers tend to stay home and not venture out much due to traffic." Sales generally pick back up in mid-December, when the Triple Crown finishes and winter breaks for students begin he explains.
Jack Suyderhoud, professor of business economics at the UH Shidler College of Business, says a re-distribution of dollars spent during large events can be expected. "An event like the Triple Crown probably attracts a different crowd than what is normally on the North Shore, so some businesses will see their activity increase while others may not. That doesn't mean the aggregate impact is negative, it just means not everyone will come out ahead."
The Triple Crown also has an economic impact worldwide. During the 2016 series, the WSL says it counted 18 million plays of live event webcasts equaling 3.5 million watch hours. Extensive social media presence netted 4 million Facebook impressions and 11 million Instagram views. That's powerful advertising for Hawaii, says both Wilmott and Huff.
"The growth really pertains to global brand awareness of surfing, and when talking with regards to the Vans Triple Crown then you're really talking about brand awareness of Hawaii as well," Wilmott says.
Florence agrees the event creates a lot of positive exposure for Oahu's North Shore. "It brings a lot of people from everywhere around the world to see Pipeline. It helps the community out a lot I think," he says.
Wilmott says the WSL is emphasizing the webcasts because that allows people to enjoy the event, without travelling to the North Shore and overwhelming the facilities there.
Ehukai Beach, which faces Banzai Pipeline, is a popular beach all year, but especially popular during the Pipe Masters. On a typical day during the 13-day holding period for the 2016 event, there were three and a half times as many people on the beach as during an average day, according to counts by City and County of Honolulu lifeguards. The count was a total of 55,540 people during those 13 days. And that's probably a low estimate because the lifeguards can't possibly see everyone stretched along the coast. Numbers for 2017 were not yet available at time of publication.
A lot of those people are locals drawn to see the best surfers in the world. Many others are tourists. A Pan Pacific Tours guide, interviewed at Sunset Beach during a Triple Crown competition day in December, said his Chinese tour group wanted to stop there. "They have paid a lot of money to be here and they want to see things Hawaiian, things that are local. Surfing is that to them," he said.
The surge of visitors strains the natural resources that draw them: beautiful beaches and waves. "All events carry the potential for both positive and negative impacts so the approach has to be a holistic one" says Wilmott.
The nonprofit Sustainable Coastlines Hawaii is hired to manage rubbish removal daily, and it sends compost to nearby Waihuena Farm for fertilizer, while recyclables are redeemed and the proceeds donated to various groups, such as the Hawaii Youth Surfing Development Organization. SCH does similar "waste diversion education" at other surfing competitions, concerts, conferences and events around Oahu.
SCH executive director Kahi Pacarro says, "Vans has supported our waste diversion education work that in turn helps fund the equivalent of two large scale cleanups annually. This collaboration is integral to our ability to continue as a world leader in hosting large scale beach cleanups."
Another way WSL mitigates the Triple Crown's impact is by hiring Honolulu-based Viking Power to operate biofuel generators to power the events.
Whatever the economic impact of the Triple Crown, its biggest value may run deeper, in social currency. Florence says the community impact is huge.
"It gets kids motivated. It's gotten kids like me from growing up across the street and going to school here to wanting to be in this event someday, giving me inspiration. It positively impacts our community through inspiration for all the kids."