Sustainable Hawaii Businesses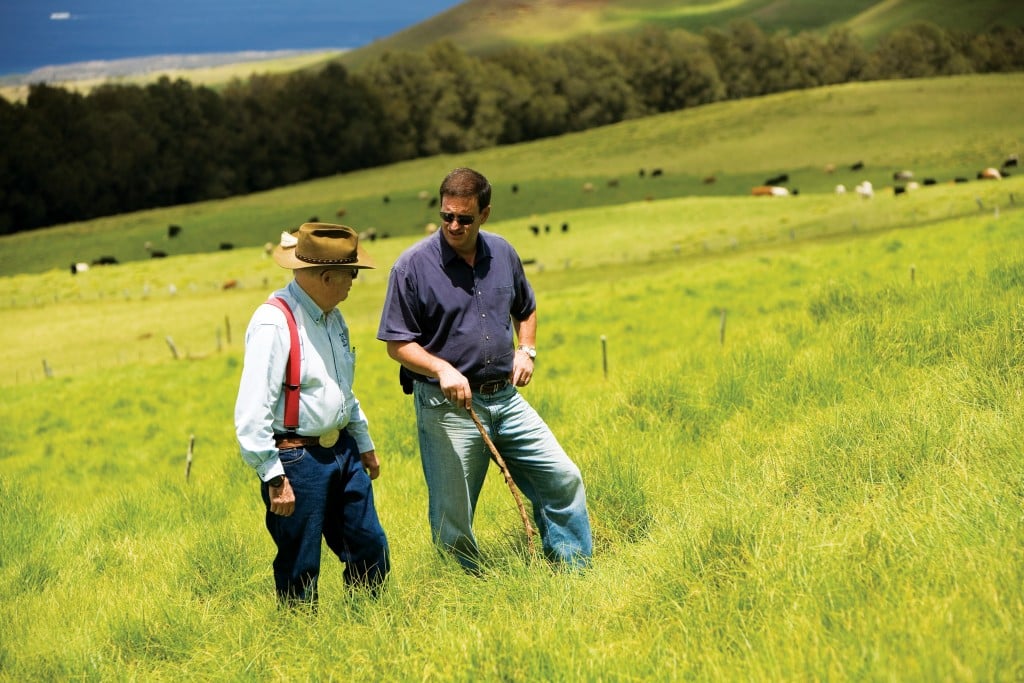 The pace at which sustainability has been adopted as a sound business imperative is impressive. A few years ago, most companies would have put it in a silo, where a small portion of profits would be dedicated to "greening" along with other community outreach. Today, many business leaders discuss sustainability as an essential part of the company, with terms such as payback periods, rising utility costs, meeting customer demand as well as being a good corporate citizen. Here are five local companies from diverse industries that are demonstrating the way to greener pastures.
Lex Brodie's Tire, Brake and Service Co.
Community focus is nothing new for Lex Brodie's. The company's commitment to customer service has earned it many local, national and global awards, including the 2011 International Better Business Award for Customer Care.
President Scott Williams says those awards were due in no small part to Lex Brodie's community and environmental initiatives. For instance, the Earn & Learn Recycling Program ("Recycling so easy, a caveman can do it") offers $1,000 and $500 matching donations to the schools that raise the most and second-most money through HI5 programs. The company has long paid attention to waste reduction and minimizing electricity use, and was the first to receive the city of Honolulu's Good Neighbor/Business Environmental Hero Award, in 2007.
Lex Brodie's sees sustainability as a good business decision, Williams says. "We feel offering what is best for the consumer, is always what is best for us," he says. "It's a huge bonus that it also helps reduce our impact on the environment. Many of our programs show that, when you make responsible choices, it also helps the community and the environment."
For instance, the company created a popular service package with the dual purpose of reducing the environmental impact and the money families pay for gasoline. The company calls it the GreenFleet Hawaii Super Check Up and says it can help customers extend the lifetimes of their cars and maximize fuel efficiency, at a cost that is on par with standard tuneups at other service companies. Lex Brodie's says the program now uses the first 100 percent bio-based and biodegradable motor oil used in the state.
It also sponsors:
The GreenFleet Hawaii Carpool Challenge, which helps people reduce their driving by facilitating and rewarding carpooling.
The Tread for Bread program, which encourages people to be active and measure their mileage with a pedometer. GreenFleet donates food to the food bank (Hawaii Foodbank?) worth an equivalent number of calories.
The ReCycle Energy program, where you track your bike commuting miles and the energy saved is donated to local schools.
Merriman's
Merriman's restaurants helped pioneer Hawaii Regional Cuisine, which spurred the movement to eat local. When Peter Merriman founded the first Merriman's in Waimea on Hawaii Island in 1988, agriculture in the state was still dominated by sugar cane and pineapple plantations, and finding local produce was difficult. Merriman worked with and encouraged farmers to cultivate more local vegetables and fruits, which he purchased and used in his restaurant, because he thought food tasted best when it was fresh.
"Diners loved the flavors of super-fresh food," Merriman says. "Items unique to the tropics of Hawaii such as white pineapple, hearts of palm and apple bananas added to the sense of discovery."
About 90 percent of the food eaten in Hawaii is imported from the mainland and elsewhere, and that requires a lot of energy and other resources to package. A Hawaii Department of Agriculture report published in 2008 showed that shifting our consumption of local versus imported food by 10 percentage points would pump an additional $313 million into the state economy every year.
Merriman is all for that. He famously told local growers who were among the pioneers supplying his first restaurant, "I want to see you guys drive up in a Mercedes one day."
Merriman's says its six restaurants on the Neighbor Islands, including two new Monkeypod Kitchen locations, source 90 percent of their ingredients locally, and use organically grown products whenever possible to encourage local growers to eliminate the use of agricultural chemicals that can harm water supplies and soil.
Though Hawaii Regional Cuisine has gained popularity since its founding in 1991, and many restaurants and stores trumpet their locally produced food, a state Department of Agriculture report showed that, from 1994 to 2005, Hawaii actually increased its dependence on food imports.
Merriman acknowledges the higher price of local produce, but focuses on its better quality. "We always expect to pay more for the best-tasting ingredients," he says. "Food grown in Hawaii tastes better. That's really what we sell, great taste and a great experience."
Ko Olina Resort and Marina
Ko Olina says it has worked hard to incorporate sustainability and community outreach across its many resident companies, which include Disney's Aulani, Marriott's Ko Olina Beach Club, residences, restaurants and a golf course.
For Ko Olina, sustainability may be more important as a good neighbor policy than a way to connect with customers or cut costs. With its proximity to the Waianae Coast and the rest of Leeward Oahu, it has crafted policies friendly to the local community. These include sourcing local food, art and other products. A program called, "The Spirit of Ko Olina: How to Give Back" sponsors local nonprofits, including MAO Organic Farms' social-entrepreneurship programs, Makaha Studios, Waianae High School's Searider Productions, the Native Hawaiian Traditional Healing Center, the Waianae Coast Comprehensive Health Center, the Junior Lifeguard Program and the Kalaeloa Heritage & Legacy Foundation.
Sustainability is evident throughout the Ko Olina grounds. Ko Olina says all businesses at the resort agreed voluntarily to phase out plastic bags; LED light bulbs are used in all street lighting; resort staff and security use electric vehicles; and only nonpotable water is used to irrigate the golf course and resort areas. In the near future, says Leilei Shih, environmental director of Ko Olina Resort & Marina, the resort is planning a service where guests can rent electric and hybrid cars by the hour, LEED building developments and increasing its solar PV installations.
Ko Olina has a powerful reason to support efforts such as waste reduction and green-waste reduction: In 2011, the nearby Waimanalo Gulch landfill overflowed, and medical waste and other debris washed up on the Ko Olina beaches. Shih says the people who work at Ko Olina share the commitment to sustainability.
"Sustainable living is a way of life for the Ko Olina community and its guests," she says. "All of the employees I've talked to are very excited about the current and future sustainability initiatives. I often have employees sharing ideas about how to become even more sustainable."
Grand Hyatt Kauai
The Grand Hyatt in Kapaa, Kauai, is one of Hawaii's most decorated businesses for its environmental initiatives. It first won an environmental award in 1996 and, in 2010, won the state's Green Business Award. The hotel says its initiatives include:
An 18,500-square-foot solar array that provides 465 kWh per year.
An LED lighting system completely upgraded in 2011-2012 that reduced energy use 70 percent.
Almost 60,000 square feet of green roofs, which reduce cooling needs.
1,200 square feet of gardens that help produce food for the restaurants.
A system that captures heat produced by the air conditioning and uses it to heat water, and another system that cuts unnecessary A/C use in rooms.
A program called integrated pest management that reduces chemical use on landscaped grounds.
Composting all green waste.
Guests get recycling facilities in each room, filtered water stations near the ice machines to reduce the use of bottled water, compostable takeout containers and an on-site dry cleaner that does not use perchloroethylene (perc), the chemical you often smell at your neighborhood dry cleaner.
"Our owners and management team are very committed to making choices that are good for the environment," says Diane Hartman, public relations director at the Grand Hyatt. She points out that many of the initiatives also help save the company money. "The return on investment of replacing 15,000 bulbs with LEDs will be seen within one year. … The ROI on the solar carport is much longer (but) it was still a step toward reduced energy use. … Sometimes the financial saving is not imminently apparent but will be seen down the line."
The Grand Hyatt also partners with Green Car Hawaii. By providing rental cars by the hour, guests don't need to rent cars at the airport, and can instead take a shuttle to the hotel. It creates less of a parking and maintenance burden for the Hyatt and guests save money.
Hagadone Printing
At Hagadone, sustainability is about survival. "The printing industry is really looking for a competitive edge," says president Clint Schroeder.
To maintain that edge, the company offers Forest Stewardship Council-certified and recycled paper for print jobs, and helps close the loop by collecting, shredding, bailing and shipping eight 40-foot containers of glossy paper to a recycling facility in South Korea each month. In 2011, Hagadone says, this saved 60,000 trees, conserved more than 44 million gallons of water, suppressed 11.76 million tons of greenhouse gases and diverted 3.82 million metric tons of solid waste from the landfills. Depending on the market for glossy paper pulp, it can also make Hagadone money, but the ebb and flow of the market means it's a zero-sum scenario at best, and more of a public service.
Hagadone says it makes sustainability a priority in the office, too, completing a building retrofit two years ago and adding a $2.5 million investment in solar through Revolusun that now provides at least a quarter of the company's energy.
What the company learned during its sustainability journey is now used to create additional revenue opportunities. Through a partnership with NatureOffice, Hagadone assesses carbon footprints for print jobs and offers the opportunity to offset emissions through reforestation with Hawaiian Legacy Hardwoods.
"Every penny spent (offsetting carbon emissions for printing) stays right here in the state, and really helps reforest the Hamakua Coast on the Big Island," says Schroeder. KTA Supermarkets on the Big Island, for instance, buys carbon offsets for its print jobs at Hagadone, helping plant about 10 koa trees a month.
Hawaii Business and its sister publications, including Honolulu and Hawaii Home and Remodeling, are proud to work with Hagadone. Enjoy this magazine and please recycle when possible. Hagadone takes glossy paper such as magazines, catalogs and newspaper circulars from the public on the second Saturday of each month, from 8 a.m. to 12 p.m., at 274 Puuhale Road in Honolulu.