Talk Story – Chatt Wright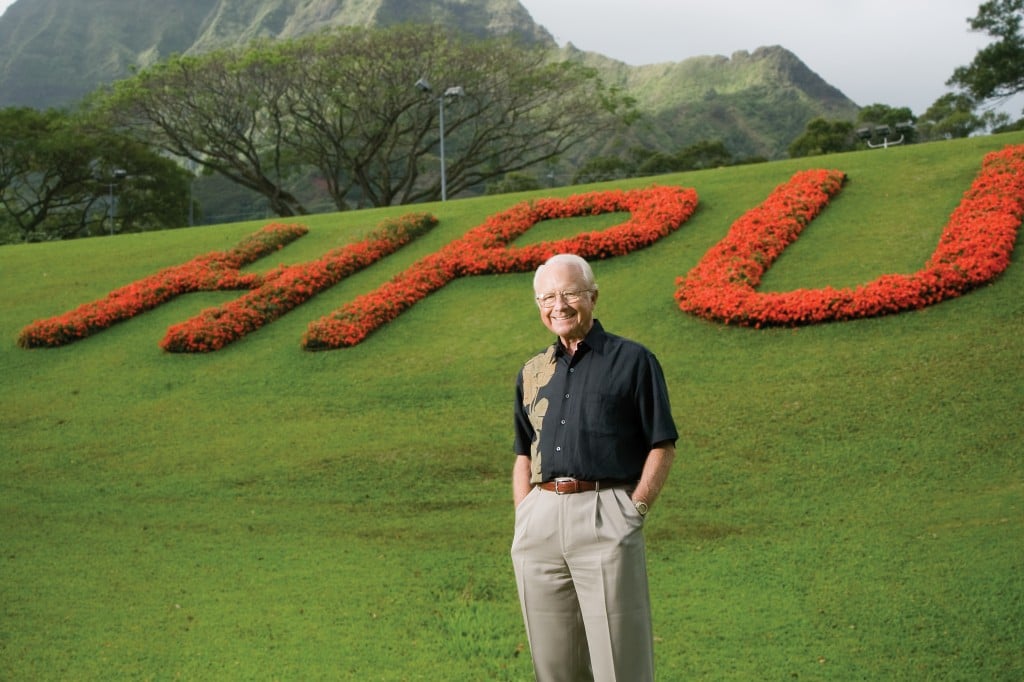 After 39 years at HPU's helm, Wright steps down in June 2011 even as he's helping launch a $100 million expansion at the Windward campus. Though he's retiring just short of his 70th birthday, he still plans to fundraise for HPU — in-between globe-trotting in search of the best fly-fishing.
Q: If you were starting a new university now, would you still go after international students?
A: Oh, yes. I'm fully devoted to what has become our mission and ethos: to educate for global citizenship. This is the way the world is and will be. We live locally but we conduct ourselves throughout the world. Our design is to have one-third of our 8,300 student body from more than 100 countries worldwide, one-third from the sister states and one-third from Hawaii.
Q: Why did internationalism succeed?
A: When I started in 1972, Hawaii Pacific College had 57 students, no more than a dozen faculty and staff, and a budget of $212,000. By comparison the budget is $120 million this year and we employ 1,100 full- and part-time faculty and staff. Back in 1972, we had an advantage: Hawaii was a new, glamorous state. There was a wonderful spirit here and a very diverse population.
Hawaii has already sold itself as sun and surf, but that's not a serious image for rigorous intellectual pursuits. So the important thing for us was to emphasize the cosmopolitan setting, and beginning careers by working with people from all over the world, and learning about the rest of the world. I had a parent tell me, "I'm not sure I want to send my daughter to a university of Maui Wowie," and I answered that we were not located on Maui, and in talking about educating for global citizenship, it was important to learn about new languages, new settings and new cultures. But it took years to develop that concept for us.
Q: How did HPU recover after 9/11 and the increased visa restrictions for foreign students?
A: We went into planning three weeks after the event and shifted a lot of our efforts from the parts of the world where we thought it would be difficult, like the Middle East, and focused a lot of our recruitment efforts on Europe. That worked exceedingly well. Europeans wanted to come to Hawaii and we now have a large number of students from Germany, Sweden, Denmark, Norway — northern Europe especially. Sept. 11 came after the collapse of communism and the opening up of China, so we have a lot of students from Russia and all of the republics that spun out of the Soviet Union, including Mongolia.
Q: What will your duties be when you retire?
A: As a volunteer, I'll assist HPU in raising the money to build and renovate the Windward campus. We're not going to leave downtown Honolulu, but we have 130 acres on this beautiful Windward campus and no indebtedness there. I think it will be more than the $100 million envisioned now — maybe $150 million — and we'll likely do the expansion in phases. It will possibly be funded using some of our endowment, possibly with the issuance of tax-exempt bonds or even by commercially borrowing money to build dorms. Dormitories generate revenue. They're very easy to raise or borrow money for because of that.
We're working with Francis Oda and Group 70 and boutique investment bankers and we're already applying for permits for all the things we're going to do. In fact, we just finalized a $5-million project to connect to the City and County's Windward sewage system.
Q: When will it be complete and how many students will HPU eventually include?
A: We already have architectural renderings of the plans and we're looking at adding 400 dorm beds. There would be a series of two-story buildings, including a dining area, a student center, a new academic center, a theater and arts center, a gymnasium, and probably an additional 600 to 700 parking spaces. It's landscaped to fit into the natural environment.
Nothing is finalized (on completion dates or student numbers). We've already gone through the charette process and we're even making presentations to neighborhood boards and others to garner the support of the community. We want to fit into the environment, and do it right and have a sustainable campus. For instance, there's going to be a lot of glass used — new kinds of glass that don't throw off as much heat. Also, the buildings will be situated to use the trade winds, so you don't have to use as much expensive air conditioning.
Q: Is higher education a growth industry for the state?
A: The private sector is critically important for the public sector — not just in higher education, but in elementary and secondary education as well. Look at the University of California and Stanford: They compete and stimulate one another and they compete and cooperate, and put together joint ventures in the sciences. In the American educational system, the elite private universities drive excellence. Just think of California without the Claremonts, the Pomonas, the Occidentals. It pushes the public sector, and a strong public sector stimulates the private sector. Competition is a real good thing.