Talk Story: Chris Tatum, President and CEO, Hawai'i Tourism Authority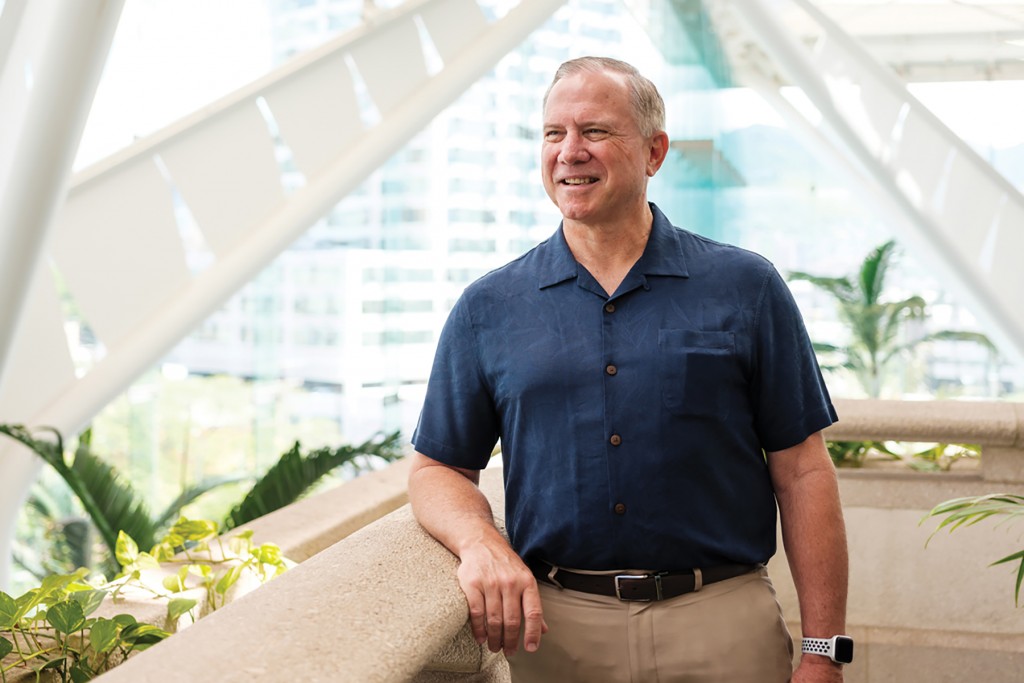 The longtime Marriott executive has been at HTA less than a year, but Tatum's strategic changes are already clear: a flattening bureaucracy, a reduced fixation on the number of tourists and a shifting of marketing dollars.
Q: What organizational changes have you implemented?
Tatum: We are flatter. The marketing person, Hawaiian culture person, community person and communications report directly to me, along with the person doing admin, accounting, etc. It helps me in day-to-day operations and hopefully sends a message of how important those jobs are.
We changed the HTA logo so it reads "Hawai'i Tourism" – it won't include "Authority" because the money is not ours. It's the tourism industry's money, allocated to us by the state and ultimately used to improve our community.
Q: Will your metrics be different?
Tatum: Somewhat. One metric is visitor satisfaction. Another is resident sentiment. If residents aren't excited, visitors will feel that and the aloha spirit is what gives us a competitive advantage. We have to continue getting buy-in from residents.
Visitor count has no value – it had no value to me when I was with the hotels. If you can drive more revenue with less people, that's a positive.
Q: How do you plan to get buy-in from residents?
Tatum: As much as people get frustrated by the number of tourists, it's still a big economic driver. The transient accommodations tax now produces about $630 million a year. HTA gets about $79 million – 32% of that's invested into perpetuating the Hawaiian culture, strengthening the community and our natural resources.
We bumped up our Hawaiian culture budget by about $1.5 million. Without Hawaiian culture we're just another beach destination.
Q: Tourist spending cooled off. Why?
Tatum: The vacation rental challenge played a big part. You cannot grow inventory as fast as it was and not expect spend-per-visitor to go down. It's basic economics.
The vacation rentals visitor does not spend the same money as a traditional accommodation visitor. Vacation rental inventory was unlimited, at least until the county bills got through. Maui and Kaua'i seem to have some understanding and control of it. The Big Island is getting there. There is Bill 89 on O'ahu (which was passed into law).
Q: Chinese arrivals dropped 25% in the first four months of 2019.
Tatum: That's a small number and not necessarily a trend, so I wouldn't overreact. As individuals, Chinese visitors spend more than any other visitor, primarily on shopping and luxury goods – not necessarily in lodging or activities. But yes, travel from China is uncertain right now.
It is an important market and we spend about $2 million a year in China on tourism marketing. But until we have a really easy flow of people from China you wouldn't want to put a ton more money toward that.
Q: how are you tweaking allocation of marketing dollars overseas?
Tatum: I reduced how much we spent toward Europe because it's a long way away. You've got finite resources and you've put them where you think they'll have the biggest impact. You don't want to walk away from any market, though. We have contracts with nine different contractors throughout the world, but how much we allocate varies.
Japan's numbers are big. The Mainland is always a strong market for us, particularly the West.
I pulled some money out of Canada. We spend $50 million total on branding and $23 million of that goes toward the Mainland U.S., which has a trickle impact on Canada too. In Japan, we spend $10 million.
Q: How do you promote responsible tourism practices?
Tatum: We work closely with the Department of Land and Natural Resources and provide about $1.5 million for areas that are impacted by visitors. We're trying to get a pilot program that would put ambassadors at key trails to tell visitors what they should and shouldn't do.
We're working with the Hawai'i Visitors and Convention Bureau to put out their educational materials and videos about the environmental impact of plastics and how certain suntan lotions impact the reef. We work with the airlines, rental car companies, etc., to educate visitors as they come in.
One benchmark I hope we can use is Hā'ena State Park on Kaua'i's North Shore. It was getting 3,000 visitors a day but the plan is to restrict that to 900. We funded that effort with about $140,000 to help enforce new parking rules.
Q: The volcanic eruption devastated Hawai'i Island tourism last year. What are you doing to help?
Tatum: Hawai'i Island has tremendous cultural history, beaches, golf, tennis, horseback riding, etc. We are getting the message out that it's not just a volcano. We put $1.5 million in the U.S. market and $1 million in Japan to push Hawai'i Island.
The U.S. visitors have come back for the most part, but Japan has not, so we need to let people know all the great things Hawai'i Island offers. If you get into a cab in Japan right now, Hawai'i is everywhere.
In September we're going to start a tour: a big bus wrapped in beautiful scenery with sales folks, entertainers, etc. from Hawai'i Island on it. They're starting in San Diego and visiting all of the major wholesalers and travel agents. They're going to hit the morning shows, L.A. Live, The Grove.
This interview has been edited for clarity and conciseness.