Talk Story: David Uchiyama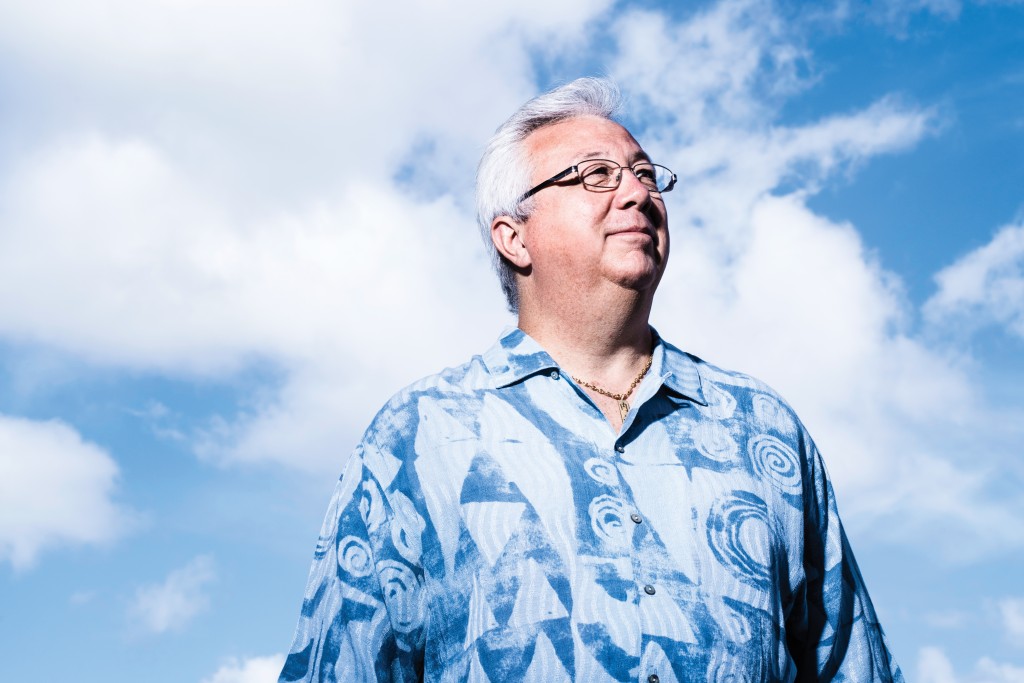 In April 2016, Uchiyama took over at Island Air after it was sold by billionaire Larry Ellison to local investors. Uchiyama has a long track record in the local visitor industry, including serving as VP for brand management at the Hawaii Tourism Authority.
---
Q: You have been quickly expanding the airline's service, capabilities and workforce. Will this expansion continue?
A: Expansion will continue but we've got to be responsible in our growth, making sure we provide the quality of service and overall travel experience we're striving for. We're driven to serve the communities of our islands as well as by being a regional carrier for our trans-Pacific partners.
We plan to expand to Hilo this year. We're also looking to increase frequency on all our routes with the transition to our new aircraft, the Bombardier Q400. By May 15, we were at 360 flights a week. By October we'll be running more than 400 a week. And by the end of the year we'll have seven new aircraft. That compares to only three ATR-72s that we had been flying. When the first new aircraft touched down, a bunch of employees came out and some were crying. There was so much uncertainty over whether they would ever see that day.
Q: Is Island Air still losing money and when are the losses expected to end?
A: We have cut our losses quite a bit. We had been losing about $5 million a quarter in the third and fourth quarters of 2016, and we've been able to cut that in half. So overall, for the year, we've cut it to $17 million and that includes $2.7 million in depreciation. We're looking at getting to the break-even point before the end of 2017.
There are a lot of other expenses that go with bringing new aircraft into the fleet: ground service, added pilots, flight attendants, ground crews. All of those expenses come into play in the initial stage.
Q: What other strategies are you putting in place?
A:  Island Air didn't have a good reputation. There were a lot of cancellations and delays and we've been working hard to rebuild our reputation. These new aircraft and our expanded route map help that. When I started, we were only flying to Maui and then to Lanai. We expanded to Lihue and Kona and have plans for Hilo by the end of the year, so it's also working with our travel partners and being able to build their confidence that we're a reliable transportation option for them and for the community.
We're down to about 17 percent (of "inbound" passengers, those who arrive in Hawaii and transfer to interisland flights) and we definitely want to grow that and have a better balance in the marketplace (with our competitor). I'd like to see us get to a 50/50 split on the inbound side, if not a little bit more, I would say by 2019. It may take awhile for people to have the confidence in us; there have been a lot of starts and stops with Island Air, so we're having to work through all that.
Q: What percentage of the interisland market are you aiming for?
A: We know we're a small player. If we can fulfill 8 to 10 percent of the market, that's our niche. We carry around 8 percent of the local people flying interisland, so we're right there in that groove. I think we'll get to 10 percent with the new seat inventory.
Q: Why do you think you can succeed as a second carrier when many others have failed?
A: I think partly through my relationships with all the trans-Pacific carriers that fly into the state, relationships that I built during quite a few years at HTA building the inventory of flights into Hawaii. In the travel industry, relationships count for quite a bit and I've been very fortunate in my career to work with a lot of good people and they have been very supportive of me. A lot of credit has to go to our employees, our team members. Through the very rough times they held it together. I tell them they kept it on life support so we could come in and help support them and rebuild the carrier.
Q: Neighbor Island airlines have often competed in price wars. Would you do that with Island Air?
A: No. We're looking to serve a niche market. We have no intention of being as big as our competitors. We're just a small player, so I don't think they're threatened by us at all.
Q: Tell us more about the new aircraft.
A: Each is named after a value that employees feel is important. For instance, two aircraft we recently blessed were Kulana Pono, which means "doing the right thing at the right time for the right reason," and Pookela, which is "striving for the highest summit." The employees chose it. They have a lot involved in the airline and who we've become, and the personality we have. I can't say enough about the team members making Island Air different. That's how we're going to be competitive, by being able to provide the Island way, and it's driven by our team members.
The Q400s have a greater seat capacity, 64 to 78 seats, which we feel is a good size and configuration; they're more fuel efficient, less of a carbon imprint, a huge difference over jets. We need to be a more economically positioned carrier so all of those pieces come in line. They're the next gen, with the noise and vibration damper system within the aircraft so the ride quality is very different than what people experienced on our ATRs. We're phasing the ATRs out, probably all by September if not sooner.
Q: What is your philosophy of interisland airline service?
A: It really starts with the culture within the company. There was a lot of work to do because our employees have gone through different senior management groups that have come and gone. Being able to build a relationship with the employee group was very important. We made it very clear we were going to have a "pancake" structure, where anybody talks to anybody here. We're a small company; there's no reason for any hierarchy in our organization.
I meet with the stations once a quarter and we sit down and have our talk story session. There's a real local culture and from that we derive our slogan, 'The Island Way." It's really a philosophy that grew from the exchanges we had with our employee group. They said, "This is why we're here, and why we stuck around. We see a need to serve our communities. And we need to do it the way we were raised and how our roots are."
Q: Can you give an example?
A: When we started Kona service it was a late afternoon flight and a man was bringing his mom on a flight from Kona to Honolulu. But as they were boarding, the mom realized she'd forgotten her purse at the TSA counter. The son told her he'd go back and get it, and catch the next flight, and one of our agents escorted him off the plane. That's when the captain asked what was going on. The next thing they knew, he was on the PA system saying, "Ladies and gentlemen, there will be a slight delay," and then explained why he was holding the plane. The son came running back – it was a matter of just three to five minutes – and they took off. When they landed in Honolulu, nobody got up. They all said, "No, we're waiting for the captain." When he opened the door, they all applauded and someone said, "That's the way it should be done."