Talk Story: Jean Rolles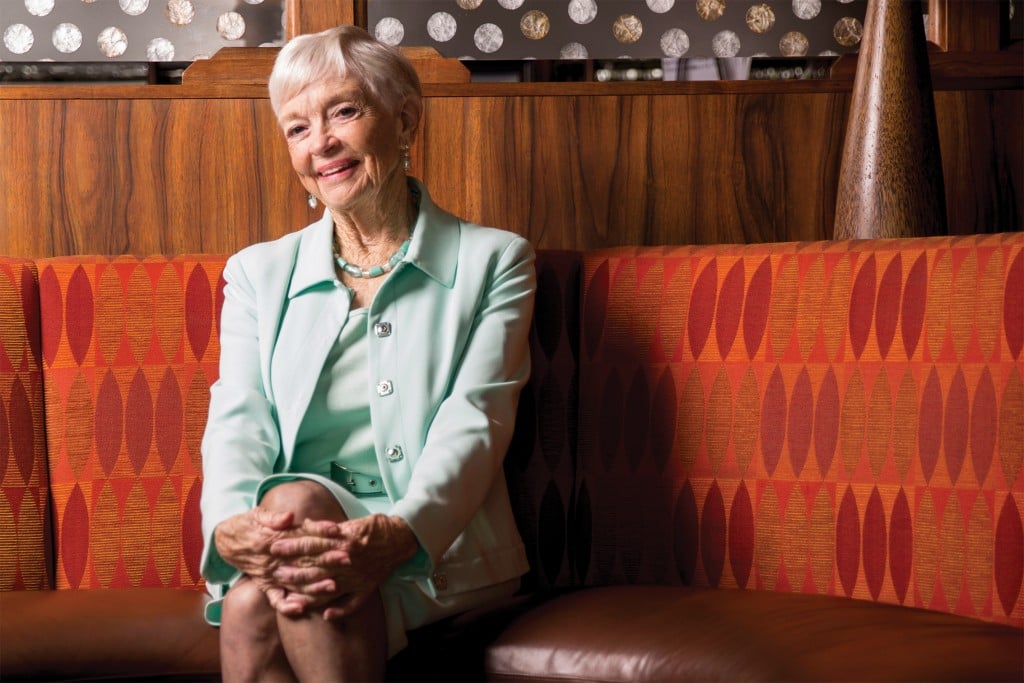 Jean Rolles, now 81 and daughter of Outrigger's founders, Roy and Estelle Kelly, has been named Salesperson of the Year for 2016 by the Honolulu chapter of Sales and Marketing Executives. SME Honolulu will honor her at its annual luncheon, March 30 at the Sheraton Waikiki.
Q: Your family has sold Outrigger to KSL Capital Partners LLC. How did that process begin?
A: My brother, Richard, has been living in Denver and he knows socially the owner of KSL. They've been talking over the years and then it got serious. And my brother's two sons have been meeting with him, and KSL made an offer they couldn't refuse.
Q: Your parents were the first generation in the family business. They opened the first Outrigger hotel in 1947, 70 years ago. Was the decision to sell influenced by the fact that the Kelley family ownership had grown to so many generations?
A: We talk about ourselves in generations. My parents were G1s. I'm a G2, as are my brother and sister. And we have 11 G3s. Decades ago, Richard started a family board and all the G2s and G3s were invited. We had quarterly family board meetings and discussed real business, what the company was doing, what they were planning, how they were making decisions, what is your input? Now we have G4s attending board meetings and we have baby G5s.
They had to learn about the real hotel business and I think that paid off in the long run. As part of that process, we made decisions on how you qualified to be on this board or work for the company. You had to be a college graduate, you had to bring some talent that was needed in the business and you had to work for two years for an outside company.
You had to do lesser jobs and then work up to other jobs. You had to prove your mettle, you had to turn in your numbers. And so, if you ain't doing well, you ain't staying.
Family businesses only last three generations generally, because it just starts spreading out too much. You have too many people. My brother had five kids from his first marriage and, after my sister-in-law died, he remarried and had two kids from the second marriage. So, there are seven kids right there that multiplied out. I don't know how many people are G4 – at least 25 to 30.
Q: In 1982, you took over as a property manager of five Outrigger hotels. Was that your first job with the family business?
A: I actually worked for Outrigger since I was 11. Every summer, I had a job somewhere: at the front desk at the Reef, as a switchboard operator and I worked in the dining room at the Edgewater Hotel. I've been a hostess, a cashier. When you're in a family business, everybody does every job: cleaning rooms, whatever had to be done.
When I took over the five hotels, I was a certified property manager and I had my real estate license. But I was still working in a restaurant at the Kahala Mall, so I did both jobs for about four months, until the restaurant was sold.
My job eventually went from five hotels to 21 hotels and 350 leases on our land. One day, in came a pile high of banker's boxes. We had sold five hotels to Cinerama, and they never came up with the money, so it all came back. I had to write leases for all these commercial spaces, because the majority of them didn't have written leases.
Q: Did you overhaul relationships with other tenants?
A: The Reef hotel was a mess, because it had a long, double lobby, from the street to the ocean, with about 30 little stands, one next to the other. The operators were selling their stands to other people for $40,000 and we weren't getting a nickel, because they didn't have proper leases. When I wrote the leases, we got the proceeds. I had to kick all those people out. Cancel all those leases.
There was a restaurant in there that we actually took a bulldozer to and pushed it all down, cleaned it all out. We rehabbed the whole Reef hotel, with decent shops, glass fronts, fine merchandise. Not this cheap, junk jewelry.
Q: You're being recognized as Salesperson of the Year. What does sales mean in the hotel business?
A: Sales means you've really got to think of your customer. When you have a commercial space like a hotel, you would like to put in all fancy shops. But that's not who your customer is: They may want a hair salon, a massage or some lower-priced shopping as well as higher-priced shopping. You have to have the appropriate mix. You've got to give them a reason to come down and shop in your building, without ever going to the street.
Part of being a salesman is being up to date with what is selling. I would travel once a year to Las Vegas for the annual meeting of the Institute of Real Estate Management. You would see in Las Vegas all the updated shops, learn new lease terms and all that. What's the hottest thing? What do you have to watch out for?
You set up leases so there's a basic minimum rent, but then you've got to make sure there's a percentage that you get on top of that. So, you both make money. If you were a property manager who squeezed the last dollar out of your shops, they were not going to last long. And I was leasing about 20 restaurants, too, so it was a very varied job.
Q: What about your latest job?
A: In my role as VP of community relations, my job is to make everyone more aware of Outrigger Hotels and of the value of tourism for Hawaii. Tourism is everybody's business. It took a long time for Hawaii, especially Oahu, to wake up and realize we should support tourism, because it pays for sewers, schools and things like that.
We should make tourists welcome, particularly Japanese tourists. They've been big spenders. For my master's degree in Japanese business, I wrote my thesis on how the dollar-per-square-foot value of Waikiki changed from like $50 to $500 a square foot, to beyond that now, because of the value Japanese tourists brought to Waikiki. They come ready, willing and able to shop.
Q: What negotiation skills are important for salespeople?
A: Work with your customer – the person you're trying to sell to. It's a win/win if you work together, not against each other. You set up your rent so you inspire them to work harder. If their shops did well, they got rewarded for that in percentage leases. They had an incentive to work harder and do better, and keep their places clean and attractive and do renovations. That's very important in Waikiki, doing constant renovations..
This interview has been edited for clarity and conciseness.
---
To learn more or buy tickets for the SME Honolulu annual luncheon, contact Karen Smith at 942-7000 or karen@smehonolulu.org.