Talk Story With Jim Yates, President of Par Hawaii Inc.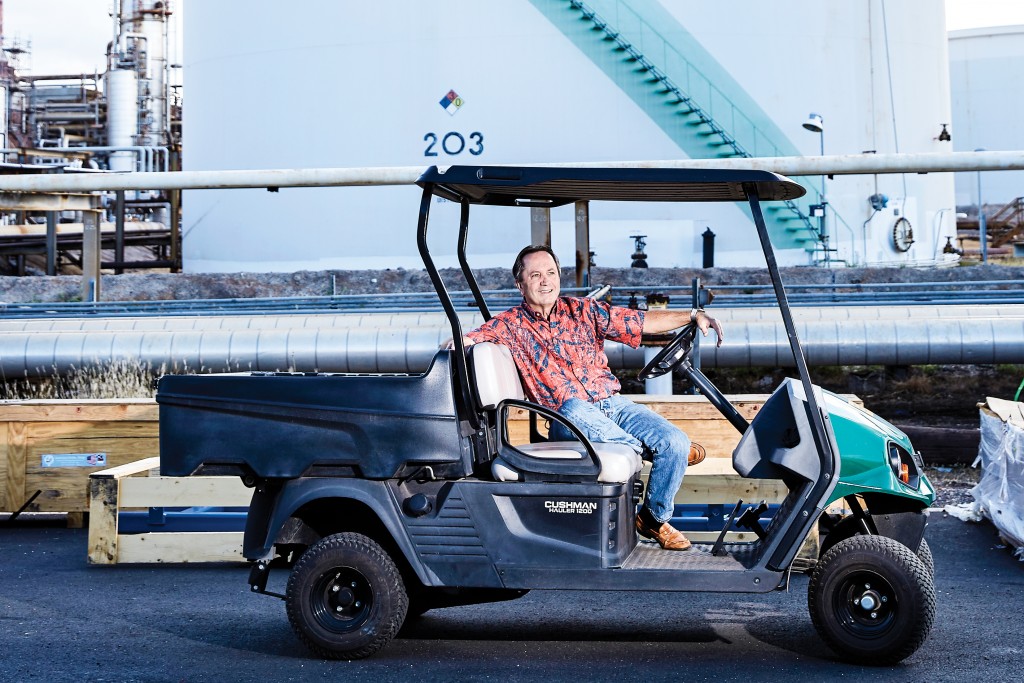 Par Hawaii, No. 5 on Hawaii Business' 2017 list of the Top 250 companies, hopes to steer its core expertise – refining, storing and delivering fuel – into Hawaii's

 

renewable energy future. Oil and its products will remain the company's mainstay for the near future, says Jim Yates, but Par is exploring renewable energy opportunities so it can meet the state's evolving needs.
Q: How is the local market for oil?
Yates: You have to look at the situation by market and byproducts. For instance, the demand for petroleum to produce electricity is probably off by 25 percent since 2008 in Hawaii.
But on the transportation side, gasoline demand is up by almost 7 percent in the last decade. And over that same period, air passenger arrivals are probably up by almost 40 percent. And we are a company that provides about 75 percent of all the jet fuel in the state, both commercial and military.
We understand Hawaii's drive toward a renewable energy future. We are not opposed to it and want to be part of that transformation. But we are also pragmatic enough to know that this is an evolutionary process that is going to take decades.
We are committed to being innovative and to evolve along with the state's demands and I think we can.
Q: How many of your gas stations offer alternatives to gasoline?
Yates: The market dictates what we offer. There are about five locations where we provide biodiesel or a biodiesel blend; the rest is fossil fuels. Some drivers are either mandated or prefer to use biofuel. This is a viable part of our business now, but it is still a small subset.
Q: What about electric vehicles?
Yates: Most EVs take a considerable amount of time to recharge. But we are in talks with some folks about the possibility of putting one or two top-off stations into a retail location. This is not a simple proposition: You are giving up valuable real estate, even though it is questionable if there is public demand. We are going to have to see faster recharge technology before we see a proliferation of those products.
But we are open to that possibility. Not because it makes financial sense right now, but because it gets us engaged in thinking through a business model that might work in the future.
Q: What kind of revisions would you have to make to your business plans?
Yates: We are continuing to collaborate with the government and other energy stakeholders as to how changes are going to be made. We have a delicate balance between economically meeting current energy needs while prudently investing in future alternatives that offer a credible chance of success. Prudent and credible are key words because there are a lot of wild ideas in the market.
We think liquid fuels will be at the core of the energy market for the foreseeable future. Those may be produced by renewable feedstock, but our refining expertise and our expertise in storing and delivering liquid fuels will be needed regardless.
When people think about oil, many are thinking of big oil companies that own their product in the ground all the way to the end – so they are vested that oil continues to be the preferred feedstock. We don't own any oil in the ground. Our feedstock is purchased in the open market and then we convert it to an economic product. But that means that we are truly agnostic. If we can find alternative renewable feedstock that we turn into products that consumers want at prices that are competitive, that is a home run for us because we are now part of that transition. We don't care that it is not crude oil. We care about being a relevant player.
Take a look at our investments in biodiesel, both in the production and distribution. Look at our cooperation with the Honeywell UOP biorefinery pilot project. We provided land and some expertise. We like to think of ourselves as an energy company, not as a petroleum company. 
Q: Your plan was to reduce sales of fuel to electric utilities. How is that process going?
Yates: Right now we are not providing any fuel directly. We are a candidate for this type of business, but we are not going to build our future on a product that is so clearly on the decline in Hawaii. There are other opportunities.
Q: Such as?
Yates: There is a continuing drive to take sulfur out of fuel. Historically, the demand of high-sulfur diesel has gone to the utilities or to the marines. The utilities are going off this fuel. And on the marine side, the International Maritime Organization passed regulations that by 2020 the high-sulfur levels have to be gone.
So our board this summer approved another $30 million project that will allow us to create low-sulfur diesel. There is a second project we are considering that will cost another $40 million to $50 million.
Q: There is proposed legislation to shift ground transportation to 100 percent renewable energy by 2045. Do you think it is going to pass?
Yates: I do not know. There are about 6,700 EVs registered in the state right now; that is a 30 percent year-over-year increase. But it still makes up just over half of 1 percent of all the vehicles today. We have around 1.1 million passenger vehicles, so the rate to turn over those vehicles to alternate energy would be that going forward for the next 27 years, every vehicle needs to be an electric vehicle. We are just not a big enough market to force that change on the auto manufacturers or on the consumers. We should continue to create incentives, which the state has done. But you have to be pragmatic about what is possible. 
This interview was edited for conciseness.