Talk Story: Rick Blangiardi & Scott Humber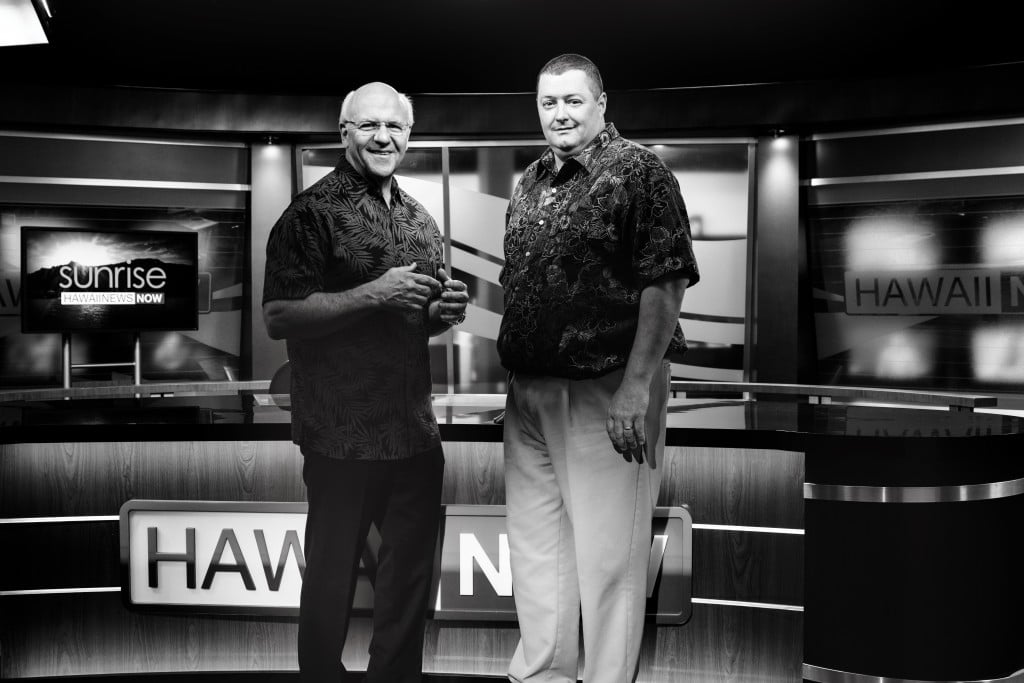 Hawaii news now General Manager Rick Blangiardi and News Director Scott Humber are the leaders of local TV's most watched news stations, but they also operate the state's most popular digital news platform. Blangiardi says that, on a busy news week, HNN digital platforms, including desktop website, mobile website (WAP) and News App, get more than 18.75 million page views in an average month.
Q: What was the stations' best recent day?
Blangiardi: There's a saying in sports that big-time players make big plays in big games, and that's exactly what our team pulled off with the return home of the Hokulea. It was a big moment for Hawaii, and one with tremendous cultural importance. The emotion and beauty of the day was there to be captured. We had 11 cameras, people on the accompanying boats, a drone in the air and six-and-a-half hours of unscripted television. Every one of our reporters and anchors had research prepared and didn't skip a beat. They streamed it, so it was seen in countries all over the world. More than 2 million people watched it on Facebook Live.
Humber: That was one of the most ambitious productions we've ever done. The Sunrise team took the first three-and-a-half hours of coverage and the evening team took the last three hours. For the first time, we used a drone camera, which gave us incredible pictures. Plus we had a camera perched on the Prince Hotel with some amazing shots, a wireless camera that roamed around Magic Island with Dan Cooke all day, and one of the best moments was Keahi Tucker out on a boat following the Hokule'a. He got right up close and was talking to people in the water. We've come a long way technology-wise. It used to be if we did a story on the Neighbor Islands, we had to put a tape on a plane and now we have people on the ocean with backpacks shooting live video.
Q: In what other ways has the digital revolution impacted TV news?
Humber: In the last five years this business has changed drastically. You went from a medium where everything was all about television, and now you've got mobile, desktop, social media. It's coming fast and furious and for us it's about staying ahead of the game.
Our core is still TV. That's where most of the advertising is. But it's a different medium, because there are very few people who come to us at 5 p.m. and have no idea what's going on in the world. You now need to train reporters that their story is as important in digital as it is on the newscast. They used to spend the entire day preparing the story for TV at 5 p.m., and later whip together their web story.
Now, they're working minute-by-minute to update different platforms, whether they're tweeting or sending photos to the digital team. The idea now is their story should be complete on the web say by 4 p.m., before it even sees air, and updated throughout the day, by adding new sound or photos or a quote. More people will see the story on our mobile site or website than ever on the 5 o'clock news.
Q: What is the viewership?
Blangiardi: On an average week we probably have 4 million page views. If there's something terrifying, like cyclones that are a threat to the people here, that number triples. We can have in the high 12 million range. Forty percent of our digital activity is off Island. This is the first time in the state's history that the number of people born in Hawaii, but living elsewhere, numbers 1.3 million – almost as much as the population here.
Humber: For Sunrise, TV viewership is somewhere around 350,000 a week. For the 6 and 10 o'clock news, which are still the big newscasts, it's a little more.
Blangiardi: We've probably grown about 100,000 viewers a year since Hawaii News Now came into being in 2009. Now we're flirting with a total count of almost 800,000 unduplicated weekly viewers for all our newscasts. That is more than all the other guys combined.
Q: The "Sunrise" morning show celebrates its 10th anniversary on Sept. 17. What is its importance and the magic behind its success?
Humber: The No. 1 reason for starting the show was to give people a reason to wake up in the morning and turn on the TV: To give them fresh news and key staples like weather and traffic. I have friends on the Mainland who laugh at me about doing weather because they think it's the same. But we launched Sunrise right after the year of the 40 days of rain and there was a hook with weather that was prominent.
The key was putting the right people in front of the camera and also behind it. One of the most important criteria is knowing Hawaii. Any person we put on the air has to know something about Hawaii and have some kind of investment in Hawaii. I couldn't just bring someone in from the Mainland to try to deliver the news and have no sensitivities to this place. Grace Lee was someone we had in our midst and we thought she'd be perfect for mornings and the biggest key was who was going to sit next to her as the male anchor? I suggested Steve Uyehara, who was doing sports at the time, and we tested Steve and Grace together and they were gold. Their chemistry was amazing – it was like they had been sitting on the anchor desk for a decade.
Q: How do you counter the 'fake news' challenge to legitimate media?
Blangiardi: The concept that media makes up news and actually lies to its audience with a political agenda is not good. We fight every day, every hour, every minute, to be relevant. Our biggest competitor is time, not the other guys. Are viewers willing to give you the time? To have that covenant with the consumer is that we respect their time.
Even though digital is new technology, it brings me back to the old-time idea of journalism; that what we do matters tremendously. Every week we have 41 hours of fresh news on three stations, not including the simulcast, with 150 staff overall, including a newsroom of about 72. That's what hopefully keeps bringing people back.
Humber: I've spent a lot of time, in the last six months especially, talking to the team, making sure every story is balanced, and making sure we're fair and making sure we've made every single call we need to make. I've seen more emails in the last six months about 'fake news'  than ever before, and I will respond to every email. If we were wrong I will say we were, but 85 percent of the time it's the viewer misunderstanding the story. I will list all the things we did to make sure every story is balanced. This is a town that doesn't talk a lot, and there are some government public information officers who don't give out a lot of information, and a police department that doesn't talk to the media. It makes the job a lot harder but it also makes the reporters work harder to source everything they do.
Q: There is speculation that you are considering a run for governor. Anything to it?
Blangiardi: I promised some people I would stay open to the possibility. I've never sought office and I'm very flattered and have been humbled by the quality of men and women who have come forward with this and are very serious. I found it interesting because of the old-fashioned notion of doing things that matter in journalism, of trying to make some things happen. We already have the responsibility; but we don't have the authority. If one even considers going into elective office, you would now have the authority and that's what got my attention.
This interview was edited for conciseness.