Talk Story with Bernard Ho, President and CEO of Damien Memorial School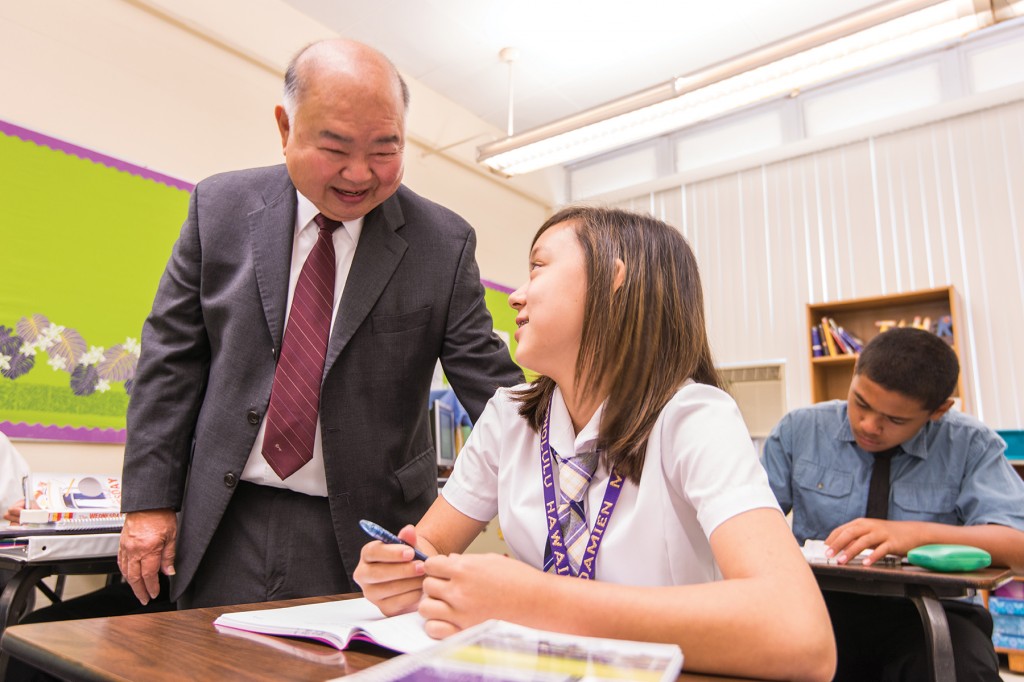 Ho, 71, took over at the school on June 26, 2007, after nearly 40 years in executive roles at HMSA, including executive VP from 1994 to 2005. He also served as chairman of Damien's school board from 2002 to 2006. His son, Chad, graduated from Damien in 1990, went to Stanford University and Harvard Law School, and is now lead counsel for the website Hulu. Bernard Ho talks to Hawaii Business about Damien's decision to go co-ed and about the school's future.
You had a long career with HMSA. How did you move from insurance executive to the leadership of an all-boys, private Catholic school?
After my son left Damien, I was on the board for 10 years and chairman for four. My predecessor retired and they had no brothers in the pipeline to take over. They had gone to a principal/president model a few years earlier and the school needed development and a plan for better financial stability. They were looking for someone with business experience who knew the school's culture, and not necessarily someone with an educational background. I got a call from one of the Christian Brothers, who asked if I would consider helping. Like most retirees, my plan was to improve my golf game, but I accepted an interim position for one year. Here I am, six years later. Now, they're in the process of renewing my contract for another three years.
In 2011, Damien celebrated its 50th anniversary and decided to end the school's all-boy's tradition beginning with the 2012-13 school year. How did the idea to admit girls come about?
During the recession, our parents were hit hard because a lot of them are blue-collar workers. Enrollment declined and we went from 530 students in 2008-09 to an all-time low of 360 students by 2011-12. We needed to think of ways to solve the problem by collaborating with schools in the neighborhood. We got close to collaborating with St. Theresa School, but that didn't fly. There were too many sentimental reasons people didn't want to let go of things. We also had a conversation with Bishop Larry Silva to work with Saint Francis School on a facility in West Oahu, but it wasn't cost effective and the Christian Brothers opposed the idea. They explained to the bishop that Damien's mission is to help moderate- to low-income families and our Kalihi location served that purpose. But we knew we had to do something so the co-ed idea came about.
What was the response to the co-ed decision?
The Christian Brothers had no problems with it, but the alumni had more questions. It was more of a reluctance to change. I never said this, but others who were proponents for the change made it really dramatic and said, "What would you rather do, admit girls or continue the loss of students and close down the school?" We weren't at that point, but if we had two or three more years of losses, we would have had to really look at that possibility.
How did the school prepare for the inclusion of girls?
We spent a lot of time the year before preparing everyone. We brought in a sister from the mainland, who worked with the Christian Brothers and told the boys about their roles to share the legacy of Damien. They would be big brothers to the new sisters coming in. We talked with the faculty, because some were alumnus here and they never taught in a co-ed environment. Our dean of students asked, "What do I do about this or that?" I reminded him that he is a parent raising his own daughters, so I don't see any difference. Just treat them all fairly and consistently. So, of course, if the girls get out of hand, they get detention, too.
What was the biggest issue in making the transition from all boys to co-ed?
Bathrooms. All the bathrooms had to be converted and also the locker rooms and showers. We only had a few faculty bathrooms for women. We converted half of the male bathrooms to accommodate females. It wasn't very costly for us and now I like to think we've got the most modern bathrooms of all the schools in Hawaii.
What about the school's motto, "Viriliter Age," which means, "Act Manfully"? How did you get around that tradition?
We went to a Latin expert and he said the motto could also mean, "Act Responsibly," or "Act Courageously." We chose "Act Courageously." We settled any resistance with the old alumni by saying if they wanted to remember it as "Act Manfully," then be our guest. The new terminology will be "Act Courageously." But it really doesn't matter as it comes back to the same thing: Just be courageous and respectful and be responsible.
What's the biggest challenge for Hawaii's private schools?
Tuition. I don't care how successful your school is or how much enrollment you have, everybody will tell you it's hard to get parents to be current on tuition payments these days. The economy is not where everyone would like it to be. We have a lot of good reasons people can't pay their bills and we always try to work with the families, but you get to a point where you can't live with bad debts eternally.
What is your focus moving forward?
We'll have about 598 students enrolled for the coming school year and 132 of them are girls. Since our enrollment dropped to 360 in 2011-12, we have grown by 66 percent. I want to build our enrollment to around 650 to 700 students. We'll need the facilities to support that, so we're also in the midst of a $13 million capital campaign through the generosity of The Clarence T.C. Ching Foundation. They gave us a $5 million challenge grant and told us we need to raise the rest of the $7 million. I told my board, "When does anybody give Damien anything, let alone $5 million?" Other schools get money because many of the philanthropists graduated from these older schools and we're not there yet. Being only 50 years old, we're very young, but we'll get there.
(This interview was edited for conciseness.)