Talk Story with Janet Liang of Kaiser Permanente Hawaii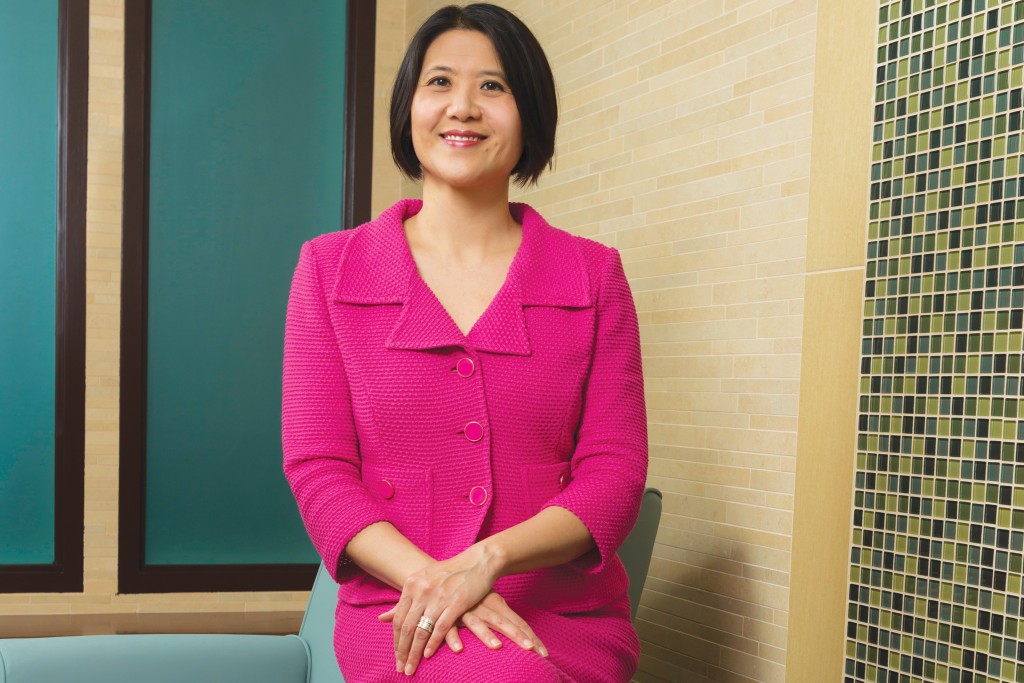 What changes have you seen in the healthcare industry during the five years you've been with Kaiser?
We're seeing more accountability and transparency around quality, and we're seeing the healthcare systems beginning to integrate. The hospitals are hiring doctors and opening primary-care clinics, moving toward an integrated model that looks more like a Kaiser model. Payment reform, coupled with the ACA (the federal Affordable Care Act, also known as Obamacare) and technology really helps enable integration, which is better for patients.
When all your specialists, primary-care doctors, pharmacy and hospital are working as one team, it's better for the patient. For instance, we all have the same electronic medical records. We all can talk together now. If a Kaiser patient shows up in Queen's, for instance, Queen's can see our records. That's new within the last six months or so, and that's a good example of the cooperation you see in Hawaii.
What are Kaiser patients seeing involving healthcare reform?
Kaiser is really leading the service revolution in healthcare. One exciting thing is the control patients have. For instance, we had over 1.2 million visits to our kp.org website and mobile app. From your phone or on a computer, you can email your doctor, order medication, check on your lab results or your medical records, and schedule appointments.
Remember back in the day when you had to call a travel agent to book an airline ticket? Now you can Google and have total control. That's the same with Kaiser. You can just go online and schedule your kids' medical appointments. That's all part of the service revolution.
What else is coming?
This fall we'll launch our 24/7 advice-nurse service. For example, if you're vacationing, you can pick up the phone and call us 24/7. Because of electronic records, anyone who answers the phone knows everything about you. Say you need a refill: In our system, you don't have to come in. The pharmacist talks to the physician, who will authorize it. That's the integration. We make it easy for the patient because we can all talk to each other. That's what the other healthcare systems are moving toward, too.
We've spent close to $300 million renovating and remodeling the hospital so far, opening the new ancillary tower and putting in new features, such as a meditation room and room service to make it friendly and comfortable for patients and visitors – and a really great healing environment.
We're also completely renovating Koolau Clinic on the Windward side, and opening a new Pearl Uptown Clinic in October at Pearlridge. We're also looking for a site on the Leeward side and hope to announce that this year, too. We've got a new rehab center on Maui coming in the fall, and we're looking for a new facility in Upcountry Maui. There's also a replacement clinic coming in Kona, which will be everything short of an ER, with diagnostic imaging, a procedure room, primary care, a pharmacy, a lab, all under one roof. This will be doubling the current clinic's size with about 40 physicians.
What other impacts do you see from healthcare reform?
In Hawaii, we're getting ready for the exchange (ACA requires that each state have an online exchange by 2014, where consumers can choose from among healthcare options). It's going to offer employees more choices.
For instance, if you're a small employer, you typically have one insurance carrier. With the exchange, if the employer goes in, all 10 employees will be able to pick. There will be versions of the basic plan. HMSA and Kaiser have fully committed to be in the exchange. If you don't qualify for Medicaid and have jobs that don't offer healthcare, the federal ACA has subsidies for you when you go to the exchange. So more people will be able to afford healthcare when the exchange opens in January.
It's estimated that about 100,000 people in Hawaii are uninsured, with a large percentage being children. With the exchange, more people will have access to insurance that's more affordable because of federal subsidies.
Any other impacts of healthcare changes on Kaiser?
We're really progressive about force redeployment. You want to redeploy versus lay off. As we change service, we've been redeploying our employees into other jobs and we've been really successful. For instance, we had 11 employees who were impacted by the closure of the urgent-care center, a department inside the Honolulu medical center. Of those, 10 went into other jobs, and one retired. Of 45 nurses impacted by changes, only three didn't stay with our organization. The rest redeployed. We keep our employees and they have long-term careers here, but technology and service changes require some flexibility from our workforce.
What are some of the biggest health concerns in the Hawaii community that Kaiser physicians see today?
What we're worried about right now is BMI (body mass index). There's an alarmingly growing rate of obesity in Hawaii and obesity in children. The No. 1 thing you can do to improve your health and prevent disease is managing your BMI, your weight. We just launched a full spectrum of services, all the way from Weight Watchers for those who need to lose 10 to 15 pounds, to a medically supervised program for those who need to lose 40 pounds, and then bariatric surgery for those who need to lose more than 60 or 70 pounds. That last requires a year of counseling, nutrition management and psychological readiness prior to surgery, and then a whole six months of support. What we want you to do is change your lifestyle.
We're also working with employers to encourage healthy eating and active living, and we have different fun competitions inside employer groups to get people moving. This is wildly popular with employers and about 80 are already involved. It goes outside the clinic to reach people where they are, and to connect with both patients and their families.