Talk Story with John Chamness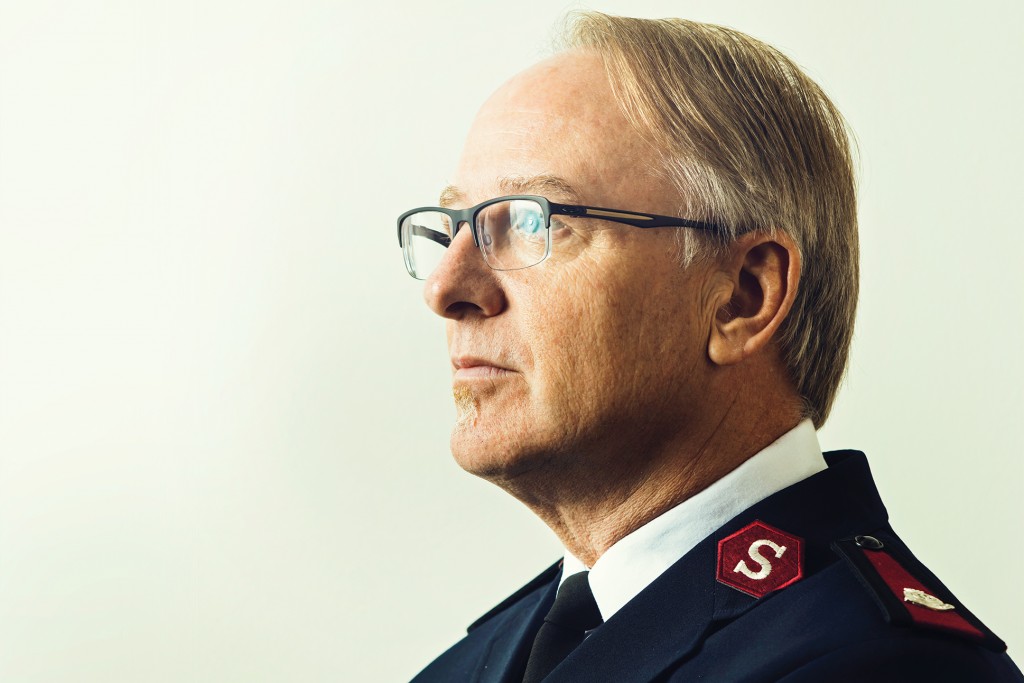 The nonprofit spends about $37 million a year to help Hawaii's poorest people. Many of its services solve immediate needs, like hunger, but the Salvation Army is setting its sight on a new long-term initiative to stem poverty at its core.
---
You assisted almost 117,300 people in Hawaii in 2014. Which group stands out most in your mind?
We try to tailor our services to community needs and today there are many challenges with the homeless. It has always been an issue, but more so today. The homeless are becoming more visible, certainly in Waikiki and Kakaako. Most people we see come through our emergency services – coming to us for a meal or a bag of food that will get them through the rest of the month.
There is no silver bullet to end homelessness, but, from where you stand, how can we tackle this complex issue?
There is not enough affordable housing. There is a shortage of 16,000 housing units just on Oahu and there isn't enough public housing to accommodate everybody living below the national poverty level.
Many people who are homeless actually work one or two jobs, but don't earn enough money. A recent report says you need to earn about $60,000 a year to afford Hawaii's rents. Most people in poverty are working in low-income jobs, probably in the service industry, and earning below $15 per hour.
To rent an apartment, you need two months of rent upfront. Not many people can come up with $4,000.
The Salvation Army offers everything from drug rehabilitation to housing assistance. What are its strong suits and where is there room for improvement?
One area where we do a lot of work is helping people deal with alcohol and drug addiction. Many people don't realize we are the largest provider of addiction treatment in the state. Just on Oahu, we have three facilities that help people with addictions.
We have the Family Treatment Services Center in Kaimuki, which helps women and children. It is the only program in the state where moms can get help with their addictions, and bring or have their babies. Women get prenatal care to ensure the baby will be healthy. We have a therapeutic clinic to help the children deal with the aftermath of their moms' addictions, which is also important.
About 2,300 men and women go through our programs each year. Our programs have excellent success rates relative to national rates – about 60 percent of our participants are still sober six months after being discharged.
An area where we need more focus is to stay with these folks longer. I liken our services to the emergency room, where we triage people and begin working with them to get better.
The challenge is that funding is limited to four, six, maybe nine months. So we only have a little time to work with the person before they go out into the real world. We have only begun to deal with the problem and not gotten deeper into the root issues.
You recently launched Pathway of Hope. How is this program different from other services you offer?
Many of our services help with immediate needs, but it's going to take a long-term commitment to address deeper societal issues: homelessness, poverty, addiction, etc.
We need to help people deal with the root issues of what keeps them in poverty or addiction. We know that if a kid grows up in poverty, he is 34 times more likely to be in poverty as an adult than the average child who does not grow up in poverty. That's just unacceptable. We need to break the cycle.
Breaking the cycle of inter-generational poverty, homelessness and addiction is a lofty goal. How do you even begin to approach it?
It's going to require a lot of work and resources. We have to move them from crisis to increasing stability and eventually to self-sufficiency.
"We know that if a kid grows up in poverty, he is 34 times more likely to be in poverty as an adult than the average child who does not grow up in poverty. That's just unacceptable. We need to break the cycle."

People need three fundamental things: stable housing, a job that pays a livable wage and a positive community. We want to get them connected to a good support system. This is where I see the church playing an important role.
What's the duration of the program?
We are shooting for at least one year, hopefully two. The tricky part is going to be funding, because the caseworker involved in this type of supportive service can only handle 20 families. Your typical government caseworker handles 100 or more people, which is just too overwhelming. They just deal with immediate needs.
We are trying to move away from that model. We want our case managers to actually visit people's homes and spend time with them – maybe help them make appointments, or set up bank accounts, or prepare for job interviews. We don't want to just send somebody off cold turkey to get a job. We want to give them the tools to feel confident – to make sure they are dressed appropriately and have polished resumes – so they improve the odds.
One challenge for people in poverty is not just getting the job, but keeping it. How can we help them get the added skills to continue to grow?
It has to be a long-term approach. This is the only thing that is going to change people's lives and, in the end, this is what the Salvation Army is all about: restoring people.