Talk Story with Kimberly Miyazawa Frank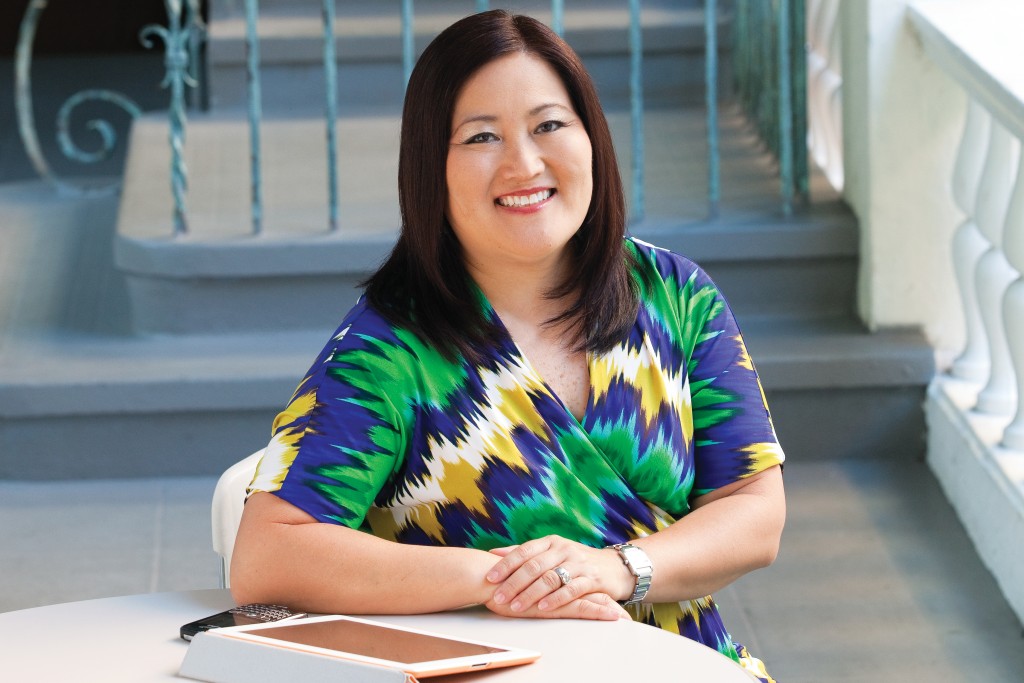 Frank took the helm of the YWCA of Oahu in January. She had been owner of Kimberly Frank Consulting since 2006, and, before that, served as organizational development manager at Servco Pacific Inc. The attorney and mother of three young children talks about her vision and reflects on her first nine months on the job.
What are your plans to move the YWCA into a new era?
My charge, which I take very seriously, is one of growth. Here we are at 112 years old. We've been a great resource to this community. There are some things that we do very well. For instance, our Dress for Success program, our transitional housing program, our fitness and aquatics program are very strong. But what else can we do? The biggest challenge for me is: What else can we do with the budget that was set before I came, with no additional staff, no additional resources? We've rolled out several new programs. I think all of that is credited to people, organizations and businesses who have stepped forward to support us since I came on board.
What specific programs and initiatives have been launched since you started?
We were able to roll out our Young Women's Network, which is a teen program focusing on leadership and advocacy development for girls. It's a new program launched in May. We were able to do that because the program director, Marcie Herring, who is a certified "Girls Circle" trainer and part-time program director at St. Andrew's Priory, said, "I will do this program for you as a volunteer until we can find some funding." That's just one example of people who have really come forward.
Will there be a need for the YWCA 112 years from now?
I think there will always be a need for it, because, in addition to the actual skills and experiences women have, I think there will always be a need for a place where women can gather and talk story and share ideas and opportunities. Looking back, the past 100 years have been about fitness and swimming and that's the bulk of our stories. If we look forward 50 years, I would love for women to be able to say, "I launched my business there" or "My career wouldn't have been possible without the leadership development and training I experienced at the Y" or "I wouldn't have been able to support my family the way I did without the support of the Y."
I would also love for men to say they wholeheartedly support the YWCA because of the difference it makes in the workplace, that we're really seeing the benefits of women in leadership positions.
The YWCA's mission is: Eliminating racism, empowering women. That's a tall order. How do you do that?
We achieve that mission primarily through programs and services. We have not tried to address the mission, at least in the recent past, through advocacy. I think advocacy is one way we can take the benefits of membership for the work that we do for all women beyond the walls of our facility to benefit all women in our community. Not just those who are members and not just those who come into our facility. And that's really one thing we wanted to make sure we were doing.
We launched our advocacy program in January. I started the job on Jan. 16 and opening day at the Legislature was Jan. 18. I wanted to make sure that I was on board before opening day to walk around and reintroduce the YWCA to our legislators and to offer to partner with them. We immediately established a policy and advocacy director, Carmille Lim. Prior to that, she was primarily focused on fundraising, so to add an advocacy component to her job was a great step for us, and a smart one because she was already doing that in the community.
Advocacy is to establish the YWCA as interested in and advocating for women and girls through legislation. We track bills, submit testimony, keep our membership apprised of any developments they may be interested in, and we ask them to take a stand, take action and write to their legislators.
What challenges do you face leading an organization of this size and with this type of history?
One of the challenges is continuing to remind people that we need their support. I think sometimes people think, "You've been around for a long time." It's interesting: The YWCA is a household name, but not everybody knows what the YWCA does. Most would be surprised at the mission. Most couldn't really tell you a program except maybe "Dress for Success" and swimming lessons. So a challenge for us is this sort of rebranding in current times. What we are doing now is addressing current needs. For me, being relevant now is the biggest challenge. And there are so many needs that have been around for a while, like domestic violence, and women in leadership positions in business across all industries, and new needs that are becoming more and more visible. For instance, the issues regarding homeless female veterans is coming to the surface as our troops come home. Women veterans have all of the same issues that their male counterparts do – PTSD and reentry into the community and society. But they also often have the additional complexity of having been sexually assaulted while away in the military. So we are looking at how we can address that. How we can marry the understanding of those issues with a transitional housing facility that also provides job readiness and life-skills coaching and other kinds of support services. We will do this in conjunction with the federal Veterans Administration and other veterans-focused organizations.