Talk Story with Mike McCartney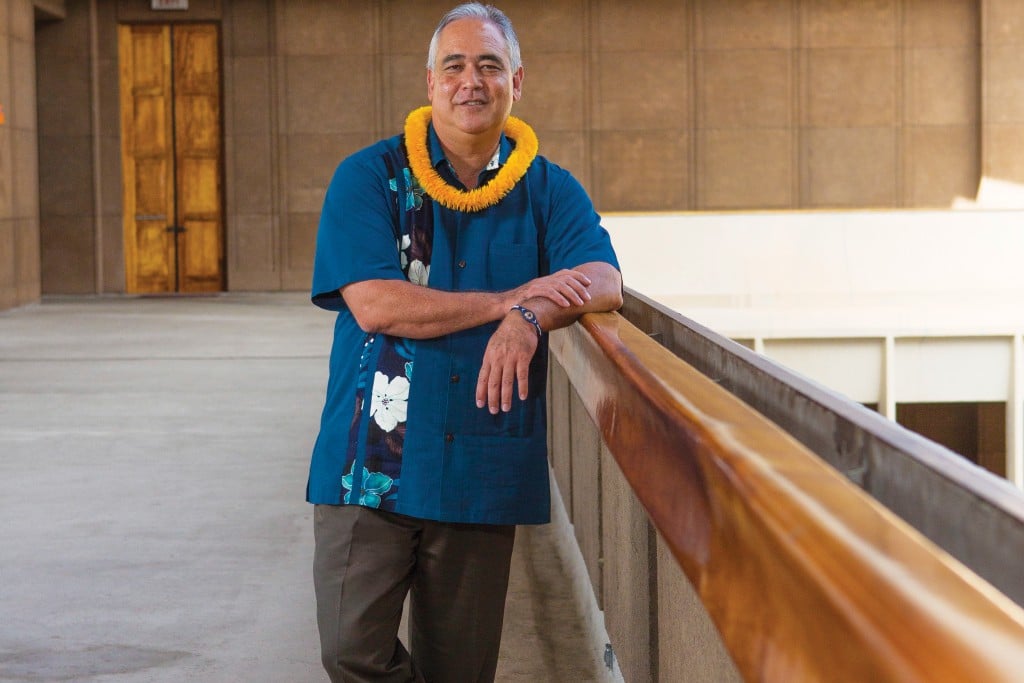 Chief of Staff to Gov. David Ige
---
The former CEO of the Hawaii Tourism Authority has also been a state senator, executive director of the Hawaii State Teachers Association, director of the state Department of Human Resource Development, CEO of PBS Hawaii and chairman of the state Democratic Party. He talks about his past accomplishments and the challenges ahead as the governor's right-hand-man.
---
Looking back, what do you consider your most important accomplishments at HTA?
First of all, they're not my accomplishments. They were done together with a lot of other people. One thing I've come to appreciate is that, within the industry, there are a lot of hard-working men and women who come to work every day – from housekeepers, to bellmen, to front desk people, to taxi drivers, to pilots, to flight attendants. If they didn't show up to work every day, this thing wouldn't work.
"People don't always agree; they won't always support our ideas. But we can do that with respect and aloha for each other."
Looking back, I think we came out of a tough economic situation. We had five bad things happen to us in 2008: the global financial meltdown, losing Aloha Airlines and ATA; oil reached about $150 a barrel; and we had H1N1 virus. So, it took a while to create momentum, but everyone pulled together. It was the market-saturation programs – working with HVCB and the industry. It was going to Japan and creating those relationships. It was people like those at Hawaiian Airlines, which expanded its routes to Asia.  It was working with Japan Airlines when it went through bankruptcy. Building back the airlift was so critical. The other thing that's important is that, as we build it back, we don't forget who we are as a people, place and culture. What I remember most of all is working hard to bring the host culture and its values into the industry.
How did the governor end up choosing you as chief of staff?
David is a dear friend. We served together in the Legislature. We first met when he was in the House and I was in the Senate. He was House Education chair and I was Senate Education chair, and we did education reform together. I remember when the Board of Education was fighting our education omnibus bill, the board gave letters to every student to take home to their parents to have them call us to kill our bill. But, through that bill, we created charter schools and multiple other education reforms. We did a lot of things together. We had hearings that we did all over the state. We even had a TV show, Education and You, probably one of the first live TV call-in shows where people could talk to us about education every week.
So, we make a good team. We're opposites. In high school, he got all A's and was accepted into MIT. In high school, I didn't get any A's and I didn't get accepted into UH. Also, I'm kind of expressive and intuitive, and he's very analytical. So we have a good balance. We work well together.
Does this job call for a different mindset than what you were doing at HTA?
Yes, because I'm not the CEO or the president. I'm the governor's chief of staff, and he's the CEO of the state. That's a different mindset. My job is to help him get the best information possible so he can make the best decision, then help him execute those decisions.
At HTA, you could be a nice guy. Are you prepared to be the tough guy as chief of staff?
As my friend Peter Block once said, " 'Yes' means nothing if you can't say 'No.' " Yes, I'm going to share bad news or make decisions that maybe aren't popular. I understand that. But, as long as it's in the best interest of the state and in line with what the governor wants to do, that's OK. In any job, whether you're the CEO or a vice president, you have to deal with that. You can be nice, but still be firm. You can do it with aloha, respect, grace and dignity. That's what we hope to do. People won't always agree; they won't always support our ideas. But we can do that with respect and aloha for each other. "How" matters, not just "what."
Does the administration have a list of priorities for the first 100 days?
The governor will announce those in his state of the state address. But we know full well that we have 1,460 days, and it's important how you use that time and how you use your energy.
So, the governor's going to figure out maybe three things he really wants to focus on. Then, there's going to be maybe three things that we don't really want to deal with, but we have to deal with. Then, there are issues the House wants to push forward and issues the Senate wants to push forward. That's a full agenda – let alone the unexpected things that come up during anyone's tenure.
What's the scariest part of your new job?
It's knowing the world is delicate. As we go forward into a new world, where everything is changing very fast, how do we keep Hawaii Hawaii, keep the values that came from the host culture, but still live in the modern world? How do we balance issues like affordable housing and development with global citizenship? How do we create an economy where we can continue to export tourism? How does Hawaii position its destiny? If you look at Hawaii's history, we've had many things come and go – from sandalwood, to whaling, to sugar and pineapple, to military and tourism. What opportunities can we bring forward? Military spending and tourism are there, but what is the third thing, the diversification we need so we can continue to move forward?
This interview has been edited for conciseness and clarity.