Talk Story with P. Alfred Grace of Polynesian Cultural Center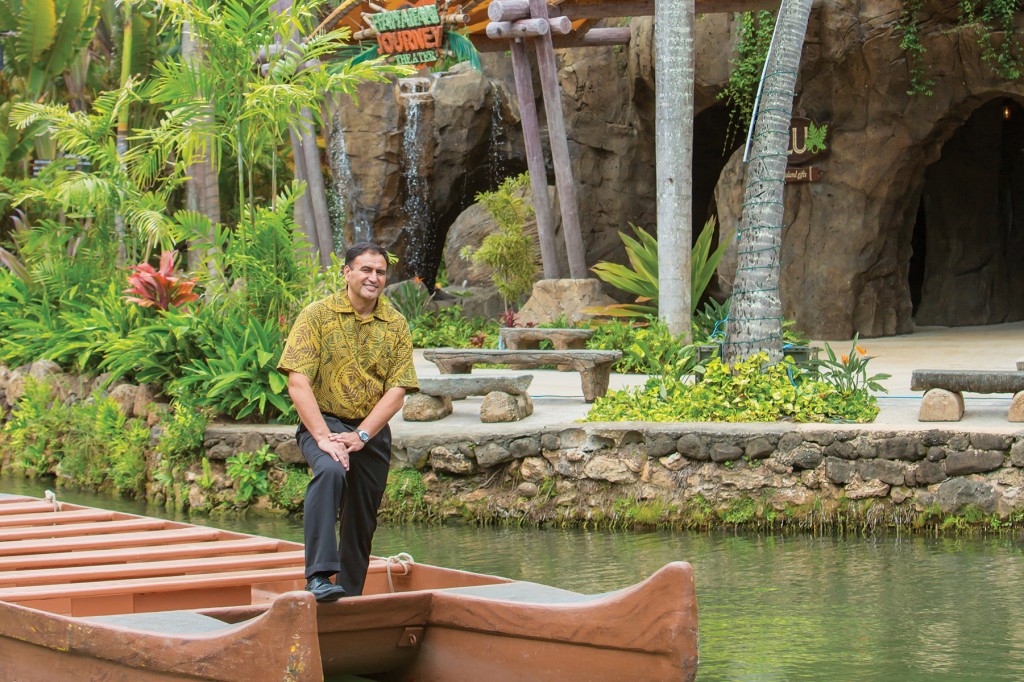 Grace, a Maori, originally from Turangi, New Zealand, began his career at the Polynesian Cultural Center 30 years ago as a student performer. He climbed the ranks to senior VP of sales and marketing, assumed the newly created post of COO in 2009, and was named president and CEO on Feb. 26, 2013. He talks about the future of the nonprofit visitor attraction as it celebrates its 50th anniversary in September.
Connecting a visitor attraction to a university is an interesting model. How did it come about?
As far as I know, no other university has this model. The Church of Jesus Christ of Latter-day Saints is owner and operator of both Brigham Young University-Hawaii andPCC. When the university opened in the 1950s, it was designed to provide young members of the church, throughout the Pacific Rim, with the opportunity to further their education. But soon, they found that the cost of attendance was difficult for many families. So PCC became a concept to provide an opportunity for students to supplement their families' contributions to their education.
How do you balance PCC's mission with business?
Our mission is to preserve and perpetuate the arts, crafts and culture of Polynesia. But we're finding more and more Polynesians growing up in cities. The irony of it is we have Samoans, Tongans and Maori raised in Australia, learning about their culture here at the PCC. We provide the opportunity for them to connect with who they are. And it has an impact on them to know that they come from very proud cultures and it makes a difference in their lives.
Right now, we have about 1,100 employees.  More than 700 are BYU-Hawaii students. We provide them with employment to help them with the educational costs and be a part of their practical learning process.
We have accounting positions, inventory control and merchandising, point of sales, sales management. They can become team leaders, supervisors and have up to 45 people reporting to them. Our student managers are responsible for hiring, training, motivating and seeing that they achieve their goals.
We are also a significant employer in the community. This area of Koolauloa … is heavily Polynesian. For many of these folks, we allow them to live their cultures but also work in areas they excel in due to their heritage.
Major renovations began in 2009. What's the status?
Since 2009, we've been reinventing ourselves and going through an overhaul of nearly all of our major structures to prepare for the next 50 years. At the end of 2014, we will have refurbished all the major facilities and added several major enhancements, including the luau facility and new Samoan village. The last renovation of this scope took place in the mid-1970s. That's when The Gateway, the main restaurant, was built.
We're building a new marketplace that's twice as large as the old one and it's scheduled to open at the end of 2014. It will spread out into the parking lot. We hope it will become a place where moms can come with their children and have a special ice cream that might come from New Zealand. Or eat at a Tahitian roulotte … their version of the lunch trucks. It will be a place where you can just relax and enjoy yourself for a short while.
How much will the renovation cost?
That's a moving target. When you look at the Gateway restaurant and just a complete overhaul of the former IMAX theatre into a multidimensional, multipurpose structure, and factor in the marketplace, it will be well over $50 million.
What is the trend in visitor numbers over the past five years?
We tend to reflect the deterioration in visitor arrivals in 2009 with the loss of airlift and other economic issues. But we have been able to grow our attendance back at a solid rate since 2010 by providing experiences that interest our kamaaina. We're seeing significant improvement in our local residents coming out to PCC. What really kicked it off was the introduction of the new night show in 2009; we definitely see in our history, as we've introduced new experiences, we see the bump in attendance. Attractions tend to be very cyclical. When we introduced "Ha – Breath of Life" in the summer of 2009, we saw 648,257 visitors that year and 31 percent were local. Last year, we saw 719,000 visitors with 26 percent local. Our new "Hawaiian Journey" show at the IMAX opened last month and has been popular with both kamaaina and visitors. Hopefully it will help keep the numbers up.
What is the biggest challenge of running the center?
We ask people, "What do you think of the Polynesian Cultural Center?" and they say, "Oh, I loved it." Then we ask if they're coming back and they say, "No, not this time. I'm really busy. You know, I've been there, done that." And that's one of the biggest challenges. Hawaii's such a magnificent destination. You can have such a wonderful time just sitting on the beach and time is a significant factor for guests. So our intent is to create these wonderful, new experiences to complement those they already have, to give the guests the motivation to return.
What other ways are you using the center's facilities to attract kamaaina?
We could easily envision local businesses doing their presentations or holding company retreats here. They could have their families join them in the afternoon for activities, followed by dinner and the show. It would be no problem. We're starting to step up the opportunity and make it available. Right now we've kept it on the low because we want to make sure it's right and we're ready. It's about expanding the use of the facilities. So instead of the villages just being used from 12 to 6 p.m. we can run workshops and activities in the morning and also do overnighters and evening activities. It allows us to provide more people with a greater variety of experiences.