Talk Story with Peter Ho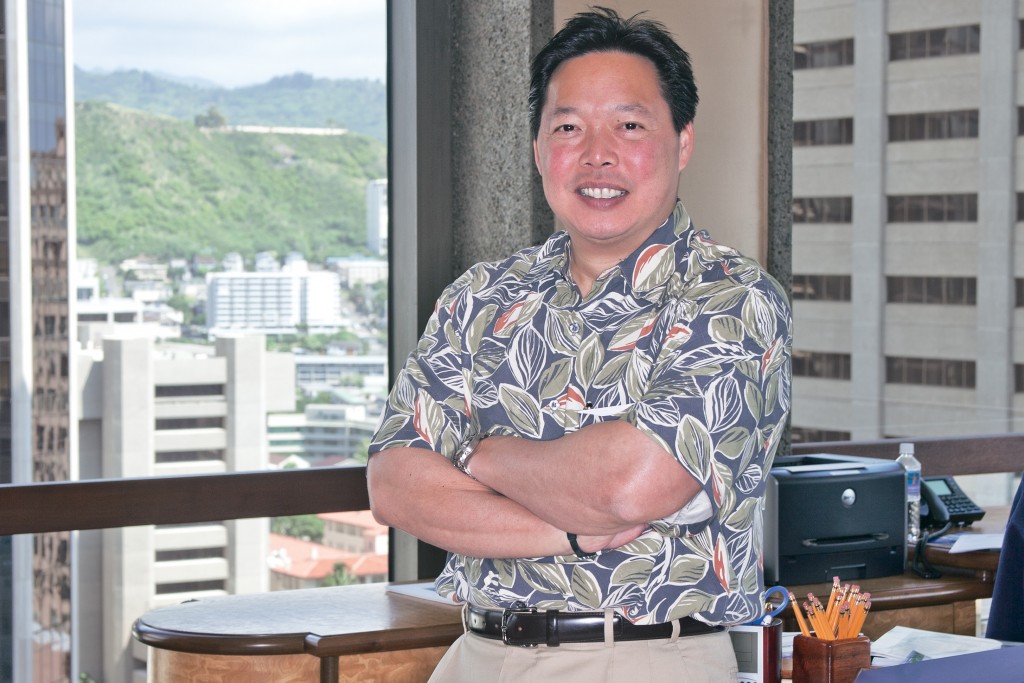 Ho is also chair of the Hawaii host committee for the Asia Pacific Economic Cooperation meeting in Honolulu this November. The weeklong series of APEC meetings and seminars will be capped by a summit of the 21 leaders of Asia Pacific economies hosted by President Obama.
Q: Is the community ready for this meeting and do you think it is prepared to take advantage of the opportunities that APEC presents?
A: I think the community is about where I thought it would be. Preparation for the Leaders Week started last April and, right now, we are kind of smack-dab at halftime. At the front end, there was a lot of discussion in the community about, "Are we sure we want this? Isn't it going to create a lot of traffic disruption and so forth?"
I think we have moved beyond that now. It's more of a content challenge at this point. They're saying: "I see how this could be good for the community, but how exactly is it going to happen?"
Q: Is it realistic to expect many business opportunities to be signed and sealed at this meeting, or is it more of a "getting-to-know-you" kind of event?
A: There are two answers to that. The estimate in terms of near-term economic impact (to Hawaii) is around $100 million to $120 million in revenue and tax receipts, which is obviously positive. The other opportunity is pretty long term; it's sort of big picture. When a local business person asks, "What is it that my business can get out of APEC in November of this year?" the answer, for the majority, is not a whole lot. The long-term advantage is that this is an opportunity to brand ourselves in a very different way than we have in the past.
Q: You mean, the sun-surf-and-palm-trees image?
A: Yes. We have great challenges in drawing this type of business because we have been so successful on the leisure side. Today, business travel is only around 10 percent of all arrivals. APEC is a perfect opportunity to dispel that notion. There is a moving target called "the future" out there. How do we plan for that and how do we position our brand to take advantage of what we see in the future?
Q: You went to Yokohama for last year's APEC meeting. From what you saw there, what can Honolulu expect?
A: You know, we don't have many summits here. It is a very different animal than having, say, 15,000 to 20,000 dentists in town. In most people's mind, when they think about APEC Leaders Week, they think of a convention. But there is serious business being conducted. So it's reasonably quiet during the day. This will be a little more isolated than the usual convention. And the level of media that will be here is something we have not seen before. They will be swarming here from all over the region. With maybe 2,000 media representatives here, the host committee is working on setting up story opportunities for the media.
Q: While APEC is meeting in Hawaii, the real host is President Obama and, to a large extent, this is a White House show. Has this caused any logistical difficulties for you?
A: It has. That's because it is easy for us to see what would be beneficial and what we want to get out of Leaders Week. But the White House has an agenda. The president has already identified exports as a serious component of how to get the economy growing again. They are thinking about things far different than us – weighty, meaty things. We have to think of ourselves as gracious hosts.
Q: Extra security funds were lost when the U.S. Senate decided to do away with earmarks this session. Does that raise any concerns for you?
A: Not really. There is a longstanding protocol to put in place reimbursement funds for host communities of events like this. And remember, for $120 million coming in, there is really not too much in terms of extra expenditure for the community. There will be costs, but we have to think of the return.
Q: On another topic, what's new at the bank?
A: We're coming off a strong year and we see improvement in the economy, in our credit statistics and in the growth of new consumer deposits. I am feeling more optimistic (about the economy) than I have in quite a while. We've opened a beautiful new branch in Kapolei and have three other new branches due to come on line this year.
Q: Your father, Stuart, and your grandfather, Chinn, are and were prominent people in this community. Are there specific lessons you learned from them?
A: Both were very accomplished in their own ways, but they were different. My grandfather was very entrepreneurial. My father is intellectually bright and academic. But what they both had was the way they viewed people in general. Despite where they were in their stations in life, they were gracious in how they treated everyone. I distinctly remember walking around Chinatown with my grandfather. He was just at ease with everybody. That's a lesson I learned.