Talk Story with Richard Parry of Aloha Petroleum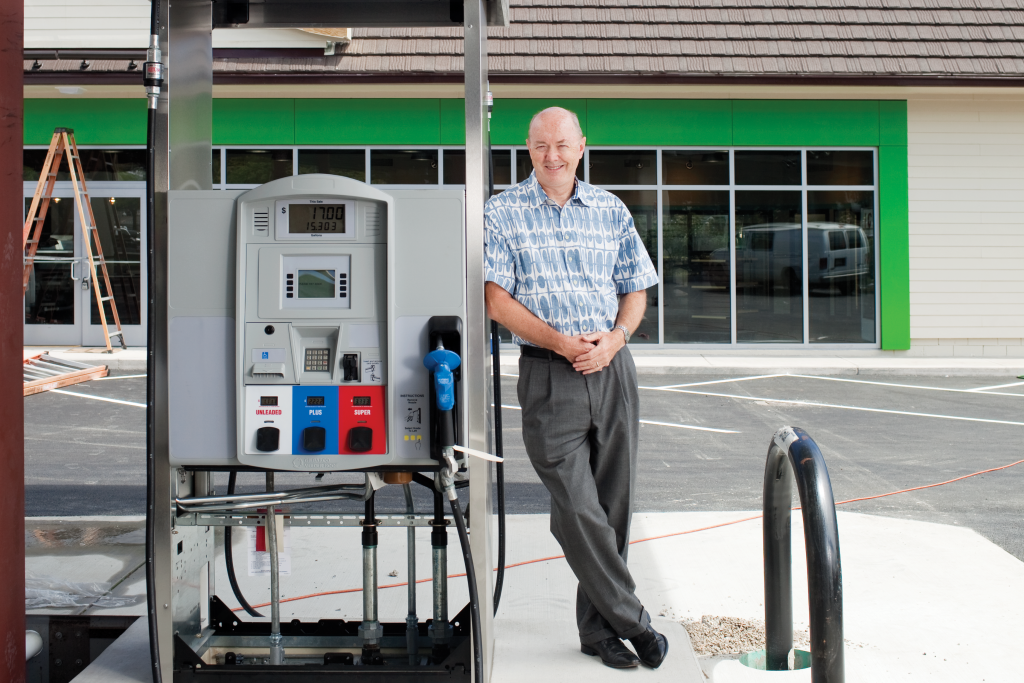 In his three years as CEO of Aloha Petroleum, Richard Parry has helped the company diversify its business. Last year, it purchased the Hawaii assets of Shell Oil. It also has gradually expanded its interests in alternative fuels. We talked to Parry about these changes and what they mean for Aloha.
HB: What effect has the changing energy climate in Hawaii had on your plans to diversify Aloha Petroleum?
A: It's really not just a change in Hawaii; there's been a change throughout the world in the energy climate, as you call it. And it has really changed quite fundamentally the way we go about doing business. We're unfortunately faced with relatively high prices, and that has affected demand. In fact, gasoline demand in Hawaii is down about 10 percent from the highs of 2006. So, we really have to compete in a shrinking marketplace, which means we have to put more emphasis on the other parts of our business for future growth. … We have to find other places to diversify our business.
HB: How did your purchase of the Shell stations fit into those plans?
A: We acquired the Shell assets in Hawaii last year. That gives us an opportunity to offer two brands in the marketplace. One is the Shell brand, which is that large, credit-card-based, premium brand. The other is the Aloha brand, which is the local brand, more familiar to local people, and is sort of the value brand in the marketplace. They tend to attract slightly different customers, so we think they complement each other nicely.
HB: You're also putting more emphasis on convenience stores as part of your diversification.
A: We already had a few convenience stores. I suppose saying we dabbled in it is the best way to put it. But now we're making the convenience stores quite a concerted focus of our growth as a company. So, over the next four or five years, we're going to be putting something like $20 million into upgrading our existing stores and building some new ones. We've got two new gas stations opening in the next couple of months — one in Kahului on Maui, and one in Kona on the Big Island — that are gas stations, but with fairly large convenience stores. We've also got the Kahala station on Oahu that we demolished and are rebuilding, putting in a large, 3,000-square-foot convenience store.
We're putting money into the physical assets, and we're also looking at improving the merchandizing and the offerings inside the stores. So we're putting more emphasis on food offerings in the stores. Convenience stores in the past have been focused on filling grocery-store types of items; we think there's more demand for snacks and food and drinks. Of course, we still will sell the typical smokes and Cokes.
HB: Compared to the convenience stores, gasoline is a fairly low-margin business, isn't it?
A: It's a low-margin business by most measures, and it has volatile margins, as well. The convenience-store side of the business is a better-margin business, but it's also less volatile. That's a nice offset to the gasoline side of the business. Also, when you look at the statistics, Hawaii is relatively under-populated with convenience stores, by national standards. On a per-head basis, Hawaii is one of the lowest in the country.
HB: Are there any risks to this kind of expansion?
A: It's always hard to justify putting a lot of capital into the Hawaii market. One of the concerns is that the market is changing. With less demand for gasoline, the potential for alternative fuels coming into the market, the face of the typical gas station is going to be changing pretty dramatically, we think. Putting money into traditional assets like a corner gas station is somewhat of a risk. If people start charging their electric vehicles at shopping malls or at home or at the office instead of going to gas stations, then our world will be a different world. But we don't think that's going to happen in a significant way anytime in the near to medium future.
HB: Part of your diversification includes investment in alternative fuels, especially biodiesel.
A: Yes. We're actually doing a couple of things with biodiesel. One is we supply B-20 to a couple of customers here. We've been doing that for a couple of years. We buy the biodiesel mostly locally and blend it with petroleum diesel and sell it to people like the military and some commercial customers. It's a relatively small market right now, but it's important for us to understand that market — to understand the dynamics of it and the operational side of it. We're also probably the largest ethanol user in Hawaii because we blend ethanol with gasoline. We also just recently did a deal with the military in Kaneohe to supply them with E-85, which is 85 percent ethanol and 15 percent gasoline. So we've been doing quite a bit with alternative fuels. In fact, we've even been looking at putting in a hydrogen facility. That's still a concept at this stage, but we've been talking to General Motors and the Gas Company about that.
HB: What's the most challenging part of this business?
A: One of the interesting things to me is that it's such an international business. When there are problems in the Middle East, it flows through pretty quickly to Hawaii. When there's a hurricane on the Gulf Coast, it affects prices here. So, it's a very local business in the sense that you're on a particular street corner dealing with your particular customers, and your customers can vary depending on whether you're in Waianae or Kahala or on the Big Island. But it's still an international business because you're affected by geopolitical events around the world.