Talk Story with Robin Campaniano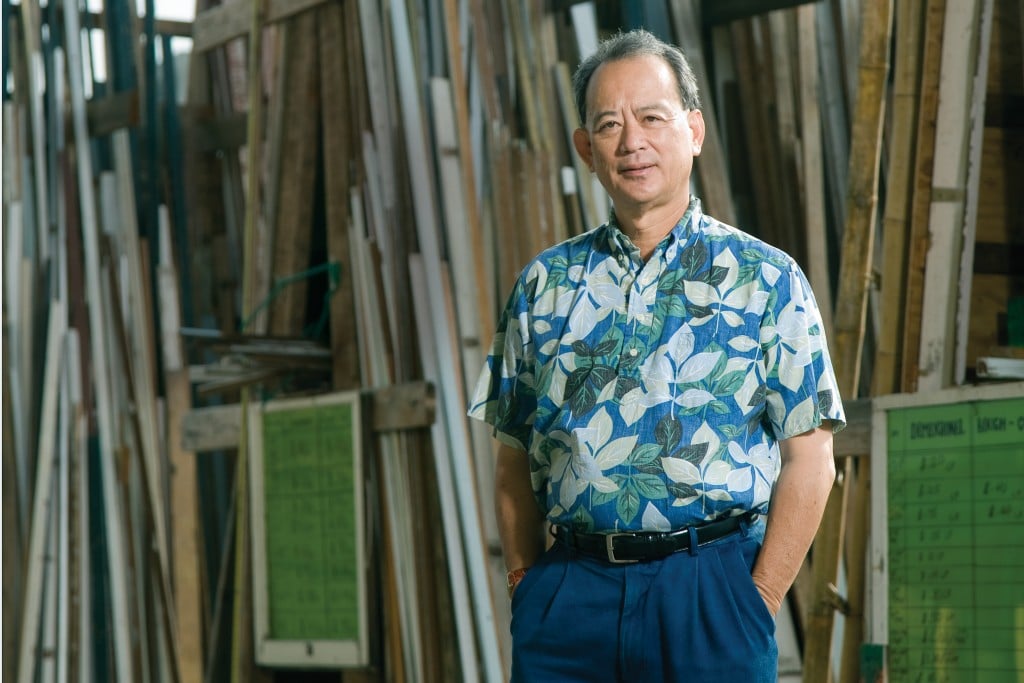 [Note: An earlier version of this story reported Sopogy sells affordable solar photovoltaic cells. To clarify, Sopogy sells affordable compact solar thermal collectors.]
Robin Campaniano 
General partner, Ulupono Initiative, since January
Campaniano, former president and CEO ofFarmers Insurance Hawaii (formerly AIG), now helps run an entity created by Pam and Pierre Omidyar to build and support sustainable ventures in Hawaii. He's photographed at the warehouse of Re-Use Hawaii, one of Ulupono's projects.
Q: How did you become involved in the sustainability efforts by the Omidyars?
A: There's a group of people called the Hawaii Asia Pacific Association — HAPA — a group of senior leaders headed by Walter Dods. The intent is to get a bunch of senior CEOs together and learn about something away from the office. We have taken an annual field trip or tour every year. About three years ago, when Pierre moved to town, he was invited to join HAPA and take a trip. That year the trip was to New Zealand. During one of the meetings, Pierre was asked to speak about philanthropy and I thought, "Here's this nice guy, but how is he going to pull this off?" But the more I learned, the more fascinating it was. It's a variation of the theme that you teach a man to fish rather than giving him a fish.
Q: When did you first get involved with the Ulupono Initiative?
A: By 2008, I was talking to some of Omidyar's advisers about what he specifically wants to do. They were thinking about opening a formal office and wanted my advice. The kind of stuff I weighed in on had to do with Who's Who, answering questions about how things get done in Hawaii, about how Hawaii is a different place and what that means. Pierre has a major organization on the Mainland that has done stuff from India to Africa, and it's not that he doesn't have a vision of what he wants to do. I was just offering advice and bringing people together. We agreed I would come aboard full-time once the transition was completed from AIG to Farmers Insurance Hawaii.
Q: What does Ulupono hope to do?
A: These island land masses are very susceptible to the caprices of the global economy. We looked at the huge majority of food that's imported and how we're hugely dependent on oil for energy. Should there be a problem with oil and food, Hawaii is very vulnerable and perhaps we should do something about it. Ulupono was set up to move the needle on energy efficiency, food self-sufficiency and the reduction of waste.
Q: What are some projects?
A: We have projects in infancy all the way to some that want to build a plant or turn the switch on. There are dozens of projects we're looking at, some very serious and some less so. Some we have overlapped on, like Sopogy and Darren Kimura's project on the Big Island, a very affordable solar thermal collector. He's trying it out in India and it's a fairly good investment. We also have an investment in Ma'o Farms in Waianae. It's a two-fer — a nice attempt to grow local vegetables, but to get it going, it employs Waianae Coast kids. What I really like about it is you show up and you perform and we're going to pay you with a stipend and your tuition at Leeward Community College. You get your AA degree and learn about farming and realize you can go to college. It grows food, but it also helps grow the community and provide these young kids with hope for the future. The object is to make Ma'o successful, and also a model for sustainable agriculture.
Q: What other projects are moving ahead?
A: We also are making opportunities for continued farming on Maui, and the person running that program is a former Ma'o Farms general manager. We've leased 158 acres from Maui Land and Pineapple for Kapalua Farms, which is now just 8 acres. Maybe laid-off pineapple workers could get into farming. Maybe the School of Tropical Agriculture at Maui Community College could be involved. We're going to spend several hundred thousand dollars this year to get this growing. Hopefully this will accelerate the movement for local food on Maui; we're not out there trying to triple our money but to extend the use of our money.
Q: Anything else?
A: We invested in a small company called Re-Use Hawaii, a deconstruction and salvaged material warehouse. They "deconstruct" a house — rather than bulldoze it and take everything to the dump — then clean the material for recycling. They're saving hundreds of tons from going to the landfill. We're also looking at larger projects on how you can convert waste to fuel, things like green waste, biomass, construction debris.
Q: Do you see changes in peoples' attitudes toward sustainability?
A: Recently I was at a fundraiser and we were sitting there in our tuxedos and all we could talk about at our table was everybody's worm farms. It's starting to take hold. Household-to-household change is great, but if we're going to make a dent we need to see projects on a large scale.
Q: Will you continue a role with Farmers Insurance?
A: Yes, I'll continue to plan and strategize about issues, but I'm more of a consultant. It's sort of like being a grandparent; you get to play with the grandkids but when you get tired of it you can go home.