Tealet: Startup in a Cup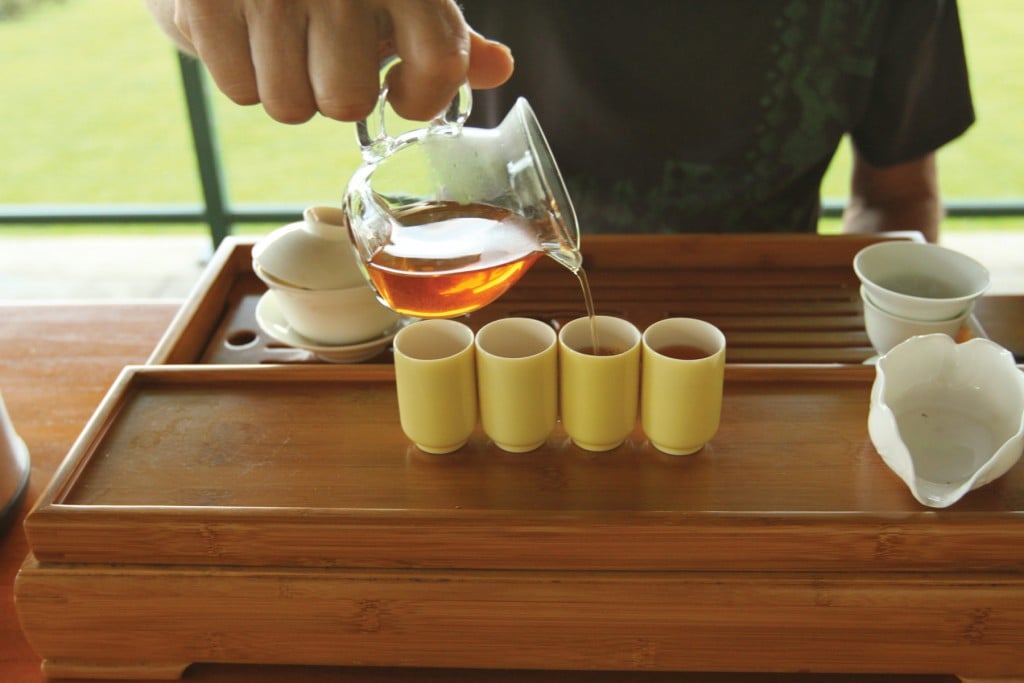 When you think of innovative startups, what usually comes to mind are tech companies that create something new – a mini-revolution.
Instead of high-tech, think about tea, one of the oldest drinks on the planet. That's what Elyse Petersen does: She thinks about tea day and night, and she, too, is planning a revolution. Her tools are digital innovation, traditional values and experimental marketing. Pretty heady stuff for a Honolulu-based startup that's only a year and a half old, but if you hang around Petersen and her team long enough, it seems entirely possible that they will transform the growing and selling of the world's most popular drink after water.
A good place to find Petersen is Honolulu International Airport, where she's frequently taking off or coming home. This time, she has a fresh tan on her face that wasn't acquired in Hawaii and her usual wavy brown locks have been braided into a hundred microbraids. Within an hour of landing, she's heading back to her temporary office at Blue Startups in downtown Honolulu.
She is returning from Burning Man, the edgy festival in the Nevada desert, where she served tea and shared the mission of her startup company. Tealet is an online distribution website for independent tea growers to sell high-end, loose-leaf tea directly to wholesalers and retail customers around the world.
As with many other young entrepreneurs, idealism powers the 30-year-old Petersen. Her goal for Tealet is ambitious: creating a network of independent tea farmers, wholesalers and retail customers that aims to transform global distribution of tea.
"Food systems in the U.S. and around the world are extremely unhealthy," Petersen says. "The way products get moved around and the connection between the consumer, agriculture and production needs to be restored. A lot of that has to do with distribution."
Tealet co-founder and cultural consultant Jane Gonsowski, 37, believes that customers deserve to know where their tea is coming from and how it is grown, and the farmers' personal stories. "Tealet's website provides all of that information and is pioneering the introduction of tea farms directly to consumers," she says.
"We're building a revolutionary brand where our customers can be a part of the solution," says Petersen. "They can be a part of the change to improve the distribution system of tea, how tea is made and how business is done with growers."
Petersen hopes one day to reform the entire global food system, but now she's just focused on tea. In 18 months, Tealet has developed a base of more than 600 customers in 28 different countries. But, as with most startups, little went according to the original plan, changes are still constantly being made and the future is about as clear as mud.
Of course, money is always an issue, and despite working 12-hour days and accumulating more than $100,000 from investors, the founding team has not yet paid themselves a dime.
Where It Began
Petersen was introduced to the tea industry four years ago while working as a food scientist at the green tea maker Ito En in Japan. "I started learning about the global distribution of tea and started realizing that the system where raw ingredients come from is really broken," she says.
Farmers around the world make only a minimal profit – if any – on their crops, so young people are leaving the family farms to find better job opportunities, she says. "That has huge consequences on our food systems. Who is going to grow our food if we don't have farmers?"
To be able to pay farmers more, she simplified the distribution system. "With technology now and the niche growers we found, we just have to pass tea through two hands, and those two hands deserve fair compensation."
By eliminating some middlemen, Petersen says, Tealet can pay farmers 60 percent of the selling price, while keeping the other 40 percent. "I think this will encourage a whole new generation of people to go back to the countryside and start farms."
Petersen eventually left her job at Ito En to return to the MBA program at UH's Shidler College of Business. There, she launched a study on the feasibility of a Hawaii-grown tea industry with Gonsowski. They found that tea could not be grown profitably in Hawaii if it was simply sold as a commodity, but it could succeed as a higher-priced specialty product.
"There's a huge $1.4 billion opportunity for the growers of high-end, specialty, loose-leaf tea here in Hawaii," she says.
Business Opportunity
Petersen and Gonsowski feared their report on Hawaii-grown tea would collect dust on someone's desk, and they needed entrepreneurs to implement the report's recommendations. Then they realized they were those entrepreneurs. "That was when we first got our inspiration that, 'Wow, this is what entrepreneurs look for when they are looking for an opportunity and we need to do something about it,' " Petersen says.
To complete her MBA program, she flew back to Japan for an internship at Kyoto Obubu Tea Farms. There, she met independent growers involved with a project called the International Tea Farms Alliance that was struggling to connect directly with U.S. customers. She called Gonsowski from Kyoto and got her support to create a website on which these farmers could sell their tea.
"Elyse saw the potential in tea and had a passion to give back to tea farmers," says Stuart Nakamoto, a professor in UH's Department of Human Nutrition, Food and Animal Sciences. "I think it's a great combination of more traditional farming ideas with the technology to make it work. Tealet brings the farmers market to the Internet."
Before she returned to America, Yasuharu Matsumoto, founder of theInternational Tea Farms Alliance, gave his blessing. "You know we need help, so what are you going to do? Take our secret weapon, the best tea in the world."
Starting a Startup
With no previous experience with technology or startups, Petersen attended Startup Weekend Honoluluin April 2012 on her first weekend back from Japan. Each of these high-energy weekends builds teams out of entrepreneurs with complementary skills, and launches startups that can leap into the real world. All in 54 hours.
"I had one minute to pitch my little idea about my farmer friends that had really great tea and I just needed to build an e-commerce website to sell it."
The team she assembled created the initial Tealet website and won second place that weekend, plus an initial investment from 500 Startups, a Silicon Valley venture capital fund.
"It's been nonstop ever since," she says. The team now includes Elyse's brother, Michael Petersen, who handles marketing and media, and website developer Cody Moniz.
"It's not easy to start a company, especially during the first couple of years when it's difficult from every aspect: business, marketing and finances," Gonsowski says. "But it's something everyone should try because it's very rewarding." (Gonsowski stepped back from Tealet operations after the first year to focus on her family but continues to work as cultural consultant.)
"We've been going on a lot of ups and downs and different turns, definitely not the path you envision when you first start a business," says Elyse Petersen. "But you just have to go with the flow or else you won't get anywhere. We are definitely still in that phase."
The team has collected more than $100,000 from investors including 500 Startups, Blue Startups and three angel investors, which has helped a lot. But finding investors is not as important to Tealet as it is to a lot of other tech startups. "We are not constantly pitching and trying to bring in investors. We are trying to bring in customers," says Petersen.
Tealet began by selling teas from the Japanese farmers Petersen met. At first, the tea was packed in plastic bags at Peace Café in Honolulu and labeled in the Petersen family home in Makakilo. "We would have all these little bags of tea covering my mom's dining room table and we would spend hours slapping labels on them," says Petersen. Her brother's room was stacked to their ceiling with large plastic containers filled with tea ready to be shipped. "He got kicked out of the room for the tea," she says.
In June, they enhanced their packaging to better fit their premium tea market: They went from cheap, plastic bags to sleek, metal cans that are packaged and distributed out of Modesto, Calif. The tins all have unique designs created by Jon Stapp of Baltimore that are based on the tea's origin, whether it's from China, India, Japan or elsewhere.
"The packaging gives you that organic, community feel but at the same time the overall aesthetics have that Louis Vuitton feel, that premium, stylish quality," says Petersen. The rebranding process has been Tealet's biggest expense so far.
Soon after beginning to sell the Japanese tea, farmers from around the world began contacting Tealet via social media and emails.
"Before you know it, you are traveling through a town going to tea shops and we coincidently meet them," Petersen says. Now, Tealet shares stories of upcoming teas and their farmers on its website and through social media. Sometimes they will get rave comments from customers and sometimes disdain, because the customer has had a bad experience with a farmer. "That's the beauty of transparency," she says. The process of bringing a new farmer into the business ranges from four to five months.
Finding tea farmers who would work with Tealet was easy, but finding buyers was tougher. Individual retail buyers were their first market, and still an important part of their plan. In addition to one-time orders, Tealet's current retail subscription service offers three options: shipments every two months, every six months or once a year. With each delivery, you get four different 15-gram tins of tea from around the world. Sometimes two of the teas may come from the same farmer, with each harvested in different seasons. "There's always a big difference in taste and quality between these two. We try to give an educational experience to our customers, where they can taste the difference as they drink," Elyse Petersen says.
Michael Petersen adds, "It's similar to wine, where a certain vintage might be better one year or one season than another, and you can learn to differentiate those tastes."
About half of their buyers are in the U.S. and the rest from foreign countries, especially in Europe. Hawaii buyers purchase less than 1 percent of their total supply. "It's not much harder to sell tea to someone in Brazil than it is to sell it to someone here on Oahu," says Petersen.
However, Tealet sells a lot of Hawaii tea. During October, it was featuring five Hawaii Island farms on its website, including Hawaii Rainforest Tea, owned by Bob Jacobson. "Hawaii-grown tea is just beginning to blossom," Jacobson says, adding that all the local tea farms are young.
Michael Petersen says high demand for Hawaii-grown tea has pushed average prices to about $400 a pound. In contrast, the average price of Tealet's Japanese teas is $84 a pound.
Hawaii tea growers would have trouble reaching high-end customers on their own, Nakamoto says. "Hawaii-grown tea will capture an audience and in order to reach customers, Tealet is the answer."
Tealet's packaging highlights individual farms and baseball-style "grower cards" that share the stories of independent farmers. "Not only do customers know what their tea will taste like, but they can educate themselves about the farmers who make the tea while helping to support them," she says.
However, the team realized that getting retail customers to buy their subscription products online was a slow-growth process, and the company had "milestones we needed to hit for our investors," Petersen says. At the same time, Tealet began receiving emails from customers saying they were interested in purchasing larger quantities for their teashops. "That led us to the idea of selling wholesale teas as our new main focus," she says.
Michael Petersen says, "When you try something that fails, do it all over again as quickly as possible, keep on improving. You're learning your market, you're learning your customers, and you're learning what works and what doesn't work. Where you do see things working, focus on that."
One innovation that customers like is Tealet's evaluation system of teas. Before a tea is sold in Tealet's wholesale auctions, it is evaluated by a panel of experts that includes Tony Gebely, a tea expert and author of the World of Tea blog. These evaluations include the color, smell and taste of the tea, and how many steepings it can withstand and still produce a good flavor.
"It's never been done before and we are working with industry professionals as judges who are even more qualified than Elyse and I as far as judging and tasting their teas," Michael Petersen says.
With its rating system, Tealet is trying to position itself as the unbiased market standard for evaluating quality and price. "Other companies just use marketing hocus pocus," says Elyse. "We want to allow the farmers and the quality of their teas to stand by themselves with no blends, no marketing names or other funny, catchy things."
She says Tealet is trying to make people aware of a boutique segment of the tea industry, where different seasons, different farmers and different origins all play a big part in the quality and taste of tea. That also keeps Tealet and its farmers out of the tea commodity market, where there's intense pressure for low prices.
Global Reach
Another experiment is Tealet's "ambassador" program. Select tea enthusiasts get samples of high-end teas and those ambassadors do what they love, serve tea to friends and others in their communities. The ambassadors get a 7 percent commission on every retail sale.
Omar Riverstone is the owner of the Jasmine Dragon Tea Lounge in Olympia, Wash., and a devoted Tealet ambassador. When he received his first UPS shipment packed with Tealet's best, emotions overwhelmed him. "I was crying with happiness and so thankful for
Tealet to send me that," he says. "I've spent so many hours going into tea shops and trying tea, but coming home and having this box of the best tea in the world in my mailbox is amazing. All I have to do is share it."
Most businesses want their salespeople to represent the company and use official branding. But, Elyse says, the best Tealet ambassadors are those who have their own brands. "Our ambassadors have built their own communities already. It's really important for them to have autonomy and to be able to sell tea as themselves," she says.
Riverstone is convinced Elyse Petersen will succeed. "She's kicking ass and she's got an amazing team," he says. "She's extremely networked and has found something that is really dynamic and unique and innovative. There is something magical about the simple pleasure of receiving tea in the mail."
The Future
The Tealet team is focused on selling as much tea as possible, as fast as possible. "Right now we are still struggling," Michael Peterson says. "There's always the doubt that it's not going to happen and you have to move faster. You have to pivot here, pivot there, and your dollars are not always going to be there for you."
For his sister, the many months she has invested in her company have been rewarding, but keeping a startup funded and moving forward is constantly challenging. "Keeping yourself motivated to keep going is really hard especially when you are relying on investors to get you over that hump until you become profitable," she says. "Having the confidence and energy to get over that hump is the biggest challenge. … The longer you take, the more difficult it is."
Petersen says the team members cannot pay themselves until they get big revenues from buyers, but they can't get big revenues unless they have money for advertising.
Nakamoto knows it's a tough road ahead. "For every new business that makes it, there are a bunch who don't," he says. "I hope Tealet succeeds because it seems to have all the pieces: a combination of experience, contacts, knowledge, and the willingness and drive to keep going."
Elyse has no idea what Tealet may look like five years from now. In fact, she is not even certain she will be running the company in a year.
"Right now, I'm the visionary; I get to make the decisions. Of course, I want to stay but this is definitely not my entire life goal. My entire life goal is to revolutionize our food systems and I believe I can do that through this business. … Our big vision is that what we create can inspire positive change, not just in tea, but in all food we consume. That focus is what motivates me to work all the hours I work."
Tealet Samples:
Misty Peak Tea SiP PEace Yiwu, Xishuangbanna, Yunnan, China
LongWu Dragon Well Green Tea LongWu, Hangzhou, China
Kyoto Obubu Tea Plantations Kyoto, Japan