The Art of Creating Tofu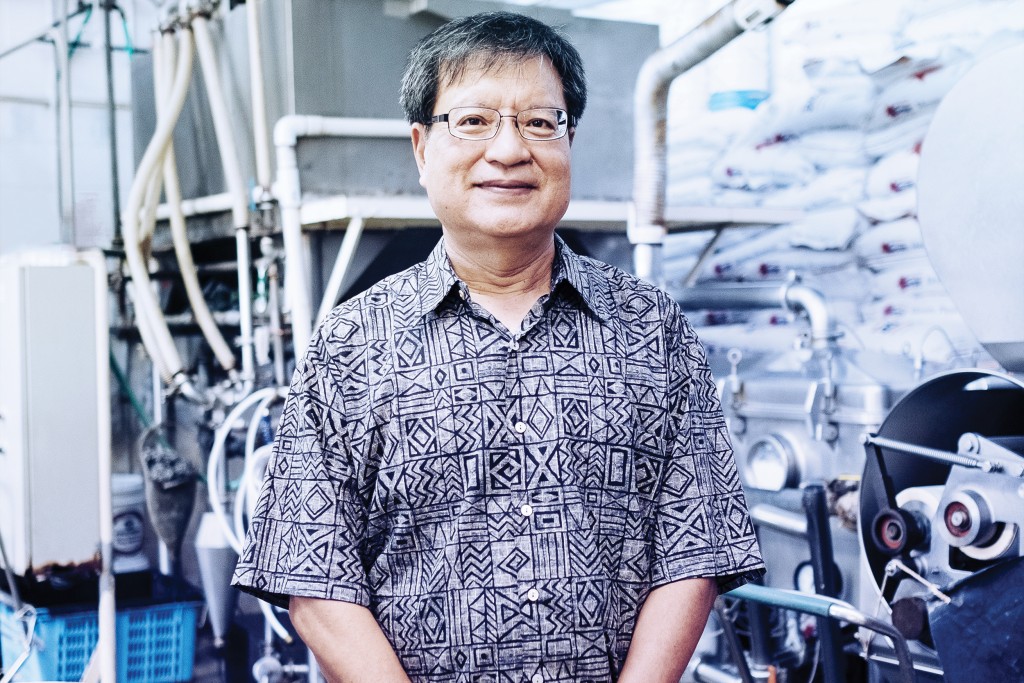 Mao-Chi Tzeng
approaches tofu-making as an art.
"It's like chefs preparing dishes," explains the 66-year-old co-owner of Mrs. Cheng's Soybean Products in Kalihi. "Same materials, same ingredients, but different chefs come out with different dishes.
"I like fine art and good food, so I use them as examples to show that not all tofus are created equal."
Originally from Taiwan, Tzeng and his wife, Mei-Liang, moved here in 1984 for better health and educational opportunities for their two children, Shawn and Sandra, now grown. They had been pharmacists in Taiwan, and both came from families with medical and business backgrounds. So, a few months after arriving, Tzeng seized the opportunity when he heard Hui C. Cheng planned to retire and sell her tofu factory in Palolo.
"I thought, with my pharmaceutical background, managing the production would be easy, but, no," he recalls. "First of all, I had to upgrade her equipment because it was too small and inefficient to handle the type of operation I wanted. Second, the market was too small to make a good profit. Third, I wanted to raise the ingredients standards to pharmacy grade (from food grade) where possible.
"I lost money for the first three years."
Using his savings and money from his parents, Tzeng invested in new equipment and upgraded others over time. When a larger location opened in 1992, the factory moved to its current location on Kalihi Street. He says it boasts a state-of-the-art tofu machine custom made by a designer in Japan, and a special cooker that has three heating zones and four temperature monitors to make sure the soymilk slurry from crushed soybeans is heated gradually and evenly cooked, but not overcooked.
"The secret to making good tofu is to cook it as closely as possible to the old-fashioned method of using a large cooking pot and watching it and continuing to stir it so it heats evenly. Ordinary tofu machines usually just have one heating source and, at most, only one monitor."
" The secret to making good tofu is to cook it as closely as possible to the old-fashioned method of using a large cooking pot and watching it and continuing to stir it so it heats evenly."

Also, he takes pride in using natural, non-GMO ingredients where possible. "Mainland tofu has a long shelf life, but it doesn't taste fresh." According to Tzeng, the ideal texture for tofu is "creamy, but with a naturally sweet soybean taste, like spring water."
When Tzeng took over Mrs. Cheng's, the product line was plain soymilk, nigari tofu (firmer than hard tofu), hard tofu and soycheese, a brown-colored baked tofu that imitates cheese.
Tzeng added soft tofu, or "silken tofu," after he found that upscale Japanese and Korean restaurants had no local supplier. "Ideally, the silken tofu should not only be soft and smooth enough for soup, but firm enough that it can be deep-fried, but doesn't shrink or break and yet is tasty."
He now also does custom orders of "soong tofu" for Korean restaurants, similar in style to silken tofu. "After months of experimenting, we found the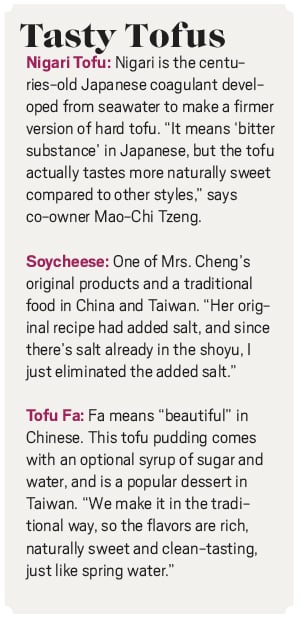 right recipe and skill to make soong tofu, and we make it in large containers for fine Korean restaurants daily."
Tzeng also added sweetened soymilk, made with fructose and maple syrup, to Mrs. Cheng's product line, and "tofu fa," similar to the almond gelatin dessert served in Chinese restaurants, but made with silken tofu. Super-firm tofu (firmer than nigari) is available as a special order.
About 40 percent of Mrs. Cheng's customers are high-end restaurants, and the rest are supermarkets, health food stores, wholesalers and individuals who buy direct from the factory.
Chef Hiroshi Fukui, 50, VP of dining and facilities at Hawaii's Favorite Kitchens in Kapahulu, has been buying from Mrs. Cheng's for at least 30 years. "What I like about Mrs. Cheng's is they try to use all natural ingredients, and you can really taste the soybeans in their tofu. The silkiness and freshness is like night and day compared to other brands.
"I've used their soft tofu, hard tofu and nigari tofu in such dishes as our smoked salmon salad with tofu and watercress, and for deep-fried agedashi tofu," Fukui says. "Their customer service is great. If we run out, they try to deliver more right away."
Mrs. Cheng's Soybean Products
233 Kalihi St.
841-2571
Each month, Local-Kine Biz tells the story behind a Hawaii small business. If you know a business we should cover, email localkinebiz@gmail.com.