The Biggest Getting Bigger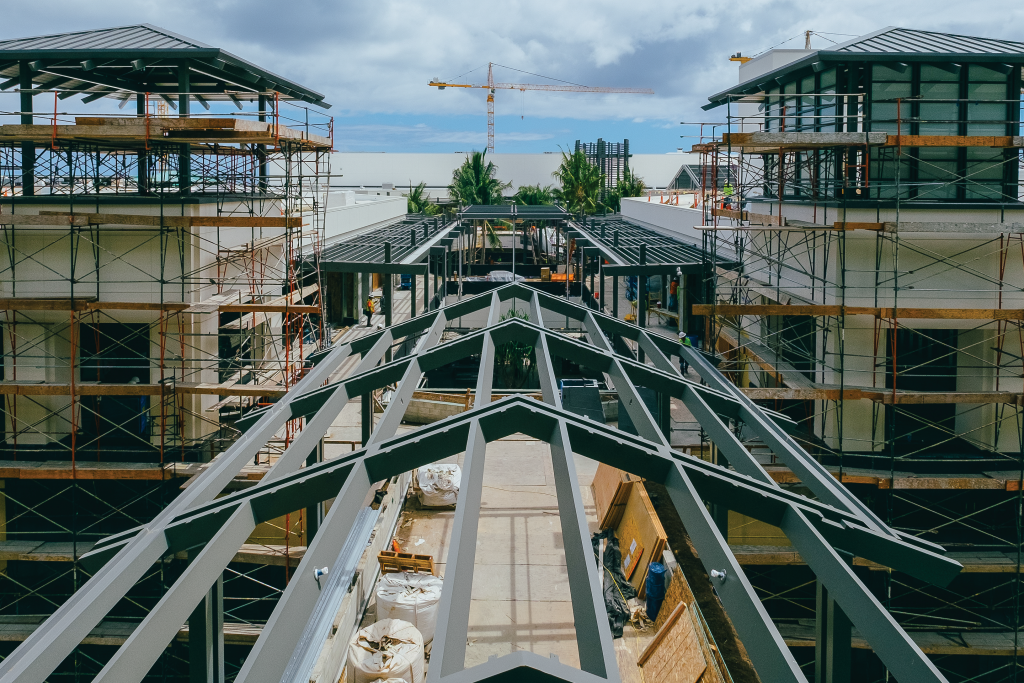 The $572 million Ewa extension of Ala Moana Shopping Center, which is scheduled to open on November 12, has been an enormous undertaking. As Francisco Gutierrez, director of development at General Growth Properties, explains, the project will add 330,000 square feet of retail space to the mall.
"But it's really much bigger than that," he says. "Remember that we decommissioned Sears, which was about 340,000 square feet, so we're really bringing back about 660,000 square feet. That's a really big project. That's bigger than Windward Mall. What we're doing is almost like building a new regional mall adjacent to the existing mall."
That's in addition to tearing out and rebuilding garages with thousands of parking spaces. The total customer parking will go from 10,000 to 11,000 spaces, with many of the old compact stalls at Sears replaced by full-size stalls. And that doesn't even count residential parking.
Park Lane, the luxury condominium that will face Ala Moana Boulevard, will wrap around its own parking tower with a separate entrance. "Why give cars the view?" Gutierrez says. Some units will have their own garage, almost like a detached family home.
Beneath this whole structure, there will still be two floors of customer parking for the mall.
To put all that in perspective, consider the full Ewa extension requires more than 57,000 cubic yards of concrete, 4,800 tons of rebar, and 2,600 tons of structural steel. At one time, there were nine cranes on site, more than any other construction project in the state.
Foundation
To support the enormous weight of a building of this size requires a foundation of giant pilings. "In the old days," Gutierrez says, "we used to drive the pilings into the ground. It was a little faster, but it was very loud. That wouldn't be sensitive to the neighborhood, with so many residents around. So, these days, what we do is use ACIP auger-cast-in-place pilings."
A total of 940 holes were drilled into the ground with an 18-inch auger to an average depth of about 70 feet, then pumped with concrete and reinforced with a rebar cage that was slowly lowered into place. Where this ACIP technique was impractical, a total of 100 "micropiles" were installed as foundation support for certain structural elements. These "jet-grouted columns" were also used to support the city's portion of the gravity sewer line.
Manpower
Gutierrez notes that it takes a lot of people to make a project of this size happen. Callison, the architect of record, had people in three cities working on the extention. Local architects and engineers helped give it a local flavor. Then there's the actual construction.
"From day one we wanted really tall palm trees. But those are heavy–about 1,200 pounds each–so we had to bring them in before we dismantled the cranes."


— Francisco Gutierrez, Director of Development, General Growth Properties
"There are four of the largest general contractors in the state working on the project right now," Gutierrez says. "Hawaiian Dredging is doing the Ewa Expansion. Jay Kadowaki is doing the build-out of Nordstrom's. Swinerton is doing the Bloomingdale's store. And Kobayashi is doing Park Lane, the condominium and the garage."
Of course, each of these general contractors also has an assortment of subcontractors. Hawaiian Dredging, alone, is using 45. Altogether, construction has created jobs for more than 700 people. At least 500 of them showed up last month for a barbecue celebrating the completion of the parking structure.
Integration
Although a lot of effort went into creating a seamless transition from the existing mall to the new extension, from a structural perspective, that continuity is an illusion.
"When you walk from the old building into the new building," Gutierrez says, "you're not going to know the difference. But, if you ask any structural engineer, he will tell you that the structures are independent. In fact, that one was standing there before we began to build this one. This one was built new, but in such close proximity that, by the time you put the floor in, you won't even know that you're going from one building into another. But these are really a group of independent structures that are very close to one another. That's also true for the garage."
Length
The Ewa extension is nearly 500 feet long. While the walk from Macy's to the old Sears was about a quarter-mile, the walk from Macy's to the new Nordstrom's has grown to more like a third of a mile. "That can feel like a long distance," says Gutierrez. "Which is why it's important to create a lot of activities so people are entertained and enjoy the walk." To accomplish that, the new extension includes two new plazas, courtyards like Centerstage in the existing mall, each of which incorporates seating areas, water features and plantings.
For example, despite being on the second level–with additional retail space below–one plaza is planted with a dozen adult coconut palms, a logistical issue that affected the project's construction schedule.
The full Ewa extension required the input of more than 57,000 cubic yards of concrete, 4,800 tons of rebar, and 2,600 tons of structural steel.

"These are very heavy, very big palm trees," Gutierrez says. "That's because we wanted to get them tall enough so the canopy of the palm trees is above the stores. When you're walking on the upper level, you want to be able to see the stores; you don't want the palm trees in your face. So, from day-one, we wanted really tall palm trees. But those are heavy–about 1,200 pounds each–so we had to bring them in before we dismantled the cranes."
Height
While the typical floor to floor height in mall construction is about 18 feet, Gutierrez points out that the floor height in the Ewa extension is several feet higher.
"There's a reason for that," he says. "We wanted the upper level of the extension to align itself with the existing upper level."
He reminds us the upper level of the old Sears building was a few steps below the other stores. That was because the upper level on the existing mall was actually an addition built on the roof of the original building, Gutierrez say. "It was a one-story mall that they then added a second level to. That made the second level higher than normal." To match that height, the upper level of the new extension also had to be a few feet higher than normal.
"Now we have this space that's like, 'Wow. Why is this so large?' It's because of that. It comes at a premium, because we're paying a lot to make everything taller, but gives you this much better space."
Opportunity
The scale of the Ewa extension project makes it unique, says Gutierrez.
"I don't think it compares to anything else. Ala Moana had 2.1 million square feet of GLA–gross leasable area–before we began. It's going to have 2.4 million square feet of GLA when we're finished. That's a very big project. It's not very common to get the opportunity to work on something like this, and we're all very blessed to be a part of this project. And I think that's why it requires so many firms with so much different expertise. You want to have local firms that understand local construction, but you also want to bring in firms that have experience with very large retail projects. That's where a company like Callison comes in. For a project like this, you're trying to put the best possible team together."