The Business of Ahhh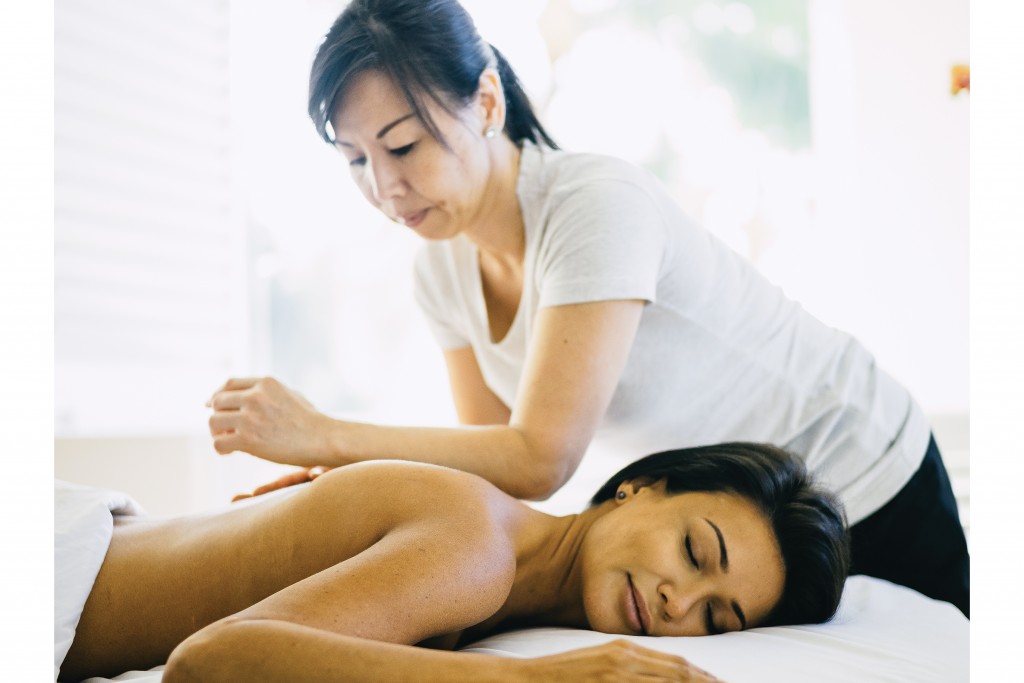 For an hour each month for the past four years, Shelley Umeda has put her face in the hands of aesthetician Susan Snyder, who steams and massages it, plucks out impurities and skims off a layer of dead cells to leave it fresh and more youthful.
For Umeda, what was once a luxury is now a personal must. "I'm kind of a low-maintenance, not very fancy person," says Umeda, who had her first facial after she retired, thanks to a gift certificate from a friend. "But now I will not give up my facials. My skin has improved greatly, and on top of that, it's so relaxing."
Snyder has heard many such testimonials. "My clients tell me things like, 'I'll give up food but I won't give up my facials,' " says Snyder, whose gentle but firm touch has been rejuvenating residents and visitors alike for more than two decades.
Relaxation, enjoyment, health and pampering are what the business of pleasure is all about.
"A lot of people fall asleep. They get into this very deep relaxation mode," says Snyder, who operates Susan Snyder Facials & Massage on the second floor of 1019 Waimanu St. in Kakaako.
Last year, Los Angeles travel agent Susan Tanzman, president of Martin's Travel and Tours, whose revenue from Hawaii travelers hit $1.6 million in 2014, sold her customers not just on great beaches and sunshine, but on the state's luscious pampering options, including her favorite, the Moana Lani Spa at the Westin Moana Surfrider.
"They (tourists) are using their time here as a restorative period. They have fast-track lives and want to detach and rejuvenate."

— Melanie Sullivan, Co-owner, Red Earth Massage and Wellness

"You don't just sell 'Go to Hawaii and go to the beach and go surfing,' " says Tanzman, "you sell, 'You go to Hawaii because they have a culture that embraces visitors.' I explain to them there's this incredible lomi lomi that will balance your body out and is almost a spiritual connection to the people and the land. Honeymoon couples especially love to do spa together."
Hawaii Tourism Authority president and CEO George D. Szigeti points out that, in 2014, "20 percent of visitors from North America who came to honeymoon or get married participated in a spa activity."
In fact, the HTA's annual Visitor Satisfaction Survey, which asks 47 questions about different visitor activities, puts the number of tourist spa visits about on par with golf, agritourism, and helicopter and airplane tours; ahead of jet skiing, parasailing, canoeing and kayaking; and far ahead of hula and ukulele lessons, as well as local concerts, plays and theater.
Soon after checking in at the Westin Moana Surfrider hotel, many guests make their way to the 17,000-square-foot Moana Lani Spa on the second floor overlooking Waikiki Beach. It cost almost $7 million to build and opened in August 2008, according to director Travis Kono.
"In higher-end hotels, a spa is a necessity," says Shannon McAneeley, sales manager for the Moana Lani. "It's like room service. Guests expect it. … When it rains everyone wants to come to the spa."
At the Moana Lani, the ultimate treatment is the five-and-a-half hour "Heavenly Moana," which includes a 50-minute massage, plus the Kona Coffee and Vanilla Ritual Series, which includes an 80-minute body wrap, an 80-minute facial and an 80-minute pedicure, and leaves you "scented with the uniqueness of the Islands." You can book that for $535, which includes all-day use of the spa, including the whirlpool overlooking the beach.
"Women just get lost in there," says McAneeley of the zero-gravity wave relaxation chairs in the lounge, overlooking the real waves just beyond windows thrown open to the sea breeze.
"I've seen women completely asleep and I'll think, 'Ahh, she needed this.' "
It appears many people need massages these days. Massages are among the perks that help put companies onto Hawaii Business' annual Best Places to Work list. Massages are seen more and more as not just a feel-good indulgence, but as healthful therapy. For instance, sports teams find regular massage therapy helps keep their athletes on the field. The UH women's track and field team has had massage therapist Sharon Sakamoto on call to relieve painful muscles for the past 13 years.
"Massage can be really important to maintaining your flexibility, your range of motion and basically keeping things in the best physical shape," says Sakamoto. "You don't have to be injured to get massage and it can help."
Track and cross-country runner Louise Mulvey says Sakamoto's massages have often saved her – relieving painful muscle aches and helping move out the lactic acid that builds up in muscles. And, she says, her performance improves after Sakamoto's massages. "Massage is so helpful … It's a way to prevent injury. It makes all the difference."
Sakamoto says massage can benefit everyone. "If you're on vacation and you just want to rest and relax, I call it part of your recovery," she says. "Everybody needs pampering and time to take care of themselves and feel worthy, and massage does that."
Scientific studies back up the health benefits of massage. Researchers at Emory University in Atlanta recently found sustained and cumulative benefits from repeated massage therapy. Their study showed the effects of massages often lasted several days to a week, with people showing measurable changes in immune and endocrine response.
"Everybody needs pampering and time to take care of themselves and feel worthy, and massage does that."

— Sharon Sakamoto, Massage therapist for the UH women's track and field team

The Mayo Clinic's website suggests numerous additional benefits from massage, including relaxation, stress relief, and anxiety and depression reduction. The clinic says massage promotes recovery from sports injuries and headaches.
But you don't need a scientific study to experience the recuperative power of a massage, facial or whirlpool. Many of the customers at Red Earth Massage & Wellness in Eaton Square in Waikiki are tourists, with some coming in several days in a row, says Melanie Sullivan, co-owner with her husband, Drew.
"They are using their time here as a restorative period," says Melanie. "They have fast-track lives and want to detach and rejuvenate. They'll generally come in maybe three or four days, one after another, and often it's couples. They'll often do a 90-minute to two-hour massage."
At Red Earth, the pleasure options include the two-hour Sojourner's Retreat, which includes foot massage with eucalyptus oil, Swedish deep tissue and Thai massage, muscle-relief massage with arnica oil, and acupressure for facial- and neck-muscle release. All of that for $165. For $10 more, the staff will place hot stones on your lower extremities to warm muscles before they start the deeper tissue work.
Melanie notices the growing popularity of Thai and lomi massage. "Thai has been getting a bigger reputation in the last five years, and it's one of the fastest growing practices. It uses pressure points, with knees, elbows, thumbs, palms and feet used to apply pressure."
Lomi lomi, the traditional Hawaiian massage, employs long flowing strokes up and down the body. "I originally came to lomi through my aunties, who lived next door to us and studied with Ronnie Dudoit and did house visits with him," says Melanie. "In lomi, there's the energy work, the oil work, and certain branches do adjustments and walk on people."
Tanzman, the Los Angeles travel agent, agrees about the power of lomi lomi, and never misses a chance to indulge during her five or six trips a year to Hawaii.
"I don't just walk out of there feeling good," she tells her clients after a lomi lomi massage at her favorite, the Moana Lani spa, "but feeling my body has been rejuvenated."
"In higher-end hotels, a spa is a necessity. It's like room service. Guests expect it."

— SShannon McAneeley, Sales manager, Moana Lani Spa
Drew and Melanie Sullivan opened Red Earth three years ago using all their savings from a five-digit bank account. They initially built their clientele with a risky strategy built on discounts offered through social media such as Living Social and the Honolulu Star-Advertiser's Hot Deals. "We did something that was very unorthodox that should have killed us," he admits. "We had three deals going at the same time. We were paying our therapists more than what we were getting. We shouldn't have survived, but we did because people liked us and they kept coming back."
They now have eight therapists and are open from 9 a.m. to 9 p.m. daily. Drew still occasionally uses social media as a fallback. "If you're having a low time," he says, "you can throw up a deal real fast. When they sell all of those, they send you a check for it right away."
The U.S. dollar's strengthening against the currencies of Japan, Australia, Canada and the European Union makes spa visits more costly to tourists from those countries, so they are cutting back. They still come, but spend less, says McAneeley of the Moana Lani. For instance, instead of 80-minute massage-pedicure treatments, many will settle for 50-minute sessions that include facials and shorter massages.
Many people come to spas for both the pampering and health benefits. Whenever Talitha Chavis-Clore settles onto Susan Snyder's massage table, she closes her eyes and sighs deeply. But she has also been coming for nine years because Snyder's facials have kept her delicate skin healthy, and have done the same for her son and daughter.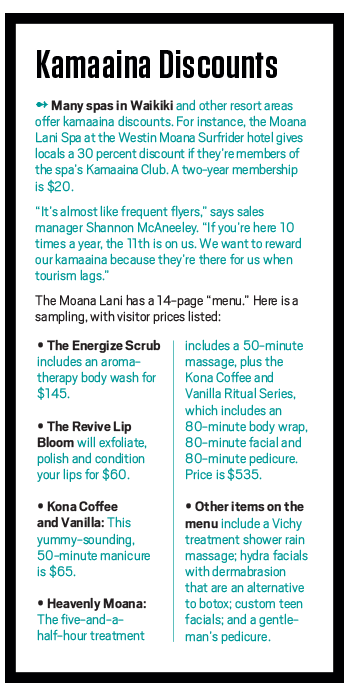 "Our skin breaks out," says Chavis-Clore.
"As an African-American, if an extraction is done incorrectly, I get hyper-pigmentation. But with Susan, there's never been a bad experience and the products she uses are really effective. We no longer have to see a dermatologist."
Age-defying treatments are the most popular with Snyder's clients. "That's what the majority are coming in for," she says. "They want anti-aging treatments and products. With an antioxidant serum and a sunscreen, we can prevent a lot of the aging from sun damage."
One Saturday every month for the last eight years, Linda Perry, the principal of Hoala School in Mililani, comes to Snyder's comfy establishment for a facial plus back-and-arm massage. "It works wonders," she says. "And I get compliments. People can't believe I'm 62. Going to see Susan is just part of what I do."
Perry eliminated her gym costs by purchasing home exercise equipment, but wouldn't dream of stopping her facials and massages. "Now I do my cross-fit at home and that gym money goes right to facials."
Snyder hears that a lot.
"It's part of their lifestyles now," she says of long-time customers. "They tell me they look forward to help reduce stress as well as make their faces beautiful. In the dermatologist's office (where she began her practice), it was a medical results-oriented treatment combined with spa rejuvenation and deep relaxation. In my mind they're getting the best of both worlds."
Her own face is clear, smooth and youthful, which she says is a reflection of her regular facials and the products she recommends.
Her practice is busier than ever because tourists find their way to her door by checking the website for SkinCeuticals, her favorite product line. "They come here stressed out and they're really looking for relaxation and rejuvenation," says Snyder. "They lead such stressed-out lives, more so on the mainland, and a lot are looking for a healing experience when they come to Hawaii."