The Coming China Wave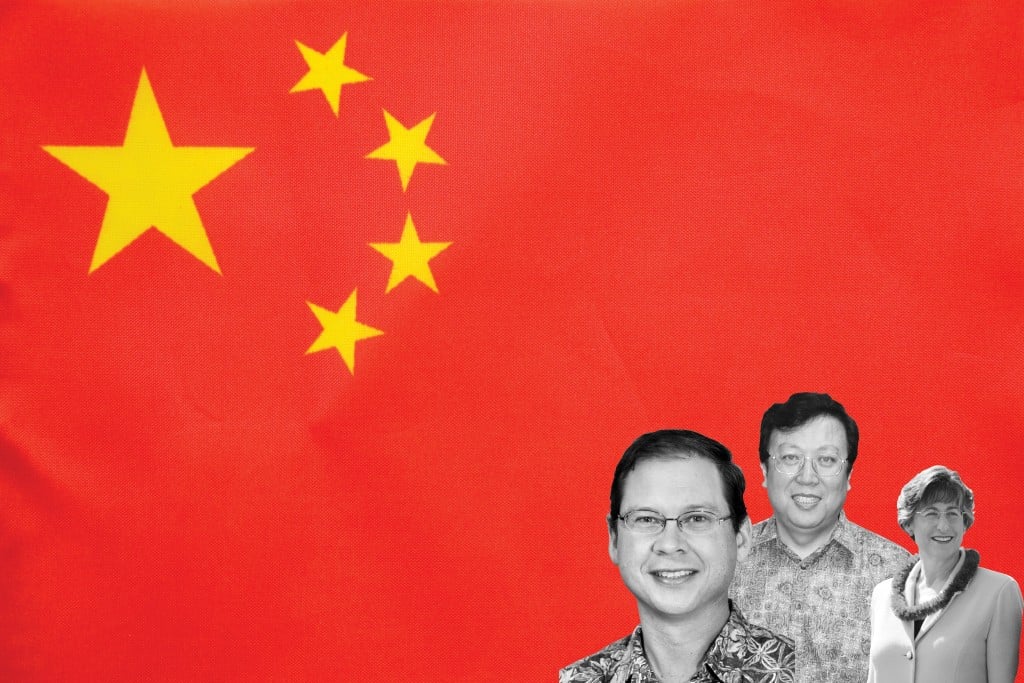 The hotel owner waited patiently to chat with Hawaii Gov. Linda Lingle in the steel-and-glass enclosed lobby of the Kai Wah Plaza International Hotel in Kunming, China.
When they met, Chau Lai Kai thanked Lingle for staying at her property and then surprised the governor by announcing she was very interested in buying Hawaii hotels.
Lingle and her aides recount the story about the June encounter to underscore their belief that China's growing wealth could soon play a big role in Hawaii's economy.
"The potential is tremendous," agrees Jeff Lau, a Honolulu attorney who is president of the Chinese Chamber of Commerce of Hawaii. "It's only starting right now."
Local executives, government leaders and educators all hope China sends more tourists, students, investments and overall business to Hawaii. They have good reason for optimism: China passed Japan in August as the world's second-largest economy and the Beijing government is urging Chinese companies to invest overseas as part of its "zou chu qu" or "go abroad" strategy.
"If Hawaii places itself well, there's quite an opportunity for Chinese money to come in," says Christopher McNally, an East-West Center political economist and a leading expert on China. "Hawaii has very good name recognition in China."
But others say large Chinese investments and tourists will only happen after a concerted effort by government and local business.
"We need a China plan," says K.L. Leu, a former Hawaii attorney now based in Beijing. Leaders of Hawaii's public and private sectors must "come together to say we need to have a plan that makes sense," he says.
Already there's been a smattering of Chinese-Hawaii investments – a Chinese-backed group reportedly bought the Kapolei Golf Course in September and Tianwei New Energy Holdings holds a controlling stake in Hoku Corp. – but nothing to compare to the Japanese investment wave of the late 1980s.
At the state's Department of Business, Economic Development and Tourism, there is no question about pursuing economic ties with China. The agency has sought to strengthen relations through an office in Beijing and multiple trips to China, including four by Lingle herself.
"The question is: 'Can Hawaii afford not to engage and benefit from China?' " says DBEDT Director Ted Liu, who sees China as an economic force that can't be ignored over the next decades.
DBEDT's strategy involves concentrating on what Liu calls "our natural strengths and advantages." Four of those areas are tourism, education and training, energy and export products.
Chinese overseas investment was $52.2 billion in 2008, double 2007's total.
Tourists: A half-million a year?
The Chinese are one of the brightest prospects for Hawaii's tourism industry, with arrivals from China growing faster than arrivals from every major market except South Korea. Visitors from the People's Republic are expected to spend an astounding $322.70 per person per day in Hawaii this year – the most of any tourist group.
The market is in its early stages, with the Hawaii Tourism Authority projecting 63,340 Chinese visitors this year and 85,000 next. "It's similar to where we were in the early days of Japanese travel to the U.S.," says Marsha Wienert, state tourism liaison.
But more dramatic growth depends on making the U.S. visa process for Chinese easier and more predictable, and establishing direct flights from Beijing or another major city in mainland China.
Lingle met with U.S. Ambassador Jon Huntsman Jr. in Beijing in June on the visa issue. Wienert says U.S. officials have made the process and its required interview more predictable for applicants. Meanwhile, Hawaii has worked with Chinese travel agents about educating their clients and helping them fill out the visa applications.
"It's only been a short period of time that they've actually been allowed to travel for leisure," explains Wienert. "That market is just beginning here."
Hawaii is well-known in China, she says. Part of that is historic: Sun Yat-sen, the founder of modern China, spent four years at Iolani School, graduated in 1882, and then spent a semester at Punahou. And many modern Chinese leaders have spent time at University of Hawaii or the East-West Center.
Wienert believes direct air service to Hawaii will happen once Hainan Airlines (approved for three weekly Beijing-Honolulu flights) or other carriers resolve some concerns, including the visa issue, getting tour operators to buy more seats and selling air cargo space on backhaul flights.
"We don't want 10 million Chinese visitors," Liu says, noting he'd settle for just half a million high-spending Chinese.
But first, he acknowledges, Hawaii must be prepared with more Chinese-speaking employees in hotels and other businesses catering to the visitors.
A Shanghai company joined with a U.S. firm last year to buy Interstate Hotels & Resorts, the owner or manager of hotels in 37 states and several foreign countries.
Real Estate: Looking for bargains, not trophies
Real estate executives say there's a correlation between tourism and property purchases. As tourist arrivals grow, purchases of hotels, resort condominiums and second homes follow.
That connection has happened with U.S. West Coast and Japanese visitors, and, to a lesser extent, with the growing number of South Korean tourists.
As more Chinese vacation here, the same phenomenon is expected to occur. So far, it hasn't happened in great numbers, though there are stories circulating around Hawaii, like the one about Chau Lai Kai, the owner of the hotel in Kunming.
Mark Bratton, vice president of investment properties at Colliers Monroe Friedlander, say representatives put in three separate hotel bids for groups out of Beijing and Hong Kong. While the investors – two family groups and one backed by a corporation – weren't successful, Bratton believes there will be more bids.
"I think it's a slow wave," he says. "Over the next five years you can expect it to increase."
That's a typical view. Many people see Chinese investment as being in the early stages, with more significant activity coming in three to seven years as China's economy continues to grow and incomes increase.
Bratton believes the people he represented were ahead of the investment curve and saw hotel ownership here as an extension of their Chinese tourist business. That hotel prices fell during the downturn also was attractive to them.
But the investors, like others coming from China, are hard-nose bidders. Residential Realtors say the same of Chinese buyers with whom they've dealt: The Chinese look for a good return on investments.
That's led to some talk that Chinese might prefer markets such as Las Vegas, where prices are lower and they can get more for their money. Or that the money will stay home where there's potential for double-digit returns in fast-growing real estate markets.
"It's a different client," says Dan Tabori, executive vice president of Prudential Locations.
Tabori says there are Chinese clients in the market, but not in great numbers. During the first half of 2010, he 
says, the Chinese represented only 
about 1 percent of luxury home transactions – a market that's indicative of overall offshore buying. That's opposed to more than 10 percent coming from Japan.
"It's a developing story," Tabori adds.
More transactions could soon occur. Brenda Foster, former director of the state's Office of International Relations and now president of the American Chamber of Commerce in Shanghai, says she knows of Realtors specializing in high-end Hawaii properties who are marketing in China.
In the commercial market, Bratton expects the Chinese to go after tourism-related real estate first and then move to other types of properties. But don't expect them to seek trophy properties like the Japanese did, he says.
"The Chinese are very, very tough bargainers," agrees the East-West Center's McNally. "They want to get a bottom price."
Education: Sending youth and kids here
McNally recently accepted a post directing the China-U.S. Relations Master of Arts program at the University of Hawaii-Hilo. He says the program is the only one of its type in the world and stands to do well.
"I feel there are huge possibilities," says McNally. That applies in general to the education of Chinese in Hawaii, which benefits from the cachet a U.S. diploma carries in China and how comfortable Chinese feel in Hawaii because of its cultural diversity and low crime rate.
Hao Ping, vice minister of education in China, has a master's degree in history from the University of Hawaii-Manoa and was a visiting scholar at the East-West Center.
A state study last year found the People's Republic was one of the top five countries sending students to Hawaii. It found international students and dependents overall spent $160 million here during the 2008-2009 academic year.
China has many students going to schools in Japan and elsewhere in Asia, but the destination of choice is the U.S., according to Ned Schultz, who heads UH-Manoa's international program. He says that presents an opportunity for Hawaii as more Chinese parents earn enough to afford UH.
"I'm very, very optimistic that we'll see more and more Chinese students coming in," Schultz says, noting UH is considering a joint degree with a university in Guangzhou, China's third-largest city.
DBEDT's Liu sees the opportunity extending to all types of education – academies that teach English, two-week training courses, business courses on U.S. business etiquette and even K-12 schools.
"This is low impact and it brings in money," says Liu. "It's a service industry and we don't have to build it."
Educators also see Chinese mothers moving to Hawaii to stay with their children while they go to high school here. Joel Weaver, director of the Hawaii English Language Program at UH-Manoa, says several private schools in the state are benefiting from the Chinese students. Punahou, for example, launched the Student Global Leadership Institute this past summer with four schools from China and three Mainland schools. It hosted 28 students for a two-week study program.
The world's fastest growing major economy has a population of 1.3 billion and an estimated 875,000 millionaires.
Energy and other investments: Big potential
Planners suggest the desire for education could be married with a federal program that attracts job-producing investments while allowing Chinese entrepreneurs to send their families here for education.
The EB-5 immigrant investor program grants green cards to foreign investors and their families who invest $1 million or more in activities that generate 10 or more jobs ($500,000 in rural or high-unemployment areas).
Hawaii has a bright future with the program, says Tom Rosenfeld, president of New York-based CanAm Enterprises, which specializes in EB-5 programs.
CanAm runs the Hawaii EB-5 regional center program for DBEDT and has two projects pending that require more than $20 million in investments. Rosenfeld believes the projects will be oversubscribed and that many of the investors willing to plunk down $500,000 will come from China.
"I think we could raise more than $100 million a year in Hawaii easily," says Rosenfeld. He says Hawaii stands to benefit beyond the EB-5 investments as the same investors look for other ventures.
"There's a lot of benefit," he says. "These are impressive people. These are the creme de la creme."
Energy is likely to be among the top Chinese investments in Hawaii. One indication was that Luo Baoming – governor of Hainan Province, an island that's often called the Hawaii of China – attended the Asia Pacific Clean Energy Summit in Honolulu in August.
China is the world's largest energy consumer and it's looking to renewable energy to help reduce both its dependence on fossil fuels and its air-pollution problem. That's where Hawaii's work on alternative energy comes in.
"Hawaii as a test bed for certain energy technology is of enormous value to the world," says Liu.
Hoku's controlling owner, Tianwei New Energy, is part of China South Industries Corp., one of China's giant, state-owned enterprises. Scott Paul, CEO of Hoku, says his parent company is interested in doing more in the state and he sees other Chinese possibly investing in projects such as solar farms.
Hawaii also could find itself exporting more products to China. For instance, Big Island anthurium growers held export talks during Lingle's June trip to China. Liu thinks affluent Chinese will be willing to pay a premium for Hawaii brands, such as distilled, deep-ocean water and local papayas.
Michael Zhang has the same idea. The owner of Blue Hawaii Lifestyle plans to open 50 stores in China featuring Hawaii food, beauty and health products. "I think he's on to something," says Liu.
Beijing-based attorney Leu says Hawaii's people need to develop personal ties with the Chinese since relationships are crucial to doing business there. The Chinese Chamber of Commerce of Hawaii is busy trying to foster such relationships, with programs such as its annual exchange of retired U.S. and Chinese generals and admirals.
But the Chamber's Lau says more needs to be done. "We have to be very careful not to blow this opportunity. Hawaii can't sit by and live in blue tents on the beach."