The First Marathon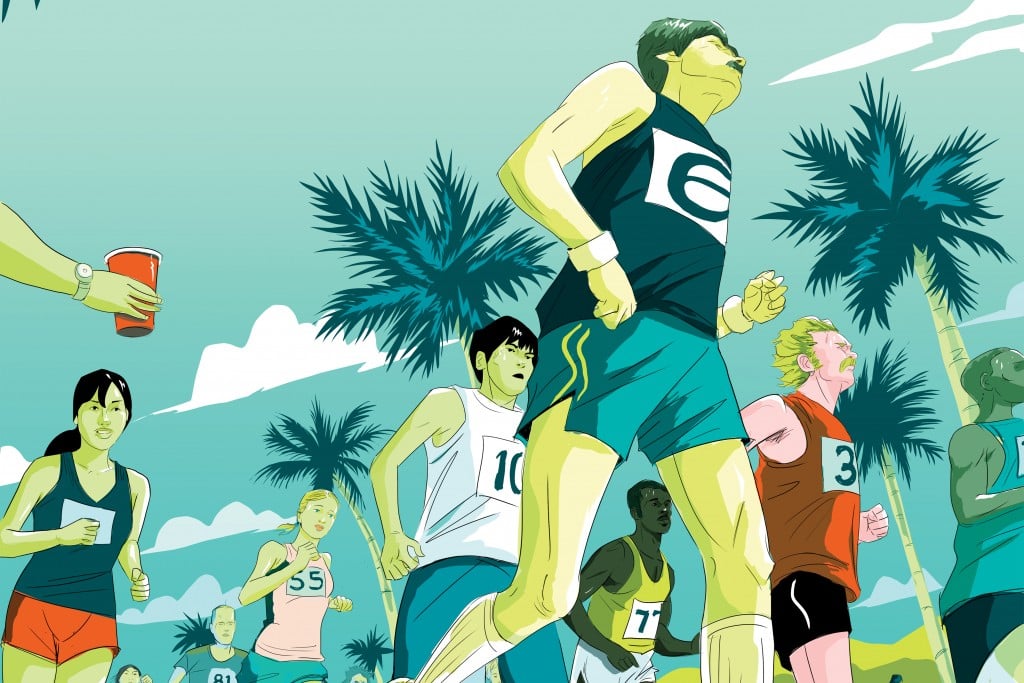 RACE PREPARATIONS
Once the executive planning committee was formed, the organizers had roughly three months to plan the first race, held in December 1973. Because of its extensive road-race management expertise, the Mid-Pacific Road Runners Club took the lead in handling logistics. The most critical task fell to Col. Tom Ferguson, who designed and measured the original marathon course. He headed a calibration team that included Capt. Charles Hyder, Maj. Fred Barmore, Capt. Peter Johnson and Lt. Edward Teague.
To ensure the course would qualify for the Amateur Athletic Union (AAU) certification, they first conducted a test at a 1-mile course at Hickam Air Force Base, carefully calibrating the steel tapes, surveyor's wheels and thermometers needed to measure temperature fluctuations that could potentially affect measurement. These would all be used to measure the actual 26.2-mile course. The course was laid out twice using different tapes, then measured a dozen times, with two different surveyor's wheels, to arrive at an average measurement.
As Ferguson told the Honolulu Star-Bulletin before the race,
"We wanted as accurate a course as possible so time means something and a man can measure his progress. This is a runner's greatest reward."
Once sure that the instruments were calibrated, Ferguson, Hyder and high school volunteers Vernon Matsukawa and Ron Au spent every Saturday for three months painstakingly measuring the actual marathon course.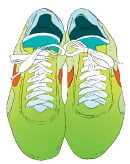 The relatively few marathons held in the United States in 1973 fell into two very general categories. Those like the Oahu Marathon operated as small, no frills community races for elite local runners. Those like the New York Marathon, established just the year before, modeled themselves after the standard-bearing Boston Marathon, and sought broader participation. Unsure what to expect in numbers, Dr. Jack Scaff and the Mid-Pac runners club decided not to mimic any other race, but to design their own from the ground up, with maximum safety and enjoyment as their guiding principles.
The biggest divergence from the norm was their plan for aid stations. In previous Hawaii marathons, runners got their snacks and water from people who offered them, or from caches they had set up on the course beforehand. At Boston and the other large marathons, aid stations were few and far between, placed only where the logistics seemed practical. For example, the initial aid station for Boston was at the 6-mile mark for no reason other than proximity to shade and a water source. Aware of Honolulu's high heat and humidity even in December, and with the memory of his own sweltering first Boston marathon still fresh,
"Scaff arranged for aid stations every two to three miles to encourage proper hydration for both elite and recreational runners. Nearly every marathon has since adopted this standard."
The organizers found that one issue couldn't be addressed to their satisfaction: oversight by the Hawaii branch of the AAU, which was required for official certification of the course and for validation of the finishing times for elite runners seeking to qualify for the Boston Marathon. "Back in those days, you had to become a member of the AAU," Scaff recalled, "which was $2, and we charged a $2 entry fee. I thought it was criminal (that) you had to pay 100 percent more for an agency that wasn't doing anything."
Aside from his official organizing duties, Scaff spent that fall and winter overseeing the training of two would-be marathoners who were perfect candidates to prove his theories on the rehabilitative effects of controlled long-distance running. Val Nolasco, a piano player at the old Tahitian Lanai, had suffered a heart attack two years earlier. He sought out Scaff after seeing him on a televised panel discussion of effective treatments of heart disease. Initially Scaff put him on a regimen of slow 2-mile runs three times a week. After returning from Boston, Scaff told Nolasco that he would provide him with free medical care if Nolasco would consent to follow a supervised training program for a marathon. As Scaff explained to author Mark Osmun:
"I chose [Nolasco] basically because he was so frightened. He couldn't understand why [the heart attack] had happened to him, and since he couldn't, there was no reason to expect it wouldn't happen again. So he just figured he was going to die. But another reason I wanted him was that he wasn't really limited from a cardiovascular standpoint.
His heart wasn't that strong – because of his poor exercise – but it could sustain a good amount of stress. And his heart attack had not been that big."
Scaff made the same deal with Ray Thiele, an airline pilot who had suffered a heart attack in 1972. Thiele had lost his pilot's license because the Federal Aviation Administration ruled he was unfit to fly. Scaff and Thiele got the FAA to agree to reinstate Thiele if he could prove his full rehabilitation by completing a marathon.
Adopting the long slow distance (LSD) approach to training developed by German physician Ernst van Aaken and popularized by runner and author Joe Henderson, Scaff coached the two men through progressively longer runs at a slow-to-medium pace that would build cardiovascular fitness and muscular endurance without exposing them to oxygen debt. Local media coverage of their entry in the marathon's "cardiovascular division" gave Scaff an opportunity to share the first drafts of his gospel of long distance running with a mass audience, and to promote the race not just as a sporting event, but a revolutionary first glimpse into the future of exercise as a key component of good health.
"The cardiovascular division of the marathon is different from the rest," Scaff told the Honolulu Advertiser: "The men entered in it are interested only in finishing the race, and they will get no trophies – just the satisfaction that they have accomplished more than many of their peers who have not had heart attacks can do."
Though eager to prove that distance running could help cardiac patients achieve a full recovery, Scaff was also very aware of the potentially fatal consequences should he be mistaken. As medical director for the race, Scaff arranged to have health professionals at all 14 aid stations; nurses on bicycles escorting Nolasco and Thiele; ambulances on call; and two-way radio communication, courtesy of Civil Defense Command, linking the aid stations and the race day headquarters at Kapiolani Park.
While the Honolulu Parks and Recreation Department was only lightly involved in the operational planning, it provided funding and whatever ancillary support was needed. Tommy Kono drew on his network of personal and professional contacts to gather supplies and giveaways. He arranged for a donation of 200 blank T-shirts from local sporting goods store Honsport; then the executive board members, volunteers and Kono hand-stenciled them, producing the first race finisher shirts. Parks and Recreation was most obvious on race day, when hundreds of City and County workers set up and took down course markers, staff registration tables and aid stations, and the start and finish areas. As Kono explained, the department's greatest value lay in the number of ready personnel it could provide: "Parks and Recreation people can take orders and give orders. They're very good at that kind of stuff because they deal with the public."
Government and community support was therefore far more significant that it had been for any previous road race. Interscholastic League of Honolulu officials volunteered to work the finish line alongside Parks and Recreation staffer Wally Nobriga, and dozens of police officers organized by Mid-Pac runners club member and Honolulu Police Department official David Benson were ready to line the course. Seiko loaned the official timing clock, and Bob Meyer of the Nuuanu YMCA secured the winners' trophies. By December, everything seemed to be in place. But no one really knew whether race day would prove to be the beginning of a grand tradition or a grim reckoning for outsized ambitions.
A RECORD-BREAKING DEBUT
Though both daily Honolulu newspapers reported the figure at 167, official Honolulu Marathon records state that 162 people entered the first Rim of the Pacific Run. What is certain is that 151 people safely crossed the finish line – the largest field by far for a local marathon and, despite the distance, one of the larger road races of any distance ever staged in Hawaii. It started in front of Aloha Tower at 6:30 a.m, and was a young man's race, with Fresno Pacific College student Donald Gregory aggressively staking an early lead, followed by the more conservative trio of UH's Royden Koito (winner of the Oahu Marathon earlier that year), Army soldier Winfield Stanforth and medical school student Duncan Macdonald. Gregory fell back after the first 6 miles, and Koito led Stanforth and Macdonald into Hawaii Kai for the second half of the race. Fueled by an unconventional breakfast of Kix cereal and poi, Macdonald overtook Koito heading back along Kalanianaole Highway and built a lead over the final eight miles. Macdonald, an elite middle-distance runner at Stanford University before returning home to Hawaii for medical school, set a Hawaii marathon record with a finishing time of 2:27:34.8, besting Harold Cole's 10-year-old standard of 2:27:47. Stanforth (2:34:26) placed second, followed by U.S. Navy sailor Gordon Haller (2:35:24), Koito (2:35:48), and Mid-Pacific Institute track coach Johnny Faerber (2:39:21). Also setting records that day were two precocious kids: Kristine Hilbe, 8, and Daven Chun, 9. The daughter of UH track and field coach Joe Hilbe, Kristine completed the race in 4:32:09, smashing the record for girls her age (admittedly a small pool) by more than an hour. Chun, the youngest of the so-called "Hunky Bunch," a family of eight that became famous locally for their collective running exploits in the 1970s, broke the record for 9-year-old boys with a 3:19:01 finish, bettering the old mark by nine minutes.
In a testimony to the prevailing spirit of amateurism, Macdonald went home with nothing but the overall winner's trophy and a beer that someone handed him as he waited to take a urine test for a medical experiment he had agreed to participate in. As Honolulu Advertiser reporter Ben Kalb wryly noted, the only participants who earned any money were Myles Saulibio, a UH student who used the race to raise $300 in charitable pledges, and Hilo College student Johnny Notch, who found a dollar on the road in Hawaii Kai.
The last person to cross the finish line that day was perhaps the most elated, Val Nolasco. As he later told the Honolulu Advertiser, his game plan that morning was a bit less ambitious than the one set by Scaff: "I had a lot of doubt about finishing because I did not actually do 26 miles before. They say that when you run a marathon 60 percent of it is mental. So I said to myself if I made it to Hawaii Kai, I'd be happy. But when I got there it turned out I turned around and finished." Nolasco spent much of the morning trailing Thiele, but in the last mile Thiele could no longer endure the painful blisters on his feet, and he dropped out. Though both men would complete the Boston Marathon four months later, it was Nolasco who would earn the distinction that day of being the first American to complete a marathon after suffering a heart attack. And it was Nolasco who for the time being would serve as the sole vindicating proof for Scaff's controversial program.
For Scaff, that was plenty.
---
READ THE FULL STORY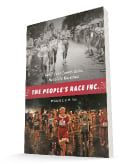 "The People's Race Inc.: Behind the Scenes at the Honolulu Marathon," by Michael S.K.N. Tsai, published by University of Hawaii Press (2016)
Learn more about the book or order it at: tinyurl.com/PeoplesRace