The Hawaii Business Sharpest Dressed Executives and Professionals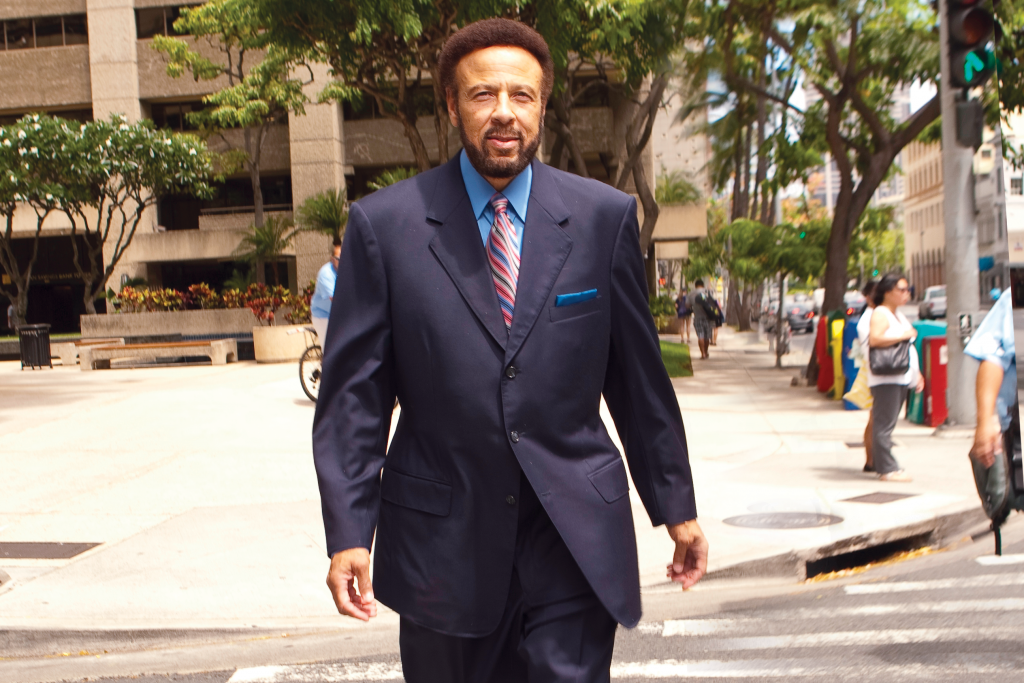 When we went looking for Hawaii Business magazine's Best Dressed Executives and Professionals, we got more than a hundred nominations. It was a huge challenge – and a lot of fun – narrowing down that group of stylish people to the 12 winners you'll see on the following pages. Each has a unique approach to looking his or her best on the job. Congratulations to the winners and thank you to everyone who entered.
BEST-DRESSED MAN
Artie Wilson
Owner, Artie Wilson & Associates
Personal Style: Classic and fun.
Elements: He prefers Armani suits and custom suits from local tailor Andy Mohanbut also appreciates a unique aloha shirt. He finishes his look with a nice watch, shoes, the right tie and a pocket square for a suit coat. "A clean, polished car completes it all," he says.
Photographed in suit and shirt by Andy Mohan; shoes by Mezlan; tie by Diamante.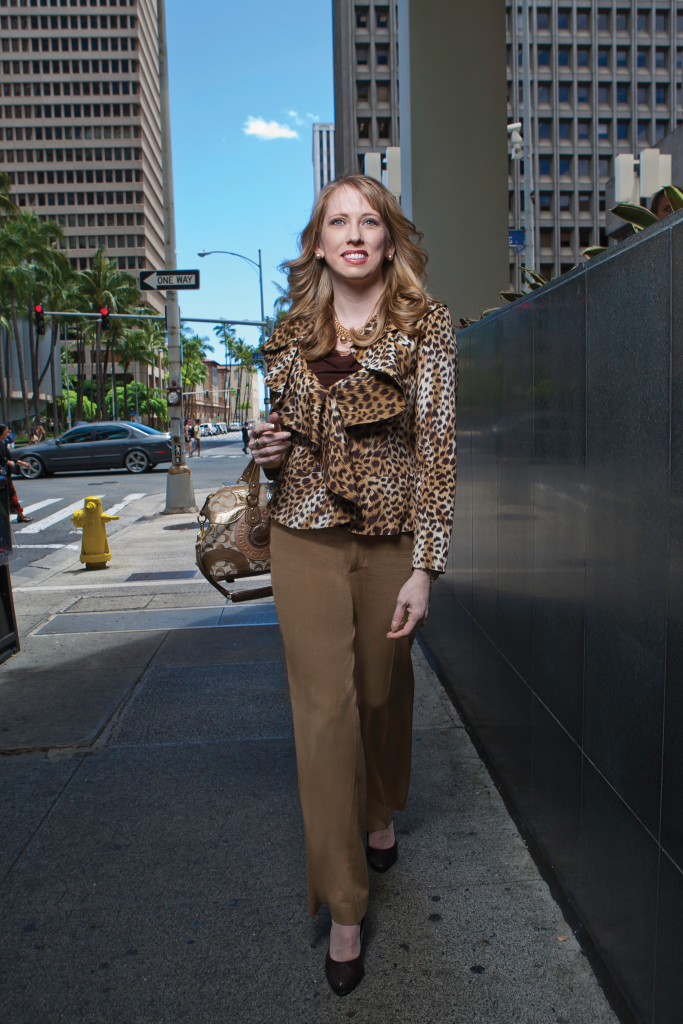 BEST-DRESSED WOMAN
Shelley Wilson
Owner, Wilson Homecare
Personal style: Contemporary, colorful and polished.
Elements: "Your clothes should be comfortable and not require any fussing," Wilson says. "I feel like I'm putting on my professional uniform when I get ready in the morning." Wilson prefers to sit while shopping: 99 percent of her purchases are done online at sites such as BlueFly.com,SmartBargains.com, AnnTaylor.com andEbay.
Photographed in pants by Ann Taylor; top from Neiman Marcus Exclusive; shoes by Alfani; purse by Coach.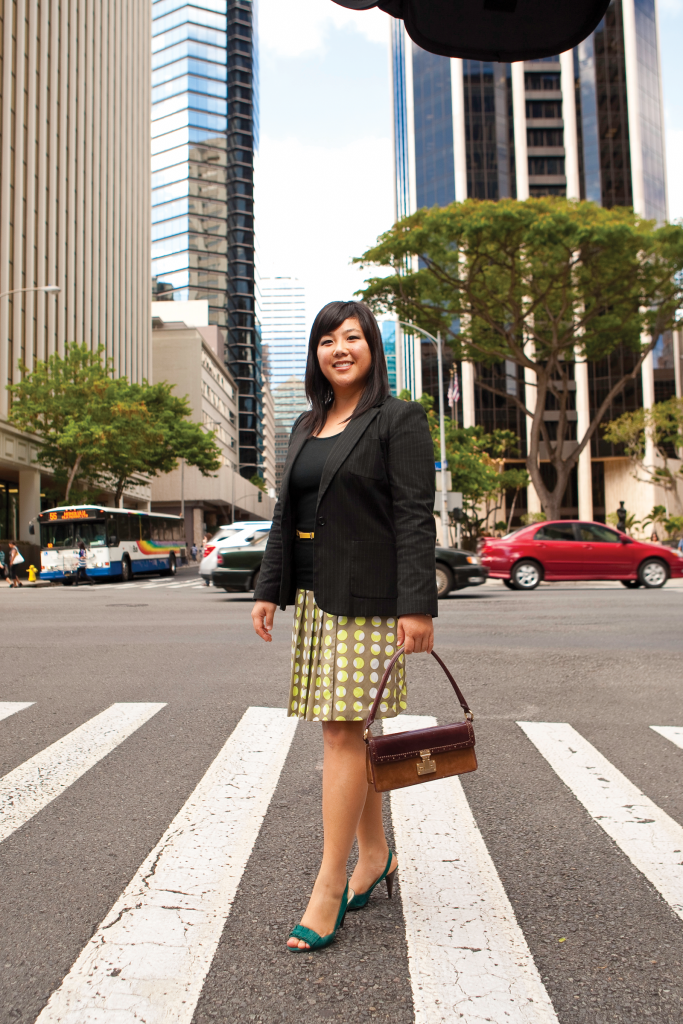 BUSINESS LOOK: YOUNG EXECUTIVE
Esther Sada
Associate at Bright Light Marketing
Personal style: Creative, occasion-appropriate and unusual.
Elements: "She expresses her artistic background in her wardrobe, while always being appropriately dressed for the workplace," say her co-workers. That might mean a bright orange belt and handbag matched to an otherwise normal outfit, or adding a peek-a-boo peacock feather clip to her hair.
Photographed in top and jacket by Club Monaco; handbag from Ann Taylor; belt from Target; shoes by Unisa; watch by Diesel.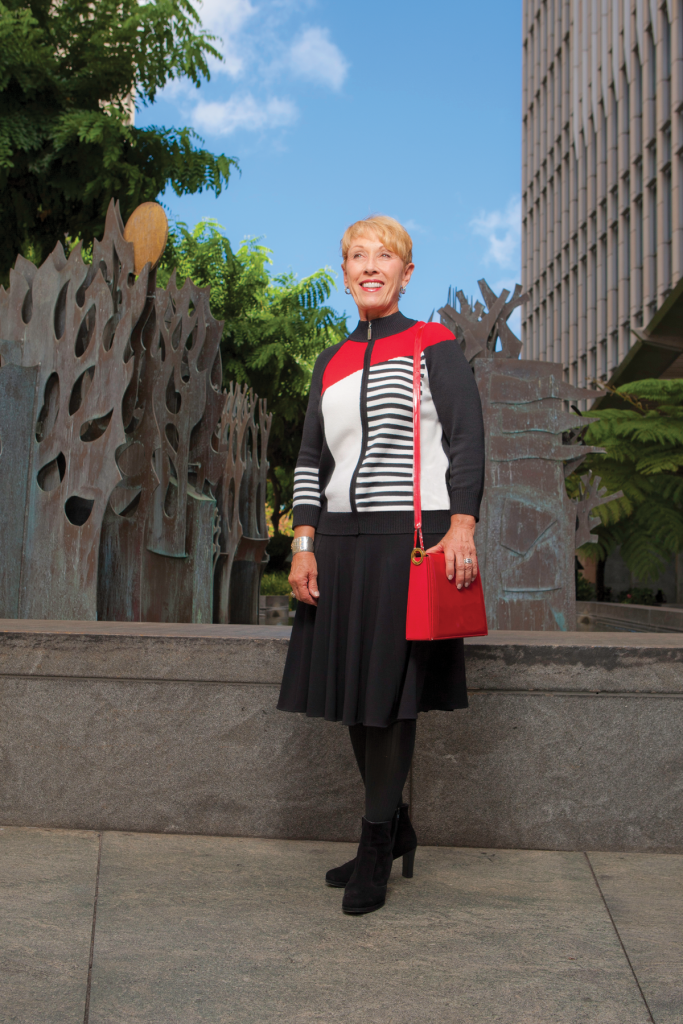 BUSINESS LOOK: PERSONAL FLAIR
Ruth Limtiaco
Ruth Limtiaco, CEO of The Limtiaco Company
Personal Style: Every outfit must include some element of surprise.
Elements: Limtiaco won't be wearing the expected hose and pumps to work. "I would make a simple skirt and sweater more interesting by adding black tights and boots instead."
Photographed in jacket by St. John; booties by Paul Green; bracelet/cuff, ring and earrings from Tiffany; purse by Stuart Weitzman.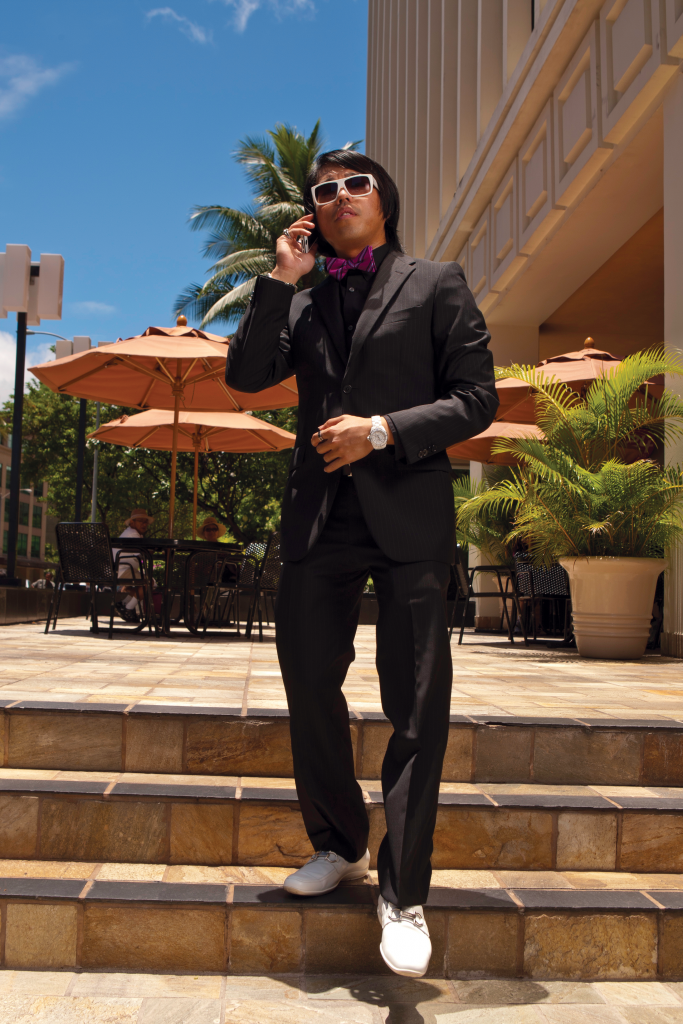 BUSINESS LOOK: YOUNG & HIP
Randall Sebastian
Advisor of workforce solutions at University of Phoenix, Hawaii Campus
Personal style: Geek chic, retro style.
Elements: His nominator says she has never seen him in the same outfit combination twice. Sebastian says he does that by buying different color long sleeves, plus fun ties and bow ties, and creating a different combination each day.
Photographed in suit by Joseph Abboud (from Nordstrom Rack); bow tie from Macy's; sunglasses by Marc Jacobs; shoes by Ferragamo.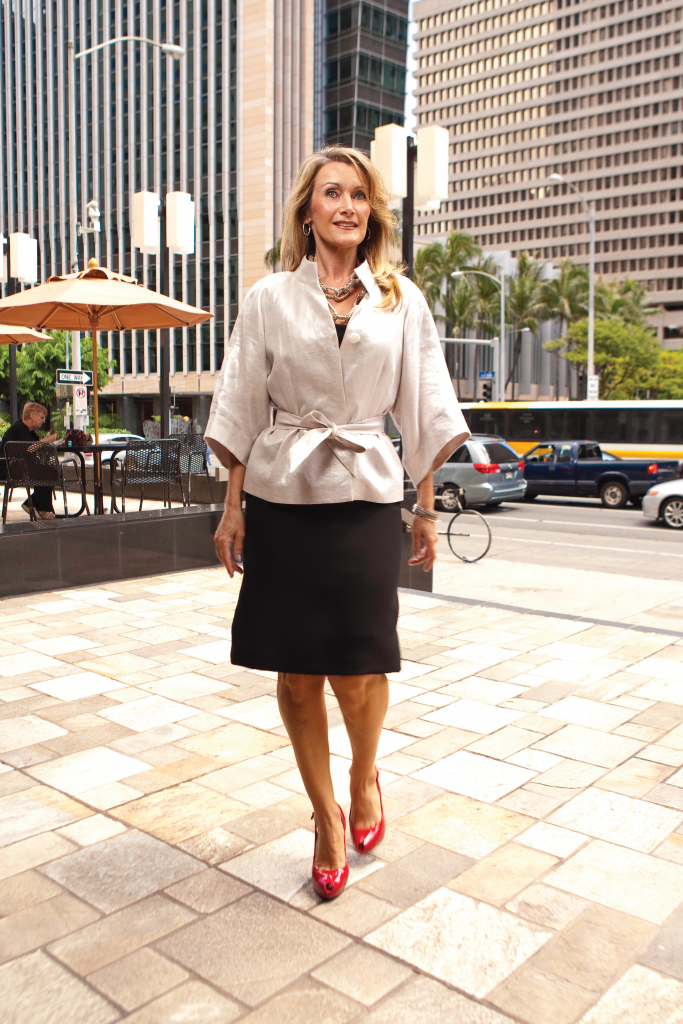 BUSINESS LOOK: POLISHED & DYNAMIC
Krisztina Kollo
Realtor for Prudential Advantage Realty
Personal Style: Chic, sophisticated and dynamic.
Elements: Style runs in the family – Kollo's sisters are both clothing designers. "They are my favorite designers; they don't charge me," she says. When it comes to accessories, Kollo swears by earrings. "An outfit is incomplete without them."
Photographed in dress and belt by Tahari; shoes by BCBG; necklace from Ann Taylor; bracelet from Venice, Italy; jacket from Ross Dress for Less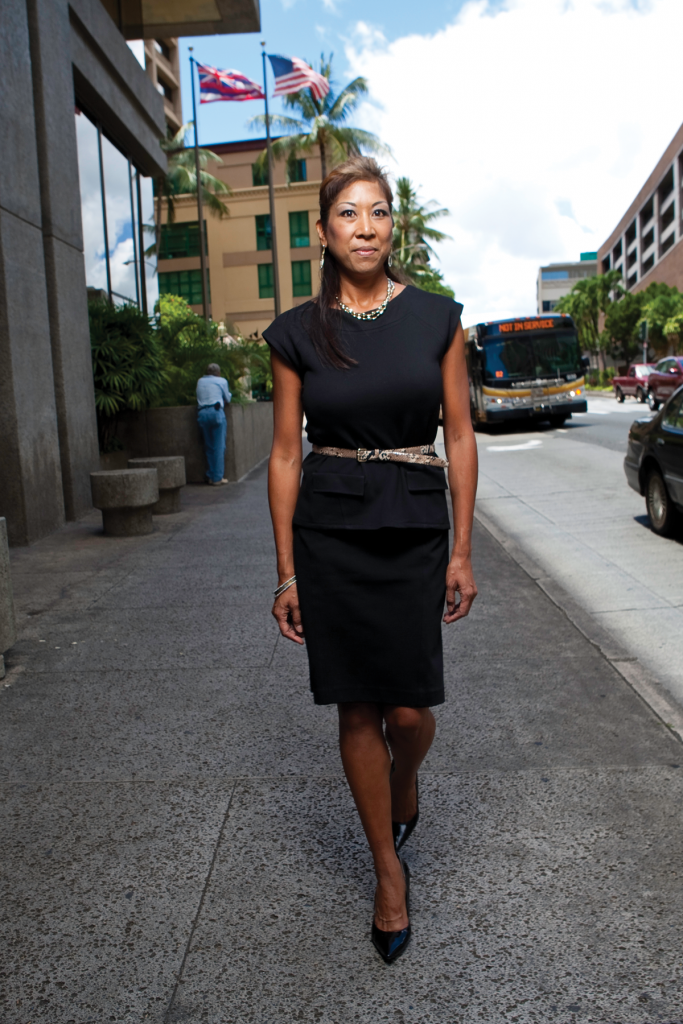 BUSINESS LOOK: CLASSIC & SOPHISTICATED
Donna Gutierrez
Special events director at University of Hawaii Foundation
Personal style: Sensible, classy and sophisticated.
Elements: "I shop at stores with the best deals," she says. "As a single mom, I have to be careful about the money I spend."
Advice to young professionals: Look for simple and stylish lines, then add personal flair with accessories and shoes. "Shoes complete the outfit and can make or break the image you are trying to project."
Photographed in two-piece suit and belt from Ann Taylor; shoes by Marc Fisher; accessories "from Donna's collection."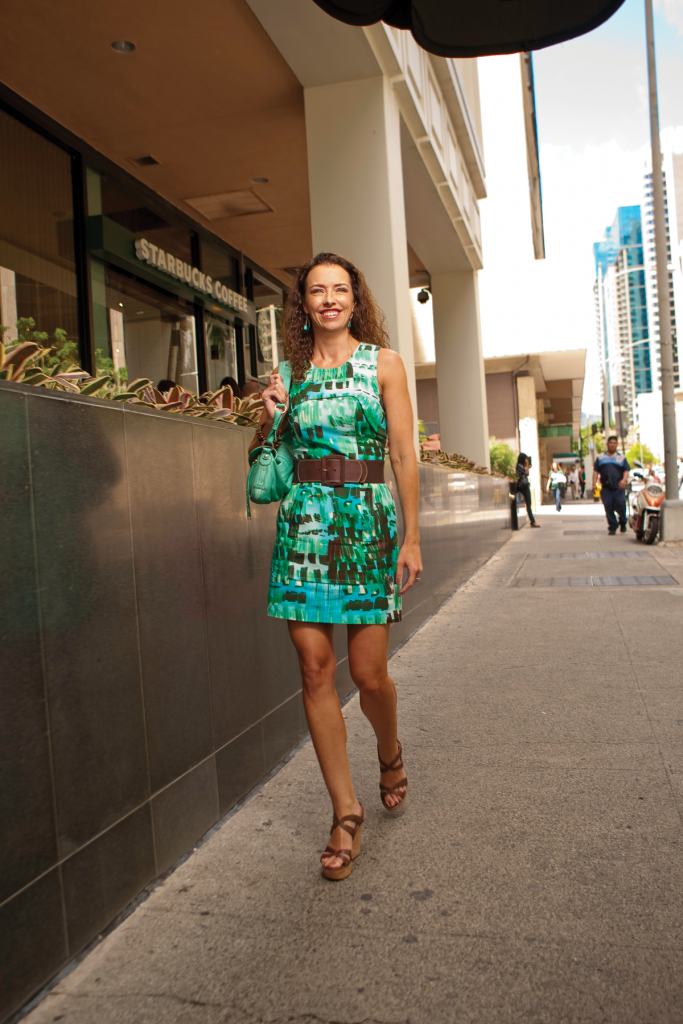 BUSINESS LOOK: FUN & FRESH
Dana Roberts
Owner of Malie Organics
Personal Style: Classy, professional and timeless.
Elements: As a spa and beauty expert, Roberts has to look polished and friendly. "It's not about fads, but what trends work for you," she says. Roberts is also an avid believer in buying from local designers in boutiques.
Photographed in dress by Milly; handbag by Hayden-Harnett; shoes by Cole Haan; earrings by Val Lo, from Barefoot Dreams (Waikiki).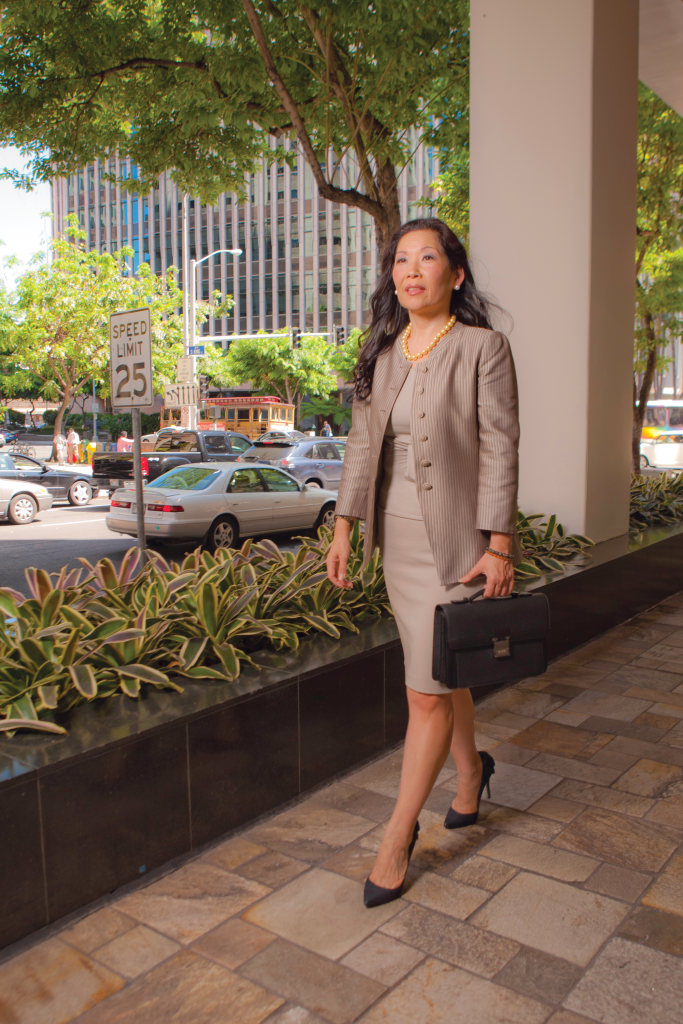 BUSINESS LOOK: OAK-LINED BOARDROOM
Lorraine Akiba
Attorney with McCorriston Miller Mukai MacKinnon
Personal style: Triple-Cs: Chic, classy and confident.
Elements: Her favorite designers are Armani, Escada and Akris, but, "No matter how much I like something, I will not buy it unless it's discounted," she says.
Advice to young professionals: Know what looks best for your physique and wear what communicates the image you want to project to clients and colleagues.
Photographed in skirt and jacket by Armani; mabe pearl necklace and earrings; handbag by Missoni; shoes from Nordstrom.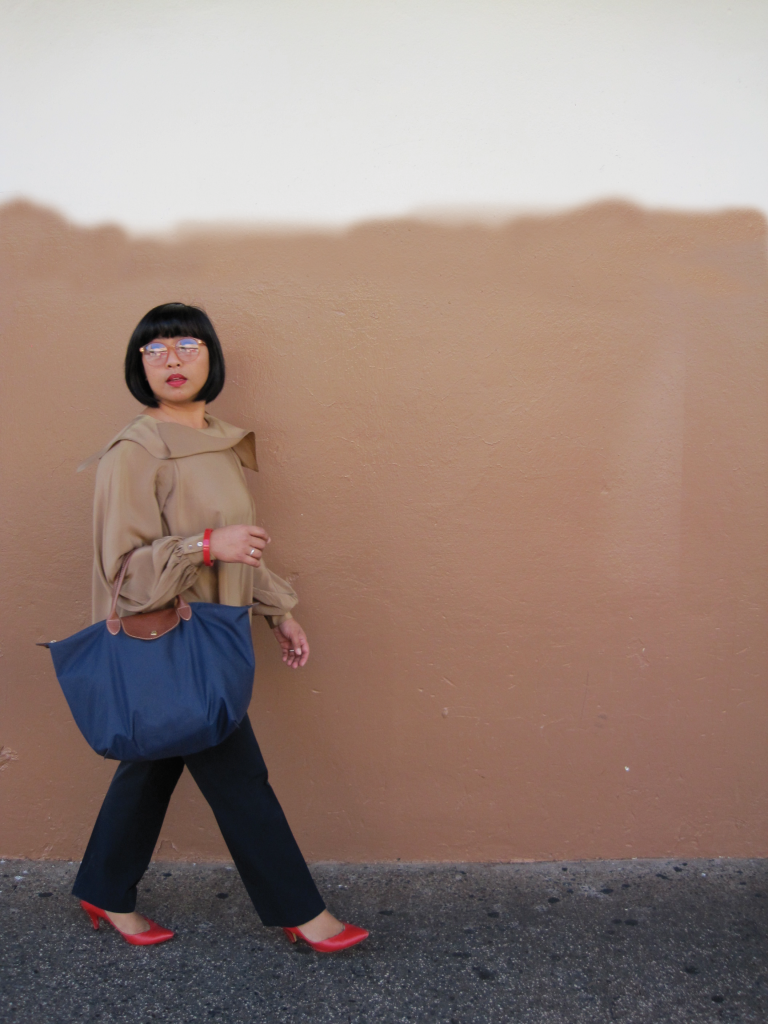 BUSINESS LOOK: ADVENTUROUS
Tricia Lagaso Goldberg
Curator, art consultant and project manager at the Hawaii State Art Museum
Personal style: Polished, easy and versatile.
Elements: She invests in quality staples, such as black trousers, blazers, suits and heels. "I'm big on thrift store finds," she says. "I like the challenge of the hunt for vintage or one-of-a-kind pieces."
Advice to young professionals: "Would the ladies of 'Sex and the City' wear this to work? If yes, it's probably inappropriate."
Photographed in top from Thrift Town (San Francisco); trousers by Prada; shoes from Thrift Town; handbag by Longchamp.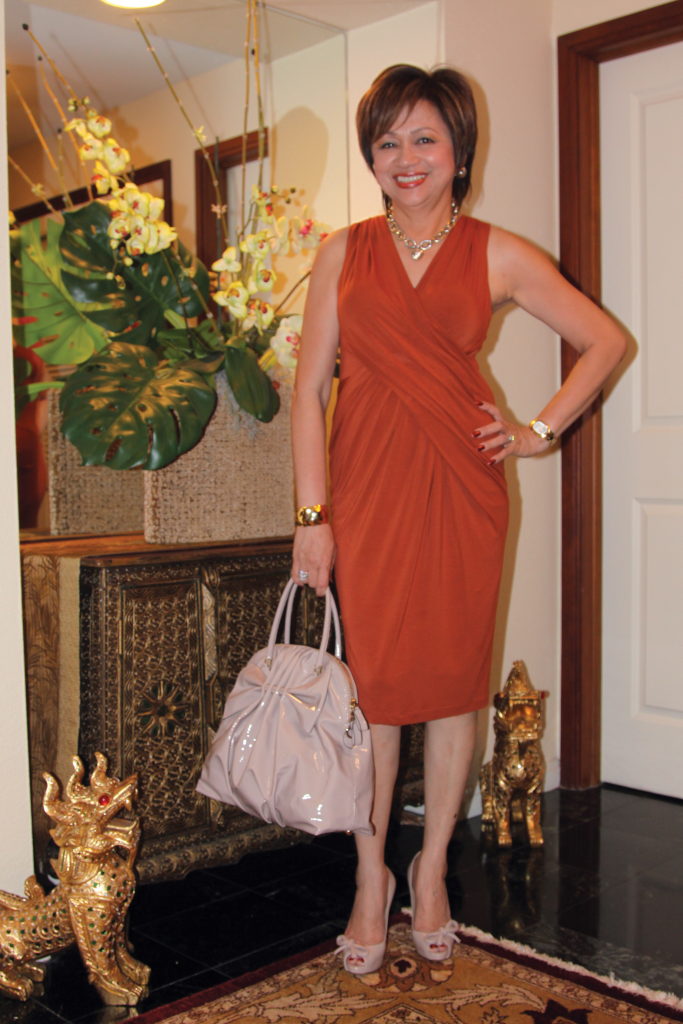 BUSINESS LOOK: BOLD & CONFIDENT
Marivic Dar
Financial planner at Prudential
Personal style: Classic, effortless and chic, but "never pay full price."
Elements: She likes to go with bold, colorful outfits, with a close eye on accessories. "When I think of fashion, I think of a belt, a bag or statement pieces like a ring, a broach or a scarf which ties things together beautifully," she says.
Photographed in dress by Donna Karan; handbag and shoes by Valentino.