They've Earned Their Stars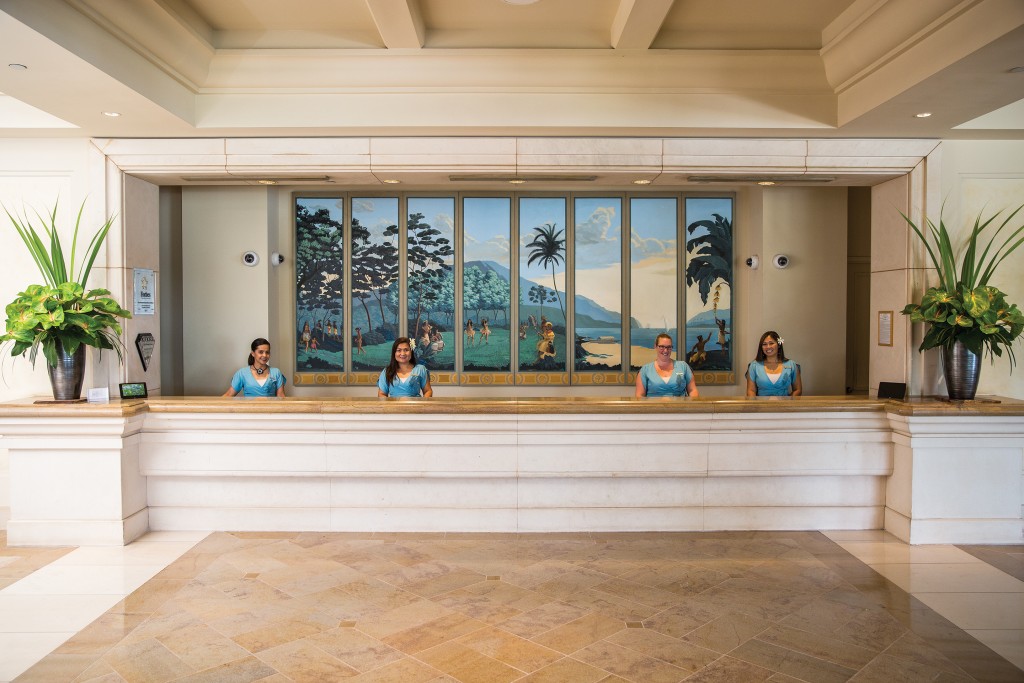 THE OLD ADAGE still matters in Hawaii's top hotels: Every little thing counts.

That commitment to seemingly small things – greeting you by name when you check in, smiling at you with every interaction – has kept two hotels as the most honored in the Islands: the Four Seasons Resorts at Hualalai on Hawaii Island and at Wailea on Maui.
Both Four Seasons hotels were named to Travel + Leisure's list of the world's top hotels – Hualalai ranked 22nd and Wailea 47th – and have earned many honors year after year from Forbes Travel Guide, AAA and other prestigious lists. In fact, the Wailea resort has earned a five-star rating from Forbes 11 years in a row and AAA's five-diamond designation every year since 1991.
And just five years after opening, the Trump International Hotel Waikiki Beach Walk on Oahu joined those two hotels as the only Hawaii hotels with five-star ratings from the prestigious Forbes Travel Guide. Only 115 hotels in the world earned five stars this year from Forbes.
Robert Whitfield, general manager of the Hualalai resort, which sprawls across 32 oceanfront acres just north of Kailua-Kona, says its success starts with the Four Seasons chain – which operates both top Hawaii resorts and 93 other properties worldwide.
"It's not just how beautiful your bathroom is or how nice your wall coverings are. It's really about delivering world-class service. That's (Forbes') measurement."

— Scott Ingwers, manager director of the
Trump International Hotel Waikiki Beach Walk

"Even from before they make a reservation, from our website design and how enticing it is and how easy it is to use, the minute they make a reservation to the moment they arrive, our focus is on our customers and their experience," Whitfield says. "You could be coming with your family or celebrating your honeymoon, we try to make every single guest feel unique and special."
Little things make a big difference, he says. For example, the hotel will help you book a two-hour helicopter tour over Kilauea volcano and lush valleys along the Kohala Coast. When the helicopter lands, the pilot will snap a photo of you. That photo will be in a frame and waiting for you in your room when you return, with a note that says, "Hope you had a great day!"
The staff has surprised families with birthday cakes at the hotel restaurant for birthdays and stocked guest rooms with champagne for couples celebrating anniversaries. "It's an unexpected surprise, a little moment that's really touching to all of us," Whitfield says. "Who wouldn't like that?"
Forbes Travel Guide, the originator of the five-star rating, has created benchmarks for hospitality excellence since 1958. It dispatches dozens of professional inspectors to review hotels, restaurants and spas around the world, providing feedback about everything from cleanliness to customer service. Forbes' standards are made available to hotels, so they know how to achieve the highest ranking possible.
The standards can range, too, from the seemingly mundane – like offering to escort guests to their rooms – to the highly detailed – like not using portion packets for in-room dining except artificial sweeteners.
"There are hundreds and hundreds of standards, and most of them are largely based on service delivery and the customer experience," says Scott Ingwers, managing director of the Trump Waikiki. "It's not just how beautiful your bathroom is or how nice your wall coverings are. It's really about delivering world-class service. That's (Forbes') measurement."
By comparison, TripAdvisor's Travelers' Choice award winners are determined based on millions of reviews collected in a single year by the popular website. The winners have earned high marks from guests in service, quality and value. TripAdvisor's users ranked Hualalai as the 20th best hotel in the world this year.
While a Forbes four-star rating means you're the best in a particular category, a rare five-star designation signifies almost iconic status.
"These hotels represent a tiny, tiny global sliver," says Jerry Inzerillo, CEO of Forbes Travel Guide. "They are these very, very rare properties where the ownership and management and staff have consistently been, year after year, devoted to the guest experience and to service engagement."
Forbes' standards are considered to be some of the most stringent in the world, though awards from online review sites are just as highly prized by hotels because of their reach and impact on consumers.

"The five-star rating is the pinnacle of achievement in our industry," says Jean Claude Wietzel, general manager of the Four Seasons Resort Maui at Wailea, which was the first Hawaii hotel to earn a five-star rating from Forbes. "The distinction speaks to the resort's amenities and offerings, but, most important, to the level of service and care that sets us in an elite class of our own on Maui. … But while maintaining five-star and five-diamond status is crucial to the resort's success, we also consider the TripAdvisor accolades to be a very accurate reflection of the guest experience, delivered from a vast sample size."
Getting those lofty designations takes a lot of dedicated effort from everyone who works at the hotel, from managers to housekeepers to bartenders.
The staff at Trump spent an entire year working toward achieving the five-star rating from Forbes. It began with reviewing the hundreds of standards provided by the rating service. Then the staff went to work, attending a series of training sessions geared toward reaching those standards before applying them.
One of the most challenging changes, Ingwers says, was adopting what's called a "luxury language." It's about speaking to guests staying at a luxury property in a professional way.
"It's a very laid-back, relaxed culture here," Ingwers says. "But we all had to understand that if (guests are) going to pay $1,000 a night to stay here, they probably would not prefer to be called, 'You guys.' "
The hotels say the feedback they get from Forbes and other rating services is invaluable in showing how they can improve their service and interaction with guests.
For example, Forbes provided Trump with a detailed 50-page report that analyzed every part of the inspector's stay. Hotels can get marked down for things like not upselling other menu items on the phone when a guest is calling about room service, not placing coasters down on the table for drinks or not using a guest's name several times during a single conversation.
"We were surprised at the opportunities we had missed to personalize the exchange with the guest," Ingwers says. "Out of 15 points of interaction, we may have missed seven and that, to me, is saying we're doing an OK job, but we've got some work to do."
While it's not easy to reach this level of excellence, it can often be harder to maintain. One reason is the increased number and diversity of travelers. More families are traveling together than before, requiring a different hotel experience than, say, couples on a honeymoon or executives on business.
And, thanks to the plethora of information available online, particularly review sites like TripAdvisor and Yelp, the expectations and demands of consumers have evolved as well.
"It takes a lot of work to get there," Hualalai's Whitfield says. "You've got to have a very well-designed hotel and a well-trained employee group that can execute the standards required. So it's easier to get something the first time, but to maintain that is really challenging. It's just a relentless pursuit of perfection every single day."
Managers of all three elite hotels will say the only way they can achieve these kinds of accolades – from Forbes' professional inspectors and TripAdvisor's users – is if every employee is committed to reaching that goal.
They are these very, very rare properties where the ownership and management and staff have consistently been, year after year, devoted to the guest experience and to the service engagement."

— Jerry Inzerillo, CEO of Forbes Travel Guide

"We realize that we all have a common goal we're trying to achieve," Trump's Ingwers says. "And without everyone's buy-in, there's no possible way of reaching that goal."
The first thing Trump did was make sure its employees were happy working there by offering better benefits, fostering open communication and doing little things to make them feel valued, such as bringing in a shave ice truck just for employees and honoring them every month with a lunch that includes king crab legs or lobster. Every other Thursday, one of the 40 managers creates a menu based on a family recipe for the employee lunch in the cafeteria, even working in the kitchen to prepare the meal. Once, a manager cooked a Mexican dish and served it with mariachi music.
"It begins and ends with how we treat our own people," Ingwers says. "We go above and beyond when it comes to treating them with mutual respect and creating an atmosphere and culture where they feel valued. And I think that's necessary before you start talking about awards and making lists and all those sorts of things."
Standards can change, too, as the expectations of customers change. Today's luxury travelers don't always want white-tablecloth dining experiences, for example. But they do expect impeccable service and high-quality food at the hotel's restaurant.
"People don't want atrium lobbies anymore and they don't care about pink couches," Forbes' Inzerillo says. "But they want service and they want it their way. Luxury has changed."
Nonetheless, some things never change, he adds. And the highest-rated hotels know that.
"People still expect a clean bathroom. And people still feel special when they're greeted upon arrival and sent off with a nice goodbye," he says. "There are some things that are just universal."