Transformative Therapy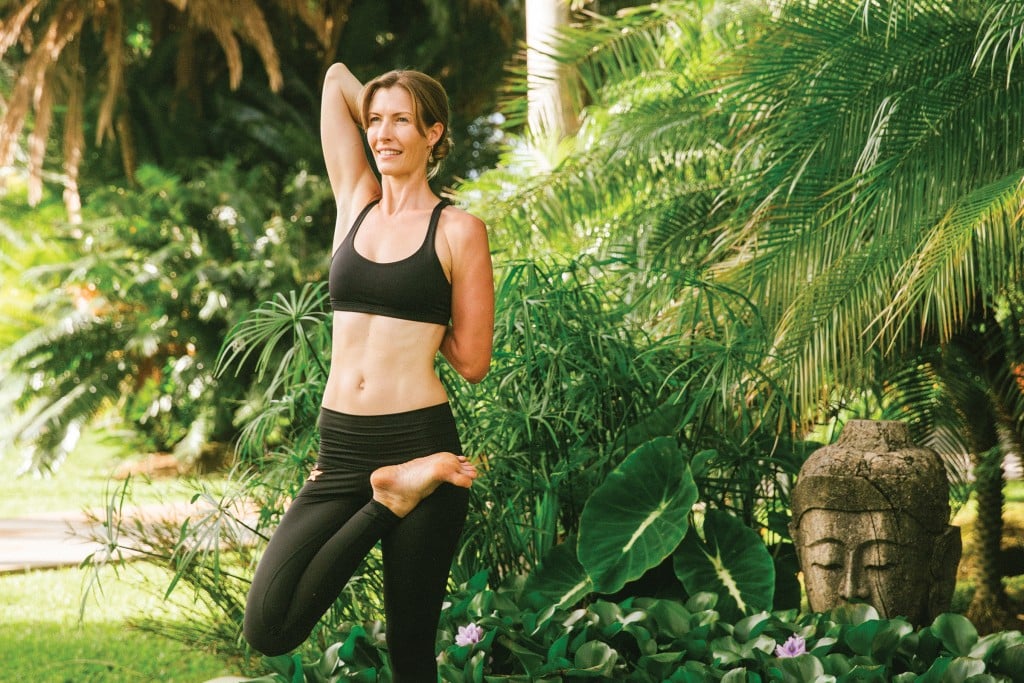 "Metamorphose means to change or transform, and I wanted to use the verb- rather than the noun- for the name of our yoga studio, because it's much more action-oriented," explains Carol Dumeyer. "We're all capable of changing or transforming."
The centuries-old physical and spiritual practice of yoga is now much more accepted as a medical support system, says Dumeyer, owner of Metamorphose Yoga Studio in Kilauea, Kauai.
"Yoga can help you with whatever you're doing in life – as a counterbalance to your other activities – or it can be very therapeutic as well, if you're rehabilitating.
"It's for all ages – from pregnant mamas to little ones, into your teens and 20s, and then definitely in your later years."
Dumeyer was born in Colorado, but grew up around the Redondo Beach area of California. Her mother, Astell (who also teaches at Metamorphose and helps manage its boutique store during the day), and her stepfather were both massage therapists and yoga instructors.
Dumeyer initially discovered Hawaii after high school in the '90s, when she took a break from school to live
in a tree house in Haena on Kauai. ("I'm a nature girl at heart!") A few years later, she returned to California for massage school, but loved Kauai so much she came back in 2002.
After suffering injuries while building and landscaping her house in Kilauea, Dumeyer started more seriously to practice the yoga she knew as a child to heal herself.
"I absolutely fell in love with yoga. So instead of my career path opening to massage, it really quickly veered into yoga."
Dumeyer began training as a yoga instructor and started to teach full time at Yoga Hanalei in 2005. She also wanted to serve the North Shore community where she lived, so she searched for opportunities to teach closer to home.
When a retail space opened
up in the historic plantation
stone building in Kilauea in 2012, Dumeyer and a friend opened their own studio. Dumeyer became the sole owner by the
second year
In fact, Dumeyer and her present husband, David Brune, are quite the business couple: Brune owns the Hunter Gatherer gift shop
in the same building and they plan to open a coffee shop there.
"What's different for a yoga studio
than for other businesses is you need to
have a big space to
t enough students,"
Dumeyer points out.
"When we opened,
we actually had to rent two spaces and take out the wall between them. So, financially, you're getting into a higher rent."
Also, an extensive remodel was done on the nearly 900-square- foot space – including a new floor, a sliding panel so the boutique could also be used for class over ow, re-doing the bathroom, installing closets and shelves, and landscaping the exterior.
Yoga classes are held mornings and evenings, and the boutique is open during the day.
"Because our main business space is only used half the day, yoga is not necessarily a high-yield source of income. But I really love what I do and I'm grateful the studio can sustain itself.
"Each year has been gradually getting better. The first couple of years were hard. I can see why so many people don't make it. It's a learning curve of how do you meet your customers and how do you manage it financially. It's a big juggle."
But Dumeyer gives a lot of credit to the "beautiful community" where she lives. "There's a lot of love and trust and openness."
Dumeyer's customer base has grown to about 1,000 regular clients – about 75 percent local and 25 percent visitors who keep returning. "Many of our visitors come back after finding us and bring their families. I've had three to four generations of the same family in class together."
Lee Roversi, 66, owns and operates an organic farm on Kauai, and has taken classes from Dumeyer for more than 10 years. "What sets Metamorphose apart from others is Carol. She's an intuitive and very well-informed yoga instructor. She's attentive to each student's needs and makes an effort in each class to address them. She's vetted and trained her other teachers well.
"My yoga classes keep me centered and flexible in body, mind and spirit. I have had injuries related to my years of farming and sometimes they flare up, but are always treated with patience and appropriate modification by the instructors here. They are friendly communicative and helpful."
"(YOGA MAKES YOU) FEEL BETTER IN YOUR MIND AND EMOTIONS. IT HELPS YOU PROCESS STRESS IN LIFE."
— CAROL DUMEYER
---
DIFFERENT CLASSES FOR DIFFERENT FOLKS
Therapeutic Flow: "B.K.S. Iyengar was one of the pioneers who brought yoga to the West. He was very well-known for the use of outside props, such as bolsters, to make yoga more accessible for those who are injured, recovering or senior," Dumeyer says.
Slow Flow: All levels are welcome in this gently paced class that moves with the rhythm of your breath, with attention to alignment, support and opening.
Radiant Vinyasa: " 'Vinyasa' means 'moving breath.' This class is a stronger, faster, more active form of yoga – almost like a dance." It helps build your strength, flexibility, endurance and concentration.
---